BigScoots Review (2024) Pros & Cons After Hosting 5 Years
If you are looking for an honest BigScoots review, from a real human who has been a customer of the company for many years, then this is the article for you.
In my decade+ career as a blogger, I have hosted with 5 different hosting companies.
After much trial, error (and tears!) using the first 4, I eventually found a host that solved a lot of the problems I had with the others.
Additionally, I have worked with at least 30 other web hosts over the years, when assisting my clients to buy and sell websites, too.
---
As an affiliate partner of various brands and sponsored content, HerPaperRoute may earn commission on qualifying purchases. Disclaimer | Advertise With Us
---
So know that in this comprehensive BigScoots review, you are getting the honest take from someone who has a lot of experience with other hosting companies to compare to.
I will share my whole thoughts on BigScoots hosting, its features, benefits, pros, cons, and pricing below.
BigScoots Review: My Experience Hosting With Them For Multiple Years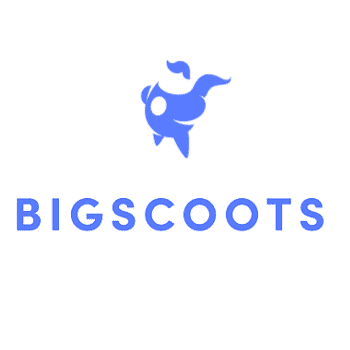 Quick Facts
Best For:
🫶 Want to Make More Money?🫶
Become a member of HerPaperRoute today and get a toolkit packed with resources to help you make that paper. All for FREE!
---
Business owners
Bloggers
Anyone who wants a premium hosting service
Pros:
A+ Customer service
Free migrations
Fast response time
High value for money
Cons:
Shared plans have limited storage (Its worth it to get the VPS!)
I am a long-time BigScoots customer nowadays. Let's first take a moment to explain how I got here.
In 2019 I experienced yet another blackout on my previous host. Back then, I had been hosting with a very well-known web host that a lot of bloggers recommended.
But to me, it had become quite an inconvenience, to say the least.
That less-than-ideal host kept having server downtime, causing my sites to go offline! Plus, no matter how many add-ons I paid them to increase my server space, I still kept going over my quota every month.
…I had had enough.
Frustrated at my old host, I finally did what I had been thinking about doing for far too long.
I moved all of my websites (20+ sites at the time) over to a new host, which appeared to offer better value for money: BigScoots.
Now, I was nervous.
Moving so many websites, email addresses, and files from one host to a new host felt scary.
It felt like a big decision, and I was worried about how the migration would go.
But to my relief, the team at BigScoots took care of everything. And I mean everything!
They provided a complete white glove migration service (for no extra charge!) And within an hour, I was up and running!
Now, my experience over the years hasn't been 100% sunshine and lollipops.
There have been issues (and yes, even sites going down).
As this is an honest BigScoots review, it's important for you to know that even though I champion the brand, I have had my issues over the years with them too.
Which I will share below.
But the difference is that with BigScoots, such issues were resolved right away. Their customer service is top-notch.
Honest BigScoots Review: The Basics
BigScoots offers web hosting in many formats depending on what you want them to host.
They offer various levels of secure website management and pride themselves on their human approach to maintaining technology with an around-the-clock support team there to deal with any queries or problems in a timely manner.
In my experience, Bigscoot's 24/7 access to a human support person has made my investment worth every penny.
If you have a blog, website, or ecommerce site then finding somewhere to host it can be a big deal.
You want to put it somewhere that it will be safe for starters and where you can access and change content constantly without restrictions and you don't want to pay through the nose for it either.
BigScoots offers a range of reasonably priced options for hosting your website with the same level of support and optimization for each one.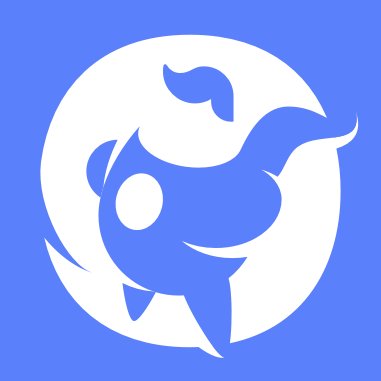 BigScoots Coupon: ✨ 30% Off ✨
For a limited time, save 30% off at BigScoots when you use code HERPAPERROUTE1 at checkout!
What Does BigScoots Do?
BigScoots provides two main services for customers. Managed web hosting and then managed virtual private servers.
Servers are like physical or virtual places to hold bits of the internet.
Everything goes somewhere and a server is like a depot or storage facility for websites.
Servers can be expensive bits of equipment so many people and businesses choose to store their websites in someone else's server to save having to buy and maintain one themselves when they only have one or a few websites to store there.
It's almost never cost-effective to get your own server to host a single website, so most people rent one from a web hosting company such as BigScoots.
There are different types of website hosting so it can get a bit technical, but I'll do my best to explain the pros and cons of the various web management services that BigScoot offers.
Option one: BigScoots Managed Shared Web Hosting
Managed shared web hosting is a simple way of getting your own website online and visible to the world.
You pay a small amount for the hosting service to store your website in one of its servers but you have access to it and it is still your property.
It's like renting a parking space from a neighbor because you don't have room for a second vehicle on your own drive.
You are essentially sharing server space with other people.
This is BigScoot's low-tier entry-level option, starting at just $5.95 per month.
This is the most affordable web hosting option. For a few dollars a month, you can park your piece of internet real estate in a server shared with others.
This does not mean you share a website or anything like that, but it's like renting an apartment in a block of them.
Everyone has their own address and the landlord has the keys to every door, and every tenant has the same key to the main front door.
But none of the tenants have keys to each other's apartments (this isn't Friends), so it's pretty secure.
For low-traffic blogs, small local businesses, new start-ups, or personal websites this is the most budget-friendly option.
However, if you run an online business or blog that you expect will get more trafffic (which it should!) then you will need a more robust plan.
A site with daily readers will need a hosting package that can cope with heavier traffic. (If that's you, then you can upgrade to a more comprehensive package, noted below).
Option two: BigScoots Managed WordPress Website Hosting
The managed WordPress hosting service is what most people go with.
This is BigScoots most premium website hosting package.
You can get it in three levels depending on what the website is designed for and how much predicted web traffic they're likely to get.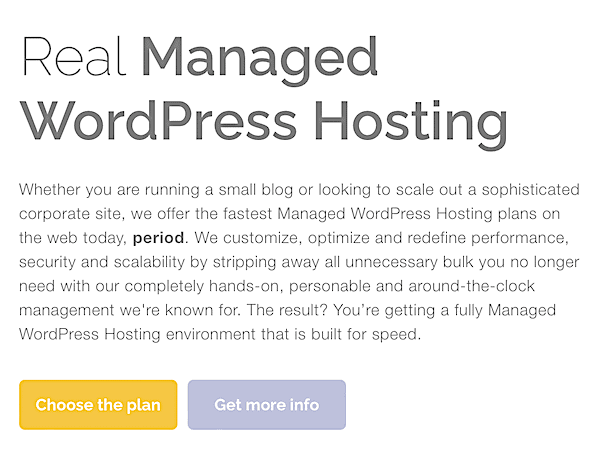 WordPress is the most popular platform for building websites and blogs on the net, so at least one in four websites you come across will have been made on WordPress.
This option of website hosting has been specifically designed for hosting and optimizing your WordPress website.
Whether you have a personal, professional, or business WordPress website or blog, this package provides you with somewhere to keep it and manage it.
It will also be able to cope with spikes in web traffic and keep operating at super-fast speeds with some room to grow with you as your enterprise expands.
I use Bigscoot's Managed WordPress hosting service for one of my sites that gets about 30,000 page views per month. I am on the Starter tier, and have never had any issues. Highly recommend!
You can get started for just $34.95 per month.
Option 3: BigScoots Managed Virtal Private Servers
BigScoots offers excellent private, dedicated servers which allow you to host your site(s) on your own section of their server – without the need to share with other users.
Think like renting the whole block, not just the one apartment block for your website(s).
This option is called VPS hosting, which stands for Virtual Private Server.
VPS stores your website or network in its own private data cloud. This means that the information is super secure.
I use this option for hosting multiple websites in one secure dedicated server. WIth this option you don't have to share resources with anyone else.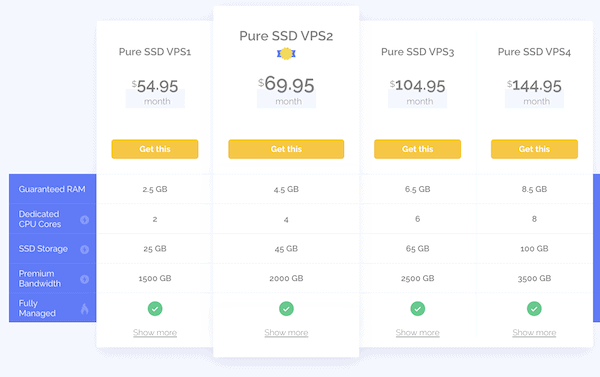 Option 4: Reseller Hosting
Reseller hosting is for when you want to start your own hosting business, and sell web hosting services to your own customers.
BigScoots will let you re-sell their services, using their servers, as if it is your own.
If you are a marketing company, for example, you could feasibly park all of your clients' websites in a reseller web hosting service and then charge them the cost (or more!) of the rent.
You could even put your own business website there too rent-free if you're so inclined and manage them all from there.
The drawback to this sub-letting situation is that if your clients don't pay their share of the rent, you'll still have to cover it.
But it is a reasonable price in any case so it might not matter to you.
If you have a single website or small business site then this is probably overkill for your requirements but there is certainly room to grow and expand with this package.
I don't have personal experience using reseller hosting myself. So I reached out to my friends at Niche Website Builders to have them weigh in on their experience using Bigscoots reseller services.
They told me:
"When it comes to web hosting, "reseller" is where it gets interesting. There is the bonus of added security with a reseller option because it's like leasing a whole block of apartments from the landowner, so you have every key and control who has copies to get in."
Learn more about Reseller hosting.
Which Hosting Option Do I Recommend?
If your website is important to you, and you own more than one, then the Virtual Private Server is the most secure option.
With the different pricing tiers compared, one thing really stands out that BigScoots ofers that most other web hosts don't.
And that is that BigScoots allows customers to pay monthly!
Monthly payment options does not demand a commitment of one or two years contract subscription for them to host your site.
…Nice!
The flexible payment plans that are available for monthly fees may be a godsend to small businesses who are getting started or aren't able to find a whole year's lump sum in one go.
If you're starting out and aren't sure where your online venture will take you, or even how long it's going to last, this is awesome. You can pay a higher, though still reasonable price, for a one-month, rolling deal.
It's a good option for flexibility.
BigScoots Competitors
As someone who has been a customer of 5 hosting companies over the years, I am very confident that BigScoots is the leader.
Their quality of service is high over others.
BigScoots only offers managed services, yet their pricing compares to the lower, unmanaged services from other hosts.
Comparing other web hosts, such as Bluehost or SiteGround, unmanaged hosting services from them will only be lower in price by around two dollars a month. But with way less security and benefits.
BigScoots is the clear winner.
It's well worth getting a managed hosting service if you can because they're so much easier and less stressful to use.
See how BigScoots compares to its 3 biggest competitors:
Now that you know what BigScoots offers, let's see what their customers think of their services.
Bigscoots Pros And Cons
Pros
There are two main pros that make BigScoots my web hosting company of choice. And why I recomend it to others.
One of the biggest pros, for me, is the world class customer service that Bigcoots offers.
There have been a couple of times when I needed assistance. I had an issue where my site went offline without warning, and when I noticed it was down, I panicked!
I quickly submitted a support ticket and to my surprise, I recieved a response in less than TWO MINUTES!
And they were able to reboot my server and get my site back online withing 5 minutes of that.
I was so impressed by this. And since then, I have found that this super fast two minute response time is the norm for them.
Incredibly helpful and fast customer service. Something other hosts severly lack in.
The second pro is that you get free migrations.
On the VPS server they actually give you up to 5 separate CPanel accounts, allowing free migrations to fill them.
And, after migrating hundreds of website to my accounts over the years, I can attest that the migration time is ALWAYS same day and usually completed in under an hour.
But there are even more reasons to love BigScoots.
First, the pricing is affordable. They only offer managed services, meaning top quality, yet the prices are encredibly competitive.
I didn't expect the prices for shared hosting to be as low as they are. I also appreciate that they offer monthly payments.
So you aren't locked into any annual contracts.
Plus, you can upgrade or downgrade your plan at anytime.
Another positive feature is that BigScoots offers daily backups across all packages.
That is something that most competitors will only offer to the higher tier services. Those are quite a few positives from a knowledgeable user of this and other hosting services.
Bigscoots Pros – Quick Facts
Cons
As this is an honest Bigscoots review, you can bet I will share the cons of hosting with them, too.
Storage space is a sticking point for some customers on the shared plans. ON shared hosting plans you may feel too limited, even for the price which is much lower than other managed hosting sites.
Their first level tier contains only 5GB of storage which is not a lot.
I am more impressed by the WordPress-specific service storage options which start at 10GB but they are more expensive.
Another mark against the BigScoots service is that they don't include a free domain registration.
At least at the lower prices, which most competitors do. But, you can still point as many domains, as you want to, for free.
Many hosting services offer a free domain for the first year and then it renews at cost.
Then again some people prefer to buy and register their domain separately from their web host because then it's easier to move it from one host to another if you find a better deal elsewhere.
It's also more secure to host your site and your domains at separate places anyway!
Another con, is that there is limited support material on their website.
If you're not fluent in tech lingo, then you might even find their descriptions confusing.
I feel that they could do more to explain the differences in the services they offer and how customers can directly benefit from them.
Thankfully their support team is always there and happy to answer any questions you have, though!
And finally, I would love it if they added a feature that would email you when you get close to going over your resource/storage quota.
So this way you could prepare, move files or upgrade your services BEFORE anything goes offline.
Bigscoots Cons – Quick Facts
Customer Reviews of BigScoots
If you have a single website or blog, or even a couple of sites that you need to monitor and access then BigScoots can host them for you.
You've heard me share my honest thoughts in this BigScoots review.
But what do their other customers say?
Their website is chock-full of positive quotes from customers, but are online quotes worth much these days? It rather depends if they are genuine or not.
What I really appreciate is that these customer shoutouts are on different social media platforms – which absolutely adds a level of authenticity.
One happy customer posted on Twitter that she had "found my new hosting company. I think I am in Love! The Response time is out of this world." What a glittering testimonial.
When you click on the Twitter symbol, it shows you who posted it, and when, so they do appear to be legitimate positive comments from customers.
I've seen many popsitive comments from bigScoots customers on Twitter and Facebook. Especially in Facebook groups that I am in. Bloggers are always raving!
BigScoots Review – Final Thoughts
In summary, BigScoots are a very reasonably priced web hosting company that offers high-quality managed web hosting and web server options for only a fraction more than many unmanaged ones.
They have flexible short-term options for those who wish to try before they sign their lives away to a web hosting service.
Furthermore, they have an excellent customer service division that seems to genuinely care about their customers.
If you are looking for a website host that has great up-time statistics and great prices, then BigScoots will deliver.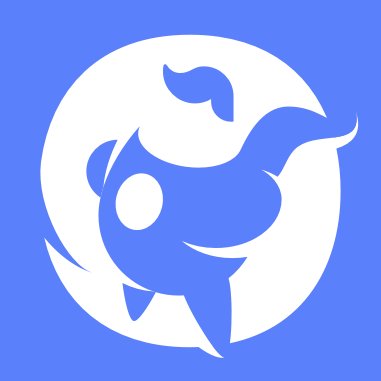 BigScoots Coupon: ✨ 30% Off ✨
For a limited time, save 30% off at BigScoots when you use code HERPAPERROUTE1 at checkout!
Read This Next: