Bluehost vs SiteGround compared web hosting: What is the best web hosting provider for self-hosting and monetizing your blog? The most well-known hosting providers are Bluehost and SiteGround, but which is better, and what is the difference between the two?
When you make the decision to get real about your blog and run it as a business, the first step is to self-host by choosing a reliable, fast and secure web host.
This site features ads and affiliate content Disclosure • Advertise with us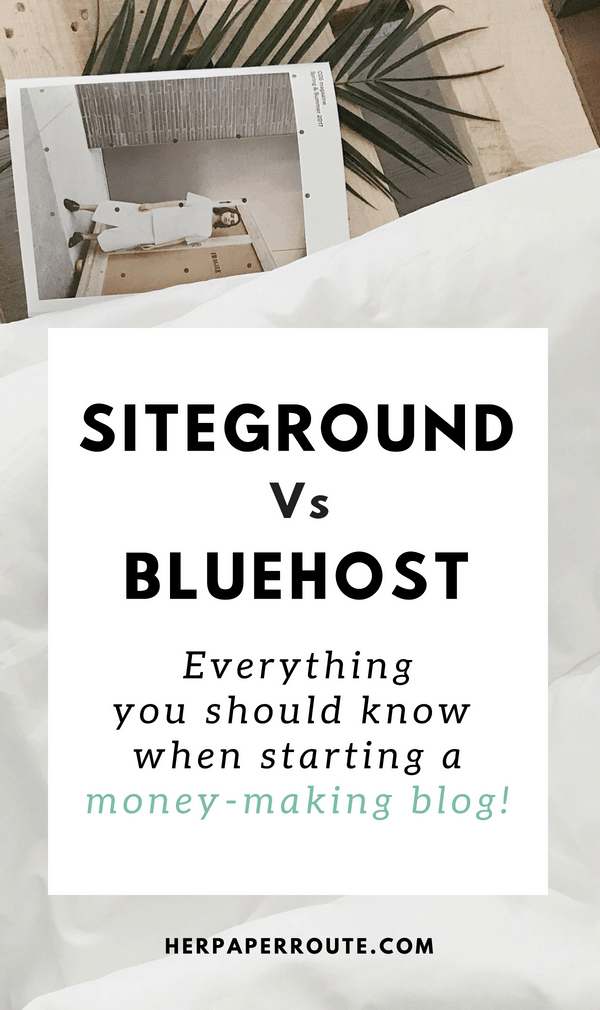 Bluehost vs SiteGround: Which Is Better To Monetize Your Blog?
There are many, many web hosting providers to choose from, and it can feel a bit overwhelming to have to choose, especially if you don't know what you should be looking for.
> Ready to start and monetize a blog today? Check out my tutorial on how to set up hosting and install WordPress in just a few simple steps!
The Main Things You Want In A Web Host Are:
Site Speed & Page Load Time: Not all web hosts can keep up with the demands, and not all webhosts have a good reputation for speed.
Uptime History: A good webhost has to have a good uptime record. That means that they are reliable in that your site doesn't 'drop' or go offline without warning. Some webhosting providers are notorious for having frequent downtimes.
Security: Your hosting plan should include a free SSL certificate
Affordability: You don't want to get roped into a hosting plan that costs more than you are comfortable paying
Great Customer Service: You are most likely going to have questions and need support at some time or another, and dependable, friendly and helpful customer service is an absolute must.
Webspace: Blogging requires a lot of images, storage and content. Make sure your web host gives you as much web space as you will need.
Extra Services: Some hosting packages include a free domain, free email and other useful tools and bonuses.
WordPress.org: WordPress.org hosting should be included in your hosting package, as that is where you will build your website and make blog updates. You should also be given a '1 Click WordPress Install' tool as well.
Related: What's The Difference Between WordPress.org And WordPress.com?
What Are The Best Blog Hosting Providers?
I have had the opportunity to use over 30 different web hosts over the last decade, in my career as a web designer and can confidently recommend that Bluehost is the best web host, for a variety of reasons which I explain below.
It is also very important to be aware of the best web hosting for affiliate marketing purposes! As monetizing your blog with affiliate links is one of the best ways to make money blogging. Bluehost offers a multitude of tools at the most affordable price, making it easy to self-host and monetize your blog.
Related: How To Actually Make Money Blogging
Best Web Hosting Providers To Monetize Your Blog
As mentioned, Bluehost tops the list as the most recommended web host provider. Bluehost offers incredible value for an incredibly low price. They are officially recommended by WordPress.org, and more than 2 million websites and blogs host with them.
Their hosting includes a free domain, free 1-click WordPress install, free SSL certificate, a ton of web space, unlimited bandwidth, and a ton of extra services.
Additionally, Bluehost has made some major improvements to their customer service in the last two years. Back in the day, customer service was a bit iffy.
Bluehost listened to customer feedback about this issue and has made significant improvements in this department, improvements that I have seen first hand. Their customer service nowadays is top of the line with tech support reps being friendly, knowledgeable and helpful.
Bluehost now boasts the fastest website uptime, along with super fast page load times, and, they answer their chat support in under 5 minutes. This is phenomenal for such a big company to accomplish.
Load time: 419ms
Uptime: 99.99% (1st in uptime)
Price: $2.95/mo
Support: Live Chat Avg. Response Time: 5min (fast)
Domain Included: Yes Email Included: Yes
Bluehost tops the list for affordability and value, and is probably the most well-known webhost there is. More than 2 million websites and blogs host with Bluehost, and they are officially recommended by WordPress.org.
Plans at Bluehost start at $2.95 per month.
HOST WITH BLUEHOST

Load time: 722ms
Uptime: 99.99% (2nd in uptime)
Price: $3.95/mo
Support: Live Chat Avg. Response Time: 2min (Very fast)
Domain Included: No Email Included: No
SiteGround is a popular web host, that offers the second fastest uptime, and is famous for their friendly customer service, with chat support reps answering in less than 2 minutes.
The WordPress.org hosting includes unlimited bandwidth and free daily backups, 1-click WordPress install and free SSL certificate,
But, unlike Bluehost, SiteGround does not offer a free domain or email. This is something that you will end up paying for separately.
Plans at SiteGround start at $3.95 per month.
Bluehost vs SiteGround Prices Compared
| SiteGround hosting plan prices | StartUp | GrowBig | GoGeek |
| --- | --- | --- | --- |
| Initial price (1st year promo) | $3.95 | $5.95 | $11.95 |
| Regular price | $11.95 | $19.95 | $34.95 |
| Bluehost hosting plan prices | Basic | Plus | Prime |
| --- | --- | --- | --- |
| Initial price (1st year promo) | $2.95 | $5.45 | $5.45 |
| Regular price | $7.99 | $10.99 | $14.99 |
As you can see, Bluehost is the much more affordable option.
I hope this gave you some insight on choosing the right web host for your blog. No matter which web host provider you choose, I have a detailed tutorial on how to set up both of them in this free course, or if you are a student in Be Your Own Blog Boss, you got a module upgrade this week!
Best blog hosting providers list: To see the list of the top 8 best web hosts, see here: Top 8 Web Hosting Providers
For More Tips On Monetizing Your Blog:
The HerPaperRoute Profitable Blog Toolkit is my members-only resource library of tools to help you start a blog develop it into a thriving, income earning business!
Profitable Blog Cheatsheet!

Styled Stock Photos!

Social Media Marketing Planner! & More!