SmarterQueue Review – Social Media Marketing Automation
SmarterQueue Review – I use SmarterQueue to automate my social media marketing, and it is the best social media marketing tool that I have ever come across.
Think about how much time you spend creating and posting content to Facebook and Twitter….Probably too much time, right?
SmarterQueue Review – Social Media Marketing Automation Super-Tool
Sharing your products, services, blog posts, affiliate links, opt-in freebies, advice, photos and business resources on social media are a must for any online entrepreneur if you want to reach new readers and customers.
And by now you are well aware that you need to be promoting your content several times a day, all day, every day, and then re-posting it again over and over for all eternity if you ever want your content to be seen.
---
As an affiliate partner of various brands and sponsored content, HerPaperRoute may earn commission on qualifying purchases. Disclaimer | Advertise With Us
---
But All Of That, Honestly, Is So Much Work!
It's no wonder that so many bloggers and business owners feel overwhelmed with the process of social media marketing, and why some will neglect one or more of their social accounts altogether.
Now think about how much time you could spend on other aspects of your business, (say, on your actual business!) if the task of social media marketing was taken care of for you.
Enter SmarterQueue
SmarterQueue solves this issue by allowing for evergreen content scheduling, which means that after you create a social media post once, it re-posts it for you automatically, forever, without you having to do a thing.
🫶 Want to Make More Money?🫶
Become a member of HerPaperRoute today and get a toolkit packed with resources to help you make that paper. All for FREE!
---
SmarterQueue completely manages the social media marketing of your business, automating your promotion efforts, and that, my friends is phenomenal.
This tool has saved me thousands of hours of time, but it has also made me thousands of dollars, as using it has brought in astronomical amounts of traffic to my sales pages as well as to my affiliate products.
Using SmarterQueue is easy, efficient, affordable, and fast. If you are a blogger, online entrepreneur or any kind of business owner with a social media presence (or desire to have one), I can't swear by SmarterQueue enough.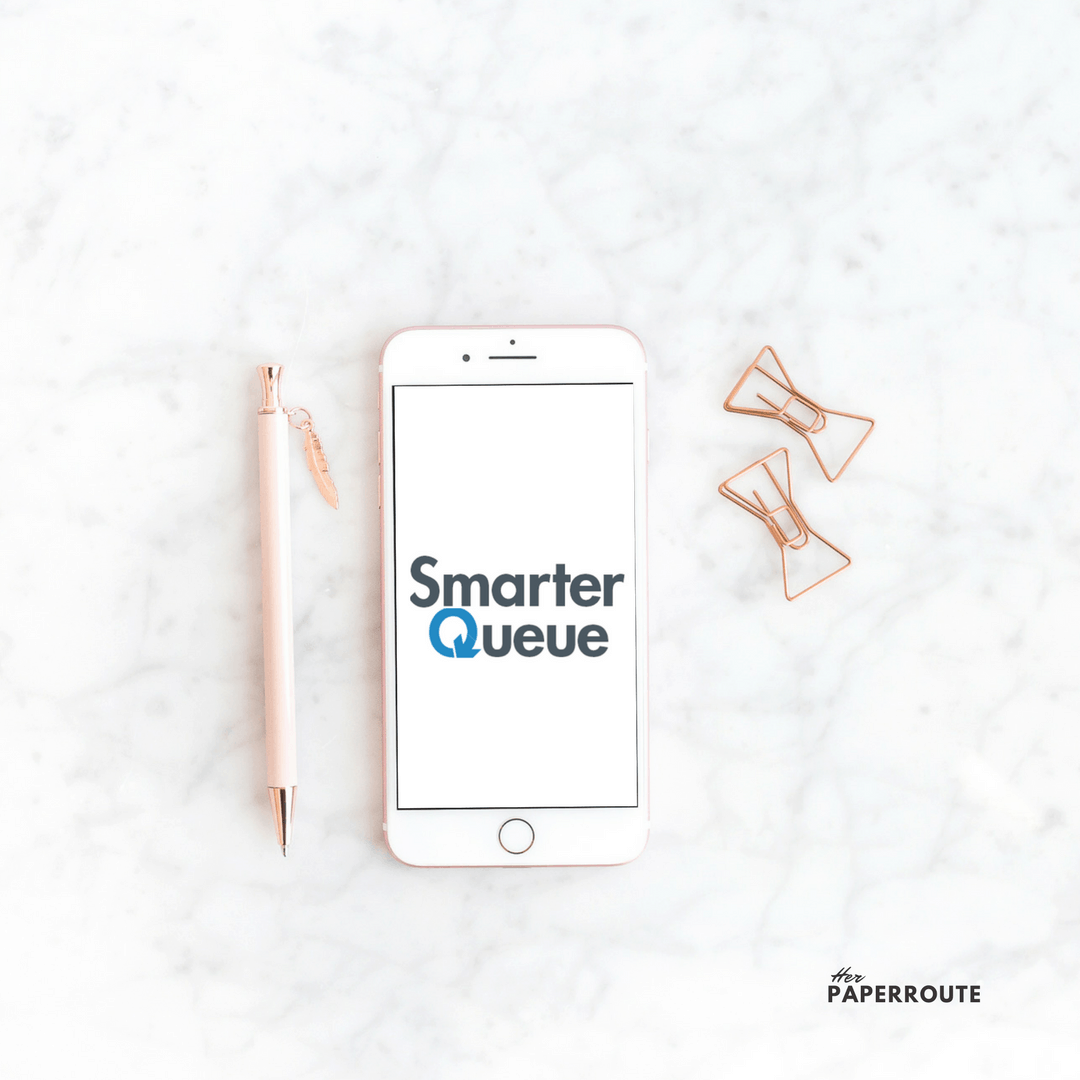 So, How Often Should You Post On Social Media Anyway?
Although there is no absolute golden rule, a number to aim for seems to fall somewhere around this:
Pinterest 50 – 150 pins per day
Twitter – 16 – 25 tweets per day
Facebook 1 – 3 posts per day
Instagram 1 – 2 per day
LinkedIn 2 – 3 per week
Coming up with that much content to post, and organizing it all is no easy task on your own. No one has time to be on social media that much, especially when you then need to re-post it again and again.
See why #SmarterQueue is the best #socialmediamarketing tool for bloggers and entrepreneurs! Click here to get it FOR FREE! #socialmediamarketing #marketingtools #bloggingtools #schedulingapp #contentmarketing
Considering the lifespan of one tweet for when anyone will actually see it is about 16 seconds, re-posting your content is all the more important.
Fortunately, there are tools to automate this process, but so far SmarterQueue is the only one that provides for a seamlessness evergreen recycling capability.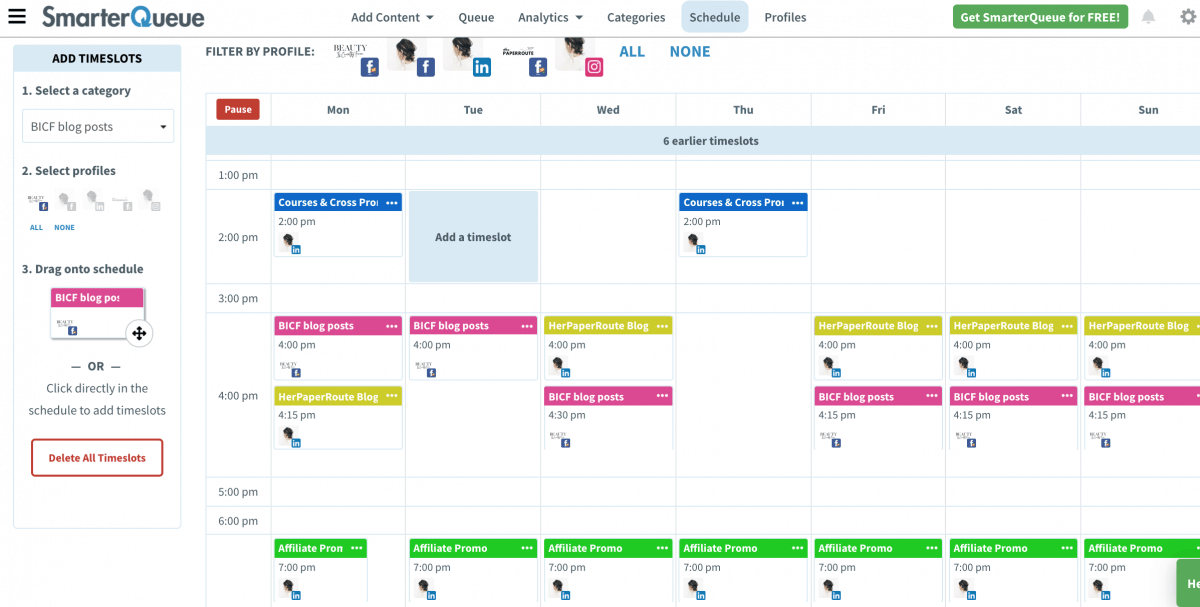 Other Social Media Automation Tools
For a long time, I used Buffer to tackle the job of my social media marketing as best it could. Buffer has its benefits, as the free plan allows for multiple accounts and up to 10 posts per day, and the paid plans are reasonable. It's good, but not great.
Where Buffer really falls flat though, is that there is no way to recycle posts, which is very important for bloggers. We need our blog posts and affiliate posts on rotation forever, constantly being shown to new audiences.
Buffer, unfortunately, doesn't allow for evergreen recycling, so I was having to re-post all of my evergreen content manually, over and over again. A huge amount of time and effort! It just wasn't going to work out for me in the long run, sorry Buffer!
So then I tried MeetEdgar and gave it a fair shot, but it too has its limitations, and it is also very pricey! The cost of MeetEdgar for what you get just doesn't impress me much.
I needed a content scheduler that was affordable, easy to use, evergreen recycling-friendly, and more efficient than the rest.
I'm happy to say that SmarterQueue ticks all of those boxes, and more.
Smarterqueue is the content scheduling app that is my blog & biz secret weapon!
How To Use Smarterqueue – The Best Social Media Content Scheduling App
Simply attach your social accounts, choose categories, choose when you want to post, and then start posting to your categories.

Each category can have its own schedule. I currently am using SmarterQueue with 5 of my social accounts, am using several different categories. I have over 200 posts going out each week.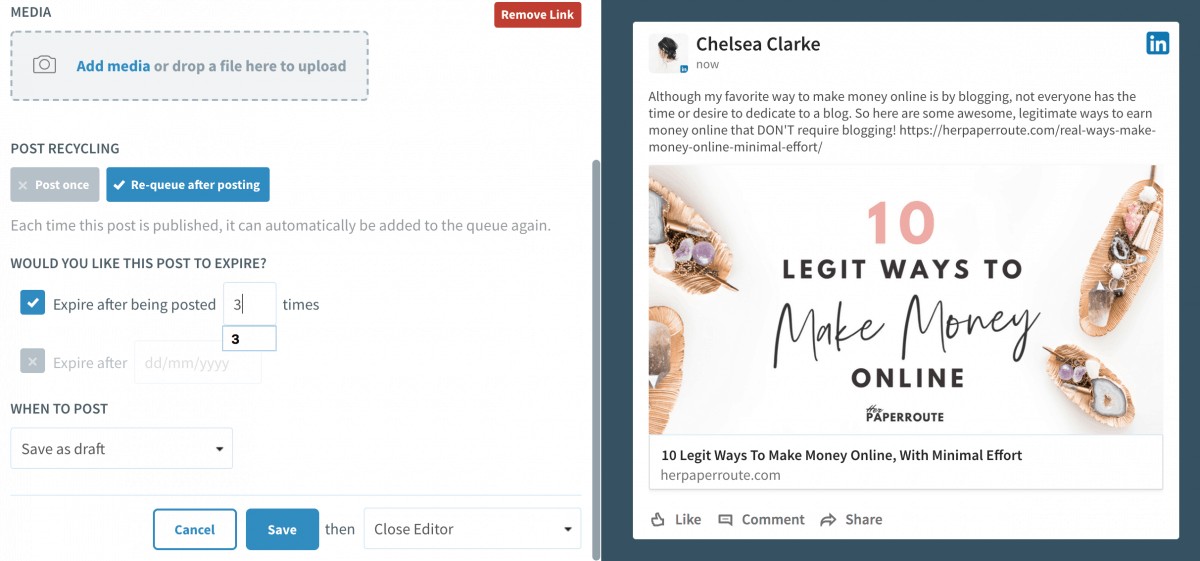 When creating a post, you can select if it is a one-time-post, or to Re-queue it again after it is posted the first time. You can select how many times it should be re-posted, or keep it running consistently as 'evergreen.'
SmarterQueue also has a 'Find Content' feature which allows you to search out content to share, from across social media.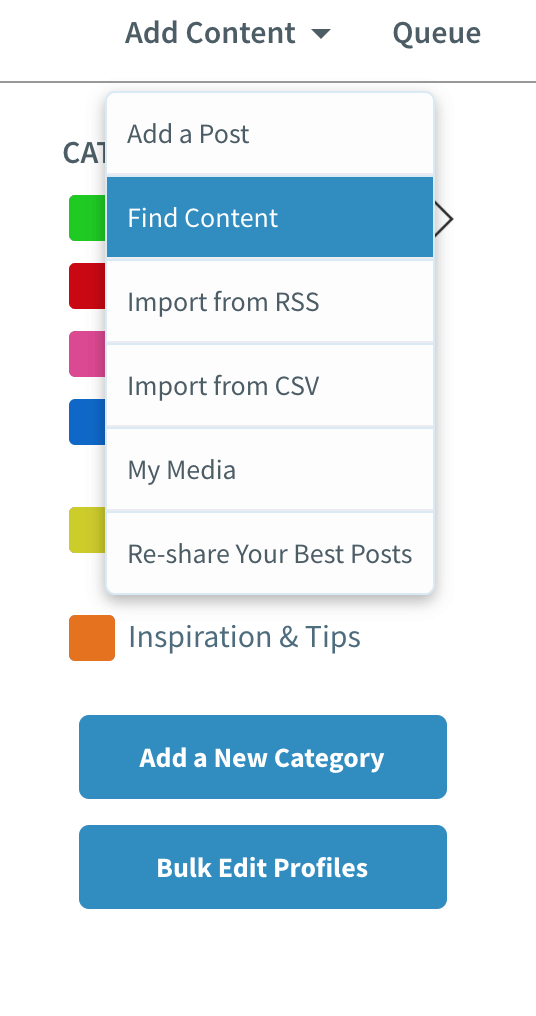 Find content by searching keywords, hashtags and even people's social accounts by username. It is also possible to import content from RSS feeds or a spreadsheet.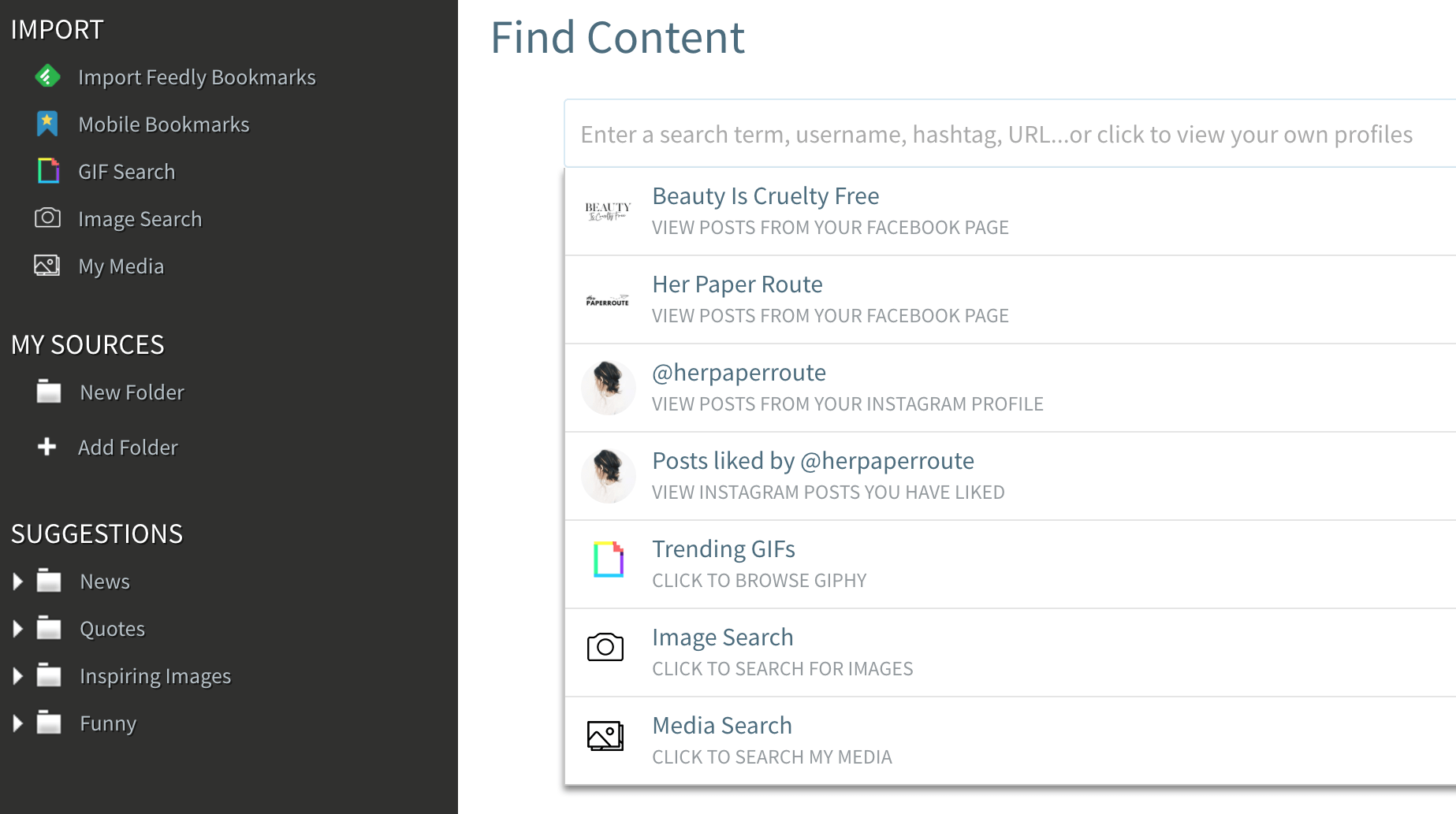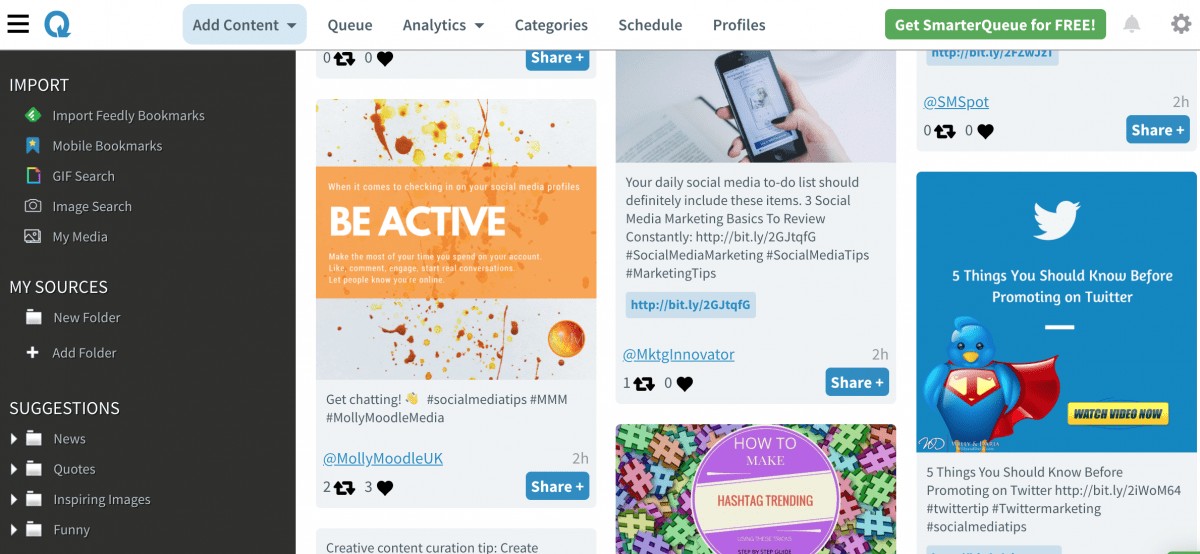 The platform is sleek and simple to get the hang of, and the monthly plans are extremely reasonable! In my opinion, all of this together makes SmarterQueue the best social media content scheduling app available.
Make More Affiliate Sales With Smarterqueue
One of my categories is just for promoting affiliate products. Having my affiliate links recycling across social media constantly ensures that the most people see and click on my products at all times.
This has been substantial in bringing in thousands of dollars in affiliate sales each month – and I literally don't have to do anything. It just auto-posts on its own, thanks to SmarterQueue's ability to recycle my posts as evergreen content.
Related: Directory Of High-Paying Affiliate Programs For Bloggers
When Sharing Your Affiliate Links Online
No matter how you share your own affiliate links online, I recommend that you cloak the URL for them.
Cloaking is what affiliate marketers do to protect their commissions as well as shorten their links. You can create your own shortened cloaked URLs for your affiliate links using an app and your own domain. This way you are also branding your business when you share your links at the same time.
So instead of sharing your affiliate link that looks like this: affiliate-link.coolproduct.com/ref12345=56789900
you would share a link that looks like this: yourdomain.com/coolproduct
Which would redirect to your affiliate link, and you will for sure keep your commissions.
The app I use to do this is called Pretty Link and you can get the free WP plugin here, or the full premium version it here.
Use it to track your clicks and observe how your links are performing.
More Awesome Things Smarterque Can Do
SmarterQueue will search for any of your previous posts (even if they were posted from another scheduling app) and give you the option to start re-posting them again.
You can also search hashtags and keywords globally to find and re-share other people's content. The amount of time you can save while creating great content with this app is astronomical.
Want a free copy of my Haute Hashtags ebook? It contains over 1000 of the best Instagram hashtags, organized by niche! Just tell me where to send it:
---
SmarterQueue Review – Social Media Marketing Automation Super-Tool
Wrapping up this SmarterQueue review, I love how simple and efficient this social media marketing automation tool is. With a few clicks, you can have weeks of content set up and ready to go.
SmarterQueue is better than Buffer, cheaper than MeetEdgar, and you can try it free, for a double trial, that's 4 weeks free instead of just 2!
Now that you are prepped on some of the awesome things it can do (there's alot more!) you are now ready to try SmarterQueue.
Love this article? Please pin it / share it!