How To Install WordPress Theme – Start A Blog Part 3/3
How to install WordPress theme on your blog – It is quite simple! This is part 3 of our 'Ultimate Start A Blog And Make Money Blogging Tutorial.'
This part covers how to find a great WordPress theme, how to install your WordPress theme, how to install plugins and more.
We use affiliate links. Disclosure.
How To Install WordPress Theme
Understand what self-hosting is and why it's important
Set up a self-hosted website with hosting & domain registration with Bluehost, or SiteGround including secure installation of https:// certificate.
Install WordPress.org
Change the permalink structure
Set up Google Analytics
Set up Google Search Console
Submit your sitemap to Google
PART 3
How To Install WordPress Theme
Set up website security
Install plugins
Create content
Build your blog's email list
Begin a social media marketing campaign for your blog
Monetize & make money from your blog
~ Pin This ~
1. How To Install WordPress Theme
Your new website needs a theme!
How to install WordPress theme: When it comes to choosing a theme, you have a ton of options. Most importantly, it should be one that is responsive (meaning that it automatically converts to a mobile-friendly version when viewed on cell phones and tablets) and also is one that comes with support from the developer.
There are many free WordPress themes out there, but I would recommend not using a free theme, and instead investing in a quality premium theme, for a few reasons.
Reasons to use a premium WordPress theme are:
You get more customization options with a premium theme

Premium themes come with support from the developer (So you can contact them for help at any time)

Premium themes come with lifetime updates, whereas free themes typically don't.

Premium themes are more professional and look more professional.

You are guaranteed that a premium theme is bug-free, and up to date with your version of WordPress, which you can't be guaranteed with a free theme
I use a theme from BluChic, and I love it. You will see that the theme looks different on the Bluchic website than it does on my website because I have customized it with my brand colors, fonts and images. You can do that too when you choose yours!
The look and feel of your brand is going to be the first impression people see when they visit your site, and they will decide in a matter of seconds whether or not you are professional enough for them to follow, subscribe to and buy from.
So don't let the look of your website let your business down! Investing in a quality WordPress theme for your blog is a must!
My recommendations for the best places to source a great WordPress theme are:
By the way, if you purchase your theme via my links, and forward me your receipt, I will install it for you for free!
Contact me
to arrange.
More Info About Choosing A Theme
Jacqueline WordPress Theme By BluChic
Jacqueline is a power-dressed WordPress theme for the Boss lady, consultants and coaches. Always stylish, always on trend, she's the one you go to when you need to make a great first impression.
Built with a list-building mindset, Jacqueline uses her most prominent piece of web real estate to help you convert leads the first time so they keep coming back for more. Try Live Demo >
Maggie WordPress Theme By BluChic
Maggie is a WooCommerce ready WordPress theme that allows you to get an online shop up and running in no time. You can disable the shop too if it's not what you fancy.
Some of my favorite themes from StudioPress are Foodie Pro and the Melyssa Griffin theme Authority Pro. All Studio Press themes include the Genesis Framework, or you can buy the Framework separately.
Having the Genesis Framework allows you to use any of these themes as well:
Swank Minimalist WordPress Theme By Pretty Darn Cute
The Swank WordPress Theme provides a clean, airy design that keeps your content the focus while framing it in style. Swank is just as functional as it is gorgeous.
Boasting a portfolio custom post type and a custom widgetized home page designed for you to showcase whatever you like, you can truly make it your own with a few drags and drops. This theme is incredibly easy to setup and comes with detailed instructions as well as access to our unmatched support team. Try Live Demo >
The Fun WordPress Theme By Pretty Darn Cute
Why is this called the Fun WordPress Theme? Because it's FUN and easy to get setup and move things around to make it your own. This theme keeps you from banging your head against the desk, and allows you to spend that time playing with the many features it has to offer!
Do you sell products or downloads? Great, this theme is WooCommerce ready! Don't sell anything? Awesome, just skip the "install WooCommerce" part of your setup instructions and you're golden. It really is that simple. Try Live Demo >
How To Install WordPress Theme, Step By Step With Pictures
1. How to install WordPress theme
Once you have chosen a theme you like, purchase it and download it to your computer. It will be a ZIP file.
2. How to install WordPress theme
To install your new theme, in your WordPress dashboard go to 'Appearance', then 'Themes.'
3. How to install WordPress theme
On the 'theme's page, click the 'add new' and then  'upload' button.
4. How to install WordPress theme
Once the file has uploaded, click the 'Activate' button, and that's it! You have installed your WordPress theme!
Now for the next steps in setting up your blog correctly.
2. Set Up Website Security
It is important to check your website for malware and other harmful security issues. Malware slows down your website and can cause your website to be blacklisted by Google. Use MalCare WordPress Security to scan your website for malware, remove any found, and protect it from getting any more in the future.
Try MalCare WordPress Security Free >
3. Install Plugins
When you first start a new WordPress site, it is very basic, having little to no functions. You need to add plug-ins to your website to make it complete.

One of the many great things about blogging with WordPress is that you have access to so many great plugins. Plugins are like apps that you install on your site to improve its functions.
Must-Have Free Plugins
These are the free WordPress plugins that I use the most and recommend to anyone starting a blog:
Yoast makes setting up SEO (Search Engine Optimization) on your website super easy. It suggests ways to improve your posts so that you rank higher in search engines like Google – aka so you can be found online and gain more readers.
JetPack may be one of the best free plugins out there, as it combines several must-have blog features that you would normally have to pay for elsewhere. JetPack offers analytics, anti-spam & security, social share buttons, and so much more.
Cache plugins are used to speed up your site. This one is great because it saves a static HTML version of your website, instead of generating pages one by one. This takes less strain on your server, creating a faster more user-friendly site, and ultimately better search rankings.
Social Warfare – Social Share Buttons
This is the social share plugin that I use for this website and startbloggingpros.com, and highly recommend it! It is very easy to use and works great on both desktop and mobile.
Backing up your site is a must, and this free service allows you to backup and store the files to a storage app of your choosing such as Google Docs, Dropbox and more.
Adds a 'Pin It' button when you hover over an image, so you can easily pin images to Pinterest.
This is the free version of Pretty Link. The free version allows you to cloak links. It is a tool that takes any regular link and makes it 'pretty' by using your own domain. (More on this coming up in our affiliate marketing training module ahead).
While you are working on your website, its good to have a 'coming soon' page that visitors can see and interact with before you go live with your finished site. You can add a 'subscribe' box to this page so you can start collecting emails before you launch.
This plugin is a must, especially when it comes to your affiliate links. You don't want to risk losing out on commissions as a result of links not working! This plugin automatically checks your website for any broken links and sends you an email whenever it finds one.
How To Add A Plugin
Click the link below to the plugin you want. It will lead to it's download page.

Click 'download' on that page and it will be saved to your computer.

You do not need to unzip this file, just leave it as is.

Go to your WordPress dashboard and on the left side tab click where it says 'Plugins.'

And then click 'Add New.'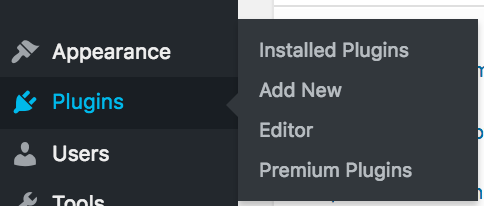 On the next screen you will see a button that says 'Upload Plugin' Click that and upload the plugin that you saved to your computer. (You can also use this area to search for new plugins).

Once it has uploaded, you can go to your 'PlugIns' tab, find where it is and click 'Activate.'
4. Create Content
Finally! It's time to start writing blog posts and other content.
I'd recommend that you write at least 10 blog posts before you go live. That way, when people visit your site there will be a lot of content for them to read but also so that you can begin applying to affiliate networks right away. More on that later!
In addition to creating blog posts, you will need to create some pages too. Some pages you will need to create:
Check out my top tools apps and resources for bloggers and read these guides for help in this stage:
5. Build Your Email List
Make it a priority to build your email list from day one. I recommend ConvertKit as the best professional email service provider to manage subscribers and send newsletters. This platform starts at $29 per month, so it is a bit of a financial investment when you are just starting out. Even so, I regret not using ConvertKit from the start, as when I started blogging, I wasted a ton of time using less professional email marketing tools that only caused me a ton of stress.
A more affordable alternative to ConvertKit is Mailerlite, which is free up to 1000 subscribers, and then when you have more than 1000 subscribers, plans start at $10.
Check out these pro tips for email marketing so you can gain more subscribers and earn money from your newsletters.
How to install WordPress theme
6. Begin Social Media Marketing Campaign
Once you have a good amount of blog posts ready, and your website is looking great, it's time to launch your website and officially 'go live.' This is usually done simply by clicking the button on your WordPress dashboard asking you if you are ready to go live, and then your site will become visible to the world.
If you haven't already, set up social accounts for your blog. Instagram, Twitter, Facebook and Pinterest are the big ones.
It is recommended that you post to social media every day. It can be a huge task but I have some tips on how to automate the process, and I've written an entire guide to creating a social media game plan here that I think you find super useful!
As well, automating your social media efforts as much as possible is very important and will save you a ton of time. Read this guide for more on how to automate.
7. Monetize Your Blog
Once your blog is live it's time to monetize! So how do you monetize a blog? Simply put, to monetize means you have added features to your blog that will earn you money.
You should add all of these monetize features to your blog:
Affiliate Links
Sponsored Posts
Ads
Ebooks
Courses
Own Services/Products
To get started with monetizing your blog, I recommend you do the following:
Congrats On Starting Your New Blog Today!
Just think of how happy you will be by this time next year, for starting this blog today! Remember to take each day in stride, work a little bit each day, and don't give up. I'm so happy that you have started!!
I'd love to see how your blog develops! Follow me on your social account of choice, I'm on:
Need A Blog Mentor?
Contact me to discuss 1:1 blog coaching. I can help you take your blogging hobby to full-fledged business.
The HerPaperRoute Profitable Blog Toolkit