AppSumo Black Friday Sale 2023 – Early Access
It's here! The much anticipated AppSumo Black Friday Sale has now started! And there is not one, but 11 deals on special right now.
Here's everything that you can get in the AppSumo Black Friday special.
AppSumo Black Friday Sale 2019
This year, spend $250 anytime during the Black Friday season (between 11/24 at 11 PM EST and 12/2 at 11:59 PM EST) and you will get $50 in credits!
Offer valid on purchases over $250 after discounts and promotions. $50 credits will be issued on or by February 1st, 2020. Refunded products will not apply. Limit one per person.
---
As an affiliate partner of various brands and sponsored content, HerPaperRoute may earn commission on qualifying purchases. Disclaimer | Advertise With Us
---
Today, you can score major discounts on all of these apps during the AppSumo sale!
1. DepositPhotos
This is one of the most-anticipated Black Friday deals for bloggers and content creators. Because we go through a LOT of photos.
Depositphotos gives you access to 100 million stock images you can use commercially. Their stock images are high-quality, current and professional. And the best part? With this deal, $49 gets you 100 photos. You can stack codes to get more photos, too!
🫶 Want to Make More Money?🫶
Become a member of HerPaperRoute today and get a toolkit packed with resources to help you make that paper. All for FREE!
---
Save $450 on your Depositphotos membership when you purchase it during the AppSumo Black Friday sale right here.
2. Socialmonials
Posting content to social media is a very time consuming, boring task. Sociamonials takes the pressure off of you and creates automated social media content.
There is even a viral giveaways feature! This AppSumo Black Friday deal hooks you up with Socialmonials for just $49, when the regular price is $1,788!
3. HeySummit
HeySummit is a tool that allows you to host professional virtual summits. With this tool you can set up, monetize and organize an online summit.
As well as manage speakers and registrations, see to post-summit duties, and analyze the results.
Incredibly, this AppSumo Black Friday deal gives you more than $1,000 off the complete HeySummit platform!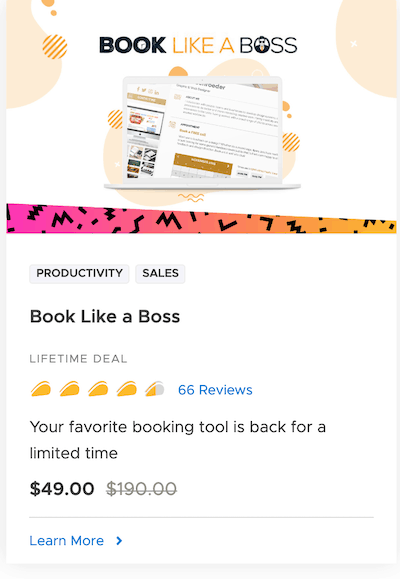 4. Book Like A Boss
Stop doing back-and-forth emails to work out the specifics of booking meetings. Make it easy on yourself and your clients and use a proper booking system like Book Like a Boss.
5. WebARX
WebARX is a tool that protect your websites from plugin vulnerabilities. Save over $600 during AppSumo's Black Friday sale.
AppSumo Black Friday Sale – Early Access
There are 5 more deals on special right now, but you'll have to visit the Black Friday deals page here to find out what they are! Hurry, these deals disappear soon. 
More Black Friday Deals