LiquidWeb Review (2024) Upgrading From Shared To Managed Hosting
Upgrading from shared to managed hosting – how and why you should do it.
Is your website growing? You probably started your blog on cheap shared hosting. Sooner or later, you will need to upgrade.
Most shared hosting plans are great for newer sites that don't see huge traffic. But it's like living in an apartment building. You can get in trouble if you are too noisy.
After a year or so of learning about blogging, monetization, and SEO strategies, you may be getting considerable traffic, so you have probably outgrown that shared hosting environment.
---
As an affiliate partner of various brands and sponsored content, HerPaperRoute may earn commission on qualifying purchases. Disclaimer | Advertise With Us
---
Upgrading from shared to managed hosting is the next natural step.
Upgrading From Shared To Managed Hosting
If you run a successful website, then you know how many hours of work go into planning, designing, and creating what your visitors will see.
And there's such a sense of accomplishment when you click "publish" and see what you've built live on the Internet.
🫶 Want to Make More Money?🫶
Become a member of HerPaperRoute today and get a toolkit packed with resources to help you make that paper. All for FREE!
---
What no website owner wants to do is worry about their website not working properly, while they could be working on other projects to grow their business.
This is why hosting can either be a nightmare or a breeze.
We all want more traffic and more customers.
Growing your business means that you will outgrow your shared hosting, at some point.
When that time comes, you will need to make sure your hosting can handle the visitors and orders that will come to your site.
Managed WordPress hosting is the perfect solution for high volume websites that need performance and stability. Basically, they take care of everything for you as well.
Let's chat about the managed WordPress hosting company Liquid Web. They have awesome customer support, offer many features, and are even used by large enterprise companies.
Special Offer:
Readers of HerPaperRoute get a special bonus at Liquid Web.
Get 35% off 3 months of managed WordPress hosting with this link and coupon code PAPER35
What Can Shared Hosting Handle?
If you're just starting a blog or store, then shared hosting is the best option because it's affordable and there are lots of options to get your WordPress site online.
But, once your website starts to surge up in activity, then it uses more of the server's resources which pulls from the other websites that share your server.
This can slow down your website, and its common that the majority of hosting companies will take your website offline. Then it's up to you to contact customer support to work it out and get back online.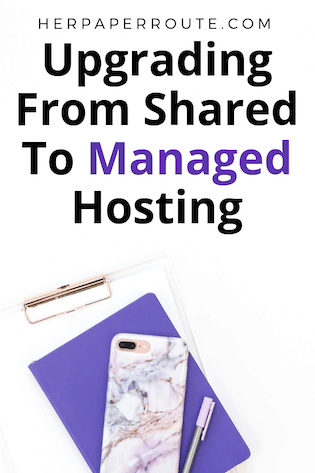 Another scenario is if another website that shares your server is getting an uptick in traffic, then it will slow your website down because it is requesting more of the server's resources.
There are other variables that come into play like, the size of your website's files and location of your visitors, that affect your site's performance. A CDN service can help some.
Question: But how much traffic is too much for a shared server?
Answer: Since each hosting company is different, it is different for everybody.
Google searches and Facebook comments on the topic suggest that when you are getting a couple of thousand visitors per month, is a good time to consider upgrading your hosting.
There are free tools that will measure your site's load speed and other performance factors.
Based on the graph in this article, 3 seconds is the benchmark for load time.
Page speed is one thing that will give your visitors a good experience on your site. And it can help you gain many return visitors in the future.
Related: 14 Things You Can Do To Speed Up Your Website
Performance of Shared Hosting
This is a speed test for a website running on a popular shared host in the USA.
And these are the results for the same website for locations around the globe.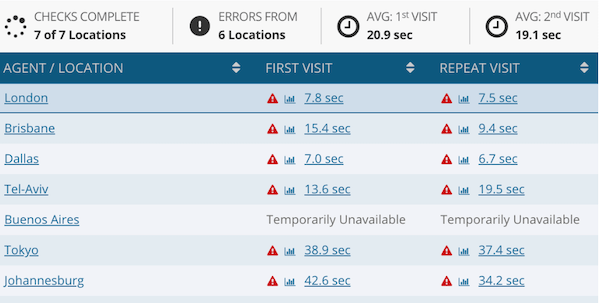 Performance of Managed Hosting
This is the same speed test for a comparable website running on Liquid Web's Managed WordPress hosting.
And these are the results for the same website for locations around the globe.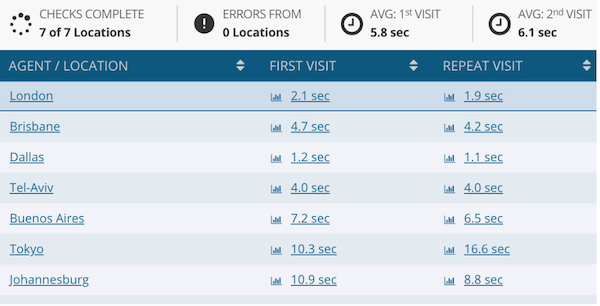 Much better right?
Managed hosting is an investment. But one that will allow your business to grow in intangible ways.
You may have an amazing product, course, ebook, etc… but bad website performance can get in the way.
Your visitors should be able to purchase or download from your site seamlessly.
While Liquid Web worries about your website, you can focus on building your brand.
When Is It Time To Upgrade To Managed Hosting?
It's time to upgrade to managed hosting as soon as you start getting good traffic. 100,000 monthly page views is often been recommended. However, I upgraded once I reached 60,000.
Simply because I wanted the better performance, my blog is my business and I want to treat it right.
What Does Liquid Web Offer?
Liquid Web offers different plans to fit your needs, like if you own more than one website.
You can even pick the location of your server in either USA or Europe. Which you will want the servers closest you and your visitors.
User-Friendly Dashboard
The customer dashboard is also super easy to navigate. There is no need to deal with a cpanel.
Everything is easy to find and lets you manage your sites without clicking through a maze.
Honest Prices, No Increased Renewal Surprises
With Liquid Web, there is no contract. You just prepay for however long you need. Plus, there are no surprise renewal charges at higher rates.
Pricing starts at $29.99 / month, but you can save by prepaying for annual plans.
Free Migrations
Did I mention that Liquid Web offers free migrations?
Yep, you really don't have to worry about the technical stuff. Once your Liquid Web account is set up, just click into the Migrations tab and request your website to be moved.
Don't forget to use my exclusive discount code – PAPER35
You will get 35% off your first 3 months of hosting if you enter it in the shopping cart.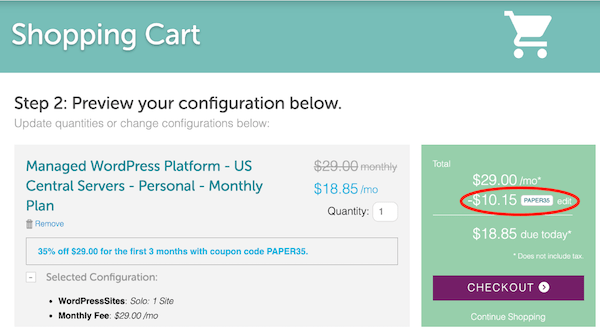 Upgrading From Shared To Managed Hosting
Upgrading from shared to managed hosting is something that successful bloggers and website owners must face sooner or later.
When it comes to performance hosting, Liquid Web can handle what your site needs.