Haute Stock Review – Feminine Styled Photography
Haute Stock Review – Haute Stock is a premium stock photography membership site, appealing to female business owners and bloggers.
They offer an amazing photo library of beautiful, stylish and relevant feminine styled stock photos.
Members get unlimited downloads of the entire 3,000+ library of images, graphics and social media cards. And what's more, Haute Stock pricing is very affordable.
I've been a paying member of Haute Stock since 2017, and they are actually my favorite source for styled stock photography.
---
As an affiliate partner of various brands and sponsored content, HerPaperRoute may earn commission on qualifying purchases. Disclaimer | Advertise With Us
---
(If you've ever looked at my Pinterest, you already know I use Haute Stock for many of my graphics!)
But for this Haute Stock review, I wanted to hear from someone who hadn't been using the service for as long as I have.
Enter contributor Gertrude N, who offers up her experiences of the membership site, for today's Haute Stock review!
🫶 Want to Make More Money?🫶
Become a member of HerPaperRoute today and get a toolkit packed with resources to help you make that paper. All for FREE!
---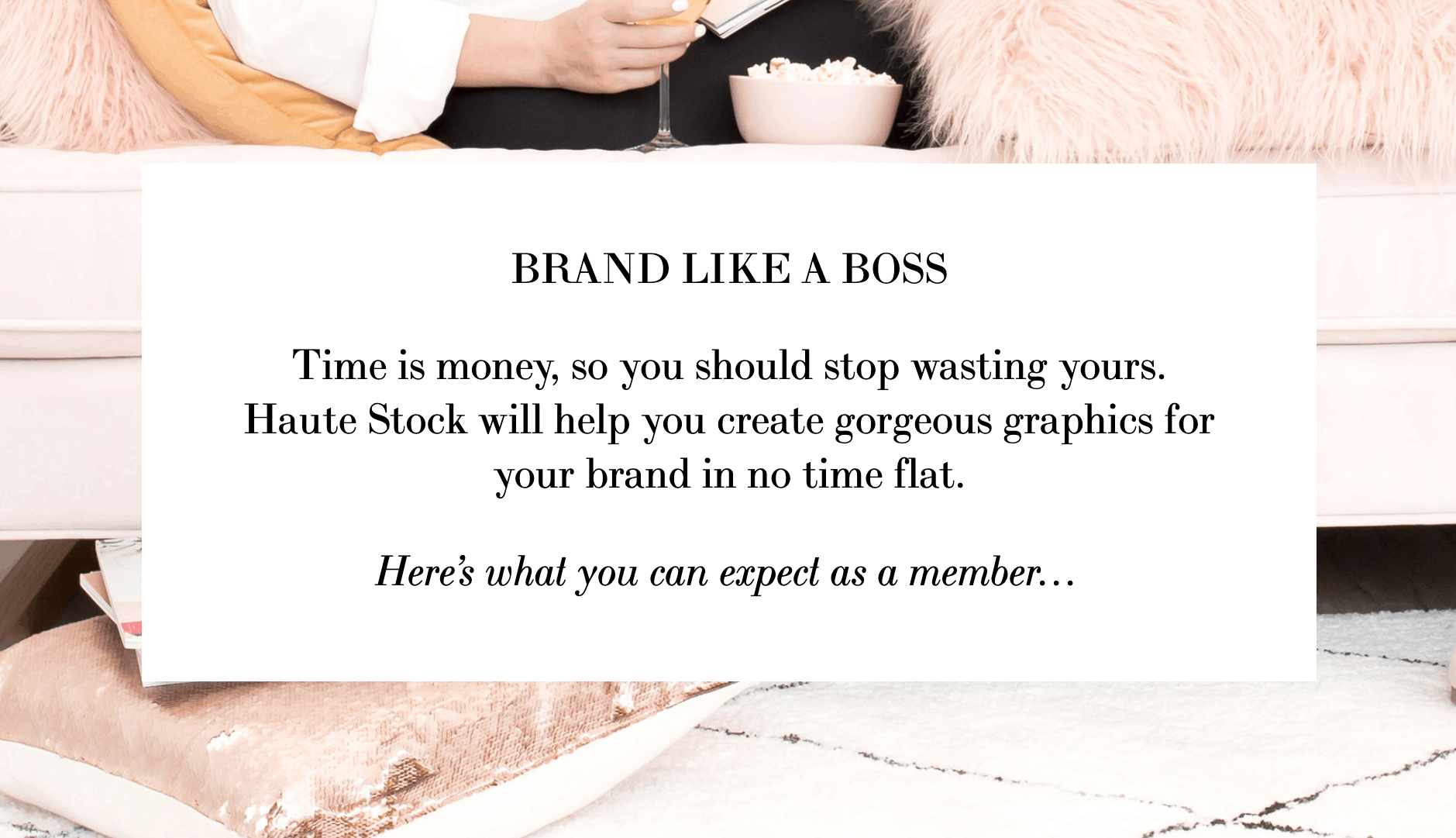 Haute Stock Review – Premium Quality Styled Photography Membership
Haute Stock is a photography membership website providing top quality images mages.
Members can use these images for blogs, websites, social media, ebooks, emails, marketing campaigns and any other online platforms or needs.
Members get access to over 3,000 stock photos, which are available whenever you need them, and new photos are added weekly.
Haute Stock images are high resolution so they are also good enough to print out. There is also no limit to how many images you can download and you can also download the same image repeatedly.
Alongside all the other categorized images, they even go as far as providing you with pre-made Instagram quotes and graphics packs.
If graphic design is not an enjoyable task for you or one you just don't have time for then Haute Stock really is the solution to your problem, look no further.
Included in the graphic packs are icons, fonts, and color pallets so you have a variety to choose from in correlation to your brand.
Branding really is one thing that a business cannot afford to get wrong and especially in the digital age. It is key to the business' identity so if you are struggling with this aspect of your business I would highly recommend them.
Navigating The Haute Stock Website
The layout of the Haute Stock website is pretty user-friendly and very minimal so its impossible to lose your way while browsing.
Once you sign you up you'll be able to download stock images by simply hovering over the image and clicking download.
This is a really good option as you'll only download what you need which is helpful when it comes to saving memory on your computer and not filling it up with stuff you don't need.
To save you scrolling for ages to find relevant photo's Haute Stock have created a category section that allows you to select what you need.
There is a filter option on the website which breaks down your search, even more, to bring you exactly what you need.
You are able to select the size of image, color and the website will pull up everything with your specifications!
Talk about attention to detail that's pretty impressive and convenient.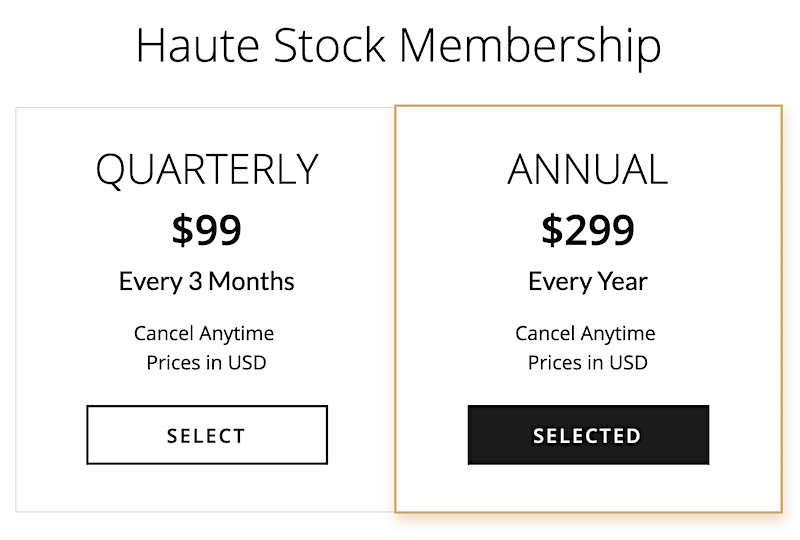 Price: How Much Does A Haute Stock Membership Cost?
Haute Stock membership is available on two tiers.
You can sign up for the quarterly membership at $99, or a yearly plan for $299. If you decided to go with the yearly plan you would be saving $100, which is impressive.
Haute Stock will also provide you with free images before you commit which is always a win.
Should you decide to cancel your membership you will still have access to the images you have downloaded forever.
Is Haute Stock Worth It?
Haute Stock has definitely been a great investment and has saved me a lot of time as a new business owner.
Their images cover all niches, variety, and versatility and they also really have set a standard in the photo stock world and one that is hard to compete with.
I always feel so inspired and filled with so many new ideas for my business whenever I visit the website.
Haute Stock Review – Final Verdict
HerPaperRoute.com gives Haute Stock 5/5 stars, beating out similar photography membership Styled Stock Society. This makes Haute Stock our #1 choice for stock photography.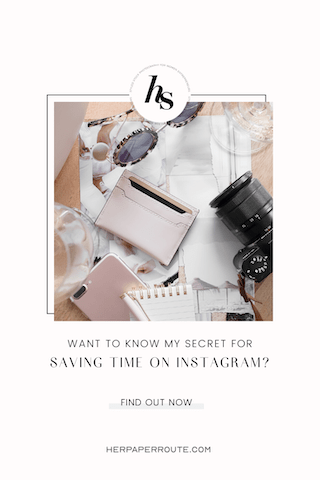 More Photography And Entrepreneurship Resources
Love This Post?
Please share it and pin it =)