Pinterest Strategy Course – What's Working Now
Are you struggling with your Pinterest strategy? Are you finding it harder than ever to bring traffic from Pinterest to your blog and sales pages?
Have you been noticing that your usual pinning strategy, which used to work, doesn't really work anymore?
I've noticed too. And I spent months searching for clues, and studying and testing different pinning techniques to figure out what's been going on with Pinterest.
And more importantly, figure out how to use it to fix and 'hack' my Pinterest traffic for the better.
---
As an affiliate partner of various brands and sponsored content, HerPaperRoute may earn commission on qualifying purchases. Disclaimer | Advertise With Us
---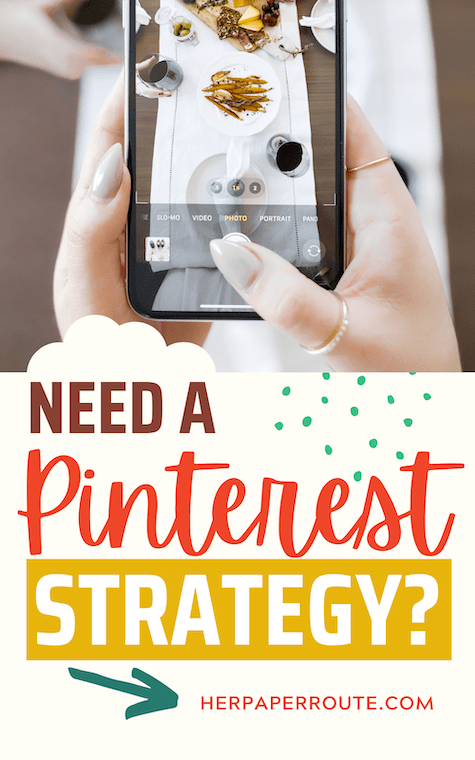 HerPaperRoute's Pinterest Strategy – What's Working Now
I made many discoveries and breakthroughs over the course of my Pinterest testing. I feel like I was able to 'crack the code' on Pinterest's often frustrating and quickly changing idiosyncrasies.
At first, I was only sharing my results with my team.
But after thorough testing, I've finally decided to share my new Pinterest strategy and wrote it all out in the Pinterest Marketing course.
🫶 Want to Make More Money?🫶
Become a member of HerPaperRoute today and get a toolkit packed with resources to help you make that paper. All for FREE!
---
It doesn't matter how long you've had your Pinterest account, if you are not doing the right things with it, your Pinterest will never grow.
I have always loved good strategy guides and to be able to implement some new Pinterest strategy tips is very exciting for me.
As you may have already known, Pinterest is one of the largest drivers for traffic for many bloggers.
This is good news because more traffic means more business for you.
For people who love visuals, Pinterest is the place where you can easily find blog posts, crafting projects, gift guides, DIY tutorials, travel tips, business resources, and many more.
But if you are a blogger or own any type of business, Pinterest is also a goldmine of potential customers.
There are so many bloggers out there who claim that Pinterest drives most of their traffic and this is why executing the right Pinterest strategy is very crucial.
Organic traffic from Google takes a while to build up. Especially if your blog is new. It can take months or even years before a website can start ranking for high volume keywords in search results. But with Pinterest? If you know what you are doing, even a brand new blogger can have heaps of traffic from Pinterest, right from the beginning.
If you are looking to level up your Pinterest strategy and drive more traffic to your website, I suggest getting your hands on the Pinterest Marketing course.
What's Included in The Pinterest Marketing course?
In this program, you will discover how I use free online tools to send thousands of daily visitors to my blog, sales pages, and affiliate offers – on auto-pilot!
📌 How to develop a Pinterest strategy for your business
📌 Pinterest SEO & How to do pin keyword research
📌 How to create viral pins
📌 How to rank in Pinterest's topic feeds & search results
📌 Tailwind training📌 How to bring your Pinterest traffic back by learning what happened to it and how you can fix it.
📌 How to make old power pins go viral once again.
… & More!
How Is The Pinterest Marketing Course Different From Other Pinterest courses?
The difference between the Pinterest Marketing course. and other Pinterest strategy guides out there is that many of the tips and tricks in mine are ones you haven't ever heard of before.
I have laid out everything in my course out, and you don't even need to spend weeks or months to learn. It's like having a mother feeding you food. Everything is already prepared!
All you have to do is test and tweak it to find out which one works the best for you and your Pinterest account.
What Our Students Are Saying
Finding Unicorn Pins
Unicorn Pins was probably a term that you are not aware of yet.
A Unicorn Pin is essentially one that Pinterest hasn't shown stats for yet. In a sense, when you pin these to a highly-keyworded board, you can tell Pinterest what this pin is about.
You can 'hack' your way through the algorithm to work these in your favor.
How do you find Unicorn Pins? Is it a picture with a unicorn? Surprisingly, it's not.
Here is what they are, and why they are so good for your blog traffic. That is, if you know what to do with them when you see one.
And it doesn't take long to see the results.
Another useful Pinterest strategy tip is related to reading Pinterest, the way Pinterest reads your pins.
When you click 'Promote' on a pin, you will see a screen that looks like this:
Scroll to the 'Target Audience' area. If you see multiple keywords like shown above, this means Pinterest understands what your pin is about and how your pin should be ranked as well.
Another crucial Pinterest strategy tip is about search results on the app.
Here's the thing. New pins tend to take between 10-14 days to rank for all pinners to see. This also includes all public non-Pinterest users.
This can be troublesome if all you want to do is find your ranking pins fast, so you know which ones to focus energy on.
When you know how to make use of little-known search features to sneak around the app to get accurate search result measures, you can really see traffic success.
HerPaperRoute's Pinterest Strategy – Conclusion
There are many more useful Pinterest strategy tips and tricks included in the Pinterest Marketing course.
Some of them include the popular Pinterest and Instagram scheduler, Tailwind, and how to get a new pin to take off fast.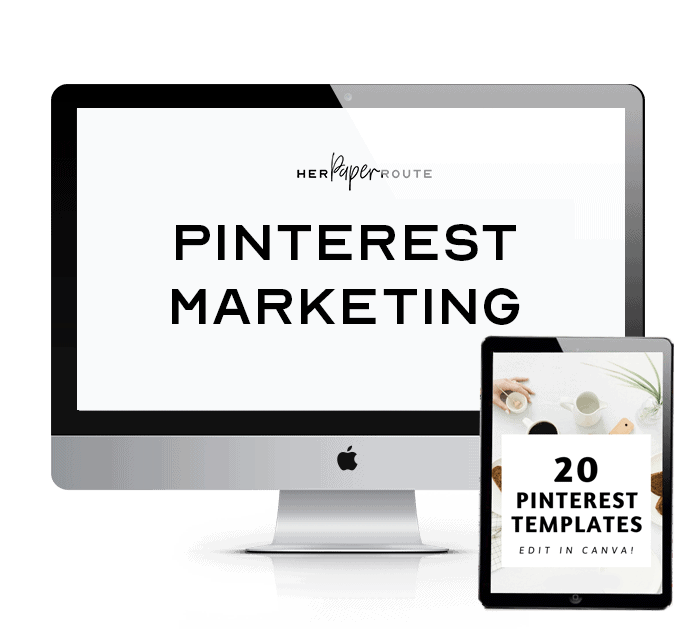 More Pinterest Strategy Tips