11 Best Travel Affiliate Programs: Make Money While You Explore!
Are you a digital nomad looking for ways to make money while you travel? Allow me to introduce you to the best travel blog affiliate programs.
Affiliate marketing is the secret sauce to earning an income online, no matter where you live. It is perfect for digital nomads.
Earning money online so you can be location-independent is the dream for any frequent traveler. But it is not just a dream, it is an absolute reality for anyone who is willing to learn how.
Additionally, earning from affiliate commissions can also be the thing that takes your blog from a hobby to a real business.
---
As an affiliate partner of various brands and sponsored content, HerPaperRoute may earn commission on qualifying purchases. Disclaimer | Advertise With Us
---
While it's not easy, if you take the time to build up your blog traffic, you can monetize it through affiliate marketing, ads, partnerships with brands, selling Ebooks, Google AdSense, and many other ways.
Today's article will focus on affiliate marketing for travel bloggers.
This article will cover the best travel blog affiliate programs you can sign up to and earn big commissions while you're exploring or even sleeping!
🫶 Want to Make More Money?🫶
Become a member of HerPaperRoute today and get a toolkit packed with resources to help you make that paper. All for FREE!
---
Free Book For Digital Nomads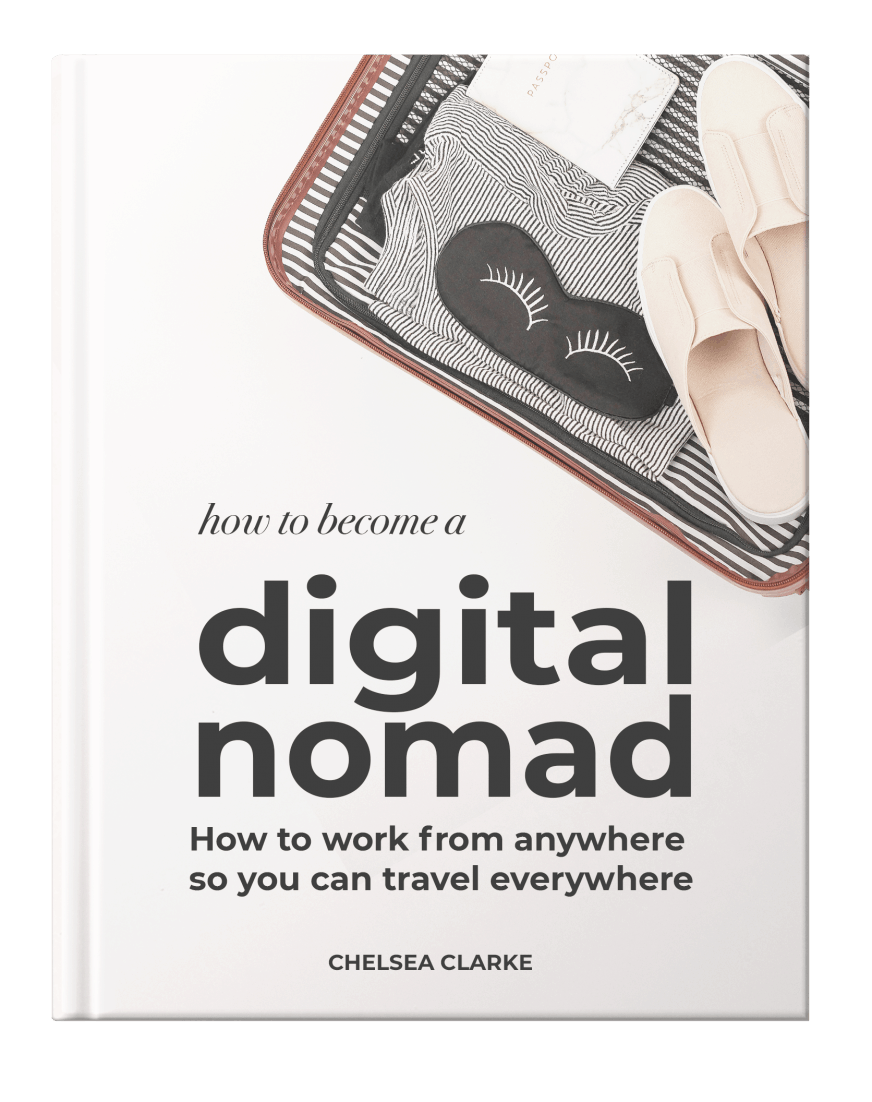 Before we get started, there are a few things you need to have set up first, before you can make money blogging while traveling.
WAIT! Know that you do not have to start a blog from scratch nowadays if you don't want to. These days, you can actually buy an established blog that already has traffic, sales and subscribers!
In addition to reading about the travel affiliate programs below, be sure to also pin this list of 100+ affiliate programs in other niches, too!
Affiliate marketing income allows me to travel around the world, while staying at nice hotels!
For example, take a peek at my TikTok below, where I shared about my recent stay at the Waldorf Astoria in LV. I was invited by my affiliate partners, ShareaSale and AWIN:
Recommended Hotel Affiliate Programs
If you've been traveling for a while, you've likely used one of the many hotel booking sites.
There are many huge names on the market that offer great affiliate programs you can promote.
Pinned it to your Pinterest for later?
Ok, now let's take a look at the best hotel affiliate programs for travel bloggers.
1. TripAdvisor
TripAdvisor has been around for many years, and is a well-established player in the travel market.
It offers travelers a place to ask questions, review hotels and restaurants, give advice on things to do, book flights, book hotels, and even book cruises.
The TripAdvisor affiliate program process;
Sign up free with AWIN or CJ Affiliate
Search for TripAdvisor and apply to join the affiliate program
Create your trackable links and add to your site
Encourage website visitors to click your TripAdvisor link and out to one of the hotel booking partners. No booking is required to make a commission
Join the TripAdvisor affiliate program here
2. Booking.com
Booking.com is one of the top travel sites for scheduling hotel bookings, flights, and car rentals and finding out the best attractions in a destination.
Anyone with a website can sign up for the Booking.com affiliate program and start to make good commissions.
You will earn a percentage of commissions, depending on how many ''stayed'' bookings are made through your links each month. The higher amount of bookings, the more commissions you will make.
The benefits of joining the Booking.com affiliate program;
Your commissions increase the more leads you send in a month. 0-50 you get 25% and 501 or more monthly, and you get 40%
A quick and simple sign up process
You will get a search box, access to deep linking and banner integrations
Sign up to the Booking.com affiliate program here
3. Agoda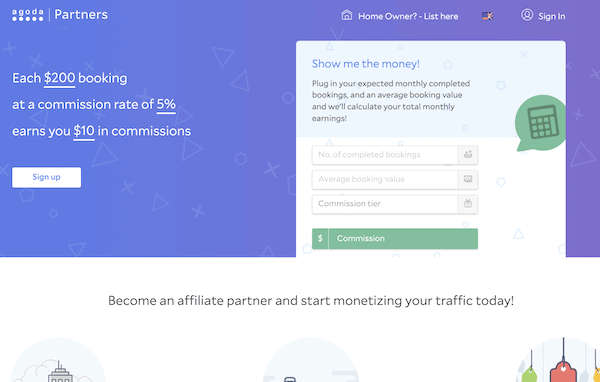 Agoda is a huge accommodation and flight-booking site, with a reported quarter million properties on their books.
You must have a website or blog to apply for their affiliate program. Once you apply, expect to wait anywhere between 48-72 hours to get approved.
What to expect after joining the Agoda affiliate program;
Enjoy 60% commissions on margin

Free search boxes, text links, beautiful-looking

banners,

and data feeds

Increase your revenue by displaying hotel power ads

A 30-day cookie structure so you keep earning commissions
Sign up to the Agoda affiliate program here
---
If you travel often, you should have a FoundersCard membership. It gives you access to and discounts at hotels around the world, airport lounges, flights, restaurants and more. Get your FoundersCard now.
Recommended Travel Insurance Affiliate Program
Travel insurance spend is reported as being nearly 4 billion a year, just in the USA!
Becoming an affiliate for top travel insurance brands is a great idea to boost your earnings.
I'm adding travel insurance as one of the best travel blog affiliate programs, as it's something we all need and use.
Here are some handpicked travel insurance affiliate programs that will get you great commissions.
4. Allianz Global Assistance
I chose Allianz Global Assistance to go on the list because they offer great affiliate cookie terms and a decent fixed commission rate.
They offer travel insurance, concierge services and corporate assistance.
Trusted by more than 35 million people, their insurance plans cover; general health while traveling, emergency assistance, emergency transportation and in some plans, trip cancellation.
Here's what to expect as an Allianz Global Assistance affiliate;
They have a solid reputation which should help you get sales
Commission rates of $12-25 per sale

A decent cookie length of 45 days
Sign up to Allianz Global Assistance here
5. Travelex Insurance Services
What I like about the Travelex Insurance Services affiliate program, is that they offer a decent flat commission rate. It also pays way higher than some other travel insurance programs.
They offer a range of different travel insurance plans to suit different travellers. Another pro is that they are the first travel insurance company to introduce a waiver for people with pre-existing medical conditions.
This could help you make a higher amount of affiliate sales.
Travelex Insurance Services affiliate program highlights;
$17 commission for every sale through your link
A robust cookie duration of 45 days
A waiver for customers with pre-existing medical conditions (not seen with other insurance companies)
Sign up as an affiliate for Travelex Insurance Services here
---
Free affiliate marketing tools and resources:
---
Recommended Luxury Travel Affiliate Programs
Many wealthy tourists enjoy the luxury experience while they travel.
This can include hotels with a high price tag, first-class jets, being chauffeured around when on the ground, and luxury tours.
Because of the high price of these travel experiences, you can make a great amount of money promoting them as an affiliate.
Take a look at the best travel blog affiliate programs for high-end, luxury experiences.
6. Boat Bookings
What millionaire doesn't love a little jaunt on a luxury yacht? Boatbookings provides its wealthy clientele with customized boating experiences, to some of the most beautiful destinations around the globe.
Becoming an affiliate for Boatbookings is a simple process on their website. Once accepted, you just copy and paste their code onto your website and get access to high-quality images, buttons, inquiry forms and tracking tools.
What you get as a Boatbookings affiliate;
A healthy commission of 10-20%
Generous 30-day cookie terms
Enjoy higher commissions the more people you refer
Sign up as a Boatbookings affiliate here
7. Villiers Jet Charter
Some people don't want to wait to get on an ordinary flight!
And this is where Villiers Jet Charter comes in, allowing VIP customers to book private jets for their personal and business travel needs.
The Villiers Jet Charter team offer competitive quotes and say they can get customers in the air, in under 2 hours if needed.
They look after their customers and they look after their affiliates, which is why they are one of the best travel blog affiliate programs.
The benefits of promoting Villiers Jet Charter as an affiliate;
One of the highest paying luxury brand affiliate program offering 30% commissions. You will earn for a lifetime from any customer you introduce

Generous 365 cookie terms

You have the potential to earn a few hundred or even thousands of dollars per flight booking through your links
Sign up to the Villiers Jet Charter affiliate program here
8. Blacklane
If you have money, you're not going to get in a taxi – only a chauffeur will do!
Blacklane offers this service in over 50 countries, 300 cities and over 500 airports. Their fleet of beautiful cars include fully licensed and insured chauffeurs that know how to give the 5-star treatment.
Being a high-end company charging premium rates, they offer their affiliates a decent slice of the pie.
Their affiliate program is hosted on Rakuten Marketing and after sign up you'll get access to a bunch of useful tools and resources, a 24/7 service hotline and a mobile app.
Benefits of joining the Blacklane affiliate program;
$30 flat-fee commission payment for every referral
A Decent 90-day cookie duration
Smart tools and resources to boost your marketing
Sign up with the Blacklane affiliate program here
Activity Travel Affiliate Programs
When deciding on the best travel blog affiliate programs for your website, it's a good idea to diversify what you promote.
Adventurous and exciting activities are usually high on the list of any traveller to experience. Landing in a new country is always fun and many tourists like to plan their tours ahead of time.
By partnering with an activity travel affiliate program, you can give your readers this option. Let's take a look at some popular travel blog affiliate programs that focus on tours and activities.
9. Viator
Viator is a huge name in the travel and adventure space.
Their affiliate program is easy to sign up to and offers affiliates 8% of the final payment, whenever a customer buys a tour through your website.
One of the best travel blog affiliate programs for travel bloggers, Viator gives its affiliates huge amounts of support and mobile-friendly widgets to help convert bookings.
Here's why you should sign up to the Viator affiliate program;
They offer thousands of tours in 75+ countries and 450 destinations worldwide
Free tools, widgets and banners are available with customization

options to suit your brand

An automated online program set up
Sign up to the Viator affiliate program here
10. Get Your Guide
GetYourGuide is another premiere tour and attraction booking website, allowing customers to book experiences ahead of time.
As of writing this, their website was offering over 34,000 experiences on their platform, available for affiliates to promote.
They offer a quality affiliate program, with a dedicated support team to help you as a beginner. When you sign up, you get to choose from there three-tiered partnership structure which is initially determined by the volumes of traffic your website gets.
Benefits of signing up to the GetYourGuide affiliate program;
Earn 8% commission on any tours/experiences purchased through your site
Their browser cookie is valid for 31 days

You get tailored integration tools and support from the affiliate team
11. TourScanner
TourScanner is a smart search engine focused on helping its users filter to find the cheapest tours, attraction tickets and things to do.
You won't have to wait in line when using TourScanner, you can skip the queues by booking ahead.
They have over 500,000 tours and travel activities on their books, including things like; guided visits, tickets to top attractions, outdoor and sports activities, cooking classes, shows and much more. It's one of the best travel blog affiliate programs for your travel website.
The benefits of joining the TourScanner affiliate program;
Get a decent 10% commission rate of the final booking price

Enjoy a 45-day cookie duration

TourScanner has a high conversion rate of over 3%
Join the Tourscanner affiliate program here
What to Consider Before Joining Travel Blog Affiliate Programs
When deciding on the best travel blog affiliate programs to join, it's a good idea to ask questions to ensure you know what you'll get in return.
Try to use the travel service, so you can recommend it to your readers and know it actually is of high quality.
Free class: Learn funnel building secrets to monetize your audience fast:
Here are some things to consider;
What type of affiliate commission will you get eg; fixed commission or revenue sharing?
Are the cookie terms long enough? Sometimes a customer clicking on a link may not buy straight away. A long enough cookie term means you can still get the commission if they return to buy later
How easy is the affiliate integration to your website? Is there affiliate support?
Is the speed, design and ease of use of the travel companies website you will promote high quality?
Does the product fit your audience? Obviously, you won't make many commissions if you're promoting extreme adventure tours with an over 70-year-old audience!
If you are a travel blogger, looking to monetize your website, partnering with travel affiliate programs is a top idea.
Have a play around with where you promote the banners on your blog, to see which works best.
Best Travel Affiliate Programs: Make Money While You Travel And Explore – Conclusion
Have you promoted any of the travel affiliate programs I mentioned?
What was your experience? Have I missed any great travel affiliate programs off the list? Let me know in the comments…
If you loved this list, please share it on your social media accounts. I'd be very grateful!
For full training on affiliate marketing and to learn how to create and run a profitable blog, enroll in The Blog Monetization Course
READ THIS NEXT:
More High-Paying Affiliate Programs By Niche:
Choose A Category To See The Programs: