Knowing When It's Time To Make A Career Change
I sat down with career coach Crystal Barrow of Shape Your Success Coaching to discuss knowing when it's time to make a career change.
Are you ready to fire your boss and make a career change towards a better job and happier life? Listen in now!
Listen to the podcast on Itunes | Google Podcasts | Spotify
Crystal shares advice for how dissatisfied employees and job seekers can muster up the courage to quit, and then handle the emotional weight of transitioning between jobs.
---
As an affiliate partner of various brands and sponsored content, HerPaperRoute may earn commission on qualifying purchases. Disclaimer | Advertise With Us
---
Plus, she shares some excellent tips for how you can nail job interviews with confidence.
Knowing When It's The Right Time To Make A Career Change With Crystal Barrow
Listen now:
🫶 Want to Make More Money?🫶
Become a member of HerPaperRoute today and get a toolkit packed with resources to help you make that paper. All for FREE!
---

Listen to the podcast on Itunes | Google Podcasts | Spotify
Episode show notes
Resources mentioned in today's episode:

Flodesk
Flodesk is the email marketing tool I recommend. Lock in $15 per month for life, and get space for unlimited subscribers!
Honeybook
The project management tool I recommend. Get 50% off your first year at Honeybook. Learn more.
Bluehost
Get 60% off web hosting and a free domain. Learn more.
Check out Crystal Barrow's Job Search and Career Success coaching program!
This group coaching program gives you the tools to get traction with your career goals, whether it's a job search or career change.
Work 1:1 with Crystal to get the strategies and support you need to find the perfect career you want. Learn more.
Does Something Just Feel…Off With Your Current Job?
In your mind, you rationalize and tell yourself that you sound ungrateful.
"I can't leave, because things could get better?" But, nothing changes.
Eventually, the roar within you becomes unbearable, and you have to change jobs. Your personal happiness and mental wellness is at stake.
Does this sound like you? If so, here are some red flags telling you it's time to quit your job and make a career change.
1. If other people's jobs sound fascinating
How often do you look at LinkedIn? Do you find yourself stuck in there?
If you are envying the "Congratulate so-and-so on their new job," people it is a sign that you need to refresh the resume' and become one of those people.
2. If your mood swings are noticed by the people you love
When Sunday night rolls around, the family stays out of your space.
This is a problem. Sure, rainy days and Mondays get everyone down (to quote Karen Carpenter, approximately).
But if even Saturdays bring brief bouts of moroseness because Sunday's coming and will be followed by Monday, you should leave your job as soon as possible.
3. You look for new challenges, but…
You are NOT a lazy person. Your hand goes up, volunteering for new assignments. But it isn't enough. Your main job is both uninspiring and tedious.
Sure you can hide in other projects for a while, but that's no way to fill the empty spot in your soul.
4. "Career growth" seems like a pipe dream.
You spoke to your boss about your career goals, but there were never any concrete plans. "That's something to think about." Maybe, later."
Those words became the bane of your existence until you stopped scheduling meetings and continued on the same old treadmill.
What's the use of that, when you can change jobs?
5. You dread it when others question you about work.
"What do you do?" It's a common question.
How does that question make you feel? Do you have a sudden need to escape the table and visit the restroom just to be alone?
Deep down you know they would be polite, or maybe even interested, but you can't face the prospect of explaining it all again.
You may want to consider quitting your job.
6. Deep inside you are sure you can do better.
This is the source of the sound in your head that we discussed at the beginning.
At first, it was background noise. But it got louder. Finally, you will come to a realization that you can be better, but in a different workplace.
These are not signs that should be brushed aside as bellyaching, and don't try to tell yourself that everyone feels this way too.
Because it's not true. People who love (or even like) their jobs do not experience these kinds of symptoms. Of course, there are exhausting and/or stressful days wherever you work.
But, this kind of long-term issue must be addressed with a change of jobs. There are more suitable employers with better positions available to you. Make your move.
Believe in you and your happiness. There is a brighter tomorrow on your horizon. You've given what you have to give to this employer. Change jobs!
Thinking of making a career change? Consider these industries
Making a career change can be scary. But if you're not finding the status quo rewarding, a job change to one of these fields could be just the right fit.
Perhaps you are looking to make more money, learn something new, or want a career with more work/life balance.
If you are looking to make a change in your career, then you may want to consider one of these top industries to consider for a job change.
These industries are poised for explosive growth over at least the next decade and could provide an exciting new work life.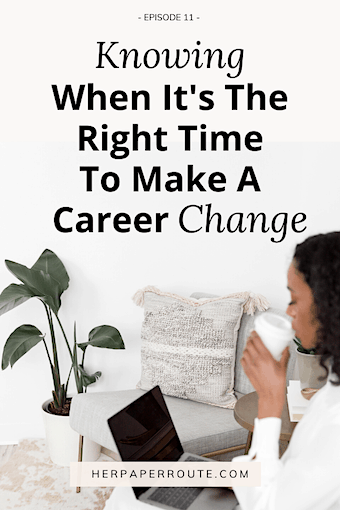 Healthcare
The U.S. population is getting older and we're not living healthier lives given the education and access that is now available.
So, the need for individuals in the health industry continues to grow. Nursing is probably the top need as hospitals and other medical facilities seek nurses to help treat/care for patients.
As the country continues to age, there is also a great need of home care aids that can visit patients in their home to check on their vitals, administer medication and provide other medical care needs.
Software/Web Development
There is so much growth in the IT field, it's hard to contain it.
What makes it different from other industries is that you don't have to have a four-year degree to get into this industry.
Much like a trade, if you can code the programming languages that are desired, you will find a new job.
The opportunity for internet and website developers is unrestricted as far as an industry in which to find a new path.
All sorts of businesses are doing business on the web, including everything from healthcare to banking, telecommunications and pharmaceuticals.
Financial Services
If numbers are your thing, then the need for financial advisors, analysis, stocks, securities, and financial service sales agents are some of the largest fields available for new positions.
With more people in the pre-retirement age, the interest in planning for a stable, after-life is huge.
Education
Getting a secondary education or career training is a goal for a lot of people. Colleges, and training centers need teachers to help students learn.
Distance learning is now a large part of the industry so there are also opportunities to work from home, which could be an ideal job change.
Hint: You can also become a high-paid online course creator today, with no experience. Read this to learn how.
Become Your Own Boss
Entrepreneurship isn't for everyone. But for those who fit in fine with what entrepreneurship demands, it is the most rewarding career path of all.
Working on your own time, no limit to how much money you can make, freedom to go anywhere you want, whenever you want.
Control over your life, while doing something you are passionate about…
In my opinion, what could be better? Making the decision to be my own boss and build a business was the best decision I ever made.
Take a look at this big list of ways you can earn an income online, as well as this list of awesome passive income ideas.