4 Awesome Ways To Make Money As A Content Creator
These are some of the best ways to make money as a content creator. Have you been seeing some of the income reports of bloggers lately?
Like you, they once asked, "How do you make money on your blog?" These same bloggers are now making 4,5, and even 6 figures per month.
It didn't happen overnight for them, but with hard work and perseverance, they are finding success.
Let's talk about methods you can use to make money as a content creator.
---
As an affiliate partner of various brands and sponsored content, HerPaperRoute may earn commission on qualifying purchases. Disclaimer | Advertise With Us
---
4 Awesome Ways To Make Money As A Content Creator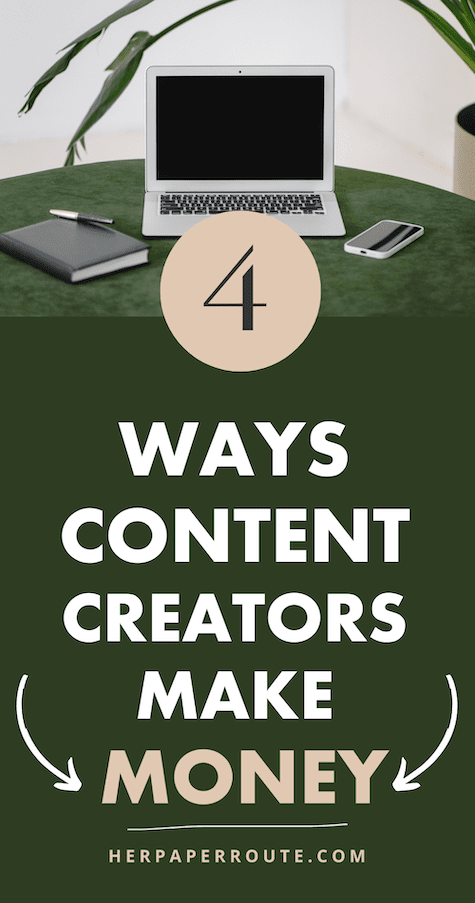 Earning a living as a content creator is one of the best careers around.
TikTok, Instagram, Youtube, and others all offer a space for creative entrepreneurs to build a following.
But it's important to know this…
🫶 Want to Make More Money?🫶
Become a member of HerPaperRoute today and get a toolkit packed with resources to help you make that paper. All for FREE!
---
No matter what social platform you choose to build your following on, it's important that you drive that traffic into a platform that you own. You should have your own blog, and an email list.
If you haven't started your blog yet, I invite you to read this post: The Ultimate Guide To Starting And Monetizing A Blog.
And then once it is up and running, follow these steps to get your email list going.
Content Creators make money in various ways.
By the way, you are able to pick and choose which methods you prefer using. And, as your blog grows with more visitors and followers, more opportunities will open for you.
Here are four main methods of monetizing.
1. Advertising
Advertising is one of the ways you can begin earning income early on.
A common way to do this is to sign up with Adsense. Adsense allows you to have ads appear on your website and within your YouTube videos.
When a visitor clicks on the ad you get credit. The clicks are calculated based on different values and you earn money.
The balance must add up to $100 for a payout.
Putting your ads above the fold of your blog usually works best.
Examples would be one high up on your sidebar. One towards the top (like above your header or below your menu), and another in between blog post text.
Using different plugins you can set up ads and experiment with locations until you get a good layout.
They make it easier when wanting to place ads between paragraphs.
When your views increase you can try other advertising methods. Monumetric is one of these. But, you will need at least 10k pageviews per month views to join.
Lastly, you can sell ad spots on your blog and manage them yourself. You set your fees, duration, and image requirements.
There are pro's and con's with all these methods of how to make money on your blog.
For ads it's about creating a balance between giving your readers great content not overdoing the ads.
One thing I dislike is going on a blog and having ad videos startup and I can't stop them.
Another con is some ad networks slow down your website's load time.
I've left websites because of all the ads slowing up the load time so badly I can't read what I came there for.
2. Affiliate Marketing
Affiliate marketing in a nutshell: you partner with a company to help them market their product or service, for commission.
You get an affiliate link, which gets included in links provided by the company.
When someone purchases through your link, you get a commission.
The percentage varies per company. Companies, like Amazon, have a large range of products you market in your blog posts.
Affiliate networks like ShareaSale, Commision Junction, and AWIN are good to join to find companies' affiliate programs all in one place.
Affiliate marketing done well can create a nice income. You can usually start it soon after you publish some posts.
Instead of restricting you due to low views, companies use different guidelines including making sure your blog's niche fits their brand.
I teach an awesome course on affiliate marketing, which has helped thousands of bloggers.
3. Sponsored Posts
A sponsored post is when you receive payment in exchange for writing a post or posting on social, promoting a company or product.
It may include additional marketing such a certain number of shares on social media. Also, some base pay on how many clicks the link receives.
Some sponsored posts are paid with product in exchange for a review. It's up to you what kind of sponsored posts you accept.
Once your blog and following have grown some you can set prices and pitch to companies you wish to work with.
The con's include struggles with communication between you and the company. Some have the habit of changing requirements midway through the promotion.
Additionally, you need to have a fairly high number of social media followers to get accepted or get paid enough to make it worth your while.
Related: How To Get Blog Sponsorship Deals
4. Selling Products (Merch) or Services
Our fourth method of how to make money as a content creator is selling products or services.
I would say the most common is writing an ebook, ecourse, or printable you can sell.
Bloggers sell these for different niches from how to budget to meal planning.
Since it's digital your main investment is the time it takes to write it.
Then it's there to be sold indefinitely, creating a source of residual income for you.
I see a mix of this being done by both newer blogs and those more established.
It has a lot of pro's because you are in complete control of the making, marketing, and delivery.
You can set the price, update it, create more content to upsell in a package or create a membership to include the ebook or course in.
Con's are you have to come up with ideas of what to create and then you market it. But neither too much different than some work you already do for your blog business already.
The easiest way to create and sell an ecourse is to use this tool.
These are only some ways to make money as a content creator. There are actually more! See: How do bloggers make money?
Get Your FREE Blogging Startup Kit:
More Ways To Make Money Blogging