WP Rocket Review 2023: The Best WordPress Caching Plugin
In this detailed WP Rocket review, I want to discover if it really is the best WordPress caching plugin.
Making sure that your WordPress site loads fast is extremely important. Faster websites create happy users and happy users result in more traffic and conversion rates.
Faster websites also rank better in SERPs. So, speed is crucial. And the #1 tip for speeding up your site is that you need a good caching plugin.
🫶 Want to Make More Money?🫶
Become a member of HerPaperRoute today and get a toolkit packed with resources to help you make that paper. All for FREE!
---
As an affiliate partner of various brands and sponsored content, HerPaperRoute may earn commission on qualifying purchases. Disclaimer | Advertise With Us
WP Rocket is a popular caching plugin that is specifically built for WordPress. For this Wp Rocket review, let's put it to the test and see if we can improve a website's speed now.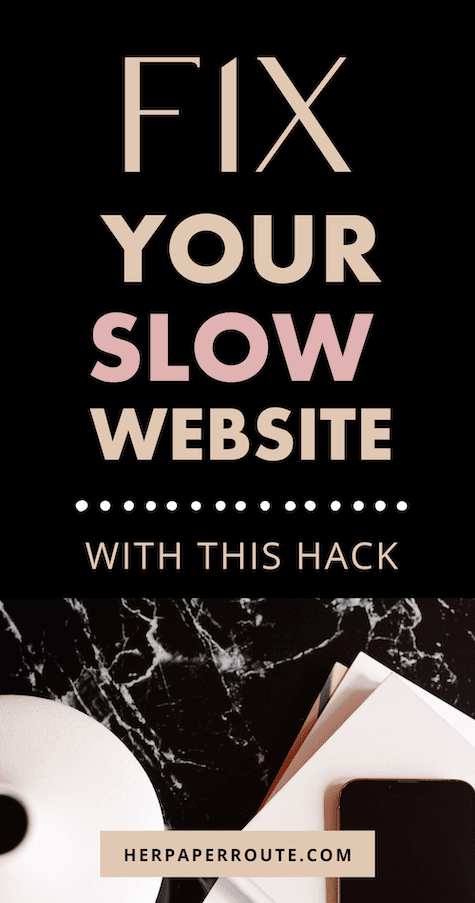 WP Rocket Review 2023: The Best WordPress Caching Plugin
Its number one role is to make the performance optimization of WordPress a lot simpler and easier.
In today's WP Rocket review, I am going to share with you everything you need to know about speeding up your website with WP Rocket.
Are you looking for an easy way to speed up your WordPress blog? Keep reading if you are curious about this high-performance WordPress caching plugin.
What is WP Rocket?
WP Rocket's number one role is to help solve the user's problems of having slow loading websites.
One thing I love about WP Rocket is how easy it is to set up even if you do not have any previous experience in working with WordPress caching.
They make it completely no0b-proof!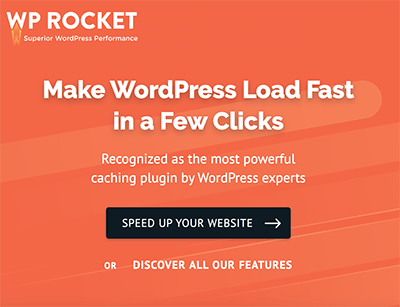 How Does WP Rocket Speed Up Websites?
For the purpose of this review, I have decided to test WP Rocket on one of my blog flipping client's websites, WorkAtHomeMomJobs.com.
Let's see how it will work in speeding up this website.
This is the result of the GTMetrix page speed test that I took before installing the WP Rocket: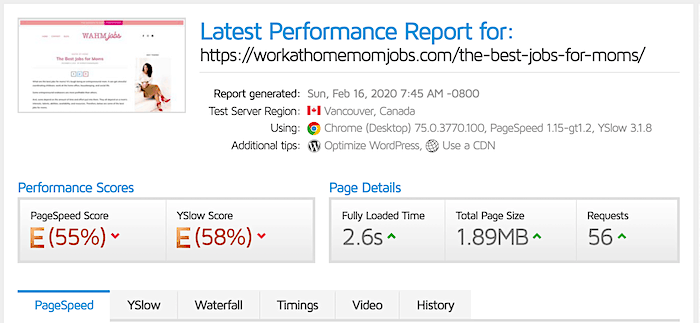 Without WP Rocket, you can see that WorkAtHomeMomJobs.com got a bad PageSpeed score, and took 2.6s to fully load and made 56 requests.
Definitely not good.
You'll see that the top 3 issues slowing the page down are the lack of compression (F grade!) not leveraging browser caching (E grade!) and not minifying CSS (D grade!)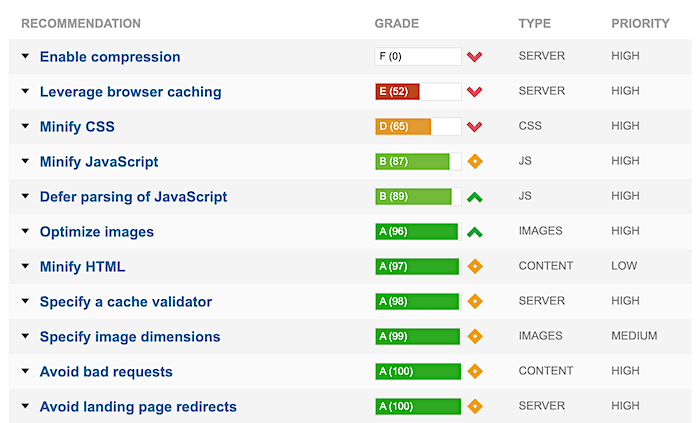 I know what you're thinking. This is really bad, and it should be a lot better. I agree with you.
Those 3 issues are things that WP Rocket fixes, among its many other features.
So now, let's do another GTMetrix speed test and see what the results are, with WP Rocket enabled this time: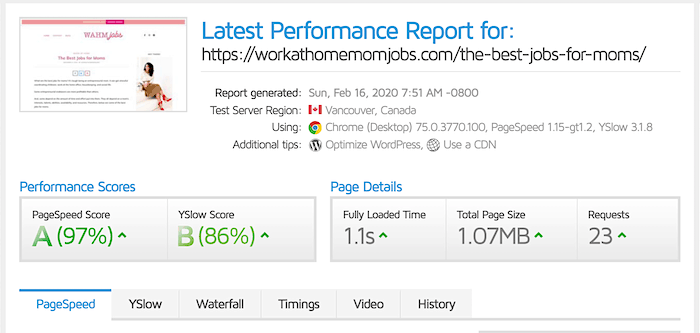 As you can see in the result above, with WP Rocket enabled, the load time of WorkAtHomeMomJobs.com dropped to 1.1s, and got an awesome "A" PageSpeed score!
Other things that you can spot in the results are the differences between the HTTP requests and the file sizes.
It dropped .82 MB off the page size, and cut the requests in half. And, fixed all of those top issues: leverage browser caching, minify CSS, and compresses everything.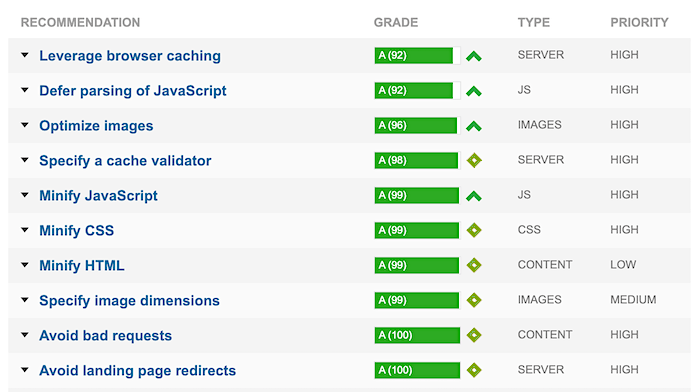 With this being said, it's obvious to me that WP Rocket really does speed up the loading time of my website and that is a huge deal.
Do I Recommend WP Rocket As A Good Caching Plugin?
Yes, I absolutely recommend that WP Rocket is the best caching plugin, and 100% worth an investment.
When it comes to choosing the best WordPress caching plugins, you have a few factors to decide on. Some of them include:
Ease of Use
Media Optimization
Database Optimization
CDN Compatibility
Minification
Mobile Detection & Caching
Custom Cache Lifespan
E-commerce Friendly
Web Hosting Compatibility
WP Rocket stands out from the crowd of other WordPress plugins because of how easy it is to use, as well as offering more features that other ones do.
WP Rocket's features include:
Minifying HTML – removes whitespace and comments to reduce the size.
Combining Google Fonts – will reduce the number of HTTP requests.
Remove the version query string from static files – good for speediness.
Minify CSS

– removes whitespace and comments to reduce the file size.

Combine & Optimize CSS delivery

– merges all your files into 1, eliminates render-blocking CSS.

Fallback critical CSS – provides a fallback if auto-generated critical path CSS is incomplete.
Mobile Cache – Speed up your site for mobile visitors.
Combine & Minify JavaScript – combines internal, 3rd party and inline JS reducing HTTP requests. Removes whitespace and comments to reduce the file size.
Lazy Loads Images – so images load as your visitor scrolls, instead of loading the full page as soon as they land there
Enabled Webp Caching – Webp images are much faster and smaller than pngs or jpegs.
Heartbeat – Reduce WordPress heartbeat and jobs in the background
Database Optimization – Safely clean up post revisions, comments, database files and transients without breaking your site
And a LOT more! See the full WP Rocket features list.
Plus, it is so simple to set up and use. So you can aside your worries and concern about whether you will have adequate technical skills to properly install and activate WP Rocket.
It's so easy to use even for beginners who have no experience in optimizing their sites.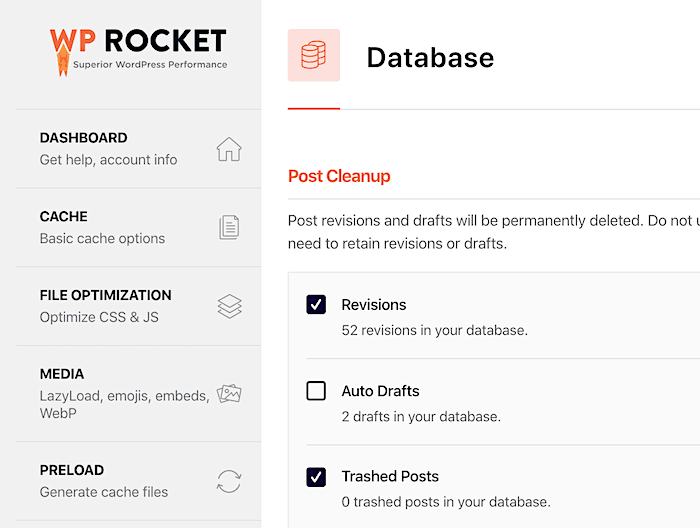 I also really like how by using WP Rocket, I am able to stop using multiple other plugins, as WP Rocket does everything that these other plugins do!
Once I started using WP Rocket, I was able to delete:
Autopitmize
My other caching plugins (SG Super Cacher, W3 Total Cache, WP Fastest Cache)
Lazy Load
Heartbeat Control
WP Performance Score Booster
WP Rocket Pricing
Another thing I really like about WP Rocket is that for a premium caching plugin with all these features, it is incredibly cheap!
WP Rocket comes with price options starting at $49 and this includes one website.
It is not a recurring fee (you just pay $49 once) but then you also get one year of support and free updates.
Although you can find other free WordPress caching plugins out there, it is definitely not recommended to skimp on your caching tool.
Investing in a proper caching plugin is the top priority, and if you take your website and blog seriously this should be a non-negotiable.
As mentioned above, WP Rocket is not a free WordPress caching plugin. But when it comes to the performance of your website, you don't want to mess around with non-premium tools.
WP Rocket pricing: WP Rocket comes with three premium package prices, as below: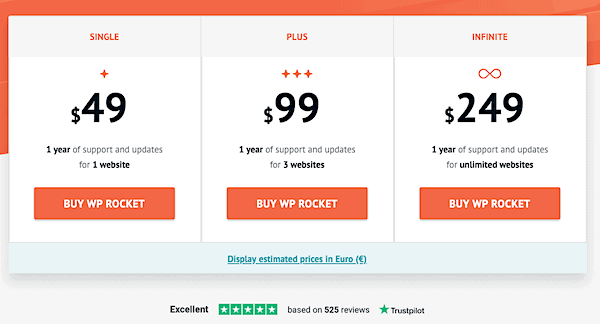 The Single Package: Priced at $49 with one year of support and updates for one website only.
The Plus Package: Priced at $99 with one year of support and updates for 3 websites.
The Infinite Package: Priced at $249 with one year of support and updates for unlimited websites.
For additional peace of mind, WP Rocket comes with a 14-day 100% money-back guarantee refund policy, too.

So, you can easily try WP Rocket without any financial risks. How awesome is that?
WP Rocket Review – Conclusion
I hope you have found this WP Rocket review helpful.
After testing WP Rocket myself and seeing the result that it brings, I highly recommend WP Rocket for website owners like you!
Anyone who is looking for a powerful caching plugin that is easy to use and priced right will love WP Rocket.
Not only does it offer ease of use, but it also showed that it can improve the website speed without a problem.
And it took me less than 2 minutes to set up before it started working and showing results!
If you are ready to try WP Rocket, get it today risk-free and start experiencing the faster loading time of your WordPress website immediately.
Read more: 6 Things that are slowing down your website