21 Highest Paying Digital Nomad Careers
Let's take a look at the 21 highest-paying digital nomad careers! Yes, you can leave your 9-5 cage and get a high-paying remote job.
If you've ever dreamed of the digital nomad life, working from anywhere, I'm here to tell you it is possible.
Digital nomads and remote workers are not some special gifted breed; they are just people who have managed to build that type of life for themselves.
All you need is a laptop, decent Wi-Fi, and the tenacity to find out what type of remote work is right for you.
---
As an affiliate partner of various brands and sponsored content, HerPaperRoute may earn commission on qualifying purchases. Disclaimer | Advertise With Us
---
21 Highest Paying Digital Nomad Careers
If you are determined, it's entirely possible to transition into the digital nomad life and replace your 9-5 wage plus even more in 3-6 months.
I'm living proof it's possible!
I quit my job in 2017, to focus on my blog, and I'm so glad I did. I ended up making $3,000 per month by month 6 from affiliate marketing, and 6 figures by year 2. Then, 7 figures by year 3.
🫶 Want to Make More Money?🫶
Become a member of HerPaperRoute today and get a toolkit packed with resources to help you make that paper. All for FREE!
---
This is the power of working online and building your own brand, selling your skills.
Nowadays I am able to fly around the globe whenever I want to, knowing I am not tied to any job.
Even though I actually prefer to stay home, in my cozy pjs!
Being able to not have to work a 9-5 and work from my couch, dog at my side, that's lifestyle freedom to me. And I LOVE IT!
The highest-paying digital nomad careers this year are lucrative, but some may need a little experience to get to the high income.
But, don't worry if you don't have the experience, as I'll discuss where you can get training and build up testimonials to make yourself stand out.
Right, before we dive into the 21 highest paying digital nomad careers, let's get everything clear.
What Does 'Digital Nomad' Mean?
A 'digital nomad' is someone who works remotely from foreign countries, coffee shops, co-working spaces, a recreational vehicle or wherever the hell they like!
They may also conduct their life in a nomadic manner having no fixed address. Basically, anywhere they lay their laptop is home!
Why Become a Digital Nomad?
The reason why someone becomes a digital nomad will be different for each person.
My client Katie says:
"I became a digital nomad because I'd always dreamed of living in foreign/hot countries. I wanted more freedom in my work life and I'd always wanted to build my own business to be my own boss."
You may have different reasons. But, some great reasons why you should become a digital nomad are;
You can live life on your own terms

You'll work to live not live to work

Your time will be more free – you decide when to work

You can make anywhere your office

No busy commute to work

Work on building your own, lucrative online business

Enjoy new cultures and great weather

Your income is infinitely scalable
Free Book For Digital Nomads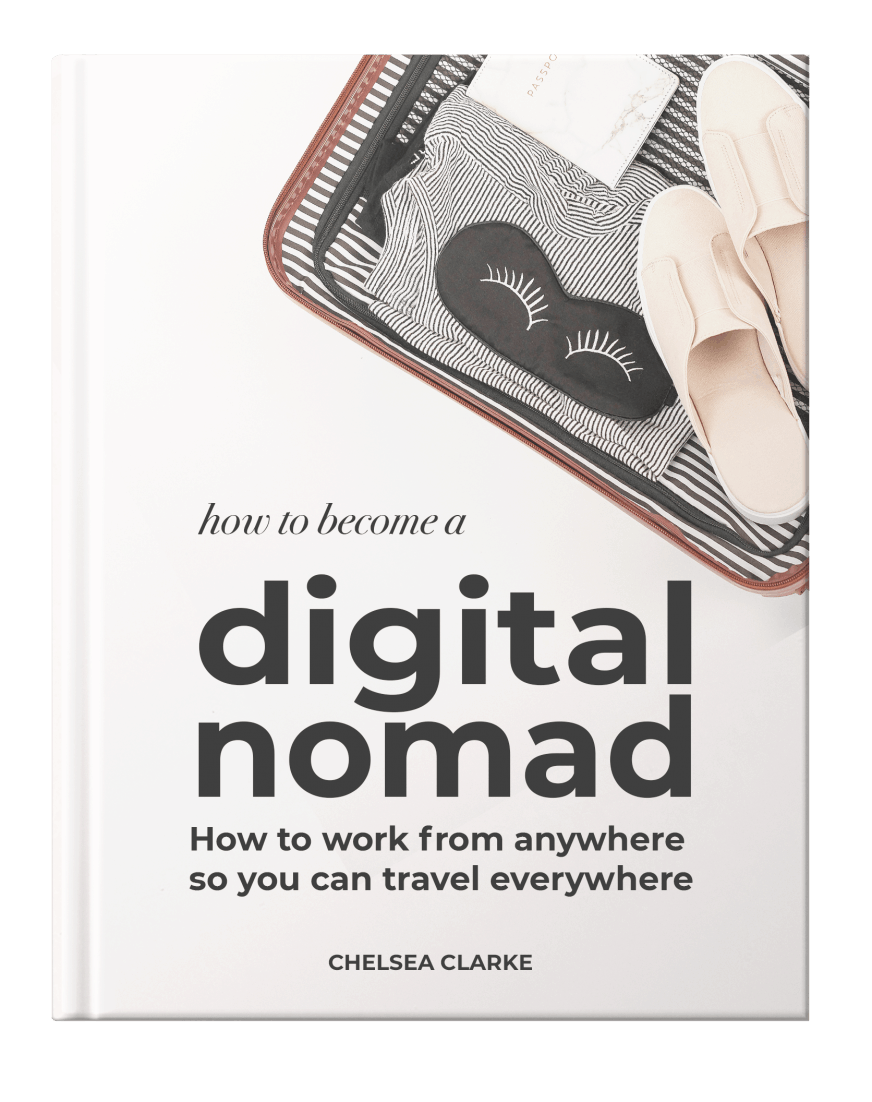 Highest Paying Digital Nomad Careers List
This list of 21 highest paying digital nomad careers includes some of the best remote jobs.
But, this list is not exhaustive as it would be impossible to include everything.
Know, that there is no one way to digital nomad freedom and it's important to find a way that suits you.
If you love variety, you can even take on multiple remote jobs to keep things interesting.
Take a look through and jot down the jobs that align with your passions and interests. Next, take a look at the training section of each to get yourself skilled up.
I've included free and paid training options for each.
1. Freelance Writing
If you enjoy writing and have a good grasp of the English language, you can make money online as a writer.
There are a few ways you can make money writing.
Where to Get Freelance Writing Training?
Free;
Paid;
2. Digital Marketer
A digital marketer is second on the list of highest paying digital nomad careers.
This role helps someone grow their online presence through social media and Google.
Large businesses and solo entrepreneurs may use the help of a digital marketer.
Projects can range from one-off, to ongoing digital marketing assistance.
Remember, you don't need to be an expert in every digital marketing aspect when you begin, focus on one area at the start and master it.
Work as a digital marketer can include;
Building social media pages

Creating sales funnels and landing pages

Content creating and marketing

Creating tailored marketing strategies
Where to Get Digital Marketer Training?
Free;
Word Stream PPC University

SEMRUSH Academy
Paid;
3. Website Flipping
Websites are no longer just hobbies for people, but now are a main source of income. Content sites are used for business promotion and as store-front, and can be sold for profit.
A well-designed, SEO-optimised website can be a valuable asset and this inspired the growth of website flipping.
Sites sell for up to 40x what they earn per month. So if your website earns $1,000 per month you coulc potentially sell it for up to $40,000!
Get a free website valuation to know for sure how much your site is worth.
This is the practice of buying and selling websites (flipping). If you know what you're doing, you can make a decent income website flipping.
Ways to make money website flipping;
Purchase a website from Niche Investor

Purchase a low ranking site, improve it and flip it for a higher rate

Buy a more established site to generate ad revenue

Buy an already active website and re-direct the traffic to your current website

Buy a community-driven, niche website to promote a certain product to

Keep an eye out for great domain names and website niches that have the potential to explode in the future
Where to Get Website Flipping Training?
Free;
YouTube: Franklin Hatchett
Paid;
Marketers Advantage, Master Domaining
4. YouTuber or Vlogger
Becoming a vlogger or YouTuber is definitely one of the highest paying digital nomad careers.
There are multiple ways to make money on YouTube with a niche channel.
Many YouTubers earn a lucrative income by creating tutorials, review videos, gaming videos, funny videos, travel videos and vlogs of their daily life.
Money is made through affiliate marketing, ads, sponsorships and selling products.
It's important to remember it can take time to build up an audience that will buy and make money from YouTube ads.
You need 1000+ subscribers and 4,000 hours of watch time. A day in the life of a YouTuber can include;
Shooting, editing and uploading niche videos or vlogs

Brainstorming ideas for new content

Collaborating with other YouTubers

Many vloggers and YouTubers will run other businesses

Promoting videos across other social media channels
Where to Get YouTuber Training?
YouTube Creator Academy

Watch YouTube videos

LinkedIn Learning
5. Affiliate Marketer
Affiliate marketing is recommending a product to your audience and receiving a commission for anyone who buys through your link.
You can do this by starting a blog or website, creating a YouTube channel or by building up an audience on social media.
There is no right or wrong, you just need to focus on the way that works best for you.
If you have the right determination and work ethic, it's possible to scale an affiliate marketing career from passive to super lucrative.
It can take some time to get the cash rolling in, meaning you need a strong mindset to actually 'make it'.
But if you stick with it, affiliate marketing can be a brilliant way to fund your digital nomad career.
Building an affiliate marketing business requires you to;
Choose a product to promote in a niche

Pick one traffic source where your ideal customer hangs out and connect with people

Create valuable content daily

Drive traffic to your offers

Create an offer around your affiliate product

Turn leads into sales
Learn all about affiliate marketing here.
6. Website Designer
A website designer creates beautiful websites that offer streamlined user experiences.
They will need to have a grasp of basic coding, plus some sort of graphic design software and basic analytics.
Website designers can work for companies or as freelancers developing websites. A day in the life of a website designer can include;
Developing websites

Maintaining websites

Designing new brand strategies

Creating logos and promotional material
7. SEO Specialist
The job of an SEO (Search Engine Optimisation) specialist is to get a website on the first page of Google in the highest spot possible.
They will be well versed in SEO tactics being able to analyse, review and implement a range of changes to a website to make it rank.
An SEO specialist can work as a freelancer or for a company. A good SEO specialist will be able to;
Solve problems and make decisions

Be able to test and implement a range of SEO techniques

Be well versed in link building

Have in-depth knowledge of keyword research

Understand the importance of SEO copywriting and be able to develop a content strategy
Where to Get SEO Specialist Training?
Free;
Paid;
All Round SEO Training (Yoast)

ClickMinded SEO Certification
8. Computer Programmer
A computer programmer role is one of the highest paying digital nomad careers in 2020. This job requires you to create code for operating systems and software applications.
Strong technical knowledge and attention to detail is needed to thrive as a programmer. Jobs are typically full-time but many companies now hire part-time freelancers. A computer programmer will;
Design/write/test/debug/troubleshoot and maintain the source code of computer programmes

Develop new web-based information

Integrate new functionality into existing applications

Create and publish technical diagrams to support coding efforts
Where to Get Computer Programmer Training?
Free;
Codeacademy

GitHub

MIT Open Courseware
Paid;
Travel often? Appreciate the finer things? Then you should be a FoundersCard member. It gets you into airport lounges, and events, and discounts on flights and hotels!
9. App Developer
App developers are one of the highest paying digital nomad careers in 2020. An app developer is a software engineer who creates and tests apps for a range of electronic devices.
Apps can range from game apps, banking apps, health apps and many others. App developers usually work in teams alongside data scientists, graphic artists and other software experts. Typical work will include;
Brainstorm with team and client to develop an idea for an app

Work on APIs (Application Programming Interfaces)

Stay aware of best practices, coding and terminology for coding mobile apps

Work on innovation app functionality and design
Where to Get App Developer Training?
Free;
Become an Android Developer from Scratch (Udemy)
Paid;
10. Social Media Manager
This type of remote job possibility entails helping businesses build their presence on social media platforms like Facebook, Instagram, Pinterest or TikTok.
You can work for a company and receive a salary or freelance with multiple clients and earn over $100,000+.
Make sure you have a strong presence on your own social media accounts as a prospective client will check this out.
Social media manager work can include;
Build a tailored social media strategy

Creating and scheduling social content

Replying to messages and interacting with an audience

Analyze data and tweak campaigns

Writing and scheduling ad campaigns

Looking after blogs. Writing and posting conten
Where to Get Social Media Manager Training?
Free;
Hubspot Academy, free certification course

Alison's Diploma in Social Media Marketing
Paid;
Hootsuite, Social Media Marketing Training

Bootcamp Digital
11. Online English Teacher
Teaching English online is a great way to earn money online as a digital nomad. You can choose your own hours which means you can work classes around your travel schedule.
Some teaching platforms will require you to have a degree or a teaching qualification like a TEFL or TESOL but some do not.
Teachers can earn in the range of $10-$30 an hour depending on what company you work for.
Require degree or teaching qualification;
No degree or teaching qualification required;
Cambly

Palfish

SkimaTalk

Lingoda

Open English
Where to Get an Online Teacher Certification?
While some online English teaching platforms do not require you to have a qualification, if you want the higher-paying jobs it can pay to get a TEFL or TESOL.
Prices can vary to take the online training courses depending on who you study with.
12. Business Consultant
Business consultants can earn a great income.
Some lucrative areas of consulting are; operations consulting, financial consulting, IT consulting, small business consulting and strategy consulting.
Think about your skills and what type of problems you can solve and define your target customer.
You can work as a freelance consultant or get a full-time position with a company.
Business consultants work on;
Developing business plans

Implementing marketing tactics

Educating business owners

Improving business processes and the bottom line
Where to Get Business Consulting Training?
Free;
Paid;
Consulting Business Masterclass: Start a Consulting Business (Udemy)

IMC USA Certification
13. Graphic Designer
If you are a creative type and love to work with imagery, becoming a graphic designer could be the ideal digital nomad career.
Work can include the design and production of websites, brochures, magazines, advertisements and reports.
It's an in-demand and profitable remote position. A graphic designer will;
Where to Get Graphic Designer Training?
Free;
Teach Yourself Graphic Design – A Self Study Course (EnvatoTuts+)

Veerle's Graphic Design Blog
Paid;
14. Instagram Influencer
Instagram influencers earn money through a mix of affiliate marketing and brand deals.
You need to spend a good amount of time building your audience, creating an appealing Instagram aesthetic, choosing the right hashtags to find your audience and creating content daily that will keep followers engaged.
Reports show influencers with 100,000+ followers can charge $5,000 per post and ones with millions of followers can get upwards of $20,000 per post! A day in the life of an Instagrammer;
Taking awesome photos and videos daily

Editing and uploading awesome imagery with engaging descriptions

Attending events and networking

Creating Instagram stories

Creating a beautiful Instagram timeline

When you have enough followers, securing promotional deals with companies

Replying to commenters
Where to Get Instagram Influencer Training?
Free;
Free Instagram Marketing Courses & Classes Online (Skillshare)

Free Instagram Training Courses (Later)

Build and Grow Your Brand On Instagram (CreativeLive)
Paid;
15. Video Editor
Video editors take raw video clips and arrange them into a smooth, engaging end video.
Material an editor works with includes; video footage, dialogue, graphics, sound effects and sometimes special effects.
A great job for creatives and tech lovers, who know how to visually impact an audience.
You will work closely with the director/creator of the film to get the required end result. This is definitely one of the highest paying digital nomad careers. Video editors will;
Assist with video recording when required

Edit and assemble raw footage to tell a story

Develop scripts

Add in text, animations, music, special effects and sound bites

Align the final version to where it will be posted

You should know how to use Adobe Premiere
Where to Get Video Editor Training?
Free;
Video Editing for Beginners – Learn How to Edit (Udemy)
Paid;
Ripple Training Video Editing Course
16. Online Fitness Coach
The fitness industry is booming and the online fitness industry will continue to grow.
Especially nowadays, many more people are working from home and even exercising at home and this is where you can help out.
An online fitness coach creates training programs on Apps like Trainerize and Coach Pro.
It's best to target a niche you can relate to like Mums over 40 or busy dads with kids and market your programs toward these people.
An online fitness coach will;
Create personalized fitness programs on a fitness app

Outreach for clients on social media

Build a website or sales funnel to funnel leads to your sales page

Offer incentives like free sessions or discounts to entice new customers

Create meal plans, keep track of weight and measurements

Keep timelines of progress

Post group challenges on social media to keep the community engaged
Where to Get Online Fitness Coach Training?
Free;
While there are no regulations for online PTs, anyone can become one. It's a good idea to have experience in training actual clients and have an accredited qualification
Paid;
Online Fitness Business: Sell Products, Training and Coaching (Udemy)

Fitness mentors Certified Online Personal Trainer
17. Dropshipping
Dropshipping is the act of the vendor (you), fulfilling customer orders from a third party by shipping them directly to the customer.
Because you ship it directly from the wholesaler, you get a huge discount which can make you a decent profit on each item.
It's easy to set up your own store on platforms like Shopify or Woocommerce which will have everything you need.
It's best to sell in a specific niche so you can focus your marketing efforts to this area.
A dropshipper will;
Research profitable products to add to their store

Design and optimize their store

Write content for their blog to gain more organic traffic

Advertise the store and products on social media

Give discounts and free giveaways to get leads onto an email list

Monitor and fulfill sales when they come through

Deal with any refunds
Where to Get Dropshipping Training?
Free;
Ecomelites

Dropshipping Basics Dave Ying (YouTube)
Paid;
Oberlo101

Dropship Blueprint by Storecoach
18. Virtual Assistant (VA)
A VA provides support to other businesses in various fields from a remote location.
Many businesses are seeing the value of a virtual assistant over a normal secretary or PA as they don't have to pay costs like for a desk, food, travel or expenses.
You can set up a freelance VA business or work solely for one company. You are free to offer whatever assistance you feel confident with. Some duties can include;
Social media managing, monitoring, engaging, updating

Research competitors, blog content ideas

Data entry

E-commerce tasks

Email managing, sending, sorting

Chat support/answering support tickets

Calendar management
Where to Get Virtual Assistant Training?
Free;
Paid;
19. Podcaster
Being a podcaster is kind of like being a radio show host, except anyone can do it!
Once you've decided on the topic for your podcast and given it a memorable name, you can upload your audio files to a podcasting website for people to listen to.
Podcasts make money from ads with reports showing that for every 1,000 listeners you can approximately make $25-$40.
A podcaster will;
Brainstorm ideas for podcast content

Upload audio files daily, weekly or monthly depending on goals

Work on marketing your podcast

Collaborate with others

Create episode artwork

Edit and schedule podcasts
Where to Get Podcaster Training?
Free;
Paid;
20. Pinterest Manager
A dedicated Pinterest manager will be responsible for designing your board, creating pins and getting new customers' eyes on your brand.
Pins can be a mix of blog/video content, pins of products, how-to pins, before and after pins, GIFs, images with overlays, infographics and other businesses pins.
As a dedicated Pinterest manager you can choose which services you offer;
Manage multiple Pinterest accounts

Design and add pins to boards

Promote pins

Schedule content

Optimise Pinterest accounts

Manage blogs

Analyse Pinterest traffic
Where to Get Pinterest Manager Training?
Free;
Pinterest Marketing in Tailwind
Paid;
Pinterest VA (Gina Horkey/Kristen Larsen)
21. User Experience Researcher
An experienced user experience researcher is one of the highest paying digital nomad careers in 2020.
A user experience researcher will monitor the behaviors, motivations and needs of customers who visit certain websites, mobile apps and products.
This will be done using observation and conducting simple tasks while talking through the experience.
Information gathered will help businesses develop their products and improve customer experience on their website. Some duties a user researcher will perform are;
Research planning and recruitment

Data collection

Data analysis

Present insights to teams or a business owner
Where to Get User Experience Researcher Training?
Free;
Future Learn – Digital Skills: User Experience Course

Gymnasium – UX Fundamentals Course
Paid;
Online UX Research Training – UX Studio

Cousera
Final Thoughts on The Best, Highest Paying Digital Nomad Careers
Now you know the 21 highest paying digital nomad careers.
There are many ways to make money online by working remotely.
It's important to find the right job for you that aligns with your passions and skills.
Work for a company, become a freelancer or start your own business — it's up to you!
What will make you stand apart from the rest though, is getting yourself some skills.
Whichever digital nomad career you choose, increase your knowledge by taking a course, find your unique selling point or specialty and learn how to market yourself on social media.
Which of the highest paying digital nomad careers will you choose?
Read this next: The best travel affiliate programs for digital nomads