Create A Social Media Strategy Plan For Blogger Success
On this episode of the HerPaperRoute podcast, we are digging into the social media strategy side of running a blog.
Social media marketing may be a struggle or it could be an enjoyment for you. But either way, having a plan for how you promote your blog is necessary.
In this podcast episode, I share the social media marketing strategy that I use in my business, that has helped grow my blog substantially.
As well as offer up some tips and tricks for what you can do to develop your own social media game plan to rock your blog this year.
---
As an affiliate partner of various brands and sponsored content, HerPaperRoute may earn commission on qualifying purchases. Disclaimer | Advertise With Us
---
==> More episodes
Shownotes Bonuses + Resources
Here's how you can access the bonuses and resources I shared in this episode. These are the tools of the trade that I use to rock my own social media strategy.
SmarterQueue – Free Trial
This is the tool I use for evergreen recycling on Facebook, Twitter and LinkedIn. You can get a free month trial of SmarterQueue today!
🫶 Want to Make More Money?🫶
Become a member of HerPaperRoute today and get a toolkit packed with resources to help you make that paper. All for FREE!
---
To learn more, read my SmarerQueue review.
MiloTree – Free trial!
MiloTree is the smart pop-up window that helps grow my following across multi-social platforms, as well as grow my email list, using the traffic my blog is already getting.
You can get a free month trial of MiloTree today!
To learn more, read my MiloTree review.
Tailwind – Free trial!
Tailwind is what I use to automate my Pinterest marketing. You can get a free month trial of tailwind today!
To learn more, read my Tailwind for Pinterest review and Tailwind for Instagram review.
Blogging Courses
Access to my free blogging course: here
Bonus! When you enroll in the free course, you will get a special 50% off bonus, to enroll my the full, premium professional blogger course Be Your Own Blog Boss!
HerPaperRoute Toolkit
My Blogger And Entrepreneur Toolkit is a resource library of helpful tools, planners, courses, ebooks and more. This is where you can get your copy of my social media strategy for bloggers book. Get your invite and access the toolkit for free here:
Sponsor Bonus
Before you can start to think about the social media marketing aspect of blogging, you first need a website. And that starts at choosing a quality web host.
Bluehost is my go-to choice for all new bloggers because they make starting and managing a website so simple. Bluehost's interface is the perfect solution for a newbie.
Regular price for Bluehost hosting is $7.99 but today, HerPaperRoute podcast listeners can get your web hosting for just $2.95 via the button below!
---
Episode 03: A Social Media Strategy Plan For Blogger Success
It's important to create a social media strategy for your blog. If you are wanting to learn how to market and promote your blog without spending a ton of money on advertising, you've come to the right place.
Developing a cost-effective social media strategy is absolutely possible when it comes to marketing a blog!
How To Create A Social Media Strategy For Your Blog
Social media and blogging go hand in hand.
The old saying "If you build it, they will come," unfortunately does not apply to blogging.
A more appropriate motto would be, "If you build it, and then promote promote promote some more, all day every day and never stop promoting it, they will come."
Basically, if you want an audience for your blog, you are going to have to put in the work to get them there.
You can't just post an article and expect the magic of the Internet to automatically send readers to you (although that would be sweet).
That's why you need to treat your blog like the business that it is and become your own social media manager, one whose main job is to promote the heck out of every blog post.
You need a social media strategy. This post aims to help you out with this!
To start your own blog, set up correctly for monetization, read this quickstart-guide!
I went from 5 thousand monthly page views on Pinterest to over 500 thousand Pinterest page views in 1 month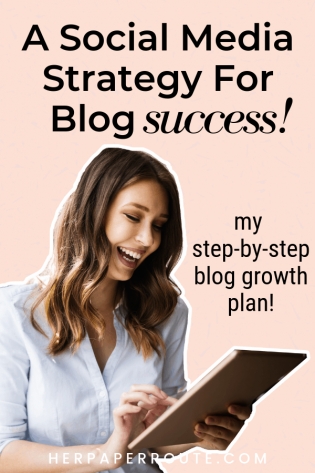 What that amount of Pinterest page views do for my blog traffic is massive, sending thousands of new visitors to my website every day, resulting in thousands of new subscribers and customers.
I created this social media strategy and bundled it into a downloadable planner which you can have a copy of!
By following this social media schedule I more than tripled my traffic and engagement within the first few days, and grew my followers and email list substantially along with it.
For Your Blog To Succeed, You Are Going To Need To Create A Social Media Strategy. Have Mine!
Taking the time now to sit down and plan where you want your blog to be a year from now is important.
What are your goals?
How many followers do you aim to reach each month on each social network?
How many page views will you gain each month?
What can you do every day to reach these goals?
Start by downloading my free social media strategy planner, which is available for free in my members-only resource library, called the HerPaperRoute Profitable Blog Toolkit.
This printable (and fillable!) guide will help you plan your ideal social media schedule, as it includes suggestions of daily and weekly blog and social media duties, as well as a yearly goals checklist.
As a member, you will also get a free copy of my Haute Hashtags ebook, and other helpful tools.
Promote The Heck Out Of Your Blog Posts – Tips To Triple Your Traffic
It's important to be active and consistent on social media.
You should be posting to your social networks every single day, several times a day.
And not just posting your own content, but other people's content as well.
In addition to posting content, don't forget to regularly engage with people and other bloggers in your niche too.
You may be thinking "Woah! That sounds like too much of a time eater! When will I have time to actually blog?!"
Fear not! Thankfully there are tools that can automate the process of social media content scheduling for you.
Ready to start your own blog?
Make sure you enroll in my new blogger blueprint course!
---
Content Scheduling: There's An App For That
Facebook, Twitter
I use SmarterQueue and it is THE BEST tool for putting your social media marketing on auto-pilot. Known as the app that is "better than Buffer and better and cheaper than MeetEdgar,"
SmarterQueue allows you to set up posts for Facebook, Twitter & Instagram that can be scheduled and then re-posted on autopilot.
So you don't have to re-create posts for your evergreen content, which was something that annoyed me with Buffer.
If you want to grow your network and business following its essential that you be posting content to social media consistently, and this app makes this possible.
> Try SmarterQueue free on a DOUBLE trial here
> Check out my guide on how to use SmarterQueue here
Instagram
I use Tailwind for Instagram to plan, schedule, auto-post, and track my Instagram posts. It also has a handy hashtag finder tool which suggests the best hashtags for your post.
Pinterest
At first, Pinterest may seem like a hard egg to crack. It isn't a social network (it's a search engine) but it is very important that you are on it, and use it, consistently.
I use Tailwind to auto-post for me, all day long.
Tailwind has in-depth analytics, giving you a multitude of tools to rock your Pinterest marketing from one comprehensive dashboard.

Tailwind is partnered with Pinterest, so it's believed that Pinterest and Pinterest's algorithm favors content coming in from Tailwind, and ranking those pins higher in search results.
Read my guide to using Tailwind here
Use MiloTree
MiloTree is such an amazing tool!
MiloTree is a smart popup box that appears at the bottom of my website when a visitor lands on my site.
It invites my visitors to follow me on social media, or subscribe to my list to get my opt-in freebies.
This tool helps me grow my list and social followers automatically, and fast! As it uses the traffic my site is already getting, to convert visitors into subscribers and followers passively.
Read my review of MiloTree here.
Pinterest Isn't A Social Media Platform, It Is A Search Engine
And a huge search engine at that!
So make sure that you use SEO to your advantage there, by filling your pin descriptions, Pinterest profile description, and boards with keywords!
Where To Promote Your Content
Posting to your own pages on Facebook, Twitter, Instagram, ect is necessary.
But don't stop there! You should be promoting your blog posts all over the place.
My 3 favorite places to post content to are listed below.
You Could Be Promoting Your Content In All Of These Places:
Instagram Pods
Pods on Instagram are groups where members share their recent photo post, and all of the other members like it and comment on it.
This instantly boosts your photo's reach which encourages your chances of beating Instagram's algorithm and appearing higher in search results.
Images that have comments of more than 4 words on them makes it more likely to appear in the top search results.
And PODs are a great way to achieve this.
You can usually find Instagram pods to join by checking blogging related Facebook groups, as people often mention them.
Tailwind Tribes
Tailwind Tribes are an amazing way to increase your Pinterest ranking while supporting your fellow pinners.
Tribes are groups of pinners that repin each other's content to max one another's chances of ranking high on Pinterest.
Join my tribe here free plus get a month of Tailwind, free too!
Facebook Groups
Facebook groups for bloggers are awesome! Groups are a place to share information, help one another, and promote content.
Being active in these groups is a really good way to get your content seen and to gain new followers.
Usually, there will be a daily thread where members can comment links to their content, in exchange for liking/sharing/engaging with other member's content.
Come join the HerPaperRoute Facebook group for new bloggers Facebook group here
I check my Facebook groups again at 9am and 1pm to post my links in any new threads, as well as engage with other member's content.
There are literally thousands of Facebook groups for bloggers out there! Here's a list of 8 awesome Facebook groups to promote your blog in.
You can also post to Reddit daily, and use Mix.com as well. (By the way, I'd love it if you shared this post if you are finding this helpful!)
What Are The Best Times To Post On Social Media?
You've probably seen those infographics on Pinterest telling you what time of day is best to post online for maximum engagement and visibility.
They tend to say it's best to post on Facebook between 1-4pm and Twitter between noon-5pm.
Well, I'm going to be frank here…that information is bullshit!
Whaa?? Read on.
Restricting your posts to those time parameters is bullshit because what's 9am to you in your timezone in California is 1pm in Halifax, 5pm in London, and 2am in Australia.
The truth is ANYTIME is the right time to post on social media, as SOMEONE is awake and online SOMEWHERE in the world at any moment.
That's why I recommend posting at all times of the day and night.
Those infograph time – to – post parameters are nice if you only want to be seen by people in your exact time zone, but if you want to be seen online globally, those time parameters are actually quite limiting!
How Much Should I Post On Social Media?
In short, a lot! The more you post on Twitter, and Pinterest, the better.
Best to keep Instagram, Facebook and LinkedIn to 2-3posts per day.
My free social media strategy planner below has a checklist to help you organize when to post, where. Get it here: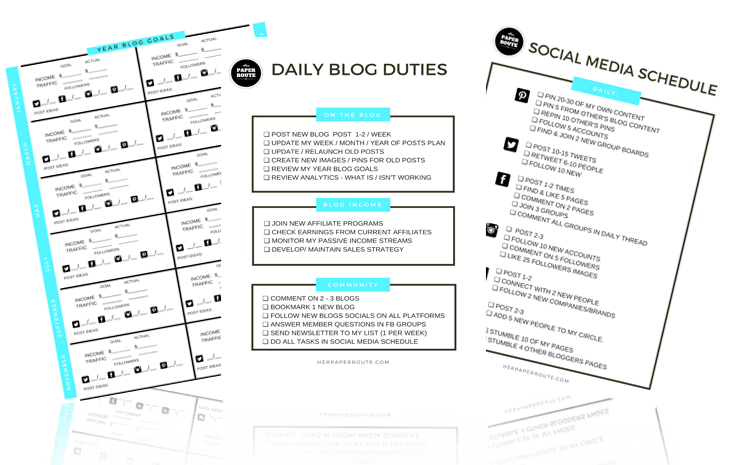 Hang In There! Building An Online Following Takes Time
Your social media strategy should be plotted out for the year, but take each month in stride.
Decide what you will post, where and how often, and stick to your tasks each month.
After that month, see what worked and what didn't and then change up how you promote the next month if need be.
Don't be scared to try new types of promotion – your social media strategy should always be evolving.
And know that it takes time to build a following online.
It doesn't happen overnight, but if you believe in yourself, your business, and stay consistent and stick to your plan, your following WILL grow and your blog WILL succeed.
Hang in there! And check out my free and premium online courses for further blog and business training.
More Social Media Marketing Tips