Top 8 Facebook Groups To Promote Your Blog In
Top 8 Facebook Groups To Promote Your Blog In – If you are a blogger, you already know how running a blog can be pretty intimidating.
Imagine spending hours of brainstorming and writing something, and then when you publish the blog post, you're still not sure if someone will read it.
What makes a blog a successful one is how big of an audience it has.
You may think you're all alone, but Facebook groups can offer you the right support that your blog may need.
---
As an affiliate partner of various brands and sponsored content, HerPaperRoute may earn commission on qualifying purchases. Disclaimer | Advertise With Us
---
You will not only promote your blog on Facebook groups, but you can possibly build friendships with the same-minded people, too!
How To Advertise On Facebook For Free, When You Promote Your Blog In Facebook Groups 
When it comes to blogging, the secret recipe to a successful blog relies on its community.
By promoting your blog through Facebook groups, it allows visitors to explore what your blog has to offer and see if they will like it. It's pretty much like visiting a new place.
🫶 Want to Make More Money?🫶
Become a member of HerPaperRoute today and get a toolkit packed with resources to help you make that paper. All for FREE!
---
You want to experience the culture, the environment, and the people. And your blog is the same too.
If your blog happens to offer exactly what the visitors need, soon enough they will be converted to your audience and loyal followers.
And what do we call loyal followers?
Community.
When you have a strong, active community, you can expect your readers to drive free traffic and engagement every time you publish a new blog post.
And there is no easier way to build a community other than by sharing your blog's content on Facebook groups.
Connecting with The Right People
Every niche has its own community. And communities are great for connecting same-minded people.
Everyone wants to feel belong and with community, it allows you to feel like at home.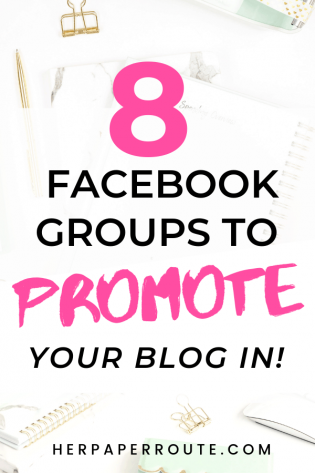 When you create a blog, always make sure your blog feels like a home that your audience will love to go back to again and again.
You can easily find people who love to read, share, and listen to different topics on Facebook groups.
The reason why Facebook is a great place to build your community is that it attracts a huge crowd.
Other than that, Facebook users are some of the most engaged and active people across all social media platforms.
On average, a Facebook user will spend around 40 minutes per day on Facebook.
Since the beginning of Facebook's creation, the goal of this social media platform is to have a community mindset.
Related: Learn Affiliate Marketing For Beginners
When you are logged in to your account, you will see your family members, friends, co-workers, and neighbors. These people are your community.
Facebook groups are created with the same community frame of mind by connecting you with other same-minded people.
Do's and Dont's For Promoting Your Blog In Facebook Groups
The etiquette in Facebook groups is straightforward.
The rules tend to be written in the About section or pinned as the most important post.
A different Facebook group has different rules, but most of them include:
No spamming.
Reciprocating other blog shares.
Make sure you follow all individual rules in each post.
After posting your links, take some time to go through other people's blog posts too.
Related: How To Sell Your Blog For $50,000
The reason why you are on Facebook groups is that you are trying to promote your blog and build your own community.
People love a blogger who actively engaged with the audience.
So, don't be shy. Leave comments, like, and share other people's blog posts.
Top 8 Facebook Groups To Promote Your Blog In
If you are planning to advertise on Facebook for free via Facebook groups, always make sure you join the right communities.
You don't want to be promoting your beauty-related blog post in a video games community group because no one will care about your blog there.
Always find the right niche and community.
How do you find the right Facebook groups? Below is a list of 8 excellent ones!
1. New Bloggers Starting Profitable Blogs with HerPaperRoute
The HerPaperRoute Facebook group is specifically for students and members of HerPaperRoute.com. But any blogger can join.
This free Facebook group for bloggers is a fantastic place to make friends, network and learn from others, while showing off your work in the daily promo threads.
2. ASelfGuru Biz Blog Community
Amira is a lawyer, blogger and coach. She is the creator of the popular legal page templates for bloggers.
Her group, ASelfGuru Biz Blog Community is a supportive community for bloggers to share their success stories and network.
3. Blogging for New Bloggers
This Facebook group has a community of more than 22,000 members who love blogging and reading blogs, hosted by Lucrezia of BloggingForNewBloggers and TinyLoveBug.com.
The purpose of Blogging For New Bloggers is to share tips, offer feedback, have discussions, and foster collaboration.
4. Blogging Babes Collective
If you are a new blogger looking for a collaboration to build your blog, Blogging Babes Collective is a great place for you.
Not only will you get support from 1,500 members, but you will also be able to learn how to start a blog in just three simple steps. The admin is Sasha Lassey, the owner of Everyday She's Sparkling.
5. The Blog Boss Tribe
Another amazing Facebook group for bloggers to connect, share, and grow with each other.
Although they do have promo days, the main purpose of The Blog Boss Tribe is to build relationships and support fellow bloggers.
6. Women in Business Group
If your goal is to promote your Facebook page and other social media platforms to a bigger audience other than just bloggers, Women in Business Group is a great place to start.
Not only will you meet other fellow bloggers here, but you will also connect with women entrepreneurs who love sharing their expertise, ideas, helpful tips, and build relationships.
This will allow you to connect outside of your comfort zone and potentially find new friends who can help your blog prosper in different ways!
7. New Bloggers Support Group for Women
New Bloggers Support Group for Women is a Facebook group for female entrepreneurs with a blog. Their rules are different compared to most blogs listed above.
Each thread has 24 hours before it is closed. In order for you to participate, you need to share your link and reciprocate within the 24-hour time frame.
If you fail to return the favor, group members will be removed without notice.
8. The Blogging Elite
This is another safe haven to share all blog-related things.
The Blogging Elite allows engagement and shares for links and social media platforms on a daily basis.
It has 1,500 members who are very passionate about blogging and connecting with each other.
Facebook Groups To Promote Your Blog – Conclusion
Whether your goal is to seek help in setting your blog up or to reach a bigger audience, these 7 Facebook groups are a great place to start connecting with your community.
Even though bigger groups seem to allow you to find more readers, don't shy away from smaller groups where everyone has more chance to have their voice heard.
Either way, Facebook groups is and will always be a great place for bloggers to promote their blogs for free.
More Blog Promotion Tips