How To Become A Pinterest Manager And Make Money Pinning
So you're wondering how to become a Pinterest Manager? Awesome! If you're anything like me when I was starting out, that probably means you have a zillion and one question right about now.
Like… What do Pinterest Managers actually do? And how do I start offering Pinterest services?
And, most importantly, how much money do Pinterest Managers make? You have questions, I have answers.
🫶 Want to Make More Money?🫶
Become a member of HerPaperRoute today and get a toolkit packed with resources to help you make that paper. All for FREE!
---
As an affiliate partner of various brands and sponsored content, HerPaperRoute may earn commission on qualifying purchases. Disclaimer | Advertise With Us
Read on to learn how to become a Pinterest Manager.
What Do Pinterest Managers Do?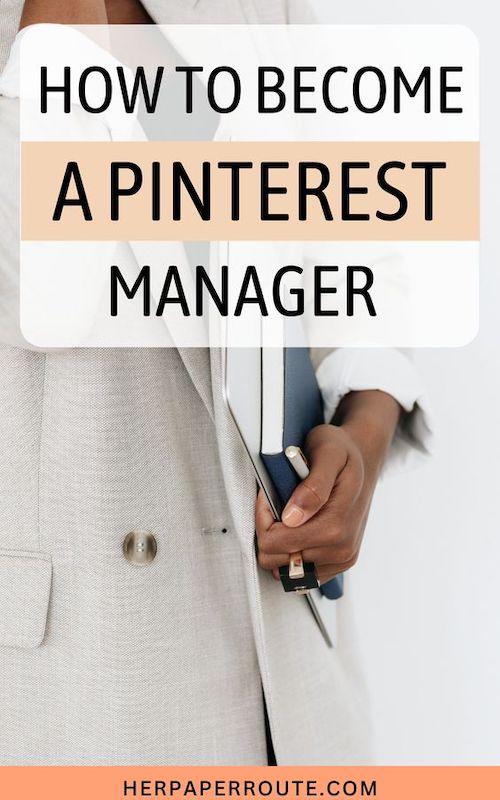 So What do Pinterest Managers do, anyways?
Lots of things! Simply put, Pinterest Managers manage, oversee, and grow Pinterest accounts for other people.
However, they can also branch out and specialize in various areas, like:
Graphic design of pins and creation of pin templates
Setting up and optimizing Pinterest accounts
Making over existing Pinterest accounts
Improving Pinterest SEO
Tailwind management
Pinterest Ads management
The options really are endless!
Anything that involves Pinterest is a Pinterest Manager's domain.
How do you become a Pinterest Manager?
Simple: you make the decision to offer Pinterest services, and you start marketing yourself as a Pinterest Manager!
Seriously, my biggest piece of advice is to bite the bullet and put yourself out there.
Of course, before you start selling Pinterest services, you should have had some success growing your own accounts, to show potential clients.
Start building up your Pinterest knowledge, learn everything you can about setting up and growing a business, and start taking on clients!
What makes a good Pinterest Manager?
Above all else, a love for Pinterest and in-depth knowledge of the platform is a must.
Your clients will be turning to you as an expert, and you should be ready and comfortable filling those shoes.
In addition to being super-Pinterest-savvy, successful Pinterest Managers are also:
Professional
Hard-working
Ambitious
Friendly & Personable
Flexible
Confident & Organized
Pinterest Managers must:
Know Pinterest marketing to a T
Stay up to date on Pinterest's changes
Have basic design skills, good grammar and spelling, and an eye for spotting high-quality, share-worthy pins
Have Canva Pro or similar design software
How much money do Pinterest Managers make? How much time is involved?
The more time you spend growing your Pinterest business and completing client projects, the more money you'll be able to make.
The more projects you complete, the more money you can expect to bring in as a Pinterest Manager.
If you're looking for a "concrete" answer, it's definitely not over-stepping to say that many Pinterest Managers comfortably bring in $3K-$5K per month.
If you decide to expand your team and take on an assistant or two, that figure can increase substantially.
What are the pros and cons of being a Pinterest Manager?
Like any job, being a Pinterest Manager has its perks and pitfalls.
THE CONS
I'll start with the cons, because I honestly don't think there are many hard-and-fast ones.
One potential con is that the algorithm that governs Pinterest changes frequently.
This means you have to analyze, test, and adjust your strategies relatively often.
On the bright side, it means that your job never gets boring! 😉
Another con is that, like a lot of jobs in today's day and age, Pinterest Managers do have to interact and deal with other people in somewhat of a "customer service" role.
Needless to say, not every person you interact with online will be as much of a gem as you are.
The Pros
Next let's talk pros because I have a feeling you're going to like these.
1. You can work from anywhere.
Your home office, your living room couch, the beach…
The options are endless and the choice is yours!
As long as you have Wi-Fi, you're set.
Even better is that Pinterest has a great mobile app, so you can complete a lot of your work while you're out and about doing other non-work things (on the bike at the gym, waiting for the commercials to end on TV, riding shotgun in the car, etc.)
2. You're the boss.
No one dictates what you do, when you do it, or how you do it, but YOU.
You get to set your own rates and decide how many clients and projects to take on – essentially deciding exactly how much money you make.
You also get to decide who you work with by saying "yay" or "nay" to prospective clients who come your way. Freedom, baby!
3. You get to charge premium rates.
Because your services and expertise are specialized, as opposed to general VA work or general social media management, you can charge premium prices.
The more "niched" your biz and services are, the more value you're providing and the higher your rates can be.
4. It's super fun!
I mean seriously, who doesn't love Pinterest?!
Even after years of pinning in my personal life and years of pinning professionally, I'm still not sick of Pinterest.
I think if I let myself, I could get sucked into the Pinterest vortex for DAYS (and I know I'm not the only one!)
Do people really pay for Pinterest Marketing Services?
Yes, they really, really do.
Pinterest marketing is a big job, and most entrepreneurs and companies need help with it.
I have paid Pinterest Managers to manage my Pinterest strategy for years.
How To Become A Pinterest Manager And Make Money Pinning For Others – Conclusion
I hope this guide on how to become a Pinterest Manager has got your wheels turning.
Are you excited to get your own Pinterest business up and running?