Pinterest group boards are a good reason why my pins get so much traction, and why my blog traffic grows on auto-pilot, consistently each month.
I have joined several awesome group boards and consistently post my content and other blogger's content to them with a handy online tool called Tailwind.
This site features ads and affiliate content Disclosure • Advertise with us
How To Find Pinterest Group Boards To Boost Your Blog Traffic
For a step by step guide on how to use Tailwind and try it yourself for free, check out this post.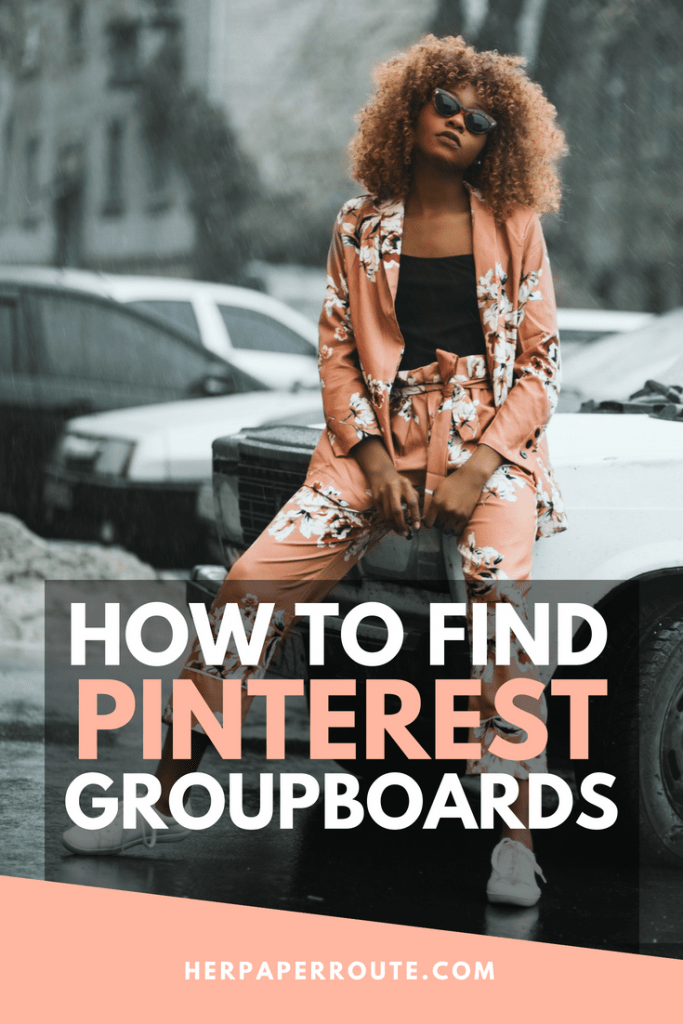 Why Pin To Pinterest Group Boards?
Pinning to group boards will help grow your reach, increase your blog traffic, and better your chances of ranking higher on Pinterest.
But how do you find Pinterest group boards?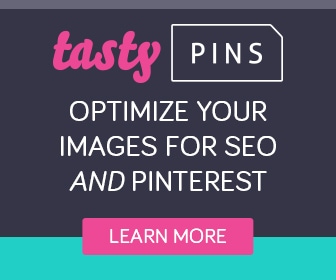 How Do You Find Pinterest Group Boards?
Unfortunately, there isn't a group boards directory on Pinterest (which would make things way easier), so you need to do a little bit of digging to find Pinterest group boards to join, yourself.
So, how do you find Pinterest group boards to join? There are a few main ways to find group boards.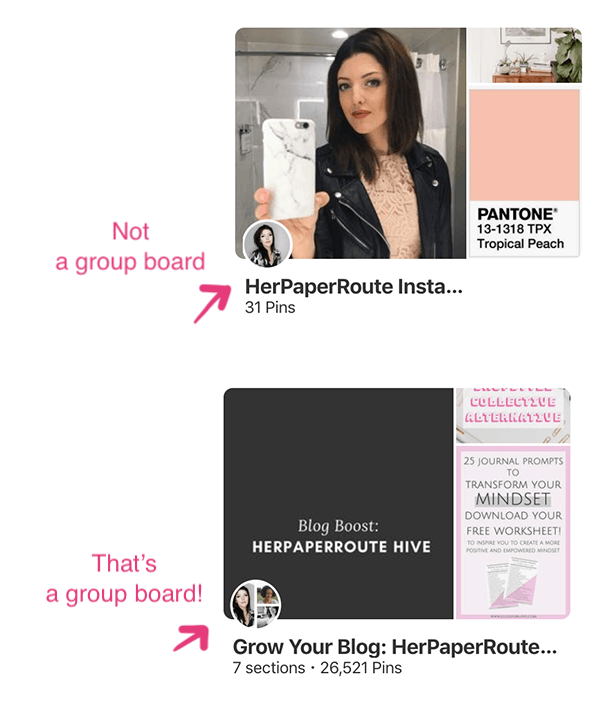 Look at profiles of Pinterest users that you follow, check out their boards, and see if they have any boards that have multiple 'avatar' images of other Pinterest users on them – those are group boards!
Check Facebook groups for anyone advertising their Pinterest group boards
Check out pingroupie.com, an online directory of Pinterest group boards which you can search for by niche.
How Do You Join Pinterest Group Boards?
Most group boards will mention in the description if they are currently accepting new members. If they are, it will usually list an email address that you can contact.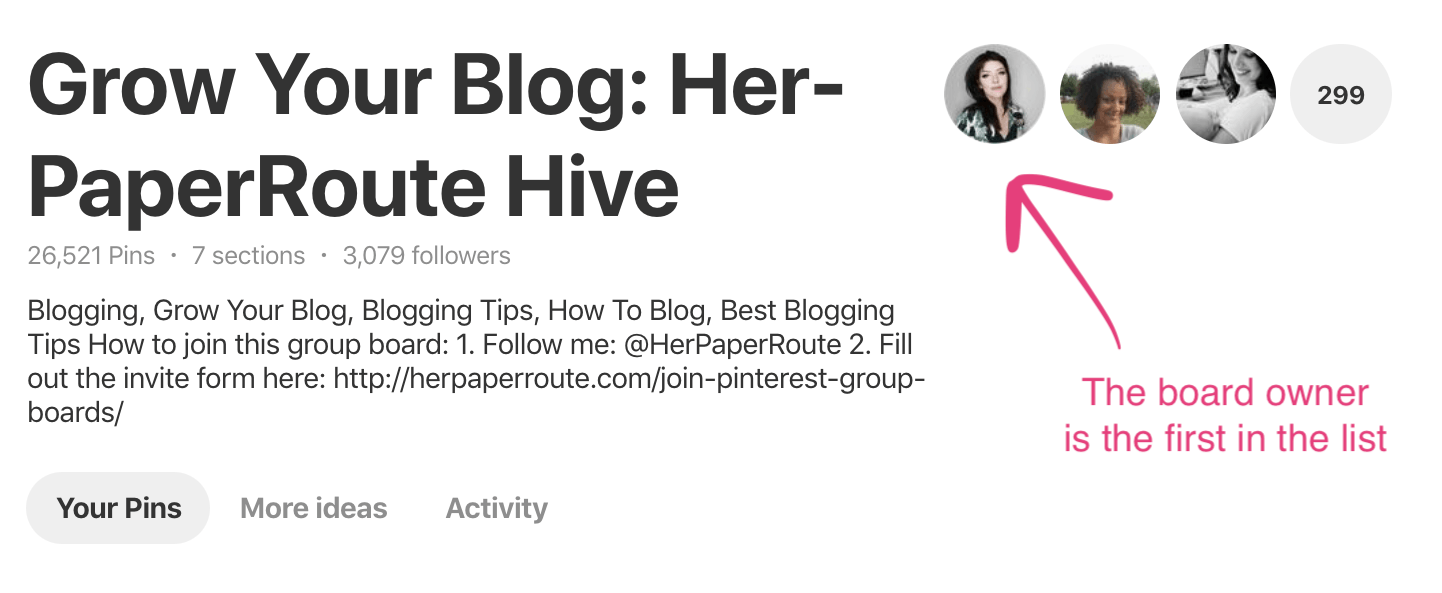 Send them an email simply asking to be added to their board, along with your Pinterest username and email. Make sure you follow the board and the board owner's account. The board owner is the first picture listed in the member's list, as seen above.
Another way to find Pinterest Group Boards is to use PinSprout, a free online directory of Pinterest boards.
With PinSprout you can search a collection of over 100,000 Pinterest group boards to discover quality group boards within your niche, and receive at-a-glance analytics to determine board performance.
Also, join forces with like-minded pinners with PinSprout's Pinterest Engagement Pods. Promote your content to wider audiences, share niche-specific content that your followers will love, and ultimately drive more traffic to your website.
I have a few Pinterest group boards, currently with a waitlist for new contributors.
To join any of my boards, make sure you follow BOTH accounts:
And then sign up below. Our group boards are for HerPaperRoute members only. As a member you will receive tips on Pinterest, blogging and invitations to collaborate. Become a member here:
Once you have joined, reply to the welcome message that I sent you, and let me know which boards you would like to contribute to. You will be on the waitlist, and will be invited to contribute as soon as contributions open for the new season.
Pinterest Apps:
It is recommended that you be pinning content at least 40 times a day in your Pinterest boards and group boards, to keep your ranking high.
Pinning this much would be difficult and incredibly time-consuming to do alone, fortunately, there are scheduler apps that can pin to your group boards on auto-pilot for you!
I use Tailwind to do this. It's crazy how much traffic it brings in!
Tailwind is partnered with Pinterest, so it's believed that Pinterest and Pinterest's algorithm favors content coming in from Tailwind, and ranking those pins higher in search results.
TastyPins – Use this app to add extra SEO details to your images. Plus, hide pins in your blog posts and make some images 'no pin' if you don't want people to pin certain images.
Tailwind Tribes – You Should Be In Them!
In addition to joining Pinterest Group boards, you will also want to join some Tailwind Tribes.
Tailwind Tribes make it easy to post to several Pinterest groups at once and are an excellent way to increase your ranking on Pinterest, FAST!
Once you are invited into one you have access to thousands of other pinners who can re-pin your content quickly, and you can repin theirs.
It is an encouraging way to boost and support your and your fellow blogger's content.
You will be surprised at how fast your pins get repinned once you are in a tribe.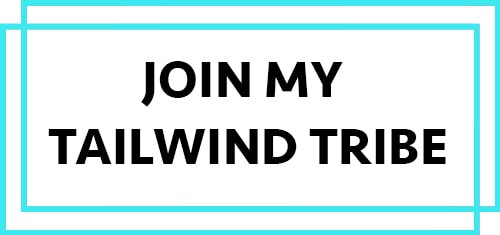 I have a Tailwind Tribe open for members, come join my tribe here.
It's free to join, plus you will get a free month of Tailwind too!
Finding more tribes to join is easy from your Tailwind dashboard, once you are in the first one.
You can also check out group boards on Facebook to see who has tribes open for new members.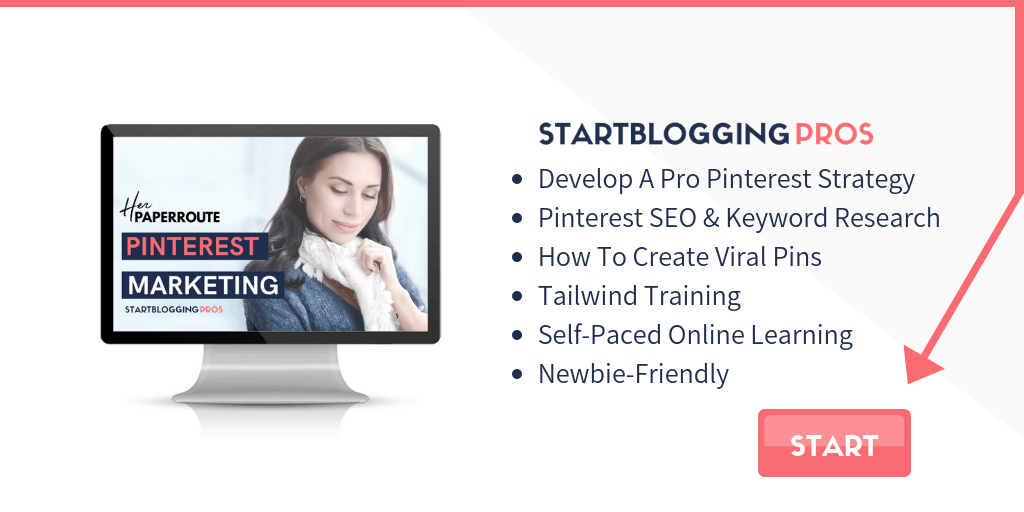 Want More? I Teach A Course On Pinterest
Come and join my epic Pinterest Marketing Course!
Are We Following Each Other On Pinterest?
Let's be pin pals: @HerPaperRoute and @BlogTips_