How To Find Pinterest Group Boards To Boost Your Blog Traffic
Are you looking to grow your blog traffic? Joining good Pinterest group boards can be one way to get your content in front of your target audience.
Pinning to group boards will help grow your reach, increase your blog traffic, and better your chances of ranking higher on Pinterest.
But how do you find Pinterest group boards?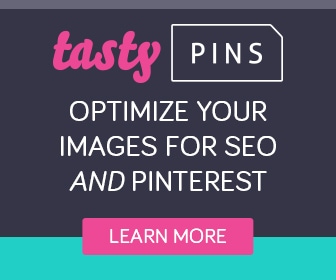 How To Find Pinterest Group Boards To Boost Your Blog Traffic
When I started blogging, Pinterest group boards were one of my biggest secret weapons for my business.
---
As an affiliate partner of various brands and sponsored content, HerPaperRoute may earn commission on qualifying purchases. Disclaimer | Advertise With Us
---
When used properly, group boards can drive massive traffic to your website, your opt-in freebies, and your products or services.
I get a LOT of questions about Pinterest group boards, both from other entrepreneurs and from my clients.
Questions like:
🫶 Want to Make More Money?🫶
Become a member of HerPaperRoute today and get a toolkit packed with resources to help you make that paper. All for FREE!
---
"How do I find the right group boards to join?"
"Once I've found the right group board, how do I actually go about joining it?"
"What kinds of things should I be pinning to group boards, and how often?"
"When is it a good time for me to create my own group board? How many followers should I have?"
Pinterest group boards are one of the biggest ways bloggers have grown their accounts, email list, and traffic so quickly.
This is why today I want to share everything you need to know about creating, joining, and utilizing group boards.
First, what is a group board?
A group board is one with multiple contributors – in other words, more than one person can pin to the board.
Each board will always have an "owner" or "creator" (the person who made the board in the first place), and that person controls the rules of the board as well as who can and can't contribute to it.
Why should I join group boards?
The benefits of group boards are two-fold:
1. Group boards typically have a high number of followers – anywhere from 1K to 50K and beyond.
This means when you pin your original content to group boards, they'll be seen by a lot of people.
And this, of course, increases the number of re-pins and click-throughs to your website from Pinterest.
2. Group boards are amazing "source boards".
Because the group boards you join will be directly related to your niche, each board serves as a super-curated feed for you to pin from.
All you have to do is click over to one of your group boards and you'll have hundreds (if not thousands) of pins that are perfect for re-pinning to your own boards.
Plus, because group boards are monitored by the board's "owner", irrelevant and/or unattractive pins are generally removed.
Basically, each group board is a gold mine of relevant pins for you to share to your own Pinterest accounts and boards.
Which group boards should I join?
The perfect Pinterest group board will meet the following 4 criteria:
#1. It's directly related to your niche.
e.g., If you're a travel blogger, don't join a fashion group board, and vice versa.
#2. It has a high number of followers.
Ideally, you want to join group boards that have more followers than your account does. Again, this helps you put your pins and content in front of more people.
#3. It has a decent number of contributors.
If only 3 or 4 people are pinning to a group board, the feed can get clogged up pretty quickly with one person's pins. You won't be able to pin your own content to it as often without looking like you're stealing the show.
To see how many pinners are contributing to a group board, click over to the board and look in the top right corner.
There you'll find the group board creator in the circle on the far left, along with 2 other accounts that were the most recent to join the group board. Next to that you'll see the number of other pinners contributing besides those 3.
#4. It has a high re-pin rate.
By re-pin rate, I mean the average number of re-pins each pin on the board gets.
If the average re-pin rate is only 1-2 re-pins per pin, it's probably not worth your time to join that group board. How do you determine the re-pin rate for a group board? That's coming up next!
How Do You Find Pinterest Group Boards?
Unfortunately, there isn't a group boards directory on Pinterest (which would make things way easier), so you need to do a little bit of digging to find Pinterest group boards to join, yourself.
So, how do you find Pinterest group boards to join? There are a few main ways to find group boards.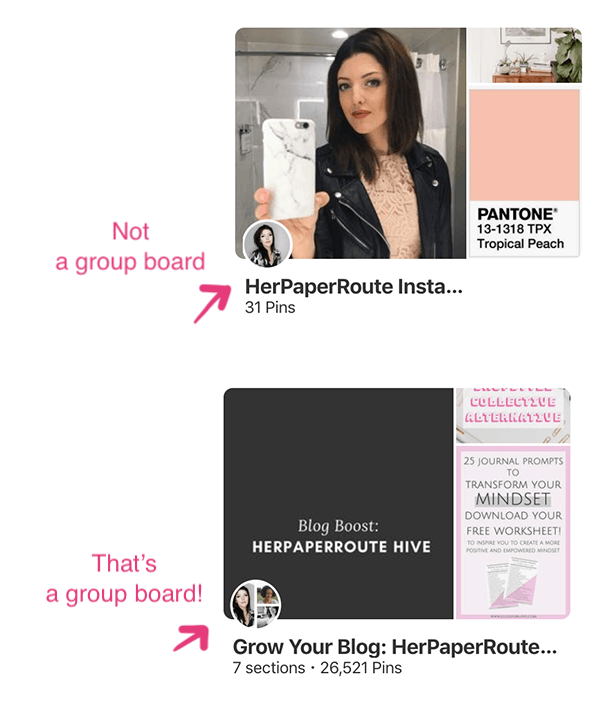 Look at the profiles of Pinterest users that you follow, check out their boards, and see if they have any boards that have multiple 'avatar' images of other Pinterest users on them – those are group boards!
Check Facebook groups for anyone advertising their Pinterest group boards
Check out pingroupie.com, an online directory of Pinterest group boards that you can search for by niche.
How Do You Join Pinterest Group Boards?
This is where things get slightly more tricky, but don't worry, I'll walk you through it!
To join a Pinterest group board, you have to be invited by either the group board's creator or by another pinner who's a collaborator on that board (if the creator hasn't allowed other contributors to invite pinners).
Most group boards will mention in the description if they are currently accepting new members.
If they are, it will usually list an email address that you can contact.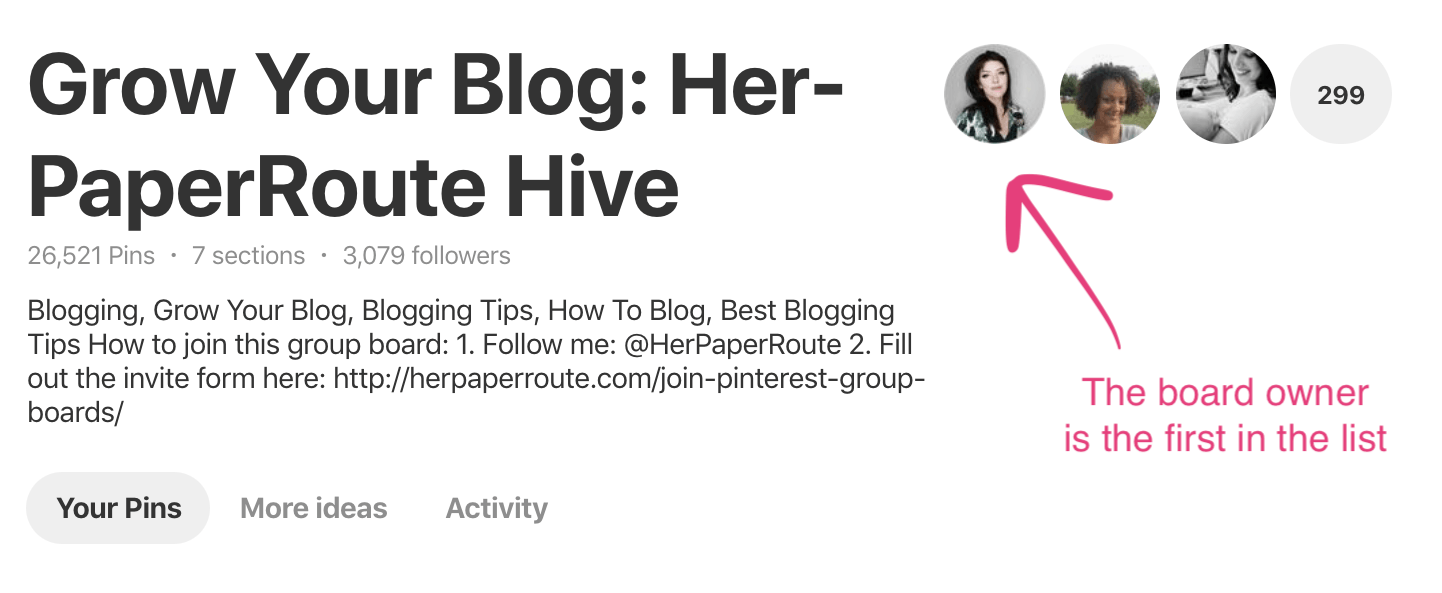 So how do you score an invite?
The first thing you'll want to do is read the board's description, right up at the top underneath the board's title.
The description will sometimes include instructions for getting an invite to the board. The instructions typically include:
1. Following the group board, or sometimes the entire account of the board's owner. Click on his/her image to visit their profile and follow their account, if necessary.
2. Send a message or an email to the owner, or leave a comment on a recent pin asking for an invite. If they ask you to leave a comment on a recent pin asking for an invite, here's a quick and easy way to do that:
Click on the board owner's profile
Click on the section called "Pins" just under their bio
Click the most recent pin in the feed (top left)
Leave a comment on the pin
If possible, use the @ symbol to tag the board owner in your comment
end them an email simply asking them to be added to their board, along with your Pinterest username and email. Make sure you follow the board and the board owner's account.
The board owner is the first picture listed in the member's list, as seen above.
Another way to find Pinterest Group boards is to join forces with like-minded pinners with Pinterest Engagement pods.
Promote your content to wider audiences, share niche-specific content that your followers will love, and ultimately drive more traffic to your website.
Not sure what to write in your comment or email when asking for an invite? Here's an example of an email I might send to the owner of a group board I want to join:
"Hi Jenny! My name's ___, and I run a website where I share content about [niche] tips for [niche audience]. I would love to join your "_______________" group board on Pinterest. Here's the link to my Pinterest account, and my email address is X if you prefer to send invites that way. Thanks so much! "
Simple, to the point, but super effective.
How to accept a group board invite
Your invite will arrive in your Pinterest "inbox" (the place where you receive messages on Pinterest).
When you see the invitation, all you need to do is click "Accept".
Sometimes it takes a few days for group board owners to get back to you – especially if it's a very large or active board – so give it time if you don't hear back from the owner immediately.
What if there aren't instructions for joining?
If that's the case, the group board owner probably isn't looking to add new contributors to the board at this time.
If you really want to join, there's no harm in sending an email or leaving a comment on a recent pin asking for an invite.
But just know that you might not hear back.
Most of the time if I come across a group board that doesn't have instructions for joining, I just move on to the next one.
There is plenty of fish in the sea.
To join any of my boards, make sure you follow my account: @HerPaperRoute, and join our blogging membership.
The group boards are for HerPaperRoute members only. As a member, you will receive tips on Pinterest, blogging and invitations to collaborate. Become a member here:
How many group boards should I join?
In my opinion, there's no such thing as being a part of too many group boards. As long as you're joining the right kind of group boards, that is! 
Now, obviously, there's a point where you can go overboard with that.
If you belong to 50 group boards but can only spend 15 minutes/week on Pinterest, a lot of those group board opportunities are going to waste. And we don't want that! 
If you love the idea of utilizing group boards but you're on a bit of a time crunch, check out my favorite Pinterest scheduler here.
How often should I pin to group boards?
As much as the group boards allow!
Most will have rules in regard to how many pins you can add to them per day (2, 5, 10, etc.), so check the board's description to see if there's a limit. 
With that said, if you're only pinning to a group board once a week, you're missing out on a big opportunity to grow not only your Pinterest account, but your traffic as well.
Now, this might sound crazy, but I actually recommend pinning to group boards more than you pin to your regular boards.
Why? Because especially when your Pinterest account is new, your group boards have a lot more followers than your own account and boards do!
What should I pin to group boards?
Pay extra attention to this bit, because it's super important.
You do not have to pin only your own original content to group boards.
I repeat.
You can and should be re-pinning other people's content onto group boards as well as your own.
You might be wondering why on earth you would do that, especially if your main goal is to drive traffic back to your own website. Simple: Because sharing pins like this is great for the Pinterest algorithm.
That's your big goal when it comes to Pinterest: Ranking highly in the algorithm. 
Because when you rank highly, your account, pins, and boards are "recommended" to other pinners more often.
Have you ever seen those "Picked For You" pins in your home feed? That's what I'm talking about here! 
There are a lot of factors that contribute to your ranking in the algorithm, but one of the main ones is your "re-pin rate" — that is, how many times, on average, your pins are re-pinned by other people.
The more re-pins you have, the more "popular" your pins appear to the algorithm.
Basically, Pinterest sees that your pins are good stuff, and then it recommends them to other pinners who have indicated an interest in your niche/topic.
To increase your re-pin rate, you'll want to do two things:
a) Pin frequently (daily, if possible!)
b) Pin high-quality content to group boards often
Sometimes the high-quality content you pin to group boards will be your own blog posts, and sometimes it'll be somebody else's content.
That's my point here!
You don't want to only share your own content to group boards — you want to share anything and everything that fits onto the board, as long as it's high quality and likely to be re-pinned.
Following the rules of group boards
Keep in mind that most boards have specific rules of what you can and can't pin to them.
For example, the rules might include:
Only pins with a text overlay

Only pins

without

a text overlay

Only vertical pins

Only pins that are tagged to a specific location 

Only pins that are tagged to a specific location 
Make sure you familiarize yourself with the rules of each group board before going on a pinning spree. It's important to follow these guidelines, otherwise, you run the risk of being removed from the group board.
When to create your own group board
Once you have a decent number of followers and engagement, both on Pinterest and in your business in general, it's the perfect time to start your own group board.
Although there's no steadfast rule as to how many followers you need to have before starting a group board.
I like to look at it this way: If you can think of 15-20 people you know that would love to join a group board in your niche, then create one!
How to create a group board
Creating a group board is exactly the same as creating a regular board, but with one extra step.
Once you've created the board, titled it, categorized it, and written a description for it, it's time to invite other pinners to contribute! 
Sending invites is super, super easy. All you have to do is click into the board's settings and scroll to the section called "Collaborators".
Type in another Pinner's username or email address to invite them hit Enter, and your invite is sent! 
Monitoring your group board
It's always a good idea to set some ground rules for your group board to ensure that the contributors are only sharing high-quality pins to your board.
The easiest way to do this is to write clear guidelines in the board's description. 
Your guidelines will vary depending on your niche, the number of pinners contributing, and the aesthetic you're going for.
I suggest going into your group board once every week or two to see that the rules are being followed and no one contributor is "taking over" the feed.
If needed, you can remove other pinners from your group board.
Growing your Own Pinterest group board
As your audience, email list, and Pinterest following grows, you'll get more and more requests from people wanting to join your group board.
For that reason, it's important to let other pinners know how to secure an invite to your board by writing clear, specific directions in the board's description.
Besides this natural growth, there are a lot of other strategies you can use to grow your group board.
Some of my favorites are:
Announcing it to your email list

Mentioning and linking to it on your blog

Talking about it on social media

Promoting it in Collaboration threads in Facebook groups

Asking your biz-BFFs to share it with their audience 
Pinterest Apps:
It is recommended that you be pinning content at least 40 times a day in your Pinterest boards and group boards, to keep your ranking high.
Pinning this much would be difficult and incredibly time-consuming to do alone, fortunately, there are scheduler apps that can pin to your group boards on auto-pilot for you!
I use Tailwind to do this. For a step-by-step guide on how to use Tailwind and try it yourself for free, check out this post.
TastyPins – Use this app to add extra SEO details to your images. Plus, hide pins in your blog posts and make some images 'no pin' if you don't want people to pin certain images.
Pinterest Books: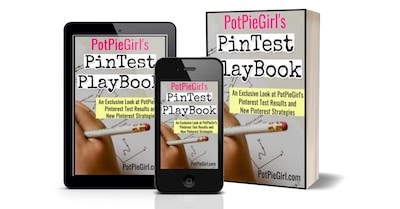 To learn high-level Pinterest tricks, I highly recommend PotPie Girl's PinTest Playbook.
This is PotPie Girl's follow-up to her groundbreaking Pinterest marketing book Pin Signals.
In this new book, PinTest Playbook. she reveals her new strategies that are working now.
She shares exactly what to do to improve your traffic with amazing, sneaky, legit Pinterest hacks!
Tailwind Tribes – You Should Be In Them
In addition to joining Pinterest Group boards, you will also want to join some Tailwind Tribes.
Tailwind Tribes make it easy to post to several Pinterest groups at once and are an excellent way to increase your ranking on Pinterest, FAST!
Once you are invited into one you have access to thousands of other pinners who can re-pin your content quickly, and you can repin theirs.
It is an encouraging way to boost and support your and your fellow blogger's content.
You will be surprised at how fast your pins get repinned once you are in a tribe.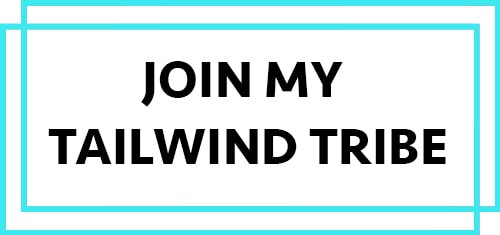 I have a Tailwind Tribe open for members, come join my tribe here.
It's free to join, plus you will get a free month of Tailwind too!
Finding more tribes to join is easy from your Tailwind dashboard, once you are in the first one.
You can also check out group boards on Facebook to see who has tribes open for new members.
My final thoughts on Pinterest group boards
Having a group board is a great way to establish your expertise on a certain topic, so if you've been thinking about starting one, I say go for it!
Choose a topic that fits well with your niche and area of expertise and one that would appeal to your ideal audience. Then, invite all of your peers to contribute! 
Group boards are without a doubt one of my favorite parts of Pinterest.
When used properly, they can grow your traffic faster than anything else. Are you a part of any group boards yet? Thinking about creating your own?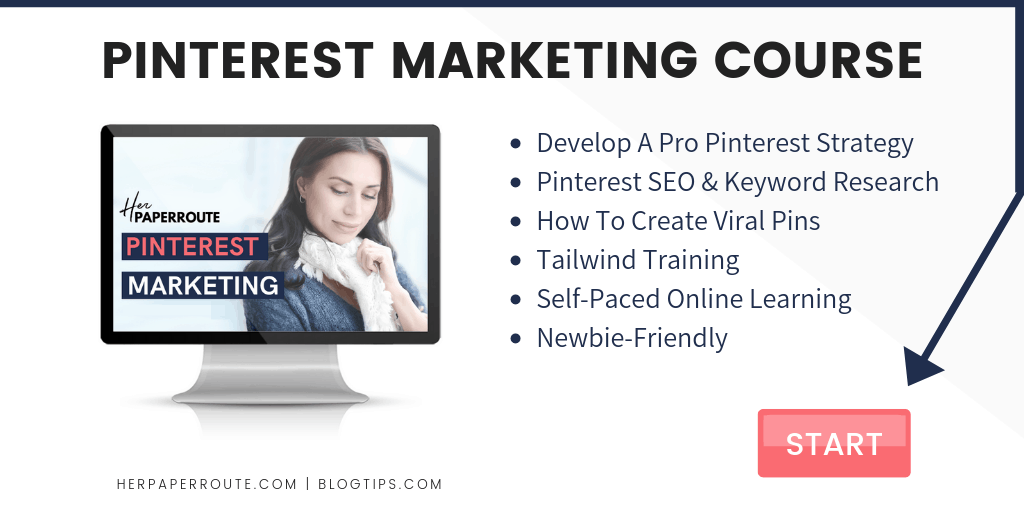 Want More? I Teach A Pinterest Marketing Course
Come and join my epic Pinterest Marketing Course!
Are We Following Each Other On Pinterest?
Let's be pin pals: @HerPaperRoute and @BlogTips_
Pinterest Marketing & SEO Tips