How Long Does It Take to Become a Successful Affiliate Marketer?
If you are wondering "how long does it take to become a successful affiliate marketer?" there are a few things you need to understand.
Everyone is different and it may take some people longer than others to become successful.
But even so, there are some things to be aware of, that can make some more successful than others.
Here's what you need to know, to determine how long it takes to become a successful affiliate marketer.
---
As an affiliate partner of various brands and sponsored content, HerPaperRoute may earn commission on qualifying purchases. Disclaimer | Advertise With Us
---
How Long Does It Take to Become a Successful Affiliate Marketer?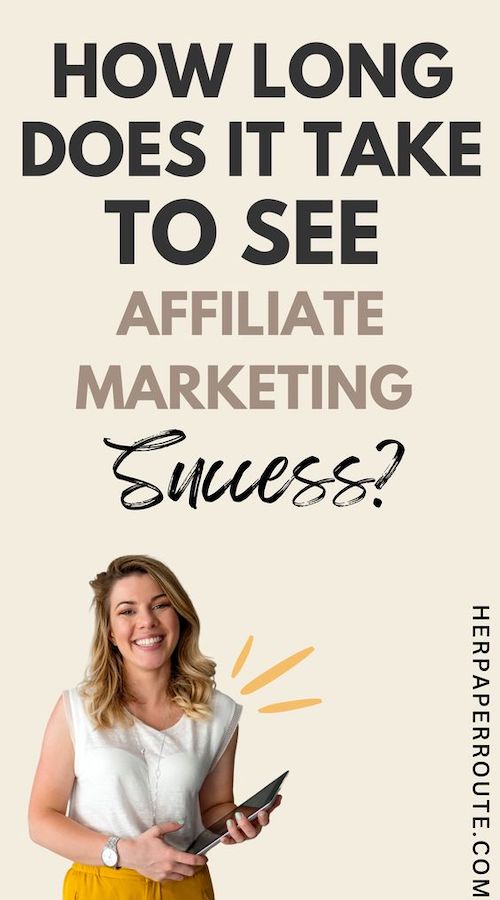 Starting out as a newbie affiliate marketer all bright-eyed and bushy-tailed is a time when anything feels possible.
You might have watched videos and seen posts from other successful affiliate marketers and had your eyes opened to the vast possibilities.
The thing is, many new affiliate marketers buy into the hype of that one success story of a student making 5k in the first week, or another newbie quitting his job after a month.
🫶 Want to Make More Money?🫶
Become a member of HerPaperRoute today and get a toolkit packed with resources to help you make that paper. All for FREE!
---
While it is possible to make such affiliate commissions in the first month, it often doesn't happen this fast.
If you are starting from scratch, you usually need to give it a good 6-12 months to start seeing sustainable returns before you think about quitting your job.
The fast track to affiliate marketing success is to buy an established affiliate marketing website, with a proven record of traffic and sales.
But if you aren't acquiring an established business and you are starting your affiliate website from scratch, it will take some time to build up authority.
Here are some factors to consider, which will determine how long it takes you to become a successful affiliate marketer.
How Much Time do You Have Daily to Work on Your Business?
Everyone starting out in affiliate marketing is going to have different amounts of time and varying commitments in their lives.
This is totally ok and just because you have a busy full-time job and family to look after, doesn't mean you can't be a successful affiliate marketer.
It just means you need to be creative with your time, have a daily plan and take advantage of every small window of opportunity you have each day.
So, if you have only a few hours a day to work on your affiliate marketing business and another person has five hours available a day, of course, the latter person is probably going to see returns faster.
But of course, it still matters the quality of work you're doing in these hours so whatever time you have, make those hours count and focus on being 1% better daily.
Is Your Niche Competitive?
If you're starting out your affiliate marketing journey in a highly competitive niche, it doesn't mean you won't make any money.
The niche is popular for a reason – lots of people need help in that area and there is money to be made!
It might mean that it will take you a little time to get yourself established though, as people follow the crowd.
The competitor with a huge social media following, is always going to be more trusted than you when you start out.
But focus on connecting with people, showing people you have answers and that you care and people will start to follow you.
So, a competitive niche is good, but choosing a lesser-known niche may get you commissions a little faster if there are not as many others promoting the same thing.
Read: How to choose a profitable affiliate niche
Is the Product You're Promoting Proven and Well-Known?
It can take a while for someone to trust you and if they have no idea who created your product also, it can take a while to convince people they need it.
For example, let's say you were promoting a pet product through an unknown retailer and someone else was promoting the same product through Amazon.
Everyone knows Amazon, and it's very likely they will feel safer buying the product through a well-known giant.
So, make sure the product you're promoting has a proven track record, great reviews and was created by a company or person who has a great social media presence.
Also, work on building your own like, know and trust factor.
This will make it a lot easier for you to make faster returns for your efforts.
Are You Promoting High Ticket or Low Ticket Affiliate Products?
You might have started affiliate marketing just to make some extra passive income, or maybe you want to eventually quit your job and go full-time.
Whatever your goals, you're likely to become a successful affiliate marketer a lot quicker if you are promoting high-ticket products over low-ticket products.
What I mean is; if you're promoting physical products like e-books costing $5 or kitchenware on Amazon for $10-50 dollars, commissions on these may only 3 – 10%.
This means you might only get a few dollars for every person who buys through your link, meaning you need thousands of sales to make a good living.
If you want to cut the time down to becoming a successful affiliate marketer, high-ticket products are the way to go.
Promoting things like digital courses can pay anything between 30-100% commissions and if the course is $1,000 – $2,000, you can see that you'd only need a few sales a month to make a great living.
Do You Have a Mentor to Guide You or Are You Going It Alone?
Getting help from a successful affiliate marketer who has created the life you want, is the best way to cut out the learning curve and become a successful affiliate marketer.
I know sometimes investing in a course can be scary when you have doubts, fears, and maybe not a lot of free cash to throw around.
But in my experience, investing in yourself is essential and will give you the exact steps to follow and build your own affiliate marketing business to financial freedom.
Successful affiliate marketers are successful for a reason – they've worked hard, made mistakes, never given up, and had their own mentor to show them all that they've learned.
Investing in a course and mentor is an investment in yourself.
After a year of following a mentor, taking action daily, giving tons of value to people and having the ultimate belief in yourself, you WILL become a successful affiliate marketer.
If you don't invest in yourself, it's still possible to build an affiliate marketing business, but it's likely to take a lot longer to get to the stage where you can ditch the 9-5 and live off your affiliate earnings.
I know what I choose!
How Long Does It Take to Become a Successful Affiliate Marketer – Conclusion
There is no one distinct answer I can give to tell you exactly how long it takes to become a successful affiliate marketer.
The journey will be different for everyone.
But one thing I do know is; hard work, perseverance, investing in yourself, and having a long-term over short-term mindset will get you there in the end.