Niche Blog Strategy – 8 Tips To Make Money Fast
Niche Blog Strategy – Do you want to make a residual income from a blog that requires very little upkeep?
Well, niche blogging might just be perfect for beginners to get their feet wet making money online.
Most people use niche blogs as a sounding board for narrowly focused subjects, but many affiliate marketers use them as a platform to make money.
And because the focus of those blogs is laser targeted, they can usually be optimized quite quickly to become profitable.
---
As an affiliate partner of various brands and sponsored content, HerPaperRoute may earn commission on qualifying purchases. Disclaimer | Advertise With Us
---
Niche Blog Strategy – 8 Tips To Make Money Fast
Although affiliate marketers vary slightly in their approach, there is a general strategy that works well if you're looking to make money fast with a niche blog.
Here are the basic steps that affiliate marketers take to create a successful niche blog:
1. Find a niche product
The very first thing you must do to start your niche blog strategy is to find a quality affiliate product.
🫶 Want to Make More Money?🫶
Become a member of HerPaperRoute today and get a toolkit packed with resources to help you make that paper. All for FREE!
---
It should have a good conversion rate and pays a solid commission.
Clickbank is one of the more popular places where you can choose from 1000's of digital products that offer commissions up to 75%.
Find a product for your niche that has good reviews and marketing materials.
ShareaSale is another great place to find affiliate products to promote. As well, check out this list of high paying affiliate programs.
2. Research related keywords
Next, you want to research keywords related to that product. This step is probably the most crucial step to creating a profitable niche blog.
You want to find a primary keyword phrase that is searched at least 3000 times a month, along with 5-10 more related keyword phrases that have sufficient searches a month.
Chances are those phrases won't be too competitive, but you'll want to check how many Google search results there are for those exact phrases.
You'll want to see less than 30,000 SERPs (search engine page results) for the keywords you ultimately choose.
Read our SEO Cheat Sheet and enroll in SEO Made Simple for free to learn more about keyword research and SEO.
3. Buy a domain
You'll want to register a domain for your primary keyword phrase (the one with at least 3000 or more monthly searches and less than 30K SERP).
The closer the match to the exact phrase the better.
For example, if your keyword phrase is 'niche blogging', then nicheblogging.com is what you want.
In fact, if a .com, .net, or .org is not available for the exact phrase, then the phrase is probably more competitive than your initial research showed.
In other words, it will be harder to climb to the first page of Google with nicheblogging.info if those other domains are taken.
4. Create a simple blog
Once you have your domain purchased, you'll want to build a simple blog.
You should self-host your blog, which just means that you use WordPress.org via your web hosting, to manage your content.
Choose a plain but attractive 2-column template and make a nice logo.
Write a keyword-rich meta tag description, and create a page where you can display the details of your chosen product with your affiliate purchase link prominently available.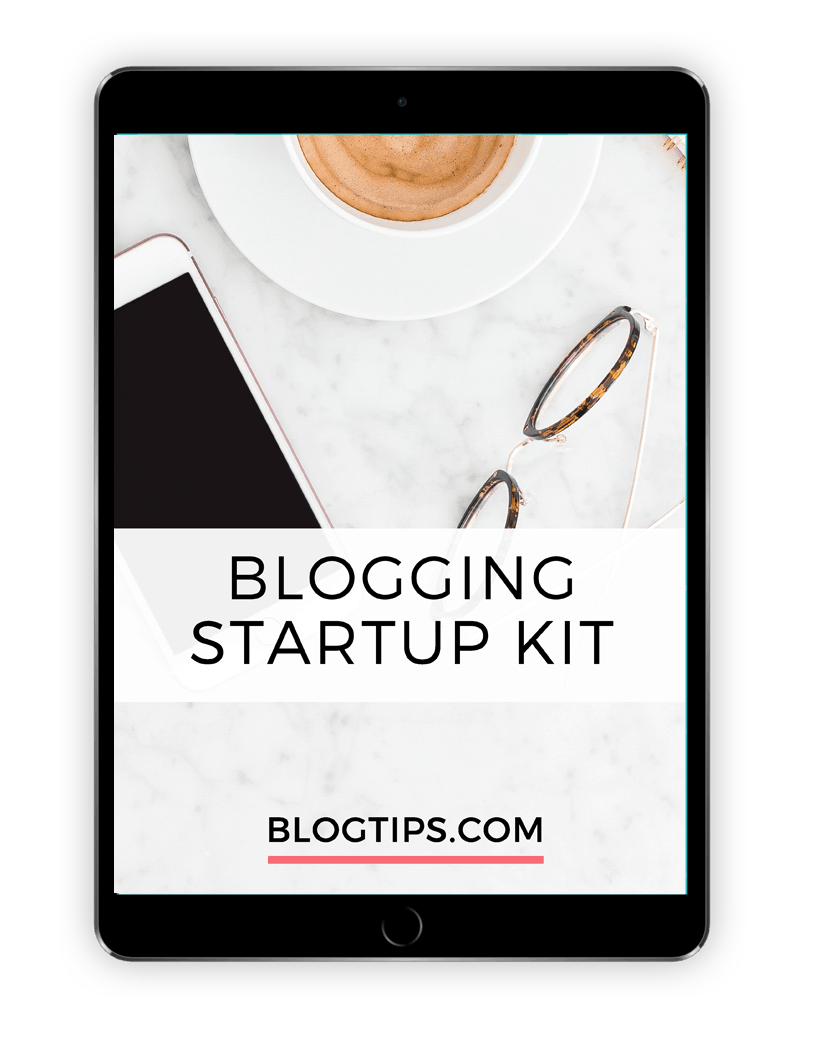 Get Your FREE Blogging Startup Kit:
5. Create Content
Next, you want to create some compelling and SEO-friendly content.
Your first article should be a general post about your primary subject using your domain keywords in the title and throughout the article.
This article should hit on all the important points and benefits of your affiliate product and should contain at least two links to your affiliate product embedded in bold anchor text.
You'll also want to create at least 2 more original versions of that same general material.
After that, write articles around those other 5-10 sub-keyword phrases you found, but you don't want to post them all just yet.
6. Link Building
Since you're a brand new blog with hopes of getting on the front page of Google with your niche, you must build backlinks to your blog.
You can do this with an article marketing strategy that will also get you some affiliate sales.
Post the 2 articles that mirror your primary blog article to article hubs; one to EzineArticles.com and the other to Medium.com. Make sure they have different keyword rich titles.
Ezine permits 2 dofollow links at the bottom of the article (and nofollow links within content), so put one link back to your blog embedded behind anchor text for your niche blog's subject (ie. "niche blogging").
Put the next link to your affiliate product's landing page.
Medium doesn't give you a dofollow link, but they do give you a canonical link, so you can syndicate your blog content there.
Reach out to other bloggers with high DA (domain authority sites) and propose writing a guest post.
Again, include a link to your new blog and a link or two to your affiliate product.
7. Market Your Articles
Now that you have built a few backlinks to your new blog from high ranking websites, you must begin to support them.
In other words, now you must build backlinks to your "backlink" articles.
As you write guest posts, cross-promote your other guest articles, by linking to them.
8. Second Phase
Phase two is simply repeating the tasks from above with new article topics.
Post a new keyword-rich article on your niche blog, write at least two more original versions of the same material to post to article hubs, and include links back to your blog post and affiliate product.
But, this time, start using Pinterest marketing to start driving traffic to your articles.
If you have chosen and used your keyword phrases wisely and follow this niche blog strategy, your blog will soon be attracting search engine traffic along with your hub articles.
Once you begin to realize organic traffic to your blog, you may then add other ways to make money with your blog.
And an additional benefit to posting on Medium.com is that you get article revenue sharing on top of your potential affiliate commissions.
Niche Blog Strategy – 8 Steps to Make Money Fast
You can expect to start seeing results within a few weeks if your affiliate product converts well, and you can experience incredible Google search strength within a month or two if you keep working on this strategy with new articles every few days.
Clearly, if this strategy works well with one niche, it will work well with others.
So, you may be inclined to start many niche blogs with which you could conceivably be making a full-time income online in 6 months to a year if you're diligent.
Perhaps you will even do this with the intention to sell your niche blogs. Click here to learn more about blog flipping.