What Are Meta Title Tags? Blog Titles For SEO: Examples
Confused about all the blogging lingo, and wondering what are meta title tags, and meta titles? Are 'meta tags' and ' seo titles' the same thing?
Not to worry. I'll explain exactly what meta title tags are, (yes all those terms refer to the same thing!) as well as show you some examples of SEO-friendly blog post titles.
This blog post is going to cover how to craft SEO-friendly blog post titles for maximum organic traffic back to your website.
What are Meta Titles, Meta Tags, and SEO Title Tags?
It is a bit silly that we have so many words to describe the same thing.
---
As an affiliate partner of various brands and sponsored content, HerPaperRoute may earn commission on qualifying purchases. Disclaimer | Advertise With Us
---
But a meta title, title tag, or meta tag is simply another term for 'blog post title.'
It is the title for any article you publish, and the main words that show up in Google Search.
CoSchedule states: "A meta title, also known as a title tag, refers to the text that is displayed on search engine result pages and browser tabs to indicate the topic of a webpage."
🫶 Want to Make More Money?🫶
Become a member of HerPaperRoute today and get a toolkit packed with resources to help you make that paper. All for FREE!
---
I'll let you in on a little secret. The most important part of your blog post is your title.
You want to use keywords in your blog post's title, as the right keywords will help your article rank in search results.
It doesn't matter how well you write, how well you research your content, or how pretty your images are, it all means nothing if you can't get readers to click through and start reading your post.
Your SEO-optimized blog post title is also an important aspect of on-page SEO.
So if you're hoping for lots of free traffic from Google and all your favorite social media sites, you need to get good at crafting click-worthy blog post titles that match the content of the article.
SEO Meta Title Tags – Quick-Tips
SEO is in more than just your meta titles. It should be implemented;
1. On all of the pages of your website. Make your content easy for Google and your readers. I go into more detail on how you can optimize your blog posts for SEO in this article.
2. In the content of your blog post articles by interlinking your related blog posts to one another to let Google know that you write more about that topic.
SEO Keyword research tools are a great place to find keywords to rank for and use within the titles and contents of your blog posts.
Frequently Asked Questions About SEO Meta Titles and Meta Tags
How do you write a meta title?
To write a meta title in WordPress, you simply place it on the 'Add Title' line in the WordPress blog post editor as illustrated below.
What is a meta title and description?
The Meta Title is the title of a page or blog post. The Meta description is a summary of the article that is featured in search results.
How To Write A Meta Description?
When you have the free Rank Math SEO plugin installed, simply click 'Edit Snippet' to fill out the meta description box for your blog post.
What does a meta title look like?
Here are some meta title examples. A meta title looks like this on a website:
Meta titles looks like this on Google:
What is meta title vs title?
Meta title and title are one and the same. 'Meta' is used to refer to words that are used by search engines to read and understand the content.
How To Craft SE0-Friendly Meta Title Tags
1. Start With Your Keyword
The key to creating well-rounded blog titles for SEO is to strive for a balance between a title the search engines will like and one that your readers will find interesting and engaging enough to make them want to click on it.
To get that balance just right, start with the keyword or keyphrase that you want to rank for in the search engines.
Open up your favorite keyword research tool.
If you're not already using them, I think you'd benefit from tools like KeySearch, and the extension Keywords Everywhere to help you research the keywords you want to rank for along with monthly search volume metrics.
The monthly search volume gives you an idea of how many times per month people are searching for your keywords.
2. Make Your Meta Title Interesting
For the sake of illustration let's say our keyword example is "best blog platforms" and the post will be a review of five of the best platforms to blog from.
"Best blog platforms" is the keyword we want to rank for in this example.
Now that we have the keyword, it's time to make it interesting for our readers.
There are plenty of different ways to turn our example keyword into an interesting blog post title.
Here are a few meta title tag examples:
The Three Best Blog Platforms Reviewed – Read This Before You Sign Up
Looking For a New Home for Your Blog? The Best Blog Platform Reviewed
My Top 5 Best Blog Platforms Revealed – Here's Who I Recommend
Wondering Who The Best Blog Platforms Are?
Is Your Host on The Best of The Best Blog Platforms List?
Do you see how this works? Start with the keyword and then try to think about why your readers would be looking for this information.
Focus on what's in it for them by sharing content that will help them out.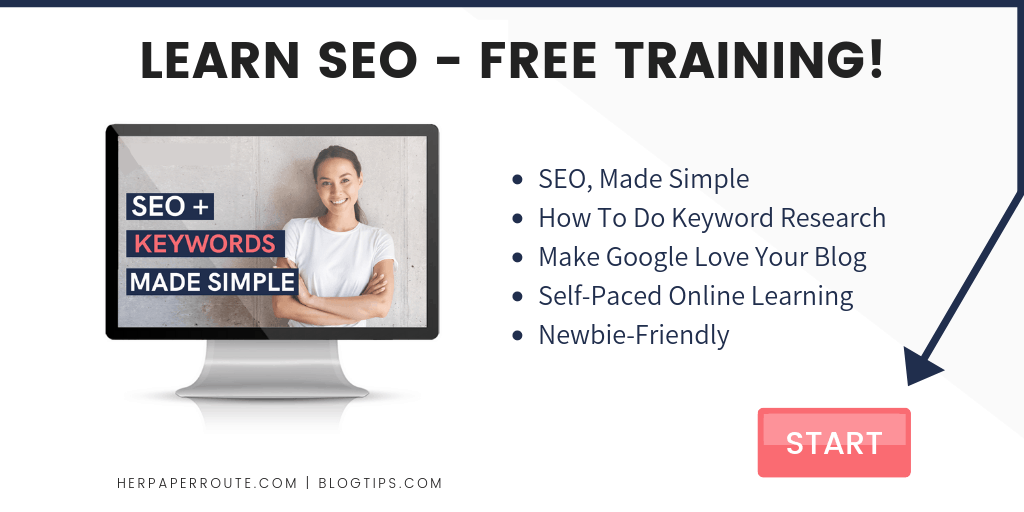 Click the image above to sign up to get your free access to the SEO Startup Class!
3. Stay Authentic and Stick With Your Style When Writing Meta Title Tags
Last but not least stay authentic and stick with your own style. This is particularly important if you're an established blogger.
Don't just copy and paste the blog post titles above. They may not reflect the style and tone of your blog posts.
In other words, they may not be you.
Balance the search engines need to easily find what you're content is about and the need to keep things interesting for your readers, with your own voice.
What Are Meta Title Tags? Writing Blog Titles For SEO – Conclusion
Know that you know what meta titles are, and how to write great SEO-friendly blog titles, you are ready to start publishing!
You may find it helpful to write a few different blog post titles down, then choose the one that resonates most with you and among all, your readers.
Read this next: