Debbie Gartner Paying Off Debt, Earning $20,000 M/O Blogging
In today's episode of the HerPaperRoute podcast, Debbie Gartner aka The Flooring Girl joins us.
She reveals how she uses SEO to earn $20k per month with her blog and gets 500k monthly page views!
Listen to the podcast on Itunes | Google Play | Spotify
Incredibly, Debbie is paying off her $238k debt with her blog and digital products. She has some clever SEO strategies and blogger encouragement to share with you.
---
As an affiliate partner of various brands and sponsored content, HerPaperRoute may earn commission on qualifying purchases. Disclaimer | Advertise With Us
---
Learn how this blogger is making major dents in her debt using her creative passions to make passive income as a blogger.
How This Blogger uses SEO to earn $20k per month and Gets 500k Blog page views
Debbie Gartner goes by the name The Flooring Girl. She runs a successful hardwood flooring and interior design business.
Her blog gets over half a million monthly page views, earning her over $20,000 per month, thanks to her own SEO techniques, which she details in her books and courses.
🫶 Want to Make More Money?🫶
Become a member of HerPaperRoute today and get a toolkit packed with resources to help you make that paper. All for FREE!
---
Debbie is now known in the blogging community as a go-to SEO resource for her clever strategies and helpful traffic tips.
She is on the podcast today to shine some light on something that is always the hardest part of blogging for many: and that is how to get more traffic!
What we chat about in this podcast episode:
What Debbie does with her SEO strategy, to get consistent 500k monthly pageviews
What you should be focused on, to grow your blog traffic right now
SEO basics that every blogger needs to know
How bloggers can improve the ranking of an old blog post
Critical SEO mistakes to avoid
The best way to speed up a slow loading web page
How does Pinterest play into a solid SEO strategy?
Once a blog is getting significant traffic, how do we keep it consistent and increasing over time?
And more!
Watch Our Interview:
---
Resources Mentioned In Today's Episode

Debbie Gartner's Easy SEO Revamp course
This is Debbie's new course, Easy SEO Revamp.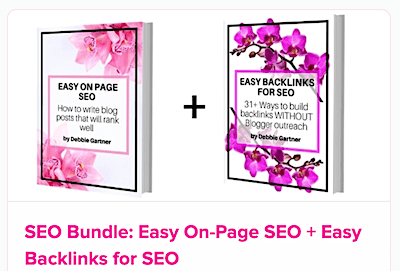 Debbie Gartner's SEO Books
Save $20 when you bundle her books together. Learn more here.
PotPieGirl's Book
Niche Posts Conversion Strategies is the Amazon affiliate book that helped Debbie learn how to master the Amazon associates program. She now earns over $7,000 per month from Amazon commissions! Learn more here.
Thank you to our sponsors
Honeybook – The project management tool that I use to manage all of my clients, invoices, projects, contracts, emails and more! Get a free trial and 50% off your first year when you click here.
ASelfGuru Legal Bundle – If you own a website you are required to have the proper legal pages to protect you. Get a template bundle for all 3 required legal pages here.
Sell Your Blog – Get a free website valuation to see what price your website could sell for right here.
HerPaperRoute Academy – This is where all of my courses and ebooks live! And I frequently add new lessons and update the content. Once you are enrolled, you get lifetime updates for free. Come see what's new and use the coupon code I mentioned in today's podcast episode to save 30% at checkout, sitewide!
Bluehost – Start your website for just $2.95 when you go here, and then get free access to my easy-start-your-own-website course, here!
ConvertKit – One powerful email service provider to manage all of your funnels, automation, newsletters, and subscribers. Get a free account here!
To sponsor an episode, collaborate and have your brand featured on an upcoming HerPaperRoute podcast episode, fill out the form here.
More Blogging & SEO Resources
Pin this: