How To Start A Travel Blog And Make $100k
Wondering how to start a travel blog and make money with it?
Many travel bloggers are able to make enough money from their blogs to not only cover their travel expenses but earn a very good living from it too.
I was able to quit my job thanks to blogging, and now have the freedom to go anywhere, anytime.
All while earning over $100,000 a year online as a blogger.
---
As an affiliate partner of various brands and sponsored content, HerPaperRoute may earn commission on qualifying purchases. Disclaimer | Advertise With Us
---
Earning 6 figures blogging takes time and work, for sure! But anyone can do it and it's easier than you might think.
In this post, I'm going to show you exactly how to start a travel blog, how to become a digital nomad and how to get paid to travel the world.
How To Start A Travel Blog And Make Money – First, What Is A Digital Nomad?
Digital nomads are people who use the Internet to make an income that permits them to live a location independent lifestyle.
🫶 Want to Make More Money?🫶
Become a member of HerPaperRoute today and get a toolkit packed with resources to help you make that paper. All for FREE!
---
Digital nomads typically make money online as freelance writers and bloggers, photographers or artists, web developers, coaches, affiliate marketers, graphic artists, and many other types of entrepreneurs.
Digital nomads can work anywhere, so long as there is wifi!
As a digital nomad, you have no boss to answer to, no set schedule, and generally no rules to follow.
But that does not mean you get to slack off or be lazy.
Yes, you will have more free time than the average employee, but being a travel blogger is still work.
And it takes time and dedication to develop your travel blog into a profitable business.
Even if you don't have plans to make a full-time living from blogging, you should start one just to learn a new skill, and be able to document your travels along the way.
How To Become A Digital Nomad – Free Book!
I wrote an ebook detailing the many ways you can become a digital nomad, and make money online from anywhere in the world.
This book is very helpful for anyone wanting the freedom to travel anywhere with a location independent income source.
Click to get a free copy of the How To Become A Digital Nomad book.
How To Start A Travel Blog And Make Money – Become A Travel Blogger And Digital Nomad
Imagine getting paid to explore the world! It doesn't get much cooler than that.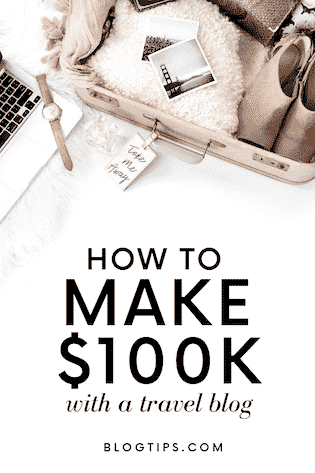 Although it's not as simple as slapping together a quick blog and advertisers immediately start hurling money and free trips at you.
Of course, it will take some time to build up your blog to the point that it makes $100,000 a year.
But it doesn't have to take too long. I was able to do it in less than 2 years!
If you follow these 'How to start a travel blog and make money' steps and stay focused, it won't be long until you are a sought-after travel blogger.
If you're a passionate adventurer with dreams of making money while traveling, use this as a blueprint to make your digital nomad dreams become reality.
Step 1 – Start A Travel Blog
First, you'll need to create a blog if you don't already have one. It will need to be a professionally self-hosted blog if you want to make any money with it.
Don't worry, it's very easy to set up self-hosted blog, and it costs less than $3.
Follow my step-by-step guide on how to start a blog first.
The basic steps for creating a travel blog are:
Purchase web hosting. Take a look at this list of best web hosting discounts. My #1 choice is Bluehost for $2.95.
Follow the prompts after checkout to install WordPress (the host does everything for you!)
Download my FREE blogging startup kit below, which includes a ton of resources to help you develop your blog into a professional business:
Step 2 – Travel Blog Layout
Since travel is an image-driven topic, make sure your blog design has plenty of space for photos.
Although you may be primarily documenting your personal adventures, make your blog a bit broader than just a travel diary.
In other words, be sure to include general categories for useful information like destinations, hotel reviews, costs, travel tips, attractions, food and culture, etc.
This will help attract a larger variety of advertisers.
My favorite travel blog themes: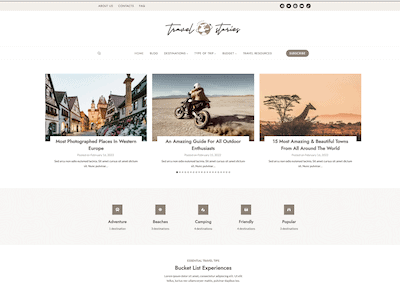 Kadence Travel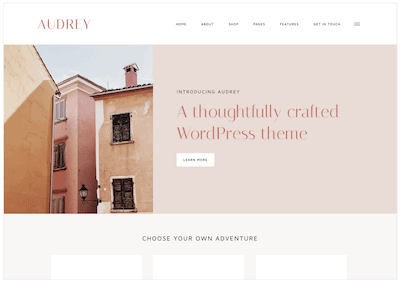 Audrey Theme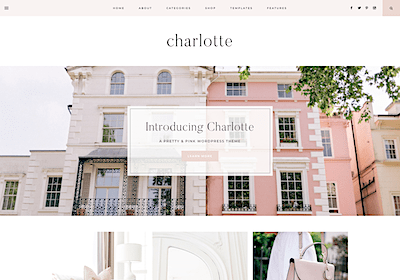 Charlotte Theme
Step 3 – Write Content
Most importantly, you will need to produce some excellent content for your blog. The more, the merrier; but only quality will keep a loyal audience.
The key is finding a niche that you will enjoy writing about whether it's your travel adventures, your hobby, your professional expertise, or any topic that offers valuable or entertaining content to your audience.
Here are some tips for writing great blog content.
Focus on building a following for your blog. You must actively promote your content to get some traffic to your blog. This will primarily come from producing enjoyable content that you share far and wide, but there are also some proven techniques to improve your blog's search engine optimization (SEO) and traffic.
Be sure to read our SEO Basics Cheat sheet for more information about growing your blog with SEO.
As your blog gains a respectable level of traffic and backlinks, you'll be primed for a nice income.
Although nearly any blog has the potential to make some money, if you want a full-time income, you'll have to treat your blog like a business and put in the time to build it up.
Click to read how I grew my page views to over 720,000!
Step 4 – How To Monetize A Travel Blog
Once you have followed our step-by-step guide to start a blog for free, and you've written some quality blog content, it's time to monetize your travel blog.
The basic ways to monetize a blog are:
With ads that pay you when a reader clicks on it
Affiliate links that lead to a product that the reader buys and you get a commission
Advertisers that rent space on your blog
Writing sponsored posts or reviews
Or by hosting a store of some kind where you sell a product, course, or service
How Travel Bloggers Make Money
How to start a travel blog and make money is a bit different.
Travel blogs don't need tons of traffic to make a significant income as they don't make money the same way most blogs do.
Most blogs make money from pay-per-click ads, affiliate marketing, CPM ads, or direct advertisers.
Travel bloggers use those too, but they tend to make most of their income by writing and hosting sponsored posts on their blog and Instagram.
Blog sponsorship is a form of direct advertising where the advertiser is looking to place a text link into new, original, and relevant articles on a genuine blog.
These advertisers want to get their link in front of a targeted audience, but they mostly desire the search engine benefit the link gives them.
As such, most of the advertisers are actually SEO marketing companies who place links for clients like major hotel or flight booking companies.
Because the travel industry is so competitive, these links are extremely valuable. In fact, some blogs make $500 or more to write a single sponsored post with only one link.
It is simply one of the best ways low-traffic blogs can make a nice income and it allows travel bloggers to gallivant around the world.
With the rise of influencer marketing, more and more brands are looking to work with travel bloggers who also have a large Instagram following.
So be sure to focus on growing your Instagram account at the same time as your blog, for maximum income potential.
Related: The highest-paying paying travel affiliate programs – make money while you explore!
Site Requirements For Blog Sponsorship
The key requirement for a blog to attract sponsored post advertisers is its Domain Authority (DA) score.
DA is a basic measurement of the blog's search engine importance which factors in age, content, backlinks and other characteristics.
Google PageRank (PR) was another measurement of importance, although less used now. Google axed its support of PageRank in 2016, and it has become less important for advertisers since.
Yet, it's worth mentioning that when ranking a blog in search results, Google still takes PageRank into consideration.
The higher your ranking in these areas, the more you can charge per sponsored post.
You can check your PageRank here and check your Domain Authority here.
Although you can make money at any stage of your blog's growth, travel bloggers will begin to make more money from sponsored posts when your blog reaches a Domain Authority score of 30 or more.
You can naturally increase your rankings by consistently adding new content and by building backlinks to your blog.
But don't expect them to climb quickly as it takes time to produce quality material and generate genuine backlinks.
When considering working with a blogger, advertisers and brands also like to see a high level of engagement and followers on social media.
How To Connect With Brands For Sponsored Posts
There are various ways to get sponsored post jobs.
Typically, you will seek out and pitch brands your sponsored post idea yourself. Either by emailing a brand directly, or working with an influencer network.
Or, brands will pitch you with an overview of their current campaign to see if you're interested.
Either by emailing you via your contact form, PMing you on Instagram or going through your influencer network.
Most of them will want you to write a new sponsored post about a specific topic and include a link placed naturally into the content.
Others may provide a guest post for you with links already embedded to host at your blog, or want a link placed into an article that's already live on your site.
How to start a travel blog and make money tip: It is common for bloggers to charge per link, not per post. So if one post has two links in it, then advertisers are charged for two links.
However, discounts are usually offered for a multi-link campaign from one advertiser.
Links are usually hosted for a specific amount of time like one year, but some bloggers offer permanent links. Again, discounts may be offered for multi-year links.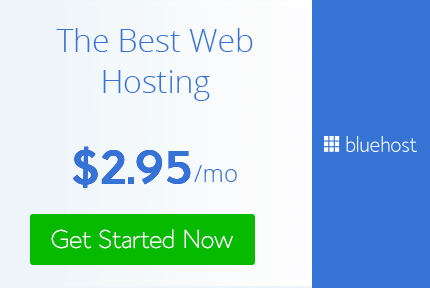 What To Charge For Sponsored Posts
As you become a travel blogger, you will soon need a media kit for your blog.
Creating a media kit that includes your advertising rates upfront will make negotiations with advertisers go much smoother.
This is generally a one-page PDF that includes a brief description of your blog, your social media and traffic stats, and what your prices are for various text link or banner ad options.
Related: How to make a media kit for free, with examples
You should attach your media kit to potential advertisers on the first email correspondence so they have an idea of what you charge upfront.
There is no exact industry standard on what to charge for link placements on a blog, and every blogger will value their content differently.
However, there does seem to be a base for what to charge for social media posts.
The typical rule for the price of a sponsored social media post is $10 for every 1000 followers you have.
Brands are looking for influencers with engaged followers, meaning followers who actively comment on your posts.
Working With Brands On Sponsored Content
Once you agree to the basic terms and price of the campaign, you should plan on completing the sponsored post within 72 hours or so.
Advertisers tend to be on strict monthly budgets and will service the first ones to complete their assignments.
Plus, it's just more professional to get them done soon after you agree to terms.
Write the article to include as much useful information as possible and don't be afraid to inject your personality into it.
Just because you're getting paid to write it doesn't mean it should be boring and bland.
Remember to always give your readers value even in sponsored posts.
Spice it up with lots of photos. You can take your own, use free stock images or use professional stock photography.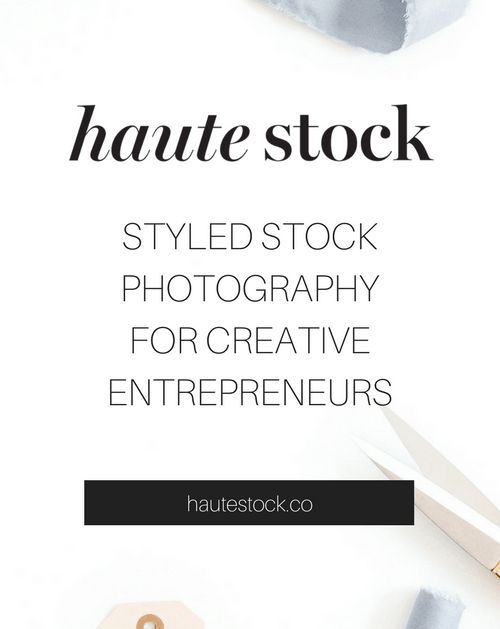 I prefer to use professional stock photography for all of my websites.
I recommend purchasing a membership at Haute Stock and Styled Stock Society, as you get unlimited downloads to thousands of beautiful images.
When the article is ready to go live, it's best to send it to the advertiser for approval prior to publishing it in case they want any changes made.
FTC Disclosure Law On Sponsored Content
Remember, it is required by FTC regulations to identify a sponsored post as such.
A simple "This post was sponsored by ____. All opinions are my own," will do.
Learn more about the legalities of posting sponsored content here.
Publishing A Sponsored Post
Once your sponsored post is published you can usually expect payment to be made within 24 hours after the clients approve the article.
Payment is typically made via Paypal which makes it convenient and easy for both parties.
Confirm the payment when it lands in your Paypal account, thank the advertiser for their business and let them know that you're interested in working together again in the future.
You should always be professional in dealing with them even if you're not interested in their offer as they may have campaigns more suited to you in the future.
How to Make a Full-Time Income From Travel Blogging
In order to become a travel blogger and make $100,000 a year, you will need to have multiple types of revenue streams working for you.
There are basically five ways to make a full-time income from travel blogging. And I would recommend that you utilize a few (or all) of these ways to make money travel blogging.
1. Develop one premium popular travel blog
First, you can focus on building up one massively popular travel site that can draw premium prices for a single link.
If you only post 2-3 sponsored posts a month, you could make a comfortable income.
How to start a travel blog and make $100k! #blogtips #startablog #travelblog #travelblogger #makemoneyblogging #becomeablogger
2. Offer competitive advertising prices
Next, you can set your prices a bit lower than your competitors and pump out several sponsored posts per month to reach your desired income.
This can be a lot of work each month and requires soliciting many advertisers month in and month out to maintain the same level of income.
3. Affiliate Marketing
Affiliate marketing is when you partner with a brand, and earn a commission for referring sales to them.
Whenever you mention their product or service, earn a commission when someone purchases something after clicking your affiliate link.
For example, you mention Expedia on your blog, just like I did there. When someone clicks that link and then makes a purchase at the Expedia website, I will earn a commission for referring the sale.
This is at no cost to the customer, and often they will receive a better price simply by clicking my link, as affiliates often can offer special deals.
You can also monetize your travel blog by installing an affiliate travel booking API which allows people to search for travel deals within your website, and when they book their flight or hotel, the airline or hotel pays you a commission.
To add an affiliate booking API tool to your own website, sign up for the Travel Payouts affiliate program, and then embed their widgets on your site.
You can also white-label it, removing all Travel Payouts branding so your readers never know they are leaving your site at all.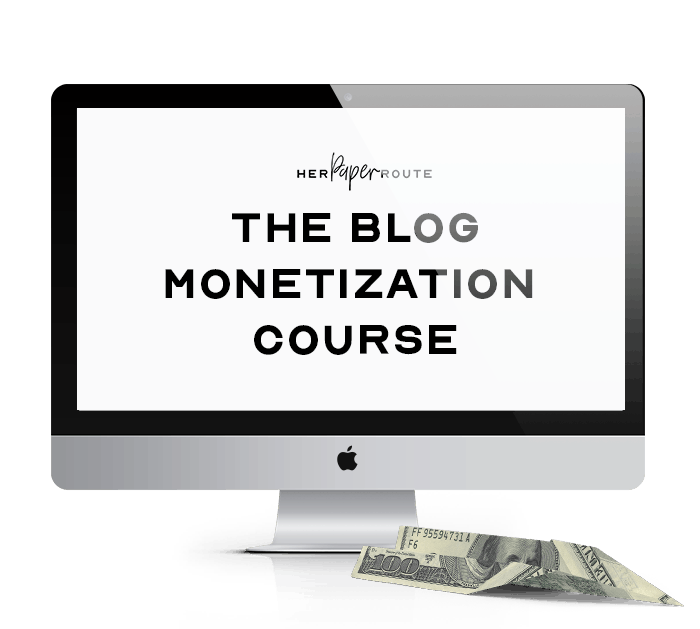 To learn all about affiliate marketing, enroll in the Blog Monetization Course. It's the ultimate course for bloggers.
In The Blog Monetization Course you will learn:
What Makes A Blog Successful And Profitable
The Laws & Legalities Of Blogging
DIY Design & Photography & Branding
Social Media Marketing
SEO & Pinterest Marketing
Affiliate Marketing Step-By-Step
How To Get Approved For Sponsorship & Affiliate Programs Every Time
How To Sell On Pinterest & Instagram
& Much more
4. Multiple Blogs
One important tip in how to start a travel blog and make money is to not put all of your eggs in one basket.
Likewise, many travel bloggers achieve a full-time income by having more than one blog.
Advertisers love working with bloggers who have multiple websites because they can fill their campaign needs faster and with less hassle.
Some bloggers maintain a personal travel blog along with a few others that may be more specific to a certain niche.
Did you know that you can host multiple websites under one hosting account? You sure can!
I recommend BigScoots or Bluehost as the best web hosting companies for hosting multiple websites for cheap.
5. Sell A Product Or Service
Creating and selling a passive income product such as an ebook or course is one of the very best ways to make money online.
Your book or course can be about anything, it doesn't have to be related to travelling. But it should be on a topic that appeals to your blog audience.
To create and sell an online course, simply sign up for a Podia account and start filling in lessons with your content. It's super easy!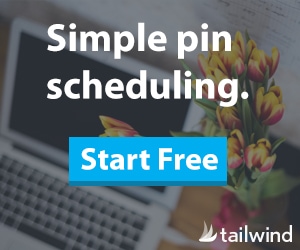 How To Start A Travel Blog And Make Money – In Conclusion
There you have it. The secrets of how to become a digital nomad, start a travel blog and make money, and get paid to travel the world.
I hope this guide on how to start a travel blog helps you develop your own online business so you can live the digital nomad lifestyle too.
Connect with me on Facebook and Pinterest and let me know how your blog is coming along!
Keep Reading