Instagram Hacked? 7 Steps To Make Your IG Hacker Proof
Instagram Hacked? How To Make Your Instagram Hacker Proof – There are on an average of about 95 million posts shared on Instagram daily. And unfortunately, Instagram hackers are everywhere.
The most basic requirement for Instagram data safety is to make sure that your Instagram account is safe from hackers.
So, here's your go-to article to ensure that "My Instagram Account Hacked" doesn't become your current status, ever!
Instagram Hacked – 7 Steps Make Your Instagram Hacker Proof
1. Everything Related To Password Selection
Passwords are the first and most basic yet most important barrier between your data and the hacker hence it is important to make sure that your passwords are strong.
---
As an affiliate partner of various brands and sponsored content, HerPaperRoute may earn commission on qualifying purchases. Disclaimer | Advertise With Us
---
They must be easy to remember but hard to guess.
It is recommended to use a mix of alphabets which are both upper and lower case and numbers along with the special characters like *, %, $, &, etc.
It is advisable to use websites to check how secure your password is.
Try to avoid using actual English words or phrases as passwords.
Make sure that you keep a unique password for your Instagram account, one that you haven't used for any other account.
Also, be careful that you don't ever send your password to anyone over email to be safe from phishing attacks.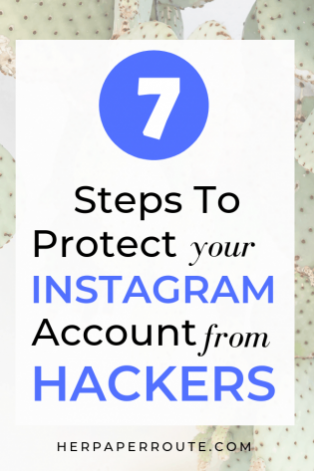 You can use password manager apps to manage and handle your passwords.
🫶 Want to Make More Money?🫶
Become a member of HerPaperRoute today and get a toolkit packed with resources to help you make that paper. All for FREE!
---
That way, all you need to do is remember a master password that is the key to your Instagram and other passwords and enables you to keep complicated passwords which are hard to guess.
2. Trust Nobody But Yourself
There are a lot of cases wherein passwords are shared with close relatives or friends and they give them away accidentally or unknowingly.
There are also cases when an ex-friend or ex-employee with whom you may have shared your password sometime earlier uses it to his/her advantage to take revenge.
In any of these cases, it is intelligent to keep your password to yourself and protect it by not giving access to anyone else.
Lesser the number of people who know your credentials, the less likely it is to get hacked.
3. Guard Your Security Question Answer As Your Password
Security questions are as vulnerable as passwords themselves as they can act as a side door entry into your Instagram account. Be sure to choose your security questions wisely.
Be sure to not have security questions with obvious answers which your close friends may know about, like your place of birth or birthday and stuff like that.
Also, make sure to not share your security question and answer with anyone and be extra cautious with those that force you to tell them your credentials.
4. Configure An Emergency Email Id/ Mobile Number
You can use an alternate email id where a password recovery link can be mailed to you in case you forget your password and end up locked out of your account.
This recovery email id must be set up in advance, so make sure you are proactive and set this up.
Make sure you log into this alternate account to keep it from getting discontinued due to inactivity.
Just like an alternate email id you can also configure a mobile number for password recovery, wherein the password recovery code is sent to the registered mobile number.
Related: Tailwind For Instagram Review
There may also be an automated call to deliver the recovery code in case the incoming message facility is not available.
This code can be used to gain access to your account. The procedure is like that in the case of email id and must be set up beforehand.
Be sure to keep this number updated and change it when you get a new number.
5. Two-Factor Authentication Is Must
Two-Factor authentication is useful for adding that extra layer of security that is essential in today's times of increasing cybercrime.
Once you type in your username and password, you are required to enter a code that Google sends you through either a text or an audio message.
This feature comes in handy when an intruder gets hold of your password from somewhere but is unauthorized so cannot get through the 2-step verification which involves another personal id that you own and hence is unable to gain access to your account data.
This other factor that is used to prove who you are is usually either a mobile app which generates a unique number.
This number must be provided while logging into your account or a text message which is sent to your configured number, also required at the time of login.
6. Provider-Specific Options
Facebook as a provider offers the option to configure a few friends as trusted friends who are given the authority to confirm your identity in case you lose your password and account access.
A Microsoft account allows you to create a code and store it somewhere safe and then use it as a recovery code if you need to regain access to your account.
7. Careful Before you browse
Besides the above Instagram Hacked tips, you should check that you are browsing and passing credentials to a real Instagram account.
As earlier Instagram had an expired SSL certificate scenario which can be benefited by a hacker by issuing a fake page and steal users' credentials.
If you are browsing Instagram and facing any warning, you should not bypass warning as it could cause MiTM attack.
[adsense]
In this world of ever-increasing social media, it is extremely important to be alert and safe, lest your data is stolen and misused.
So be wary of hackers and make sure never is your Instagram hacked by following these simple Instagram security tips.
More Instagram Tips