Missinglettr Review + Coupon
Missinglettr Review + coupon. Have you ever heard of Missinglettr? It is a tool that helps grow your blog by automatically creating social media posts from your blog posts.
I recently signed up for Missinglettr to try the platform out for the first time, so I thought to share a detailed Missinglettr review here.
If you have never tried Missinglettr before, it might be hard for you to understand just how useful this social media tool is especially in helping your social media marketing.
This is a review and a basic step-by-step for people are interested in learning more about Missinglettr.
---
As an affiliate partner of various brands and sponsored content, HerPaperRoute may earn commission on qualifying purchases. Disclaimer | Advertise With Us
---
Missinglettr Review: Unique Social Media Promotion Tool
What Does Missinglettr Do?
Basically, Missinglettr helps to scrape your blog post content by creating many posts for social media promotion. It breaks down each blog post and can supply you with a whole year worth of social media content.
For bloggers who spend the majority of their time writing new content every day, having a social media tool that takes over breaking down bigger content to smaller content is beneficial.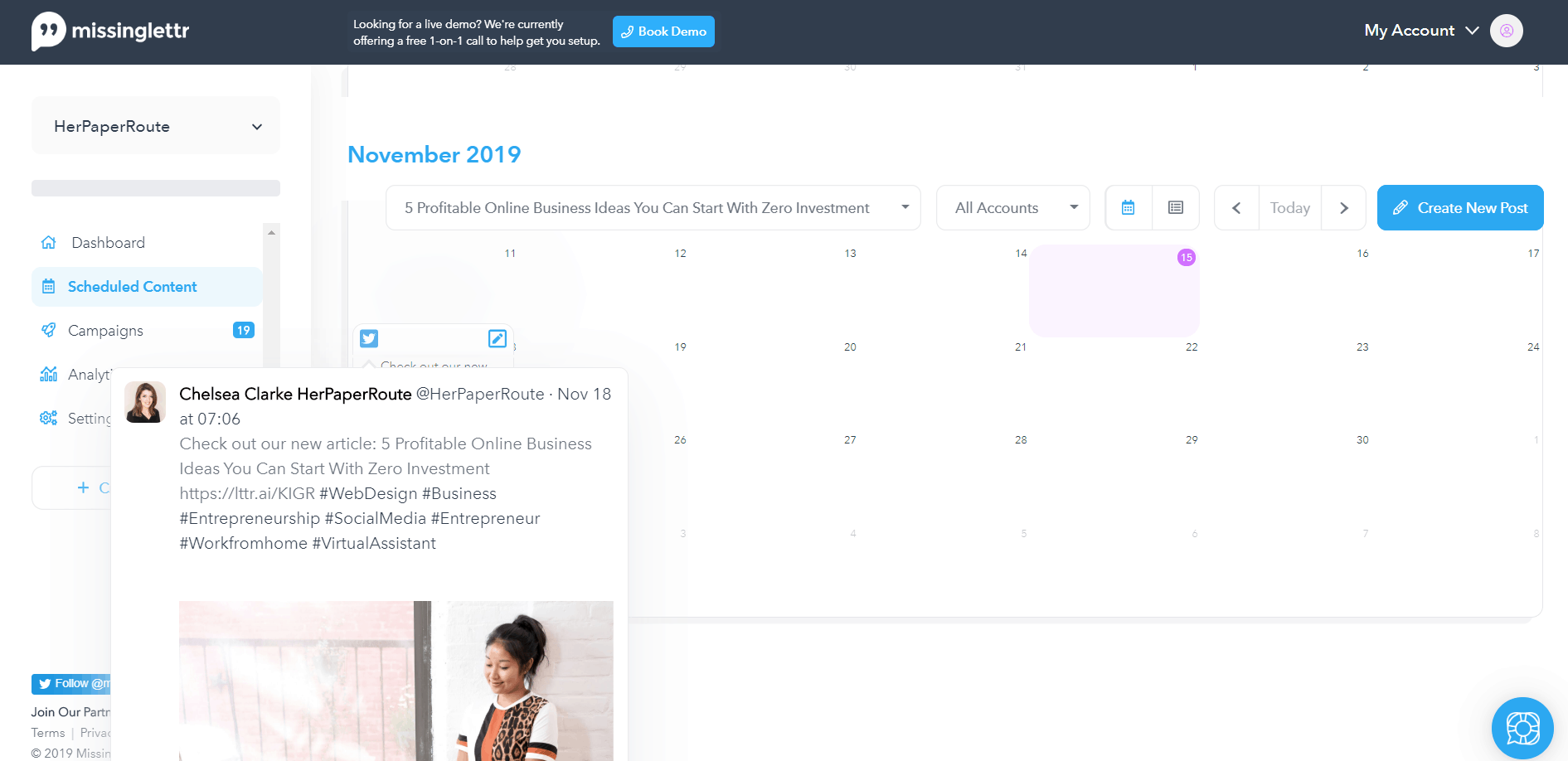 🫶 Want to Make More Money?🫶
Become a member of HerPaperRoute today and get a toolkit packed with resources to help you make that paper. All for FREE!
---
The best part about this is how Missinglettr also helps you in scheduling each of these smaller social media contents. This means you don't have to think too hard about getting your social media promotion started.
This will result in a lesser effort but a higher engagement rate for your social media posts.
How Does Missinglettr Work?
Are you interested? Well, the rest of this review will be focusing on how you can start right away with its 14-days trial period. I took the time to schedule some posts to HerPaperRoute's Twitter account to see how it works.
Here's what you should do to get started using Missinglettr:
1. Sign up for an account.
You will get a 14-days trial period which also will allow you to scrape as many contents as you want and schedule them out to be published within that 14-days' time frame. I'd say go for it because this is the only way you can understand how Missinglettr works.
2. Connect your website and your social media account.
I chose to connect HerPaperRoute's Twitter account to see how it works for Twitter. But you can also choose to connect your Facebook account or LinkedIn page.
3. Copy and paste the link to your blog post.
If you already have some content on your website, you can simply copy and paste the link and let Missinglettr do it's work.
Once you add your blog's RSS feed, for future blog posts, Missinglettr will detect them automatically and it will start working on the social media campaign.
4. You will get email notifications.
Missinglettr sends you an email notification containing the social media campaigns it has automatically created for you. This way you get to review and approve or reject the campaigns prior to scheduling them out to be published.
5. Reviewing the campaigns.
When you are directed to the page where your review will be needed, you will be asked about the relevant hashtags. You will see that Missinglettr has generated some hashtags automatically based on the keywords found in your blog posts.
However, you are also welcomed to delete or change some of the hashtags according to your needs.
6. You can choose social media copy or images.
The best part about using Missinglettr is how everything is already prepared for you. You don't need to look for the pictures or writing the right sentence.
Everything is ready and all you need to do is choose which one you would like to use for your social media campaigns.
7. Approve your social media campaigns.
Once you are satisfied with the content, you can start scheduling them out as a drip campaign. With the calendar, you can easily see which content is being scheduled on what date. This will make managing your social media content a lot easier and stress-free.
How Much Does Missinglettr Cost?
As mentioned earlier, Missinglettr has a 14-day trial period for you to test out the social media platform. Plus, you can save 50% off any plan for 3 months when you use this special link.
There are three different plans on Missinglettr which you can choose from and can cancel any time without contracts:
Blogger Plan (Most Popular)
For only $15 per month, you will get automated campaigns and manual campaigns that support major blogging platforms such as WordPress, Squarespace, Blogger, Shopify, and Wix.
This plan also covers campaign editor and URL shortener to provide advanced analytics.
If you choose to pay on a yearly basis, you will be billed $144 per year at $12 per month, saving you 20% on a yearly plan. You can connect up to 3 social media profiles and schedule up to 1,000 social media posts.
Business Plan
This plan will cost you $47 per month or if you choose the annual plan, you will get 20% off at $37 per month which will be billed yearly at $451.
You can connect 8 social media profiles and this plan is great for a team of people because it allows unlimited users. However, you have a maximum of 5,000 scheduled posts for Business Plan.
With this plan, you can also automatically repost to Medium and create customized post templates, if you wish.
Agency Plan
If your team is big and requires you to posts more than 5,000 social media campaigns every month, I highly suggest the Agency Plan. If you choose to be billed on a monthly basis, you will be charged at $147 per month.
But you can save 20% off with the yearly plan at only $117 per month and billed yearly at $1,415.
You will be able to add up to 25 social media profiles and post up to 10,000 scheduled campaigns every month.
You will get everything featured in Blogger and Business plans, plus your own account manager who helps you set up everything with a 1-on-1 video session to walk you through the process.
Do I Recommend Missinglettr?
My answer is yes. The reason why I said this is because of how beneficial Missinglettr is to both small and big teams. It allows you to promote each of your blog posts regularly over the course of one year via social media.
This will result in more engagement but lesser effort.
Missinglettr Review: Unique Social Media Promotion Tool – Conclusion
To quickly recap the benefits of using this social media tool:
It's super easy to use and setup
Saves you more time, especially if you are already overwhelmed with other tasks
Allows you to continue to keep your old, present, and future blog posts alive the entire year
A creative way of breaking down the blog posts into smaller campaigns
More Tools For Bloggers