Top Responsive Clean Minimalist WordPress Themes
Whether you are starting a new blog or giving your current blog a makeover, choosing the right WordPress theme is crucial for your business.
You have about five seconds to impress a new website visitor before they turn around and leave forever.
Even before they read even one of your blog posts!
Gorgeous Minimalist WordPress Themes For Your Blog
The look and feel of your brand is going to be the first impression people see when they visit your site.
---
As an affiliate partner of various brands and sponsored content, HerPaperRoute may earn commission on qualifying purchases. Disclaimer | Advertise With Us
---
They will decide in a matter of seconds whether or not you are professional enough for them to follow, subscribe to and buy from.
So don't let the look of your website let your business down!
Investing in a quality WordPress theme for your blog is a must!
🫶 Want to Make More Money?🫶
Become a member of HerPaperRoute today and get a toolkit packed with resources to help you make that paper. All for FREE!
---
A Quality WordPress Theme Makes All The Difference
Using a quality, professional premium WordPress theme that is speedy, visually pleasing, bug-free and secure will let the world know that you mean business.
There are many free WordPress themes out there, but I would recommend not using a free theme.
It is worth investing in a quality premium theme, for a few reasons.
Reasons to use a premium theme are:
You get more customization options with a premium theme
Premium themes come with support from the developer (So you can contact them for help at any time
Premium themes come with lifetime updates, whereas free themes typically don't
Premium themes look more professional because they are more professional
You are guaranteed that a premium theme is bug-free, and up to date with your version of WordPress, which you can't be guaranteed with a free theme
Choosing a theme for your blog can be a difficult task.
There are so many out there to choose from, yet most of the time I find that the prettiest ones are always the most expensive.
Especially if you want something sleek, modern and minimalist – which I always do!
Related: How To Install A WordPress Theme
Well, I have done some digging and found several gorgeous minimalist themes that fit the bill.
I am happy to share this list of beautiful, modern minimalist themes for WordPress, all of which are responsive, and – here's the best part – most are under $60!
Each one has a live demo you can try online too. Enjoy!
Gorgeous Minimalist WordPress Themes For Your Blog
Jacqueline WordPress Theme
Jacqueline is a power-dressed WordPress theme for the Boss lady, consultants and coaches.
Always stylish, always on trend, she's the one you go to when you need to make a great first impression.
Built with a list-building mindset, Jacqueline uses her most prominent piece of web real estate to help you convert leads the first time so they keep coming back for more. Try Live Demo >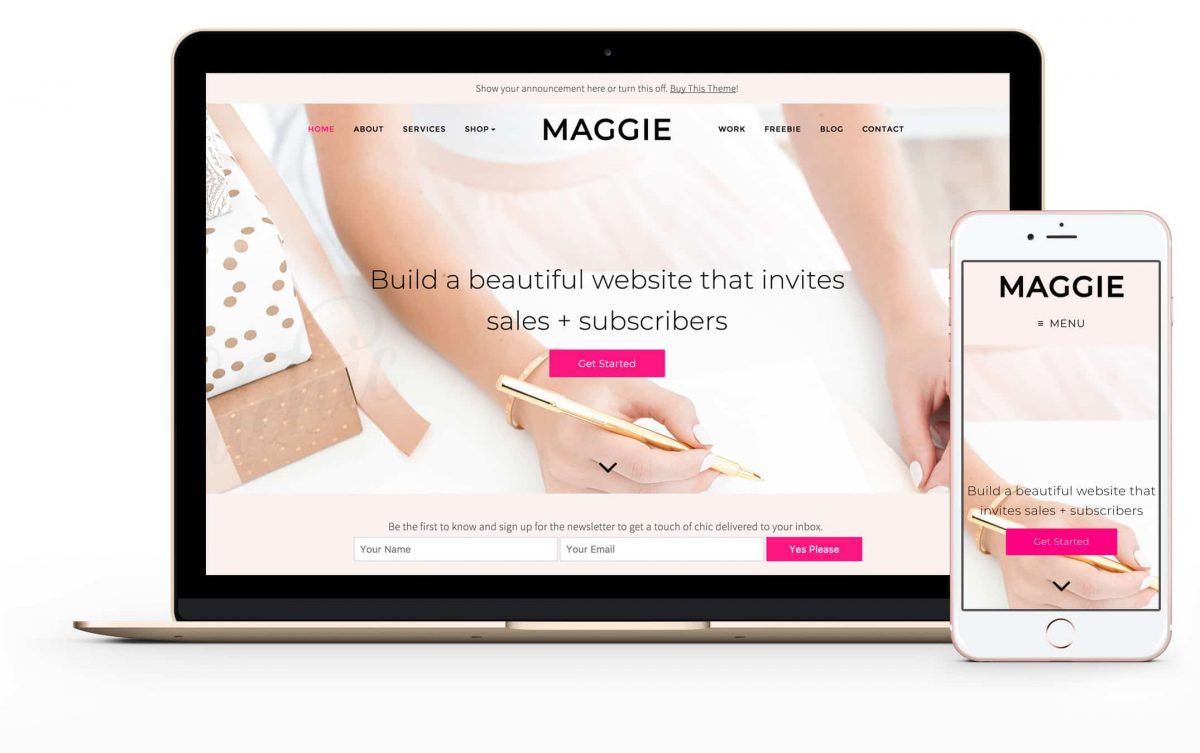 Maggie WordPress Theme
Maggie is a WooCommerce ready WordPress theme that allows you to get an online shop up and running in no time.
You can disable the shop too if it's not what you fancy.
Tuulikki Nordic Minimalist WordPress Theme
Tuulikki is a theme for everyone, designed for personal and creative use.
Thanks to its integrated WooCommerce function, it is also suitable for those wishing to launch a commercial activity.
In creating Tuulikki we were inspired by the minimal, clean Scandinavian style, which hinges upon order, essentiality, and elegance.
Tuulikki's minimalistic design balances rational geometric shapes with gentle soft colors, smooth and fresh fonts. Try Live Demo >
Pretty Darn Cute Designs
All of the themes at Pretty Darn Cute Designs are beautiful, minimal, feminine and awesome.
Here are some of my favorites! To use any PDC themes, you need to first install the Genesis Framework.
Swank Minimalist WordPress Theme
The Swank WordPress Theme provides a clean, airy design that keeps your content the focus while framing it in style.
Swank is just as functional as it is gorgeous.
Boasting a portfolio custom post type and a custom widgetized home page designed for you to showcase whatever you like, you can truly make it your own with a few drags and drops.
This theme is incredibly easy to setup and comes with detailed instructions as well as access to our unmatched support team. Try Live Demo >
The Fun WordPress Theme
Why is this called the Fun WordPress Theme? Because it's FUN and easy to get setup and move things around to make it your own.
This theme keeps you from banging your head against the desk, and allows you to spend that time playing with the many features it has to offer!
Do you sell products or downloads? Great, this theme is WooCommerce ready!
Don't sell anything? Awesome, just skip the "install WooCommerce" part of your setup instructions and you're golden. It really is that simple. Try Live Demo >

TuneUp Minimalist WordPress Theme
TuneUp is a responsive and easy to use WordPress theme. It works well with all desktop and mobile devices.
If you are a writer, an author, a publisher and looking for a clean blogging solution then TuneUp is for you. All post formats are included. Try Live Demo >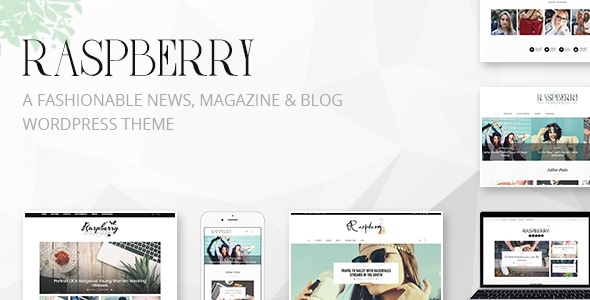 Raspberry, A Fashionable News And Magazine WordPress Theme
Raspberry is a fashionable news, magazine and blog WordPress theme best suited for sites that deliver news about travel, fashion, lifestyle, personal, entertainment, recipe and so on!
Raspberry is WordPress theme packed with tons of features, with 1 Click Installer, a powerful Page Builder & includes 6 months support.
Plus it comes with many layout options, so its like many themes in one! Try Live Demo >
Magnoblog Minimalist WordPress Theme
Magnoblog is a simple, clean and responsive WordPress theme, with a minimalistic layout that focuses on simplicity and readability.
Suited for any creative websites and blogs. Try Live Demo >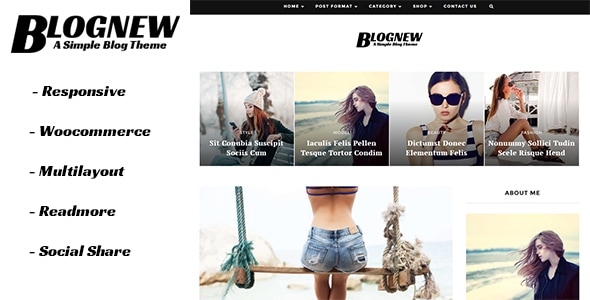 Blognew – A Simple Minimalist WordPress Theme
Blognew is premium flat, clean, super flexible and fully responsive WordPress magazine theme, best suited for magazine, news or blog websites.
The theme builds on widgetized homepage with a lot of widgets with many styles and 3 sections.
Which means you can build your homepage content by drag & drop modules into sections so you can combine unlimited styles. Try Live Demo
March Minimal Portfolio & Blog Theme
March is very easy to customize and comes with several portfolio styles including landscape, portrait and square, making it perfect for your professional portfolio website.
It features minimal responsive design and a fully-featured blog. Try Live Demo >