What Is Drop Shipping? Shopify Drop Shipping Explained
Are you asking yourself what is drop shipping? You've probably heard the word drop shipping before, as it relates to eCommerce.
This post will discuss how to set up your own online store, and why running an online store as a drop shipping model is a smart way to monetize your business.
What Is Drop Shipping? Shopify Drop Shipping Explained
If you haven't yet launched your ecommerce shop (or need some tips on how to grow the one you have), get your free Shopify account here.
Also, enroll in The Drop Shipping Course which will show you how to set up and sell out your eCommerce empire with Shopify and drop shipping. That link gets you in for just $7!
---
As an affiliate partner of various brands and sponsored content, HerPaperRoute may earn commission on qualifying purchases. Disclaimer | Advertise With Us
---
What Is Drop Shipping?
What is drop shipping: Drop shipping is when you sell products that you don't actually psychically have.
You list products for sale on your website, a customer buys it from your website, and then you buy it from a supplier, and that supplier sends the product directly to your customer.
You never have to stock inventory or deal with shipping.
🫶 Want to Make More Money?🫶
Become a member of HerPaperRoute today and get a toolkit packed with resources to help you make that paper. All for FREE!
---
All you do is run a website and market it to your customers.
Drop shipping allows you to run a business selling products online with almost no overhead.
You can stand to make much more money via this selling model vs traditional pack and ship selling.
Monetizing Your Blog With An eCommerce Store
I started blogging over a decade ago, as a hobby that has now evolved into a fulltime, full-fledged and successful business.
Blogging has allowed me to work from home (or from anywhere!) as a mom, and now I help other aspiring online hustlers launch their own profitable blogs and online businesses.
Here at HerPaperRoute, I teach blogging, and more specifically how to make money online, via free resources and training.
My goal is to shed light on the mystery of how bloggers make money and to give you the tools and strategies so you can forge a blog-from-home-or-anywhere career too.
Launching your own eCommerce business via a drop shipping online store is a fantastic way to monetize your blog.
Doing so is a lot less complicated than you may think, in fact, it's actually very simple. Now that Shopify and Amazon have integrated, it's even easier to launch a store and reach more customers.
What Is Drop Shipping: What To Sell
Your drop shipping business could be any sort of eCommerce business, and depending on what your niche and business is, you could sell anything!
You could sell actual products or digital products, and you could even sell your services online.
Whether you are a coach, a designer, a photographer, a virtual assistant or provide any sort of service, if the service can be done online, it can be sold online.
You should have an easy way for customers to shop and pay for your items, and the platform you choose needs to be professional and above all – secure!
How To Start A Dropshipping Business
You have two options on how you want to build your drop shipping site.
Option 1: Oberlo + Shopify
You can either use Shopify to host your store and use the drop shipping plugin called Oberlo.
This option costs about $29 per month. The benefit of doing it this way is you won't have to do any page building or tech, Shopify handles everything for you.
If you aren't very tech-savvy, this is the option you will find easier to manage.
Option 2: AliDropShip Plugin + WordPress
Your other option is to run your drop shipping business on your own self-hosted WordPress website and use the AliDropship Plugin.
I prefer this method, as it is seamless and cheaper.
You only pay for your web hosting which you can get for just $2.95 per month with my partner discount, and then purchase the AliDropship Plugin license which is a one time purchase of $89.
To learn how to set up your own WordPress website, enroll in my free course here and buy the AliDropship Plugin here.
Or to skip the website building altogether, have me build a custom drop shipping website for you. Contact me for details.
Why Sell Via Shopify
If you choose to go the Shopify route, here's what you get:
Shopify provides a user-friendly platform with a secure payment gateway that gives both you and your customer peace of mind.
With Shopify you can easily manage your inventory and sales and track analytics and trends via a powerful dashboard.
You have the ability to create beautiful storefront designs and make customizations to templates, without needing to know how to code.
And for those who do know coding, you have the ability to completely customize your store as well.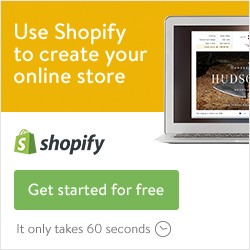 Shopify And Amazon Integration, Why It's Awesome
It's never been easier to reach more customers, thanks to Shopify's new feature that easily connects your Shopify store with the world's largest online marketplace Amazon.
Now that Amazon and Shopify sync and work together, you can easily manage your orders, customers and promotions in one streamlined fashion.
If you are already selling on Amazon, now there will be no time consuming back and forth between platforms.
If you haven't started selling on Amazon yet, now you can all the easier!
The Integration Is Simple: Conveniently sync your products in Shopify to Amazon listings in minutes, no tech skills or downtime needed.
Inventory In One Place: Your orders from Shopify and orders from Amazon are now in one place. Manage your sales and inventory from one simplified dashboard.
Reach More Customers: Millions of potential customers can now easily discover your products in the Amazon marketplace!
Whats more, Shopify merchants will now get to use Amazon's payment processing system, so this is another reason to be excited!
Why Create A Drop Shipping Store With Shopify?
Shopify is the world's fastest growing commerce platform with over 400,000 active global retailers
You can sell online, offline and on-the-go
Use your own domain name
Sell gift cards and generate coupon codes
Use its integrated blogging platform to create blog posts
Process credit card payments directly through Shopify, or other gateways
Process in-store purchases with Shopify POS
Process purchases with your smartphone using Shopify Mobile
Receive 24/7 onboarding and technical support from Shopify Gurus
Access ecommerce analytics
Use built-in SEO
Rely on fast servers, industry-leading response times, and cutting edge infrastructure
Keep your customer's data secure with PCI Level 1 Compliant checkout
Sell unlimited SKUs
Shopify is always adding free new features to help you sell
A Whole New Customer Base
Back when I started my first online store, everything was a manual process and was incredibly time-consuming.
Nowadays there are apps that make running an online business completely efficient and streamlined! With a few steps, you can start an online store today and add an extra $3,000 or more to your monthly income.
And that is passive income. Meaning that once you put in the work to set up your store, the money it generates becomes automatic, without much or any up-keep.
Now that Shopify has added selling via Amazon to its integration features, you can do even more. You will have the ability to reach thousands of new customers, worldwide.
My First eCommerce Business
I got my start in eCommerce when I was in University.
I was chatting with a friend who did silk screening and noticed her designs were printed on a popular brand of clothing.
The brand was known for selling blank t-shirts and hoodies for a high price tag. I asked her how she could afford to print her designs on these expensive clothes and still make a profit on them. She shrugged and said, "I get them wholesale."
Wholesale! I looked into it and found that this brand sold their products in bulk at a discount to screen printers.
So I went to work looking for a screen printing company in my city, and with a little luck, I found a local screen-printing shop that was selling this brand. They also sold other brands of blank shirts and hoodies at an unbeatable price of $2-4 each.
I bought up a ton and started reselling them on eBay and Craigslist for $20-40, and sold out within my first two weeks. So I bought more inventory and did it again.
And again.
A month later I upgraded from eBay and Craigslist and launched my own website. Pretty soon I was selling these blank Tshirts to customers all over the world.
Things were going great! I thought that this was going to be my get out of University-debt free card, and it was for a while until my supplier (the screen-printing shop) went out of business, that is!
Suddenly, I was out of inventory, and unsure how I was going to fulfill my orders. So I began buying clothing from online wholesale companies, which was alright at first. But the process was so clunky!
Having to pay for shipping to receive the stock, then waiting for the items to come in, then re-shipping them out again. And if any items didn't sell, I was stuck with a pile of leftover stock nobody wanted and was out financially for it.
I knew that this wasn't going to be sustainable for much longer.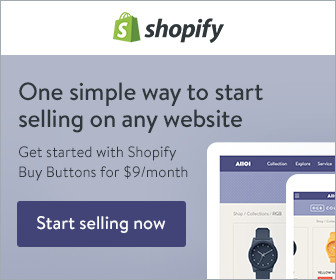 Post Office Lines? No Thank You
In addition to all of those woes, I also hated having to go to the post office every day.
Mostly out of sheer laziness, I just loathed having to put pants on and leave my house. There were other things I wanted to be doing with my life than waiting in lines all of the time!
(You can see why I now love my career as a blogger now, getting to stay indoors in my PJs all day!)
That's when I started looking into other ways of doing business, and I found out about dropshipping. What is drop shipping?! I become fascinated and began researching.
After reading everything I could about how to drop ship, I decided to change the way I did business, to stop buying inventory all together, in favor of becoming a drop shipping business.
This decision ended up being the best and most financially smart decision ever!
Once I switched my business model to drop shipping, I ended up saving a lot of money, earning more money, and to my delight, never had to set foot in a post office ever again.
Another Great Integration
Recently Shopify officially partnered with Oberlo, a fantastic drop shipping app!
This app makes finding products to sell super easy, as well as monitor the manufacturer's inventory levels. It also will send you notifications if the suppliers make a price change to their inventory.
This is an extremely useful tool and crucial for anyone getting into dropshipping.
What Can Oberlo do?
Find products –Oberlo helps you find and add products directly into your Shopify store so that you can start selling right away.
Free of inventory – When you find products, you'll never have to keep them in a warehouse or have them stored in your house.
Free of packaging- When you sell something, just order it on Oberlo

and you'll never have to package or ship the products.

It is the perfect dropshipping ecommerce solution!
Shopify's integration with Amazon also includes the integration of Oberlo with Amazon. This means that now when you import your products from Oberlo you can push them to your store on Shopify and Amazon at the same time.
Ready To Try Shopify, Free?
What is drop shipping going to do for your business? Ready to find out?
Setting up Shopify takes only a few minutes, and you can begin selling and earning money right away. Get your 14 Day Free Trial of Shopify Here.
The Drop Shipping Course: Learn How To Start A Drop Shipping Business
The Drop Shipping Course is a self-paced online course designed to show you how easy it is to start and scale your business for online success.
In The Drop Shipping Course You Will Learn:
How to launch your own online store and make your first sale with Shopify, or improve your established online store if you already have one
How to create, navigate and dominate Facebook™ advertising campaigns, with stunning ads that can not be ignored
Learn all about what is drop shipping, and how to drop ship
Brand differentiation, Pixel placement, campaign optimization
How to target your ideal customers using the Facebook™ Ad Manager Dashboard
How to integrate these marketing strategies into an eCommerce setting,
Learn the secrets of running an eCommerce empire without owning any inventory!
Facebook™ Is Where Your Ideal Customers Are – That's A Fact
But finding them without guidance is no easy task. And trying to understand the Facebook™ ads manager and all the many things it can do is super overwhelming on your own!
This free, self-paced online course will show you exactly how to hone the power of the Facebook™ ads manager so that you can confidently launch successful Facebook™ ads campaigns and majorly increase your traffic and sales.
With step by step instruction, you will learn how to drive traffic to your Shopify store, retarget potential leads, and convert visitors to customers.
What is drop shipping going to do for your income?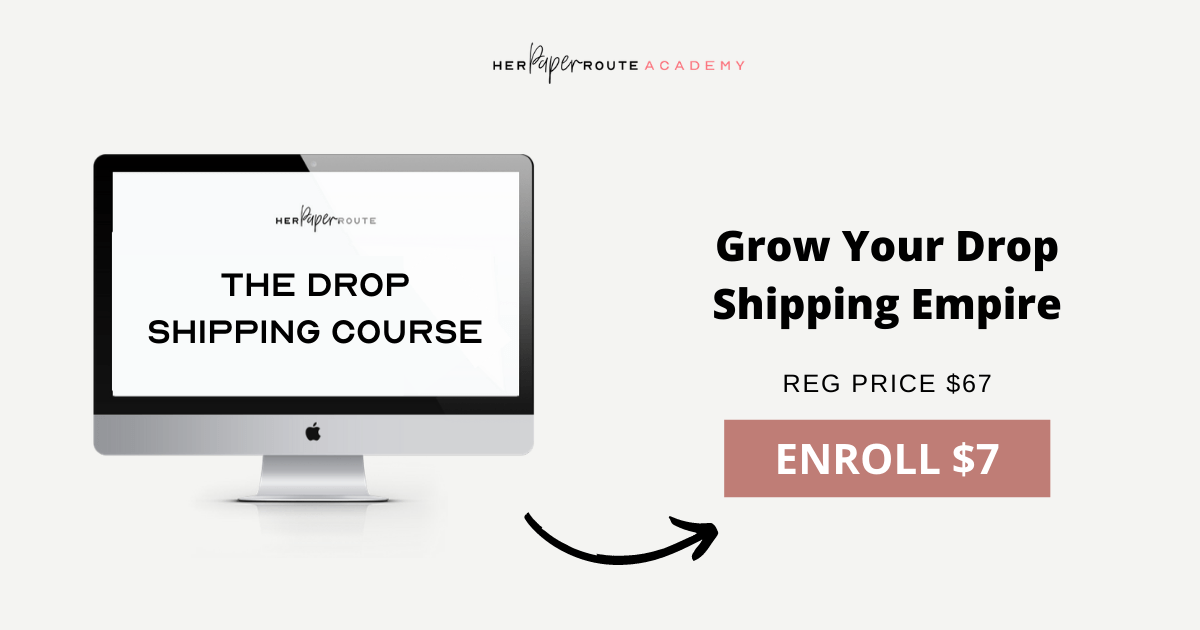 Why You Should Start Your Online Store Today
An online store is an almost passive income.
Passive income basically, is money that you earn without having to break your back to get it.
Think about digital products. Surely you put blood, sweat and tears into creating an ebook – but once it is finished and available for purchase in your online store, the income it generates is passive. You don't have to work on it again, yet it will sell over and over again.
If you are selling physical products, using automation tools like Oberlo will help put your store on near auto-pilot.
If the name Pat Flynn doesn't ring a bell yet, it will soon. As you begin your career in making money online, his name is sure to pop up pretty often.
Flynn is known as a leader in the business world for his passive income strategies.
He says passive income is "building online businesses that take advantage of systems of automation that allow transactions, cash flow and growth without requiring a real-time presence."
It's having sources of revenue coming in without you physically having to generate it.
It's making money while you sleep.
And that is something we all could stand to benefit from, don't you think?
No matter what it is that you sell, you can create a demand for it, thanks to helpful apps and integrations. Now you can reach the masses, selling on the largest marketplace in the world, Amazon, from one streamlined dashboard.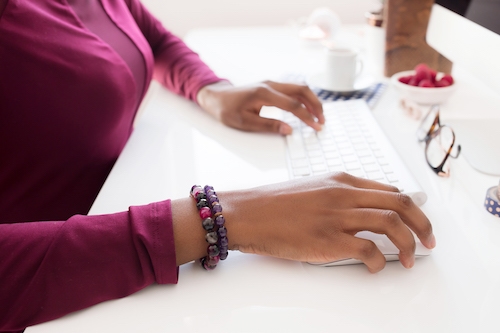 Ready To Start Your Online Store, And Try Shopify, Free?
Setting up Shopify takes only a few minutes, and you can begin selling and earning money right away. Get your 14 Day Free Trial of Shopify Here.
Once you log in to your new Shopify acocunt, you can set up your Amazon Seller account and connect the two. Here are some steps for connecting your two shops in order to integrate your sales, and mange both shops via one dashboard.
How to Sell on Amazon Using Shopify
The integration and set up to sync your store with Amazon is very simple. If you are already selling on Amazon, you will get a free month of Shopify.
For existing Shopify merchants, your store must meet a few requirements to get started selling on Amazon.
The requirements are:
You must have an active Shopify plan
Your products need to fit in line with Amazon's product categories
You must not be shipping your products using Fulfillment by Amazon
Your store/product prices must be in USD
Once those requirements are met, you will be able to create an Amazon Seller account. There is a monthly fee of $39.99, plus an additional fee depending on what categories you sell in.
Then, from your Shopify dashboard, the left navigation tab is where you will find 'sale' channels. go there and choose 'Amazon' to connect your two accounts.
Once your stores are synced, you can create a new Amazon listing or edit an existing one right from your Shopify dashboard!
This type of integration is so useful and powerful. I wish these tools existed when I started my first ecommerce business.
Now That Shopify And Amazon Are Integrated…
You now have an entirely new base of customers, worldwide just waiting to discover your store.
As you are gaining this new stream of visitors, you will need a game plan for how you will convert them, and keep them as paying customers.
Zipify Pages by Smart Marketer is an app that delivers high-converting sales solutions and landing pages for your Shopify store. This app is simple to use, with a drag and drop page builder, (no coding!), and provides full analytic reporting allowing you to know the exact behavior of your customers.
You can also capture more emails and send exclusive promotions, and use a built-in countdown timer. Using a countdown timer in your promotions emails and sales pages is a great way to increase urgency and prompt a lead to act fast and make their purchase.
Also by Smart Marketer,
One Click Upsell
is a clever app that will help you increase the average customer's order price. The app adds post-purchase upsell incentives at checkout to entice a higher sale.
Launch Your Shopify Store Now!
Setting up Shopify takes only a few minutes, and you can begin selling and earning money right away. Get your 14 Day Free Trial of Shopify Here.
Ready To Learn The Business Of Blogging?
My full profitable blogging course The Blog Monetization Course is in session!
Learn everything you need to create, launch, market and monetize a successful blog. Enroll Today!