How To Have Confidence On Camera Course Review
How to have confidence On Camera Course Review. Are you an entrepreneur or blogger who is looking for another way to reach out to your targeted audience? But you are nervous about your on-camera performance?
If you have been thinking about appearing on camera to deliver messages to your followers on Facebook lives or in your webinars and courses, this review might help you start on your journey today.
The Confidence On Camera Course is specifically designed for people who want to be better and more confident when appearing on camera.
This way you can also get better results in marketing your products and services.
---
As an affiliate partner of various brands and sponsored content, HerPaperRoute may earn commission on qualifying purchases. Disclaimer | Advertise With Us
---
Confidence On Camera Course Review + Free Bonus!
It's so important to 'show up' in video for your audience, whether that be in your Instagram stories, Youtube, Facebook lives, or in the courses you offer.
Your fans and customers want to see the person behind the brand – they want to see you live, and however weird it may feel, they want to know what you sound like, what your mannerisms are.
You aren't just a faceless business, you're a person! And your audience wants to get to know you.

🫶 Want to Make More Money?🫶

Become a member of HerPaperRoute today and get a toolkit packed with resources to help you make that paper. All for FREE!

---
Learning to Communicate on Camera
Finding the confidence to appear live in video is something that in the past I had struggled with.
In fact, just recently I moved the HerPaperRoute school over to a new platform. And while moving files around on my computer, I came across some of the very first video lessons I ever recorded….and man, was I ever awkward 😂
(Ok, I'm still not 100% not-awkward nowadays, but I've definitely improved). I remembered how sometimes I would turn on the camera and completely forget what I had come to say.
It was like a block went up in my brain as soon as I started recording – no matter how prepared I thought I was.
Over the years I have worked at getting better with this. And something that really helped was when I took the Confidence On Camera Course. It helped me become more relaxed and look way more professional in front of a lens.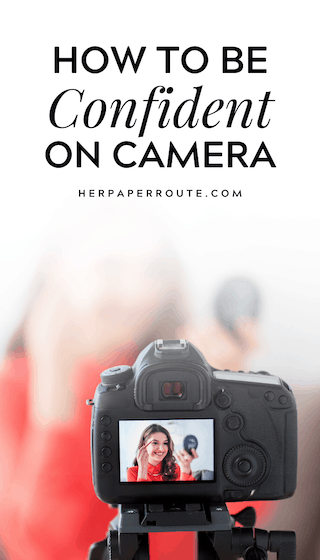 Who Would Benefit From A Course About Becoming Cindifedent On Camera?
Any business owner, blogger, influencer and course creator should take this course.
The Confidence On Camera Course is a great course for people are camera-shy or have no previous experience of appearing on camera.
I went through each video and I have found that the course was designed perfectly to help you prepare and plan your whole content.
Just yesterday I did a live summit interview without knowing what questions they were going to ask (so basically, I had nothing prepared at all) which, a year ago would have been a strong HELL NAW from me.
But I said yes, and I went with it because I've learned the tricks I needed from this course to confidently roll with the punches and stay on track.
Because now I no longer fear that I will default to 3 minutes of "um..ahs..you know's…" when asked a basic question.
And guess what? My hot-seat interview ended up going great!
Confidence On Camera Course Review
The thing that people do not understand is how communicating on camera actually requires a lot of preparation and planning before you press the "record" button.
Confidence On Camera will guide you throughout the process by mastering an unfamiliar skill that can be life-changing for you.
There are six different sections in the course and each of the sections has between four to eight videos which will explain the importance of communicating and delivering your messages confidently on camera.
The lessons cover how to show up on camera with poise, confidence and charisma, techniques to manage nervousness, and stop rambling, and perform like a pro all around.
Each section extensively covers topics and questions such as:
What makes a good presenter?
Acknowledging your fears of being in front of the camera
Coping with nerves and relaxation techniques
Finding your targeted audience and planning your message
Celebrating your accent and improving your pronunciation
The course will also teach you valuable lessons such as the five master principles that will make you a successful on-camera presenter.
The foundations to achieving your successful recording include preparation, practice, managing the content, accepting yourself on camera, and having fun.
What Is My Favorite Section or Video in the Course?
As an introvert, it can be hard trying to show yourself in front of the camera without that self-doubt creeping in. However, Confidence On Camera also covers up the topic of overcoming fear in one of the sections.
In this module, they teach you how to put your fear in its place and training your mind to only focus on the positives.
Instead of focusing on yourself too much, this section will help you to understand how to focus on the messages that you need to deliver to your audience.
That's the reason why you decided to appear on camera, right? You want to focus on the viewers by spreading your messages to them.
Another favorite section of mine is the "celebrating your accent" module. Not everyone speaks English perfectly.
Or, if you're planning to speak in a different language to reach a more exclusive audience, you might have a certain accent if that language is not your mother tongue.
In this module, they teach us to be more confident in our accents and instead of focusing too much on trying to mimic British or American accents, they encourage us to embrace our own accent.
But at the same time, you are also encouraged to improve your pronunciation to make sure your messages are delivered and understood successfully.
Will I Recommend Confidence On Camera Course?
Personally, the answer is a big "Yes". If you are an entrepreneur, blogger, or even a new Youtuber, taking this course will help you to improve your on-camera skill.
Each of the videos is curated specifically with people who are less confident and inexperienced in mind.
In order for your videos to successfully spread the messages that you want to deliver, the first thing you need to do is to act.
You can buy as many online courses as you want but if you don't do something about it, you will never progress in your life.
All you need to do is step in front of the camera and start recording.
As time passes by, your communication skills on camera and editing will also improve. The more you practice, the better your skills will be.
If you are interested in improving your on-camera Confidence and skills, I highly suggest the Confidence On Camera Course as your first step into the on-camera lifestyle.
Enroll Now
Enroll now right here and start making those videos with confidence.
Are You A HerpaperRoute VIP Yet?
We give away a ton of amazing resources and training to our members.
It's free to join and be a part of our community! Enter your email below to let me know where to send your welcome kit!
Keep Reading