The Costs Of Running A Profitable Blog
What are the costs of running a profitable blog? How do you start a blog for cheap?
If you have landed on this page, it is likely that you are thinking of starting a blog, or have recently started one, either of which is awesome! Congrats and welcome to the party!
If you are thinking about blogging on a full-time basis, you are probably exploring the different avenues for generating revenue.
I earn a fulltime income from my blogs, having multiple revenue streams at work on every one of my websites. I share all of my strategies here at HerPaperRoute to help you discover all the ways you can make money blogging.
---
As an affiliate partner of various brands and sponsored content, HerPaperRoute may earn commission on qualifying purchases. Disclaimer | Advertise With Us
---
But it's important to be aware of the expenses of blogging as a business too!
The Costs Of Running A Profitable Blog
You may be wondering what the costs of running a profitable blog are. Specifically the costs of starting and running a blog that will make you money.
For a step by step guide to starting a blog that is capable of being monetized, you need to read this!
🫶 Want to Make More Money?🫶
Become a member of HerPaperRoute today and get a toolkit packed with resources to help you make that paper. All for FREE!
---
The Expenses Of Running A Money-Making Blog
Blogging is where it's at. More and more people are starting a blog with the hopes of earning enough money from it to quit their jobs and blog fulltime.
That isn't a pipe dream either, but a very realistic, attainable goal if you are ready to put in the time to learn how to do it right.
I'm not just shouting empty words at you. I personally earn over $10,000 per month as a blogger, which you can read all about in my blog income reports.
My blog income reports:
March $8,426
April $9,033
May $10,197
June $12,972
2018 Year $135,000
2019 Year over $160,000
2020 Year over $500,000
I worked in marketing for years before finally taking the plunge and turning my blog into a profitable business.
I now earn a fulltime (and higher-paid!) living from my various blogs, and offer complete training and free resources here at HerPaperRoute to help you create and monetize your blog too, so you can fire your boss, like I did.
Blogging Expenses You Need To Be Aware Of When Running Your Blog As A Business
If you are thinking of starting a money-making blog of your own, be sure to sign up for my free blogger training.
It shows you exactly how to create a 6 figure blog from scratch.
I was able to develop my blog into a 6 figure business in less than 2 years. But it doesn't always happen that fast for everyone. There is no 'get rich quick' scheme when it comes to blogging (sorry!) blogging is hard work!
But if you have the dedication to work hard, and the patience to see it through, there is no cap on how much you can earn as a blogger.
It's all fun to learn about how much money bloggers make, but it's also important to know just how much bloggers have to invest too.
Like any business, there are a number of expenses of blogging that need to be known about.Let's explore those expenses now!
The expenses of blogging are something that a lot of new bloggers overlook, and without being knowledgeable about these costs, you could be in for a surprise later, or unprepared to pay for the things you need when you need them.
You should know what expenses to expect so that you can budget for them and spend confidently. As all of these expenses are necessary investments in your blog that will, in turn, make you more money.
Not investing in your business in the things that it needs to grow will only mean that you may be stuck in one place, and not see the results that you should be seeing.
Last year, for example, I spent over $23,000 on my blog, on blogging related expenses!
But you don't have to spend nearly that much money to have a successful blog – at all!
Read on to discover some of the basic yet sometimes unexpected expenses you need to prepare for when you are starting a blog.
[adsense]
The Costs Of Running A Profitable Blog
If you are concerned that blogging will become an expensive hobby, you can drop that concern right now.
Yes, there are some things that cost money that you should invest into your blog, to make it run correctly and look beautiful but these things are going to make you money.
Read on to learn what the real costs of running a blog are, plus get insight into what things are worth spending money on when it comes to running your blog as a business.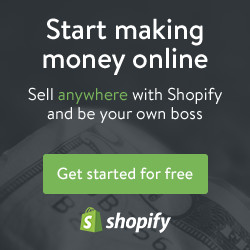 First, How Exactly Do Bloggers Make Money?
Basically, the more people who read your blog and the more attention your posts get, the more money you can make from endorsements, sponsoring, affiliate commissions and advertising on your page.
Blogging is also how you can reach new customers to sell your own products, services, eBooks and courses. For more information on all the ways to earn revenue with your blog, see my guide on How To Make Money Blogging.
What Are The Costs Of Running A Profitable Blog?
Many people when they decide to start their first blog have the mindset of "free is best," thinking that because they haven't made any money yet and aren't sure if they will make any money blogging, they don't want to spend any money on it in the beginning.
There are all sorts of host sites and platforms out there such as Blogger, Tumblr and Wix that will allow you to set up your blog with them for "free." I put free in quotations because although you aren't paying a hosting fee to host your blog with these types of sites, you are actually going to lose a ton of money if you use them.
Here's why:
You don't own your blog or content on a "free site", THEY own your content and can shut you down at any time
"Free" blog hosting sites limit your ability to earn revenue. Many don't allow Adsense or other ads, affiliate networks and brands won't accept you for partnerships when you don't own your own website
Upgrading to the premium services on these "free" sites are incredibly expensive, much, much more than you pay had you just self-hosted from the start
Using a "free" site is unprofessional. You will be limited in your ability to edit the look of the website, and oftentimes will mean that you will have an

enforced domain name, letting everyone know that you're blogging for free and which platform you're using
You Are Better Off Self-Hosting From The Start!
Here are the real costs of starting and running a blog, a blog that is professional, beautiful and earns you money.
Purchase Web Hosting
Self-hosting is when you pay a web host such as Bluehost, or others to host your WordPress.org website.
This usually costs less than $4 per month and means that you fully own your website, and can earn revenue from it from day one. To see how easy it is to set up a self-hosted website, see this guide and be up and running in less than 10 minutes!
Cost Of self-hosting: $2.95 per month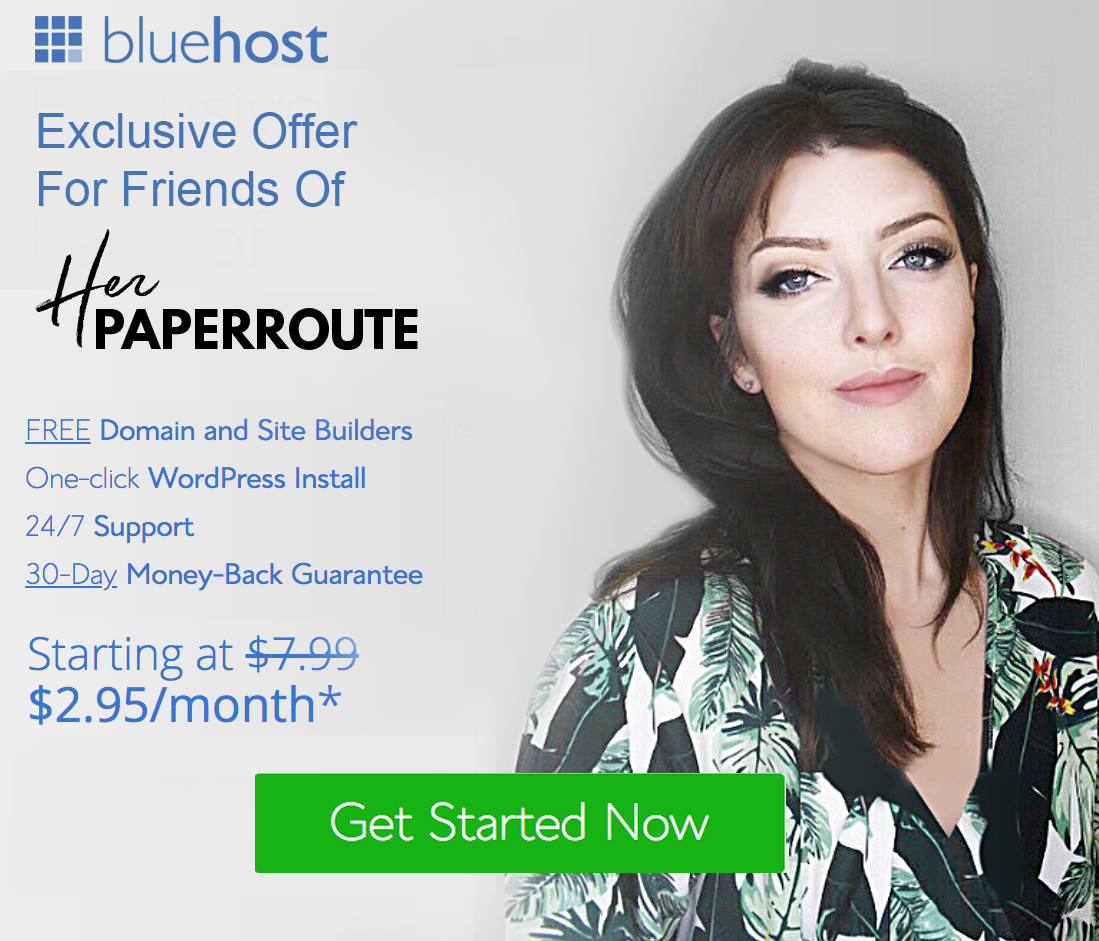 Register Your Domain
In addition to the cost of web hosting, you will also need to register a domain name. Owning your own domain helps you to establish yourself as a professional who is taking themselves seriously.
It also helps you to establish yourself as a brand, whether you're writing under a brand name or your own name.
This costs about $12-14 per year, which is peanuts! You can register your domain name at the same time as when you set up your hosting with Bluehost, or you can register it separately and point it to Bluehost for free.
Cost of domain: About $14 per year
A Professional Theme
Choosing a theme for your blog can be a hard decision, but it doesn't have to be. You want a theme that is beautiful, secure, reliable, bug-free, and packed with a ton of features that will allow you to customize however you like. Fortunately, you don't have to break the bank to get a theme that can do all of this.
Cost of blog theme: The cost of a great theme will range in price, but typically, you can get one for under $80, and that is a one-time fee
My recommendations for where to get awesome themes for your blog:
[column-third-1]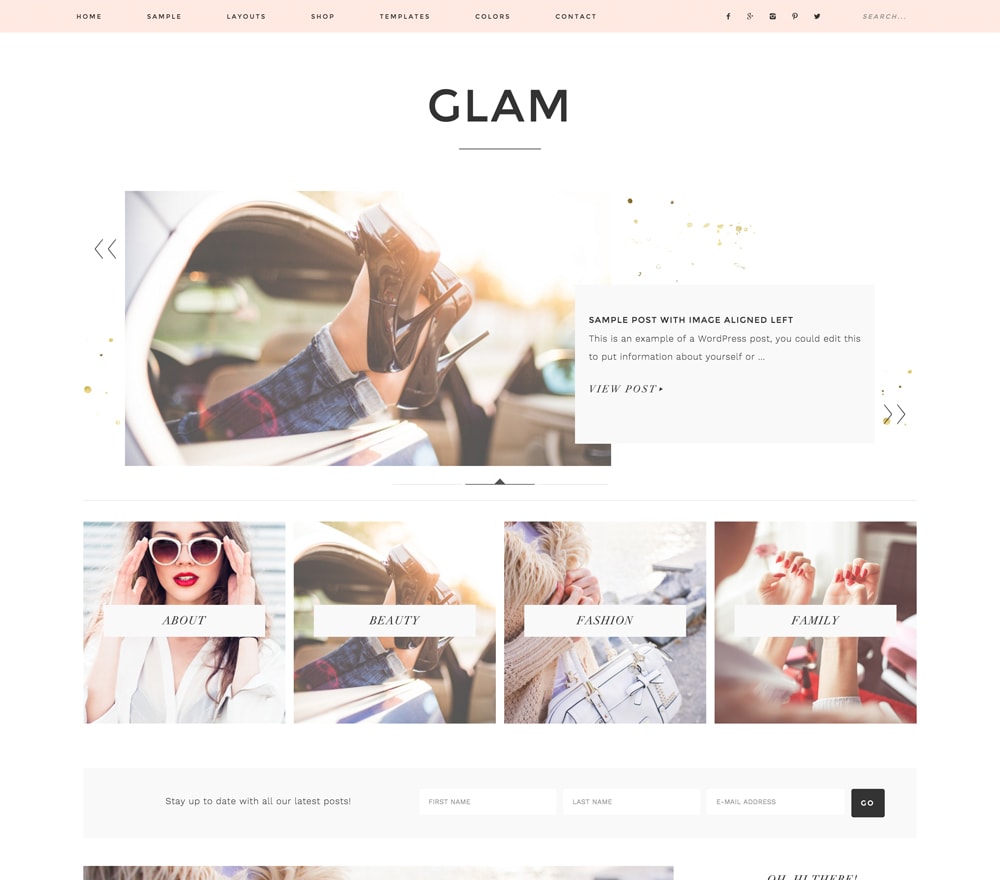 STUDIOPRESS
StudioPress is where you can get the ever popular Genesis Framework, the Melyssa Griffin theme Authority Pro, and other extremely attractive and high-quality WordPress themes.
[/column-third-1] [column-third-2]
PRETTY DARN CUTE
Pretty Darn Cute – Premade, high quality and pretty WordPress themes! Excellent setup tutorials, support, and community to help you every step of the way. "Let's make your website fun again!"
[/column-third-2] [column-third-3]
BLUCHIC
BluChic – Beauty & bold vision with the niche-specific architecture you need to convert prospects into paying customers. Whether you're a business coach, blogger or an event planner, the theme of your dreams is here.
You can easily customize each theme to fit your own personal brand and style.
[/column-third-3]
Related: Create Your Social Media Game-Plan
Use The Right Tools To Skyrocket Your Blog
There are a couple must-have blogging tools that I couldn't have grown my blogs to such success without.
Traffic & Social Media Tools:
When you launch your blog, you are going to become obsessed with finding ways to get more traffic to it. Let me tell you, Pinterest will be the most important tool for you to get traffic from. Pinterest is free, but mastering it requires a good scheduling tool.
I use two scheduling tools to automate my pinning strategy across hundreds of Pinterest group boards every day. You don't have to use both at the same time, as either is awesome. You can try both for free and see which you prefer.
Tailwind I saw a HUGE spike in traffic coming from Pinterest once I started using Tailwind to schedule my pins. Now I use Tailwind for all of my websites and it's crazy how much traffic it brings in.
Read my guide to using Tailwind & get a free trial here after your free trial, if you decide to subscribe, plans start at $10 per month.
To auto-post my content to Facebook and Twitter I use SmarterQueue.
SmarterQueue is the best social media content scheduler I have come across. Known as the app that is "better than Buffer and better and cheaper than MeetEdgar," SmarterQueue allows you to have "evergreen recycling" where you set up posts for Facebook, Twitter & Instagram that can be scheduled and then re-posted on autopilot.
So you don't have to re-create posts for your evergreen content, which was something that annoyed me with Buffer.
This feature is a huge time saver (and money-maker, as it ensures your affiliate links get seen over and over again). If you want to grow your network and business following its essential that you be posting content to social media consistently, and this app makes this possible.
Check out my guide on how to use SmarterQueue and get a free trial here after your free trial, if you decide to subscribe, plans start at $10 per month.
Cost of Traffic & Social Media Tools: $5 – $10+ per month
Email Marketing Tools:
Growing your email list is very important when running a blog. You want a way to 'catch' all of that traffic coming to your website so that you can send newsletters to them and sell to them for years to come. I use Convertkit to handle my opt-in forms, subscribers, and newsletters and I am so happy with the service.
Convertkit is a professional mailing system that easily integrates into your website, where your readers can sign up to your newsletters. Create landing pages, create and send campaigns (newsletters) manage opt-in forms, automation (welcome sequences), and more.
Convertkit makes gaining subscribers and running opt-in functions easy, while giving you extremely powerful list management.
It has helped me grow my email list to over 20,000 subscribers, which in turn helps me earn several thousand dollars per month. I highly recommend this tool.
Learn more about Convertkit and get a free trial here after your free trial, plans start at $29 per month.
An alternative is MailerLite, which is good mailing system that is free up to 1000 subscribers. You can create beautiful landing pages and opt-in forms to collect subscribers and easily send and track campaigns (newsletters).
You can use their free plan up to 1,000 subscribers, and if you have more subscribers than 1000, plans start at $10. The only thing I caution against is that they don't let you send emails with affiliate links specifically MaxBounty links which is CRUCIAL to the success of your blog.
Mailerlite has blocked users for using affiliate links in their campaigns (even on the paid accounts), blocking their emails from being delivered, and locking them out of accessing their subscriber list. This happened to me! That is why I only use and recommend Convertkit now.
Cost of email Marketing tool: $29 per month
For More Top Blogging Tools
Check out this list of all the best tools, tech and apps I use to tun my money-making blogs!
Hopefully, you now have a better understanding of the expenses you are going to be subject to when blogging.
If you account for these costs, you will be able to manage your finances better so that you can maximize your profits and get the most out of your new business venture.
ACCESS MY MEMBERS-ONLY RESOURCE LIBRARY & START GROWING YOUR ONLINE PRESENCE, BLOG & BUSINESS