Mom Blogger Giveaway – Win A $3,474 Blogging Dream Kit!
Update: This mom blogger giveaway has ended. Check out this page for our current deals and promotions for bloggers and entrepreneurs. As well, you can get a FREE toolkit of resources right now, via this form:
Missed the giveaway? No worries!
You can still get full access to the HerPaperRoute Profitable Blog Toolkit for FREE!
It's packed with a ton of resources, training and bonuses to help you blog like a pro.
---
Mom Blogger Giveaway – You Could Win A $3,474 Blogging Dream Kit
The mom blogger giveaway – details.
---
As an affiliate partner of various brands and sponsored content, HerPaperRoute may earn commission on qualifying purchases. Disclaimer | Advertise With Us
---
I've teamed up with a group of bloggers and companies to offer one big amazing prize, that any blogger would love.
From June 26th – July 3 2019, you have the chance to win $3,474 in tools, products and training. From courses, to web hosting, to plugins, clothing, and more, this is the mother of all mom blogger giveaways.
It's free to enter, and the winner will get ALL of these things listed below.
🫶 Want to Make More Money?🫶
Become a member of HerPaperRoute today and get a toolkit packed with resources to help you make that paper. All for FREE!
---
When you enter the mom blogger giveaway, you will be in the running to win a kit that blogger dreams are made of.
The winner will get all of these awesome products:
Courses
Here are all the courses that the winner of the Mom Blogger Giveaway will win.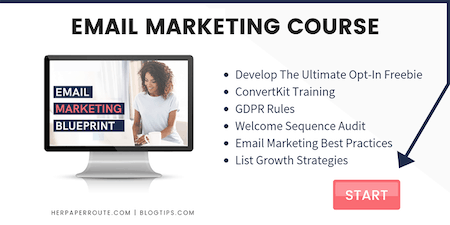 Monetize Your List: Email Marketing & List Building Course from Chelsea – HerPaperRoute.com
This is my course, where I share my strategy for earning passive income with an email list of awesome, engaged subscribers.
We cover how to develop a high converting opt-in freebie to get targeted subscribers on your list, and how to keep them there, as repeat customers for the long haul.
I also share tips on how to avoid spam filters, and how to make people actually LOVE to open your emails.
Let's grow, nurture & monetize your email list, and turn you into a pro email marketer! (More info)
Becoming a Blogger: A Comprehensive Blogging Course from Cate – SweetandSimpleLife.com
'Becoming a Blogger' is a self-paced educational blogging course that is designed to help aspiring bloggers start, grow, and monetize their blog.
Get Chaos Organized for Mom Bloggers from Kristine – BloggingAboutMomming.com
Launching in July 2019, this course helps busy moms (who are also bloggers) find balance in their life.
By setting priorities, creating goals, time boxing, batching tasks, working with your child(ren) and getting your blog organized.
Pinterest Ninja & eBook Ninja from Megan – LoveFamilyHealth.com
Pinterest Ninja is the ultimate Pinterest guide! Breaking down every aspect of Pinterest Marketing step-by-step!
eBook Ninja is a step-by-step guide on creating and marking your own eBook.
Six-Figure Success Habits from Sally – SallyAnnMiller.com
Six-Figure Success Habits is a step-by-step online course for future six-figure business owners and bloggers.
Learn how to dream big, act boldly, and create a six-figure business and life.
Blog Tools
These blog tools included in giveaway give you everything you need to boost your blog like a pro.
Bluehost Hosting + Free Domain
Bluehost delivers a powerful, proven platform that's perfect for hosting your websites.
Social Pug (WordPress plugin)
Social Pug is a helpful sharing plugin for your WordPress website. Lifetime license!
Tailwind
Tailwind is the leading scheduling & analytics tool for Pinterest & Instagram. 1 year license for 1 site.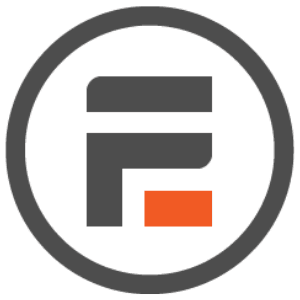 Formidable Forms (WordPress plugin)
Formidable Forms is the most advanced form builder for WordPress. Build simple contact forms or complex multi-page forms with calculations and conditional logic. Connect with your site visitors in new and meaningful ways with better WordPress Forms. 1 year business license for 1 site.
Yoast SEO Pro (plugin)
Yoast SEO is the number 1 SEO plugin for bloggers world wide. With Yoast SEO Premium you will have extra benefits such as internal linking suggestions, preview of your posts in social media, redirects so your users don't get stuck on a 404 page, word forms and more!
To top it all of, you will get one year of support! 1 year Pro license for 1 site.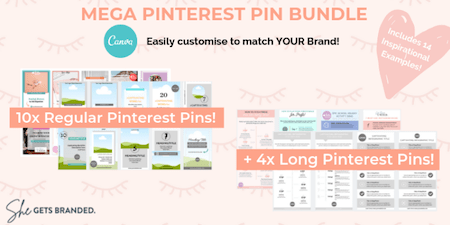 The Mega Pinterest Pin Template Bundle (Canva) from SheGetsBranded.com
The Mega Pinterest Pin Template Bundle comes with 10x regular Pinterest pins, 4x long, infographic-style pins, so you'll never run out of Pinterest pin ideas again.
Fully-customizable in Canva, and designed to take away the stress of a blank digital canvas, simply add your Brand Colours, Fonts, Logo, Pictures, and Icons – whatever you please! – and get back to the fun that is pinning!
Planners
Who doesn't love a good planner? If you win the Mom Blogger Giveaway, you will get all of these!
2019 Digital Blogging Planner from Organized Blogging from OrganizedBlogging.com
Find clarity through goal setting with this all-inclusive planner that manages every aspect of your blog, from planning blog posts to tracking your expenses and income.
Plum Paper
1 planner with matching stickers and shopping list pad.
Legal Policies for Your Website/Blog from Mariam – FreelanceandMarketing.com
Every website needs the proper legal pages.
These policy templates are 100% customizable, you can use them on as many websites as you own. They are drafted by a licensed and practicing attorney.
You will get a Privacy Policy, Disclaimer, and Terms of Use template to use on your website.
Consulting
Amazing VA coaching and consulting services, included in the giveaway!
Your Blogging Mastermind Membership (free 3-month subscription) from Crystal – YourBloggingMentor.com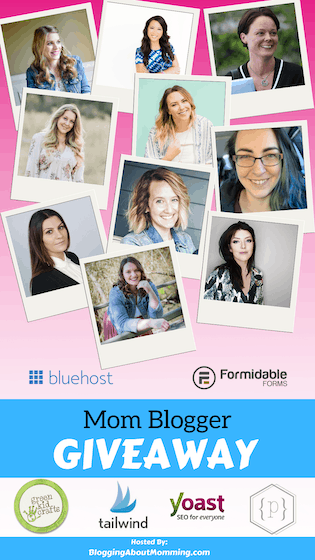 Your Blogging Mastermind is a membership site hosted by long-time blogger, Crystal Paine from MoneySavingMom.com.
It is dedicated to helping newer to intermediate bloggers learn how to be more strategic and intentional in order to increase their income and impact as a blogger.
Mom Coaching from Lisa Canning – ThePossibilityMom.ca
Lisa helps moms find more time and joy, less overwhelm through online courses and coaching.
Lisa wants to journey with you towards your most ideal life.
VA Services from Kristine – TinyRhinoServices.com
Focus on what you LOVE and let Kristine do what you HATE. Getting organized as a mom or a mom blogger is what she does.
Allow Kristine to help you lead a more fulfilling life where you are more present with your kids every single day.
5 hours of virtual assistance included.
Products
The winner of the giveaway will also get all of these products!
Green Kid Crafts Discovery Box Subscription (3 months)

Inspiring the next generation of creative leaders, each subscription box comes with up to six science and art kits, quality materials, 12 page activity magazine and achievement badges.
Green Kid Crafts STEAM projects are reviewed by a panel of child development experts and tested by kids.
Supporting key developmental skills for kids ages 2-10+, our products celebrate creativity with craft projects and activate thinking, questioning, inquiring, and original creation as we guide children through fun science experiments. Green Kid Crafts boxes are 100% recycled materials.
Digital Portrait of You And Your Family
Chris Madden is a professional concept artist who will create a digitally painted portrait from any photo of your choice.
Mom Boss Mug
Whether you work from home, out of the house, or even stay home "just" to raise your family, you are a freaking boss!
Makes a great gift to all Moms out there slaying it. 11 oz. 100% White Ceramic Mug with Black Interior & Black Handle (USA residents only).
Mama Blogger TShirt from KrisBeeMama.com
Wear your passion right on your shirt with a Tshirt (size and color of your choosing – see link for options). Be proud, mama. Be proud. (USA residence only).
---
When does the Mom Blogger Giveaway Start And End?
The mom blogger giveaway starts June 26th at 5am PST and ends July 3rd at 8pm PST.
The winner will be announced on July 4th.
What Does It Cost To Enter The Mom Blogger Giveaway?
Nothing!
It is free to enter the mom blogger giveaway.
No purchase necessary.
Plus, you can enter as many times as you like.
---
How To Enter
Anyone may enter the mom blogger giveaway, simply by entering your email address.
By entering your email, you are agreeing to subscribe to the email newsletter for all the blogs and businesses listed on the giveaway entry page.
Which is a treasure trove in itself, as you will get some pretty awesome resources from the participants on a weekly basis, to keep your blog and business going strong.
Personally, I love getting newsletters from bloggers (I'm subscribed to over 300 mail lists!) But, I know not everyone enjoys getting emails.
So if there are any newsletters that you don't love, you can always unsubscribe after the giveaway ends.
But you will need to stay subscribed for the duration of the giveaway in order to be eligible to win.
How Many Times Can I Enter The Mom Blogger Giveaway?
Many times! Here's the details:
When you enter your email address, you get one entry.
You will be able to earn extra entries by following certain social media accounts and sharing the giveaway on social media.
Plus, refer a friend and receive even more entries if they enter the giveaway (1 extra entry per referral, referrals must enter through your special link provided via email).
All entries will be verified for the selected winner before she is officially notified of winning the giveaway.
Do You Have To Be A Mom Or A Mom Blogger To Enter?
No, you are not required to be a mom or a mom blogger, to be able to enter the mom blogger giveaway.
It's worth noting that some of the items may not be as useful to you if you are not a blogger, or intending to become a blogger.
But if that is the case, you can always become a blogger!
Enroll in our free blogging course to do that.
Who Is Not Allowed To Enter The Mom Blogger Giveaway?
The only people who are NOT eligible to enter the mom blogger giveaway are the participants (ie. me, and the rest of the ladies who have contributed a product to the giveaway).
When Will The Giveaway Winner Be Chosen?
The Mom Blogger Giveaway starts June 26th, 2019 at 5am PST and ends July 3rd, 2019 at 8pm PST.
A winner will be chosen July 4th, 2019 and notified by email.
How Will The Mom Blogger Giveaway Winner Be Chosen?
The winner of the mom blogger giveaway will be chosen randomly by KingSumo with no priority given to any entrant.
For a full list of rules see the giveaway entry page.