5 Manifestation Success Stories that Will Inspire You
In this article, I'll share five manifestation success stories that will get your creative juices flowing and help you believe in the power of manifestation!
Manifestation is the act of creating something in your life through the power of your thoughts and feelings.
When you manifest something, you are bringing it into existence by focusing on it and believing that it is already yours.
Manifestation has helped people achieve all kinds of things, from finding their soulmate, to landing dream clients, to getting a new job.
---
As an affiliate partner of various brands and sponsored content, HerPaperRoute may earn commission on qualifying purchases. Disclaimer | Advertise With Us
---
When you're working on manifesting your desires, it's always inspiring to read about other people's successes.
Here are some other manifestation success stories to inspire you!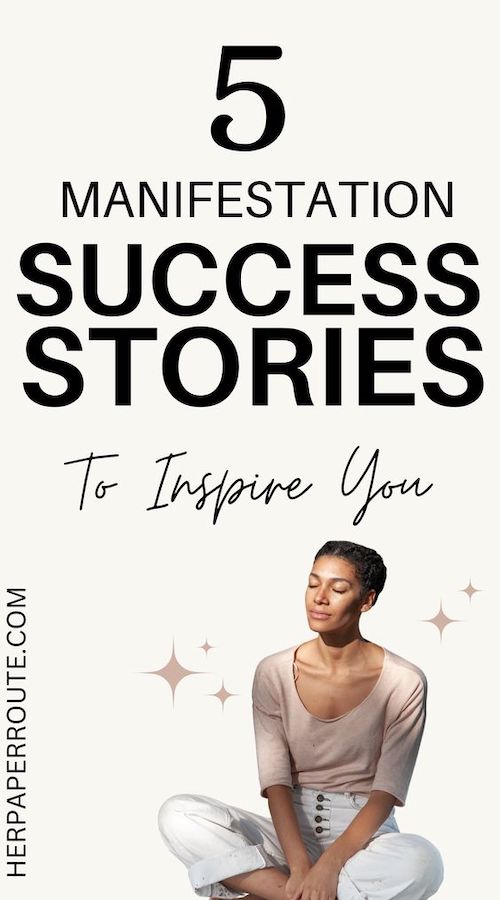 Manifestation Success Stories To Inspire You
There are numerous manifestation success stories on Reddit, Quora, and from my readers about people who have taken advantage of this law, and hearing them all will be interesting.
🫶 Want to Make More Money?🫶
Become a member of HerPaperRoute today and get a toolkit packed with resources to help you make that paper. All for FREE!
---
Manifestation Success Story #1
A reader of mine shared her experience with the Law of Attraction and how she was able to manifest a new house for her family.
Christine had always been interested in the Law of Attraction, but she never really took it seriously. That is until her family's situation became desperate.
They were living in a small, cramped apartment and Christine knew they needed more space. She decided to give manifesting a try and visualized a new house for her family.
At first, she didn't see any results, but she kept visualizing and focusing on her goal.
And then, one day, she got a call from her mom. Her grandmother had passed away and left them her house.
Christine was shocked- she never would have thought that her grandmother would have given them such a valuable gift.
Manifestation Success Story #2
A Quora user shared their experience with the Law of Attraction and manifesting her ideal life:
After learning about the Law of Attraction and the concept of manifestation, Cindy understood the power of focusing her attention on what she wanted to attract in her life.
She has manifested a pool, a new car, a new home, a free bed, a flat-screen TV, and, most recently, a new puppy.
Also, she has manifested all of the money she needed to relocate my family across the country, and probably the dearest to my heart is her publisher, who happens to live in the same city where she moved and has the perfect name of "Positive Publishing."
The wonderful thing about all of this is that she knows that each of these manifestations occurred as a result of her getting out of the way and allowing the Universe to deliver them to her in perfect timing.
She added that:
"We really are true creators and can manifest anything and everything that we believe is possible for us."
Here's her success story:
Manifestation Success Story #3
A user on Reddit shared her manifestation success story:
She began scripting in November 2021, during one of the darkest periods of her life. While journaling a few days ago, she remembered that she had scripted something for March 31st, 2022.
She went back and read it again, only to realize that she'd manifested almost everything she had written:
a job change,
recovery from physical and mental health issues,
a family vacation,
and other good things.
She said that:
"My script was a journal entry and it was two pages long. I didn't think too much, I went with the flow and really wrote thinking I had received what I wanted. I really had to feel it to write it and that gave me an insane level of positivity and confidence after I got done writing.
Manifestation Success Story #4
Another reader of mine submitted this success story:
Joan was having limiting beliefs at the start of her manifestation journey. But then, she decided to give it a go:
"I was always a bit of a skeptic when it came to the Law of Attraction. I would read about people's success stories and think to myself, "Sure, that probably worked for them, but it's not going to work for me." I was convinced that I needed hard evidence before I could put any faith in the idea.
So when I decided to start working on manifesting my own desires, I made sure to track my progress meticulously. For months, I kept a journal of every single desire I wanted to manifest, as well as how often I thought about them and what action steps I was taking to bring them into reality.
And you know what? It worked! Not only did my journal help me manifest most of my desires, such as a job promotion, a new house, and better family relationships, but it has inspired me to continue using manifestation to create the life that I want. If it can work for me, then it can work for anyone!"
Manifestation Success Story #5
Another Reddit user shared their success story with manifesting money:

When you detach yourself from the outcome and surrender to the Universe, great things start to happen!
If you're looking for a way to manifest your dreams, start by reading and studying the stories of others who have succeeded.
Then, put what you've learned into practice, and don't give up on yourself.
Remember, the Universe responds to our thoughts and feelings, so be sure to focus on what you want rather than what you don't want.
When it comes to manifestation, always believe in yourself first and foremost.
Manifestation Success Stories To Inspire You – Final Thoughts
I hope these Law of Attraction and manifestation success stories have inspired and empowered you.
To experience the full power of the Law of Attraction, as demonstrated by these success stories, you must believe in yourself and take action.
Keep in mind that we are powerful creators with the ability to alter our own realities.
Read this next:
Have you had any success with manifesting your desires? Let me know in the comments down below!