12 Transformative Home Workout Plans For Busy WAHMs
As a work-from-home entrepreneur, do you find it difficult to find time to stick to home workout plans?
As the CEO of a 7 figure blogging company, and full-time work-at-home mom, I'll admit that exercise is pretty low on my do-to list.
But I want to change that so I've been making more of an effort to exercise.
🫶 Want to Make More Money?🫶
Become a member of HerPaperRoute today and get a toolkit packed with resources to help you make that paper. All for FREE!
---
As an affiliate partner of various brands and sponsored content, HerPaperRoute may earn commission on qualifying purchases. Disclaimer | Advertise With Us
Working at home can be awesome, but it can be isolating. If you don't plan correctly it can also be sedentary. (Hello, every blogger knows you can sit still for 12 hours at a time blogging, without even noticing!)
So today I am sharing 7 life-changing ways that you can fit exercise into your day. As well as 5 types of home workout plans that you can do any time.
Life-Changing, Transformative Home Workout Plans For Busy WAHMs
Here at HerPaperRoute.com we discuss how you can design the life you want. Whether it be:
…Whatever it may be, it all comes down to making a plan. In case you weren't aware, your plan is the 'route' in HerPaperRoute.
When you can formulate a game-plan, your goals are all that much more reachable.
If you're like most women "exercise" and "me" time is usually low on your priority list. Twenty four hours a day barely seems like enough time for the work-at-home mom to juggle her business and family responsibilities.
Adding a home workout regime to your list may feel like too much of a headache. Yet, exercising is non-negotiable.
Truthfully, if you can plot out a plan that works for you, and stick to it, there's no stopping you.
---
One mom's journey to a solid home workout routine:
"When I made the leap to work at home mom from work outside the home, my expectations were a little skewed. My working days were exhausting as I tried to juggle exercise with the responsibility of raising 3 kids and bringing home a paycheck.
I'd daydream about rising before my family to exercise. I would then wake them gingerly with the aroma of fresh-baked whole grain bread wafting from the oven. I'm pretty sure I was wearing a bikini in this scenario. Though I did bake bread once the first week I was officially self-employed, it's pretty much been Wonder White since.
Finding time to exercise has been its own struggle. I've been a committed runner most of my adult life but found it difficult to stick to a consistent schedule since my husband worked odd hours.
It didn't take long for a day or two without exercise to stretch into a week and then a month. A modest weight gain caused by replacing running with a few glasses of wine in the evening for stress relief caused a downward spiral.
Luckily I was able to recognize the problem and find a solution before I really hated the life I chose. I had a frank discussion with myself about what I needed and I decided to stick with it. Now I love exercising and actually look forward to my home workout time!"
---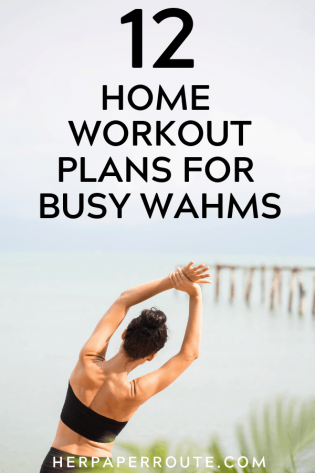 7 Awesome Ways To Fit In Exercise When You're A Busy Work At Home Mom
I chose to work at home because I wanted the privilege of spending as much time with my kids as possible. I also have a responsibility to behave in a way I want them to emulate.
Choosing to make my health and well being a priority is a perfect opportunity. So let's do this home workout plan!
1. Track your fitness, meals and goals
Being able to check-in with yourself and see a visual record of how much you are eating and exercises is extremely helpful when it comes to sticking to goals.
I recommend the Noom app, as the best weight loss and fitness tracker.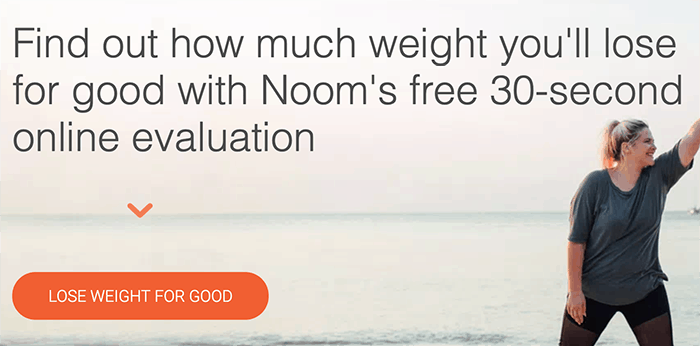 2. Give yourself an incentive
The desire to stay or get fit usually isn't enough to motivate us to get off the couch and into our jogging shoes every day. So having some other sort of extra incentive to essentially dangle a carrot in front of you can be helpful.
There are a number of apps and programs that provide an extra incentive for losing weight.
For example, this free app pays you just for walking. The more steps you take in a day, the more credits you earn.
And taking it even further, this startup pays you to lose weight, by placing bets on your weight loss. Money is the ultimate motivation tool, after all!
3. Trade childcare with a friend for an hour
Yes, it takes 2 hours out of your day instead of one, but sometimes you gotta do what you gotta do.
4. Find a used treadmill on Craigslist
Take advantage of someone's failed good intentions and save money on an essential piece of fitness equipment for a work at home mom.
With a treadmill, you're not limited by weather or daylight. When my kids were small, I logged many miles on a treadmill.
Tip: To make it more tolerable, try catching up on your favorite television series or listen to a podcast. I personally love multi-tasking.
5. Find free workouts on YouTube
Not only is this method economical, but it is also a great way to mix up your home workout routine.
6. Invest in a good jogging stroller
Whether you are power walking, running, or taking a leisurely stroll, a stroller specifically for the purpose of exercise will make the experience positive.
7. Schedule exercise into your calendar and commit
You wouldn't cancel a meeting at the last minute, right? This hour from your day will most likely result in greater productivity and increased patience.
Whatever method you choose to get in your workout, consistency is key. Neglecting yourself for the sake of family is not doing anyone any favors.
5 Life-Changing At Home Workout Plans You Can Do Now
The work-at-home mom is smart; she knows if she doesn't take time to care for herself, other important facets of her life suffer.
Here are five home workout plans for work at home moms, to make it happen and fit it into your lifestyle.
1. Strength Training — Muscle Building & Calorie Burning
"Life is easier when you're strong," says Steve Kamb of Nerd Fitness.
Just think of all the things you do that would be easier if you were stronger:
Carrying groceries into the house.
Taking a laundry basket full of clothes upstairs.
Putting your kids in their car seat…
With muscle strength and a strong heart, a mom—who's part Superwoman anyway—can more easily perform her daily duties.
Other optimal side effects of strength training include increased metabolism, more energy, boosted confidence and less anxiety.
You don't have to lift a barbell or do bench presses for hours at the gym to enjoy the benefits of strength training.
As long as you have a wall and chair, you can create lean muscle mass and manage your weight with these six strength-training exercises, including push-ups, tricep dips and squats.
2. Online Fitness Videos — Schedule + Commitment
The full-time working mom can feel like a slave to her schedule. From replying to emails to sterilizing bottles, every minute counts.
If your calendar is your sacred bible and you live by a regimented timeline, at-home fitness videos are an effective workout solution.
Thankfully, Youtube is ripe with them!
Want a Kardashian behind without the implants? Challenge yourself to do this Youtube 10 minute booty workout every morning!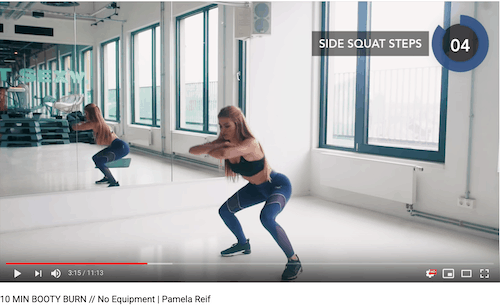 Schedule the type of workout you want ahead of time — and you'll know that from 9 a.m. to 9:30 a.m., after the little one goes down for his morning nap and before your conference call.
3. CrossFit WODs — Varied & High-Intensity
WODs stands for "work out of the day."
Maybe you're a CrossFitter at heart but had to give up your box membership to help fund your startup.
Perhaps your demanding schedule kept you from making it to classes. There's no shame in being a home WODer.
Just because you can't be in the gym doesn't mean you can't stay challenged and sweat hard. Invest in a couple of key pieces of equipment, such as a kettlebell, jump rope, Plyobox or medicine ball.
4. Yoga — Stress Reliever
Rather than doing THIS on Instagram or pulling out a bag of chips from the pantry, turn to your phone and hit the mat. Your yoga mat that is.
A fussy toddler and unsettling email can put emotions into an uncontrollable whirlwind. It can happen any day, any time.
Use yoga on your phone as your impromptu remedy for stress management. Even if you can't dedicate time to an entire session, taking 10 minutes to engage in poses and breathing exercises can restore balance.
The yoga app Pocket Yoga encourages a consistent yoga practice and offers 27 different sessions. Sessions that can settle the mind and body when time is limited.
5. 10K Training — Goal Oriented
Running is usually not at the top of most people's list. Especially not on a busy work at home mom's list. But hear me out.
Is your business and livelihood founded on setting goals and achieving them? One right after another? If so, you may just have the makeup to be a hardcore runner.
For the beginner, make a goal to complete a 10K race. In order to cross that finish line of six miles, you'll train so many days a week and conquer a certain number of miles per day.
You may even want to sign up for a 5K race as momentum and inspiration. After you run that 10K, you can move on to train for a half marathon or strive to improve your PR (personal record) with a faster time.
Envisioning the medal and glory of achieving what you set out to do will get you out the door and in your running shoes.
Home Workout Plans For Busy Work At Home Moms – Conclusion
No one said it would be easy to be a work at home mom doing everything and then some. But once you start trying, you will surprise yourself with just how well you actually CAN do it.
Remember that sticking to all of this will take dedication and a strong mindset. Don't underestimate the power of a good night's sleep – it will be your strongest weapon in staying motivated.
Are you going to try some of these home workout tips?
Let me know how you are doing on Instagram or in our Facebook Group!
As well, join our private VIP membership of entrepreneur women now (it's free!) and get instant access to the HerPaperRoute Toolkit of ebooks, courses, and resources to help you grow in all areas of your life.
Join here:
Members get extra resources that we don't share on our blog. Where should I send your invite?