Money Saving Tips – Stop Buying These 8 Things To Save $19,642
If you're trying to get out of debt, or you're just trying to save more money, one of the best money saving tips is to stop buying unnecessary things.
It seems so obvious, but truly it's the little spends here and there that really add up and kill your budget.
I'm here to tell you something you already know: Stop buying so many things!
Money Saving Tips – Stop Buying These 8 Things
Now that you've been reminded of one of the biggest money saving tips, we can put it into action.
---
As an affiliate partner of various brands and sponsored content, HerPaperRoute may earn commission on qualifying purchases. Disclaimer | Advertise With Us
---
Because leaving you with 'just stop buying stuff' isn't exactly realistic, helpful, or foolproof, after all.
But, simply cutting a few expenses out of your budget, or swapping items you currently buy for a cheaper option can save you thousands of dollars every year!
Check out my list of things you should stop buying to save money below.
🫶 Want to Make More Money?🫶
Become a member of HerPaperRoute today and get a toolkit packed with resources to help you make that paper. All for FREE!
---
As well, make sure you download this FREE budget planner that can help you get your financial life in order.
Your starving wallet will thank you!
How I Saved $19,642 Per Year When I Stopped Buying These 8 Things
Can you cut out some of these same expenses, and swap out for the more affordable options, below?
Quit Dining Out / Delivery – Potential Savings: $500/month ($6,000 year)
When I lived in the states, I ordered GrubHub delivery pretty much every day. And then when my husband and I moved into our first place in Canada, we were getting DoorDash for nearly every dinner, and sometimes even lunch!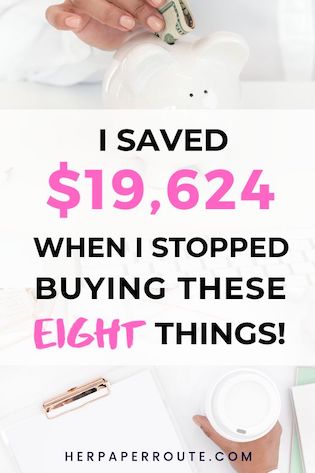 This really started to add up because with the food, the delivery fee, and the tip, we were spending at least $50 every time we ordered out. Pair this with eating at restaurants whenever we were on the road and the expenses really got out of control.
By deciding to cut down on eating out and focus on making more meals at home, you can save a lot of money. It's also much healthier to cook for yourself.
You don't need to stop eating out completely. But if you can eat at home most of the time and only eat out once a week, you'll be in a lot better shape financially.
Personally, I really dislike cooking! I just don't feel inspired or entertained making food.
When I eat, it's purely out of need, never want. I feel the time it takes to prepare a meal takes away from what I really want to be doing (blogging, running my business, hiding behind walls to jump out at my preschooler).
But I've been forcing myself to get inspired and try out new recipes more often. I recommend looking at Pinterest for healthy home-cooked meal inspiration. Hello vegan tacos!
Money saving tips - How to save almost $20,000 /year when you stop buying THESE 8 things
As well, $5 Meal Plan is a service that will help you save money and time, by sending you a meal plan each month. These meal plans show you how to make meals for less than $2 per person.
If you order take out as much as I used to, using $5 Meal Plan could save you over $500 a month. You can try $5 Meal Plan on a 14-day risk-free trial.
Another option is HelloFresh. HelloFresh is a popular meal delivery service, where they send you a meal plan/recipe as well as the ingredients.
So you don't even have to go to the grocery store. It's still kind of like take-out, but you cook it yourself and it's much more affordable. They have full vegetarian plans (as well as meat plans), lgiving everyone in the family something awesome.
At the time of publishing this money-saving tips article, HelloFresh is having a promotion where you get $80 off your first 4 deliveries via this link.
Stop Buying Cable TV – Potential Savings: $107/month ($1,284 year)
According to this article from MoneyExaminers, people pay an average of $107 a month for cable. I was paying $130 per month for cable, and the only shows I watched were already streaming online for free!
Well, I ditched cable altogether and signed up for Amazon Prime. A Prime membership includes unlimited free access to Amazon Prime Video, where you will find thousands of TV shows and movies.
You also get a ton of other benefits as a Prime member, such as unlimited cloud photo storage, 2 day shipping, unlimited music streaming, free ebooks, discounts at Whole Foods and more. All for less than $9/month, when paid by the year.

Paying for my Amazon Prime membership instead of paying a cable TV bill saves me $1205 per year!
I'm not sure why I took so long to become a Prime member. It's really such a great convenience, and of all the money saving tips, this one can save you the most.
==> You can get a free month of Amazon Prime with this invite link.
Other streaming subscription options are Netflix ($15/month) and Hulu ($5.99).
A great thing about these services is that you can share them, usually on 2 or 3 screens at a time. So you can split the subscription cost with a friend or family member and save even more.
If you don't want to pay a subscription at all, a streaming device may be more what you are after.
ROKU, Apple and Amazon offer popular boxes that don't require monthly subscriptions.
Stop Buying New Books – Potential Savings: $110/month ($1300+ year)
Purchasing new books is an expensive thing to do. Especially if you read a lot of books, but only read each one once.
At one time I was buying two new books every week from Barnes&Noble (which was about $15-$25 per book).
When it comes to money saving tips related to the expense of books, the obvious suggestion is to go to the library where borrowing is free.
But not everyone has the time to wait for their local branch to get the newest title they want to read.
And if you are a germaphobe, touching pages that have been touched by thousands of other people is out of the question.
Nowadays there are more convenient (and sanitary) ways to access free and almost-free books, without having to leave the comfort of your home.
Beyond my local library, here's how I save money on books:
As an Amazon Prime member, I get 1 ebook for free, each month via Amazon's "Kindle Owners' Lending Library." There are more than 5000 books to choose from. But, for confusion's sake, this is a separate program than Kindle Unlimited.
Kindle Unlimited is where you can access unlimited downloads and streaming of over a million ebooks and audiobooks. You can try it free for a month.
Alternatively, for $8.99 a month, you can use Scribd, which is similar to Kindle Unlimited and also offers a 30 day free trial.
To purchase physical books, Amazon is still your best bet, as books on Amazon are usually discounted at least 15% from the publisher price, even more if you decide to get a used copy.
Quit Buying Expensive Makeup – Potential Savings: $300+/month ($3600+year)
I think we have all had a splurge or two at Sephora. Or several. It's easy to get sucked in and spend a lot on makeup.
If you find yourself saying 'yes' every time Sephora has one of these incredible sales on beauty, you aren't alone.
According to this article from Byrdie, the average woman spends about $313 a month on her appearance. Wow.
In my early twenties, I'll admit, I was one of those people. That was before I realized I could just start a beauty blog and then get free cosmetics!
Before I had a beauty reviews blog, I used to spend $300-$500 per month on expensive skincare and makeup products.
Which, let's be real, is ridiculously stupid.
That being said, running a beauty blog was awesome, as beauty brands would send me their products constantly and I never had to buy any makeup for years.
Last year I sold my beauty blog, and with it, the shipments of complimentary products stopped arriving at my door.
So as my beauty supplies ran out, I had no interest in paying to replenish it. The time had come to streamline my beauty bag.
Here's how to save money on beauty products:
Stop buying name brand. It's so simple! Instead of buying the expensive Marc Jacobs mascara, opt for this drug store dupe – That affordable option is amazing and they are cruelty-free!
Cancel Forgotten Subscriptions – Potential Savings: $50+/month ($600+ year)
Do you ever just sign-up for a trial of something and then forget to cancel it before it started charging you?
I realized that I was paying for Apple cloud storage and Google storage, yet I didn't need to, because my Amazon Prime membership included a huge amount of cloud storage for free.
Additionally, I noticed that I just wasn't getting as much use out of some of the business tool subscriptions that I had. I was able to skim down the tools I use to run my blog/business, and just lept the essentials.
The tools I kept:
…Everything else had to go!
You can use Trim Financial Manager to cancel your unused subscriptions for you. This is a free app that will analyze your accounts and show you how much you're spending and where you can save some money.
They will also cancel subscriptions you no longer use, and can negotiate your utility bills to help you save even more. How great is that?
[adsense]
Stop Buying Clothes – Potential Savings: $500+/month ($6000+ year)
As a basic human need, clothing is listed as an essential expense, right between food and shelter.
But that doesn't give you permission to spend $500+ per month on your wardrobe. At least not if you are trying to benefit from these money saving tips.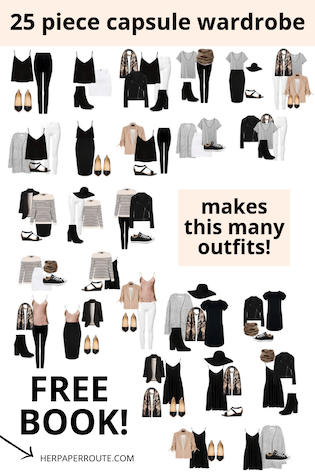 About two years ago, I decided to stop buying new clothes altogether.
I looked at my closet and realized two things.
One, that I had 30 dresses hanging with the tags still on, and no desire to wear them.
And two, that I really only wear the same skinny jeans and casual top every day of my life.
Why did I need so many dresses?
Truth bomb, I didn't!
So I purged my collection of clothing, and from what was left of it I created a 25 piece capsule wardrobe.
A capsule wardrobe of essential, timeless pieces that I could happily wear for years and never need to buy new clothes ever again.
Having a capsule wardrobe has saved me $6,240 per year.
Click here to download my 'How To Build A Money-Saving Capsule Wardrobe' book, for free!
More Money Saving Tips
When you get a paycheque, pay your monthly bills/credit card first, then pay yourself (to a savings account that you don't touch).
Here are some more useful money saving tips.
Be a self-motivator and force yourself to be a good saver. Here's a helpful guide on how to create a budget which includes tips for how stay motivated to stick to it.
One of the biggest money saving tips to know is that becoming a good saver is something you train yourself to become.
Money saving is a habit that you need to develop in yourself. It can be tough at first, but once you get going it gets easier, and dare I say it FUN.
Here's some money saving tips on how you can develop a good saving habit.
Just picture yourself now with your bank account full of money and all your debts paid off.
How does that thought make you feel? Excited and happy, right? Keep that feeling clise to you and use it as inspiration to make it a reality.