Blog Income Report May 2018: Here's How I Made $10,197 Blogging This Month
It's hard to believe that 2018 is almost halfway through! May was a busy month for me, with all sorts of things happening at HerpaperRoute (this blog), HerPaperRoute Blog School, and BeautyIsCrueltyFree (my beauty blog).
Blog Income Reports
In May my blogs earned $10,197. This post is a blog income report that goes into detail exactly how I made that money, what affiliate programs I promoted, and share my tips and strategy to help you reach your monthly blogging money goals too.
March Blog Income Report $8,426
April Blog Income Report $9,033
You can view all of my blog income reports here. 
I post these income reports as a way to stay accountable, stay focused on my goals, and keep tabs on how my business is doing, and how it can be better.
You Should Start A Money-Making Blog Too
If you are thinking of starting a blog, or if you have a blog but are stuck trying to figure out how to make money from it, enroll in my free 'Start A Blog & Monetize It' course.
Also, be sure to get my resource library of free blogging guides via The HerPaperRoute Profitable Blog Toolkit. which you can access here:
This post may contain affiliate links, which is at no cost to you. Disclosure. 
Making Money As A Blogger
It is worth noting that although I have over a decade experience in marketing, (I worked as a corporate marketing strategist for over 10 years before quitting to blog fulltime last year), you don't need that much experience to make money as a blogger.
If you have the desire to start a blog, and the dedication to put in the work to develop it is a business, you can be successful. It isn't rocket science! 
My education and background in marketing helps me make money blogging, as far as the marketing my business side goes, but it isn't necessary – at all!
Check out my Make Money Blogging Guides, that's where I share all of my blogging, marketing and money-making advice via free guides and training.
I keep a directory of affiliate programs for several different niches too.  
To put yourself on the fast-track to developing your blog as a business and earning money with affiliate marketing, enroll in my profitable blogging course Be Your Own Blog Boss, which covers blog development, affiliate marketing, email marketing and more.
What Be Your Own Blog Boss Students Are Saying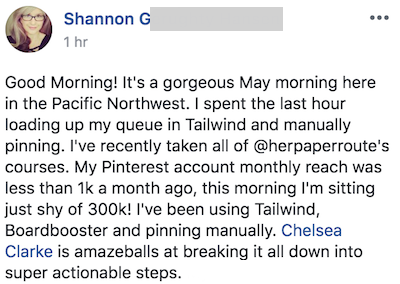 Blog Income Report: Ok, So How Did May Look?
Traffic
I'm so happy that I was able to reach 25,000 sessions back in April for BeautyIsCrueltyFree, which allowed me to join MediaVine. MediaVine PPC adds pay much more than Google Adsense, so this was a big goal for me.
The new MediaVine ads were rolled out on that blog in the second week of May, and in just that short of time earned $103, which may not seem like a lot, but with Adsense, I would have only earned about $20 in the same time frame!
Now I am really focusing on growing my traffic here on HerPaperRoute, and am setting a goal to get this site's to 25,000 sessions ASAP. 
Pinterest is a dream for blog traffic. I wrote about my Pinterest strategies here. I am using BoardBooster to automate pins to over 100 group boards, as well as taking full advantage of my Tailwind Tribes, and manually pinning as well.
Another important tool to use for traffic is
Smarterqueue
. It auto-posts and recycles your blog posts, affiliate links, promotions, etc over and over across social media. 
Domain Authority
In May the DA (Domain Authority) of HerPaperRoute went up eight notches from 21 to 29! This is thanks to some great backlinks that are popping up lately, with other blogs and websites raving about what we do here. 
BeautyIsCrueltyFree's DA also shot up, from 13 to 22. 
Ultimate Bundles Flash Sale
In May we ran a flash sale for The Genius Bloggers Toolkit. This is such a valuable pack of resources! If you missed this sale, you can still get the Ultimate Work At Home Super Bundle for a limited time, or wait to get the next Genius Bloggers Toolkit, when it is released in the Fall. Get on my mailing list to be notified as soon as it's available. 
Top Reads
You Are a Badass at Making Money by Jen Sincero: Master the Mindset of Wealth
This is such an awesome book. I highly recommend this book to anyone who is on the path of setting and surpassing money goals!
---
What's Hot On The Blogs
Top Posts In May @ HerPaperRoute.com
HerPaperRoute Press – May
In May I was featured on MomResource.ca, where I shared my top 10 tips for starting an online business while on maternity leave. I developed my blogs from idea to profitable business soon after my son was born, all while I was on maternity leave, with the goal of never having to return to a job again. And it worked! Check out my tips here!
Victoria @Imperfectly Mama shares her experience taking my courses:
"There are so many courses to choose from, and I know it can be way overwhelming. I bought a handful of courses and there was one in particular that I owe a lot of my success to: HerPaperRoute's course Blog Boss. I launched my blog 10 days ago, and I've already established 500 views PER day and I've MADE $80!!!! I am so proud of my little blog! Every morning, I brew my cup of coffee, sit down and literally watch my stats go up by the minute." Read It Here.
Laura @All In My Head recommends my courses:
"Chelsea has the most amazing blog and her courses are literally sooo helpful. I find them so easy to follow, and the results have been amazing. It's amazing how much info is crammed in to it! If you're looking for the most complete guide on how to make money as an influencer, how to grow your brand and reach new heights in your biz, then you need to check it out." Read it here.
Blog Income Report: The Money
Blog Income Report: Month Of May 2018 =  $10,164
Total Before Expenses =  $10,197
Expenses
The above-mentioned expenses are crucial to the growth and success of my blog. I don't know where I'd be without ConvertKit as it's tools have made it possible for me to easily grow and manage my list across all the different campaigns I run.
When I first started out, I wasted way to much time using a non-premium email service provider, thinking I was saving money. When really I should have just been using a professional program from the start. Check out my guide to email marketing and get ConvertKit free for a month here.
If you aren't ready to invest in ConvertKit yet, Mailerlite is a good alternative. 
Equally as important is the social media automation app Smarterqueue. It constantly posts and then re-posts my content and links as evergreen content across social media, without me having to do a thing. You can get it free here.
Additional expenses to consider are that I am a self-employed person, so 20%+ of my year-end income will go to taxes, along with healthcare insurance and other self-employed related expenses. 
Work With Me
I provide various services, from building websites, developing social media campaigns, giving blog audits, and even offering 1:1 blog-to-biz mentorship/coaching.
To inquire about any of these services and to hire me, send me a message. 
How Was Your Month?
What worked for you? What didn't? Do you do a monthly blog income report?
Let me know on Instagram @HerPaperRoute
---
For More Tips On Blogging & Money-Making:
The HerPaperRoute Profitable Blog Toolkit is my members-only resource library of tools to help you start a blog develop it into a thriving, income earning business!
Profitable Blog Cheatsheet!

Styled Stock Photos!

Social Media Marketing Planner! & More!
IT'S FREE! JOIN HERE:
Already A Member?