3 Ways To Write Persuasive Email Copy That Sells
Writing effective emails is one of the most important parts of marketing any business, but especially if you sell online courses! So it's important that you learn the essential skill of writing high-converting email copy.
Whether you're brand new to writing sales emails and positioning your offer persuasively, or you're just not confident, I've got you (and I've been there!).
Writing in a way that entices people to take action takes some serious practice.
🫶 Want to Make More Money?🫶
Become a member of HerPaperRoute today and get a toolkit packed with resources to help you make that paper. All for FREE!
---
As an affiliate partner of various brands and sponsored content, HerPaperRoute may earn commission on qualifying purchases. Disclaimer | Advertise With Us
Luckily, I've worked to develop an incredible email copy strategy.
With my three tips, you're going to be cranking out inspiring sales emails in no time—and generating results for your business!
3 Tips To Write More Persuasive Email Copy and Sales Copy
I want to share three quick tweaks you can make to your email copy to instantly make it more effective and persuasive.
And the best part? You can also use these tricks in other pieces of writing beyond just email copy, like your sales page and social media posts!
These tips are built around sales psychology, because after all—our goal with email copy is to drive our readers to take action.
As an online course creator, that typically means signing up for one of your programs, downloading a freebie, or registering for a webinar.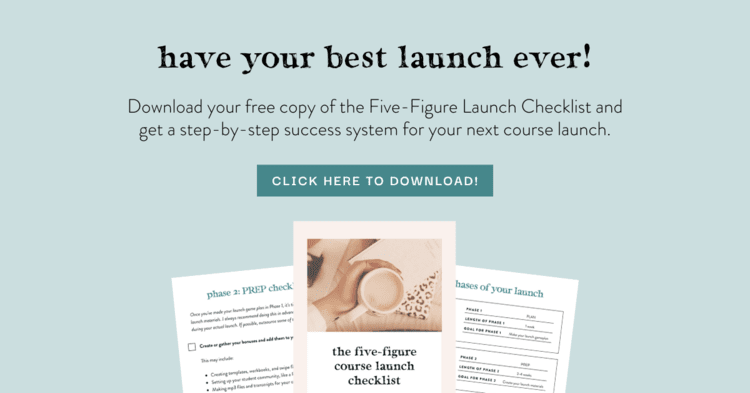 Convey Confidence With The "When, Not If" Technique
First, you can convey serious confidence in your email copy with one simple hack: the "when, not if" technique.
When you're selling something to someone, you want to make them feel as confident about what you have to offer as you are!
And transferring that confidence (which helps people actually take the leap and make a purchase) starts in your copy. When you don't seem 100% confident in yourself, your offer, or your value, people won't be as attracted to your offerings.
So this hack is pretty simple, but it really works: talk about when a customer purchases something or joins your course, not if they join your course.
This tiny shift in language helps you convey so much self-confidence in both yourself and that this offer is right for this specific person.
Try writing out sentences like:
When you purchase today
When you click the link
When you join this course
People won't necessarily notice this change of wording, but subconsciously, it conveys so much more confidence and helps boost conversions. So if you want to use your email copy to drive more sales, this first tip is key!
Related: How To Build An Email List For Your Online Course: 5 Steps To Take Now
Preface The Price Of Your Offer With A Larger Number Woven Into Your Email Copy
Next, let's talk about one way of positioning your offer within your email copy.
Whenever possible, preface the price of your offer with a larger number.
Now, I know this might sound confusing, but don't worry—I'll explain! Before you mention the price of your course, program, or services, include a larger number somewhere earlier in the email copy.
People will see a much larger number prior to seeing your actual price, which is lower.
You've probably seen this done many times, when people list a "total value," like $5000, before giving you the actual price, like $240.
This primes people's brains to see what you're offering as an amazing value and a worthwhile investment. If you try out this strategy, your conversion rate will likely increase significantly.
With this technique, you're positioning yourself and your offer as a great value that's a no-brainer. It's like getting your foot in the door with a little creative positioning!
Position Your Offer In Terms Of Risk Aversion
My third tip is to position your offers in terms of risk aversion (which means avoiding risk).
Psychologically, most human beings are more motivated by the idea of avoiding a loss than they are by a potential gain. People hate taking huge risks when they're unsure of the payoff.
And when it comes to marketing, this shows up in terms of FOMO—fear of missing out.
So when you're writing your email copy, it's important to try and create that sense of urgency by adding in deadlines and referencing things like "limited time" and "last chance."
When you use this type of language, people know what they could miss out on—which motivates them to take action.
Here are some ideas for email copy that aligns with this positioning (but get creative here!):
Limited time
Last chance
Only a few hours left
Don't miss out on ___
When you combine this risk aversion language with enticing gains-focused language (about the results your course will create), you have a powerful recipe to boost conversions.
Just remember to balance the two types of language in your email copy for the best results!
It is recommended that you read the Expert Secrets, which teaches persuasive copywriting strategies really well.
This book will change the game for you!

How To Start Re-Evaluating and Improving Your Email Copy Today
To practice these skills, you don't have to sit down with a blank piece of paper and start from scratch. Look at one of your recent pieces of email copy and edit it to reflect these tips!
It's sometimes easier to work with something you've already written and try to improve it than it is to start totally from the ground up.
Writing effective email copy doesn't have to be overwhelming!
These tips will help you steer your audience in the right direction and boost conversions.
To help you on your way, download your free copy of our 5-Figure Launch Checklist.