Genius Bloggers Toolkit 2024 + Exclusive HerPaperRoute Bonus
The Genius Bloggers Toolkit 2023 wrapped on September 15. Get on the Genius Bloggers Toolkit 2024 waitlist to be notified when it becomes available:
Genius Bloggers Toolkit 2024 Waitlist
If you a brand new to blogging, first be sure to enroll in my FREE blogging course which will walk you through every step in starting your blog.
What Is The Genius Bloggers Toolkit?
The Genius Bloggers Toolkit is the best collection of resources to help your blog and business grow!
---
As an affiliate partner of various brands and sponsored content, HerPaperRoute may earn commission on qualifying purchases. Disclaimer | Advertise With Us
---
This is the biggest collection of blogging and online business resources, for one extremely low price.
We have ALL the details including the full bundle product list below!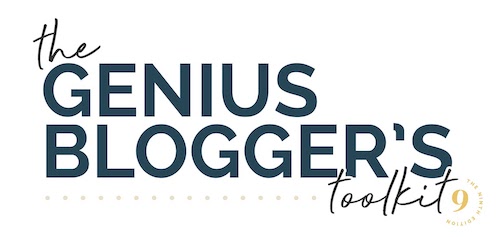 In this article, I will reveal the entire Genius Bloggers Toolkit product list!
🫶 Want to Make More Money?🫶
Become a member of HerPaperRoute today and get a toolkit packed with resources to help you make that paper. All for FREE!
---
Here's a video I recorded where I highlight some of the products from the bundle that I personally love:
The 2023 Genius Bloggers Toolkit sale ran from Monday, September 11th to Friday, September 15th 2023.
When is the Genius Bloggers Toolkit 2024 Available?
The 2024 edition of the Genius Bloggers Toolkit will be in September 2024. I will announce the dates and open the sale to everyone on the waitlist first. Get on the waitlist below if you want to be one of the first to know:
Genius Bloggers Toolkit 2024 Waitlist
Details About The Ultimate Blogging Bundle
As a contributor to this year's Genius Bloggers Toolkit, I've had my copy for a couple of weeks already, so I've been feeling like a secret agent, digging into ALL of the courses and ebooks.
Let me tell you, it's been HARD not spilling the beans to you before now. I wanted to tell you everything about it for weeks. And finally, today's the day I can.
This year the Genius Bloggers Toolkit is packed with a ton of products worth over $6,000!
…Amazing right?! And you get lifetime access to everything for just $97.
Now, I know that when you get it, it may feel overwhelming (you get lifetime access to all 40 ecourses, 5 ebooks, 1 membership site, 6 printables & workbooks, 1 summit, 5 templates… like woah.
Not to mention all of the BONUSES that are included this year!
But you don't have to use every product in the bundle – just use the ones that make sense for your needs and business.
Genius Bloggers Toolkit – Full Product List Reveal
#BloggingLife (4 resources worth $390.00)
2023 Purpose Driven Mom Summit – Audio Only by Cara Harvey (Summit) $127.00
Get ready to enjoy all of the amazing presentations from the 2023 Purpose Driven Mom Summit in an easy to take with you audio format.
Blog Builder's Success Bundle by Kathy Widenhouse (eCourse) $29.00
Build or rebuild your blog with this set of practical tools and printables.
Digital Content Membership by Ruth LovettSmith (Membership Site) $37.00
One year access to an ever growing collection of educational guides, templates, printables, planners, design assets, and more.
Grow It: From Blog To Business by Margaret Bourne (eCourse) $197.00
A roadmap for confident and profitable blogging.
Affiliate Marketing (3 resources worth $163.00)
Affiliate Income Starter Kit by Helene Sula (eBook) $99.00
A straightforward, real approach to making money RIGHT NOW with affiliate marketing. No matter your audience size. Step-by-step guide on making affiliate income!
Affiliate Toolkit: The Email Templates You'll Need to Promote Any Affiliate Product by Tina Lopez (eCourse) $37.00
Ready to Promote Affiliate Products? Leverage our plug and play affiliate promotion email templates to promote any affiliate product and convert leads into commissions.
Gift Guide Templates For Bloggers and Coaches! by Dee Pawar (Template) $27.00
Save hours in making gift guides for your audience using the stunning done-for-you Editable Gift Guide Templates in Canva.
AI Tips & Tricks (4 resources worth $220.97)
A Blogger's Guide to Working with Brands (Bonus ChatGPT Prompts) by Lisa Sharp (eBook) $17.00 Learn how to start earning more money from your blog by working with brands.
AI Prompt Secrets Unlocked by Christina Peterson (eCourse) $67.00
Want to work super-smart rather than super-hard? This master class will teach you how to use AI for a number of different aspects of your business – and you'll get 98 well-crafted prompt templates to move forward with super-speed!
Canva, Printables & AI. Oh My! by Kate Danielle (eCourse) $47.00
Unleash Creativity: Canva Meets AI for Ultimate Printables!
Ultimate Business Success Bundles Featuring ChatGPT: Unleashing the Potential for Business Success by Joni Kinney (Workbook) $89.97
Are you ready to take your business to new heights with cutting-edge AI technology? Look no further! Our carefully curated bundle brings together three powerful resources to equip you with the tools and knowledge needed to revolutionize your business.
Content Planning & Creation (7 resources worth $890.97)
9-Pack Canva Template Bundle by Cody Berman (Printable) $89.99
This 9-Pack Canva Template Bundle can help any blogger or website owner make digital products in no time.
Content Planning & Inspiration by Faith Lee (eCourse) $67.00
Content Planning & Inspiration workshop will help you stop the guesswork and have endless ideas and inspiration on digital products to create and sell!
Content Planning System by Bree Pair at Thrive (eCourse) $97.00
How to Plan a Year of Content in 2 Hours!
Cooking Blogger Bundle – Strategies, Photos, Keywords, Templates and More! by Kalen Smith (eBook) $34.99
This bundle includes a 166-page ebook with detailed blogging tips, 1,000 cooking blog keywords, 96 food stock photos, 20 Pinterest templates, cooking blog topics, banner templates and PLR cooking articles.
Launch Your Profitable Ebook: Learn how to write and sell a wildly profitable ebook as a blogger! by Dale P. (eCourse) $97.00
Launch Your Profitable Ebook is an online course that will teach you how to write and sell a wildly profitable ebook as a blogger.
Money Posts: the secret formula of content creators who make bank by Chelsea Clarke (eCourse) $297.00
A step-by-step guide for publishing blog posts that pay you!
Pretty Pink and Gold Canva Planner Templates by Trisha (Template) $7.99
Effortlessly create exquisite printable planners with these gorgeous, user-friendly, and customizable Canva templates!
Product Creators Ultimate Toolbox by Karina Gafford (eCourse) $297.00
A done-for-you product creation system you can use to create and launch every product!
Email Marketing (5 resources worth $500.00)
ActiveCampaign 101 Masterclass by Anna Crosby (eCourse) $49.00
Learn everything you need to know about the ActiveCampaign platform and how you can use it to uplevel your email marketing.
Email Super Sales Mastermind: Use the power of hypnotic sales language in your emails! by Becky Beach (eCourse) $147.00
Turn your crickets into ka-chings with Email Super Sales Mastermind!
Evergreen Funnel Jumpstart: Sell your online course on autopilot! by Eb Gargano (eCourse) $197.00
Your complete step-by-step guide to creating and launching a successful evergreen sales funnel, so you can sell your online course on autopilot every day… and never have to do another live launch again!
Funnel By Number by Christie Love Etter (eCourse) $67.00
A simple 3-step system to learn everything you need to know about funnels, how to map them out and organize the process with an easy to use color-coded system.
Lead Magnet Ebook Canva Templates by Faith Ola (Template) $40.00
60+ Elegant Ebook Canva Templates! Perfect for bloggers, coaches, and small business owners. Customize effortlessly to create ebooks, PDFs, and guides to earn passive income, and freebies to rapidly growing your email list.
Marketing Strategy ( resources worth $)
3 Day Sales Jump Start – Mini Course to revamp, restore, and revive your sales! by Holly Daniel (eCourse) $111.00
Mini Course to revamp, restore, and revive your sales!
Copywriting for Cash: Create Aligned Marketing in a Fraction of the Time by Alison Reeves (eCourse) $99.00
Create Aligned Marketing Copy In A Fraction Of The Time With This Epic Collection.
Mindset & Reducing Stress(4 resources worth $118.00)
Goal Setting for Big Dreamers Workbook by Lottie Reeves (Workbook) $17.00
Use this undated workbook to create yearly, quarterly, monthly and weekly To Do Lists, to move you closer to your Big Dream. With prompts reflecting on where you're at right now, it's the perfect companion no matter what time of year you start.
Take Back Your Time Bundle by Kalen Smith (Printable) $47.00
Ready to Take Back Your Time Mama?
If you're feeling overwhelmed and struggling to find enough time for the things you enjoy, then our Take Back Your Time Bundle is a MUST for you.
The Imposter Syndrome Antidote by Heather Ritchie (eCourse) $27.00
Learn the strategies you need to reclaim your confidence and bust imposter syndrome once and for all with this game-changing mini-course that gets you out of feeling like an imposter and into feeling like the expert you are!
The Unicorn Blogger: How To Stand Out And Fast Track Your Success by Frances Vidakovic (eCourse) $27.00
How To Stand Out And Fast Track Your Success.
Monetization (3 resources worth $133.00)
Conversations on Monetization: Interviews with Experts About How to Make Money as a Blogger by Megan Porta (eBook) $29.00
This ebook is for you if you are just starting out OR are a seasoned veteran. There is something for everyone. It is meant to inspire, as well as show you that there are many, many ways to turn food blogging into a full-time job.
How to Plan Your Own Blogging Event: Create your successful event with speakers, sponsors, goody bags and more! by Heather Step (eBook) $37.00
A specific timeline to put together an in person blogging event.
One Pager Money Makers by Julie Coffman (eCourse) $67.00
Discover the Secrets to Creating and Selling Small, In-Demand Digital Products Quickly and Easily, Even if You're a Complete Beginner!
Planning for Success (4 resources worth $347.99)
Blog Planner Pack by Sonna Bernard (Printable) $4.99
The ultimate blog planner workbook to set up your blog from scratch.
Feel Good Business Plan Bundle: Create an exciting plan to guide you to your success! by Sunita Prodan Benolic (eCourse) $67.00
Your business plan should make you excited, motivated, focused and very clear about your direction and next steps!
Planner Biz In A Box: Everything You Need To Start Your Planner Business Today by Jessie Janssen (eCourse) $129.00
An eCourse with step-by-step Canva tutorials, commercial use planner templates, mockup photos, and everything else you need to start selling planners online today!
Plan to Succeed with Ease with 90 Day Accelerator by Mindy Iannelli (eCourse) $147.00
Boost your productivity and reach your goals faster, without the overwhelm, using the strategies in our flagship course, Plant to Succeed with Ease. Keep the momentum going in our supportive community, SUCCEED with EASE, with our 90-Day Accelerator.
SEO (6 resources worth $803.00)
60-Day SEO SOLUTION by Aisha Preece (eCourse) $97.00
60-Day Solution to get your first 1,000 visitors from Google!
How To Update Your Old Content To Grow Your Traffic by Jessie Festa (eCourse) $74.00
Learn how to update your old content to improve your SEO and grow your traffic!
SEO Blog Boosting Bundle: A Step-By-Step Guide & SEO Blog Planning Template Bundle by Rhiannon Carnohan (eCourse) $37.00
Plan a year's worth of Google-ranking blog posts for you or your client in less than two hours and be confident that what you're writing will actually deliver results!
SEO Mastery: SEO Strategy for Christian Creatives by Brittany Ann (eCourse) $349.00
The best, most comprehensive SEO course built specifically for ministry-minded authors, speakers, bloggers, and online influencers.
SEO Optimized Blog Post Template Pack by Lucrezia Iapichino (eCourse) $47.00
Craft the perfect blog post, increase your click rate, and skyrocket your website's visibility with this comprehensive pack of templates, structure framework, outline, checklists, and training to make your content stand out from the crowd.
The Ultimate SEO Course For Bloggers by Jessica Camerata (eCourse) $199.00
The secrets to getting organic search traffic so you can make MORE MONEY from your blog!
BONUS: Sign up here to get on the Genius Bloggers Toolkit bonus VIP list, where I share my exclusive, free, GBTK bonuses with you.
Videos, Podcasts, & Social Media (4 resources worth $748.00)
Facebook Facelift: Put Your Best Face(book) Page Forward by Meg Brown (eCourse) $139.00
Get more face time on your Facebook page and a winning – yet simple! – posting strategy.
Messenger Growth Framework by Andrea Deckard (eCourse) $47.00
Create simple messenger funnels for Facebook and Instagram to grow your email list.
Pinterest Boost by Lidiya Kesarovska (eCourse) $55.00
Pinterest Boost is your shortcut to getting many page views on Pinterest and turning them into blog traffic.
The Profitable Podcast Funnel : Use Your Podcast As An Automated Sales Machine For Your Business Working 4 Hours A Week Or Less by Sharon Schuler (eCourse) $497.00
Use your podcast as an evergreen marketing sales funnel for your ideal listeners so you can stop the content creation hamster wheel of social media.
Website & Branding (8 resources worth $997.00)
Ad-Free Experience by Victoria Pruett (eCourse) $97.00
Create An Ad-Free Experience for Your Readers.
Freelance Contract Template (AKA Independent Contractor Agreement) by Amira Irfan, Esq. (Template) $100.00
This freelance contract template is an essential legal template that every blogger needs when starting out if they want to hire their first VA or any other independent contractor.
Learn WordPress Fast by Cousett Hoover (eCourse) $197.00
Learn how to create your WordPress site the right way from the start!
Map Out Your Client Getting Webpages by Kerry Beck (eCourse) $97.00
How to Design Webpages to get the RIGHT Visitors to Buy from You Over & Over Again.
Practical Photography and Lightroom 101 by Stephanie Vollmer (eCourse) $30.00
Learn how to edit photos from start to finish.
The Personal Brand Program: Build a Brand in a Month by The Marketing Greenhouse (eCourse) $249.00
A step-by-step guide to designing, building and implementing a personal brand online.
ThriveCart Toolkit by Melissa Guller (eCourse) $200.00
ThriveCart isn't just a checkout platform; it's also a course creation platform. And in this toolkit, you'll unlock step-by-step tutorials to help you build online courses and high-converting checkout pages with confidence. (Bonus: checkout page template)
Website Planning Workbook by Stefanie Konstanta (Workbook) $27.00
This workbook provides a comprehensive guide to confidently creating or revamping a high-converting website.
EARLY BIRD BONUS (worth $300.00)
3 month credit for FABB.ai worth $300.00 from Do You Even Blog
Do You Even Blog helps creators earn more money (and gain more freedom) from the internet! From the YouTube channel and podcast, to courses, templates, and software tools, "DYEB" aims to make the internet a better, simpler place, and help regular people start and grow online businesses.
Plus all of these BONUSES!
$20 Gift Voucher worth $20.00 from Creative Luxe Studio
Say goodbye to the endless hours spent struggling with designs. Formerly a wedding designer and mastermind behind breathtaking wedding designs, Cherelle German now dedicates her design skills to helping female entrepreneurs bring their visual brands to life with easy-to-use digital templates. With Cherelle's templates, you can focus on what you love most: expressing your creativity and passion in your unique business while her templates help you take care of all the pretty details.
1 Month Styled Stock Society Membership worth $40.00 from Styled Stock Society
Styled Stock Society is a game-changing membership for dynamic women entrepreneurs and bloggers, providing them with high-quality, inclusive, and curated stock photos and marketing tools. With access to over 8,000 stunning stock photos and videos, 2,000 customizable Canva templates, monthly caption guides, unlimited downloads, and new resources added every week, members can save precious time and money on their marketing efforts. By using Styled Stock Society, members feel empowered, capable, and confident, and can market their businesses more consistently and effectively.
60 Day Membership to The Geek Clinic worth $60.00 from Geek in Your Pocket
Geek in Your Pocket & The Geek Clinic provide technical strategy, training and support through two programs to help overwhelmed, tech adverse entrepreneurs, bloggers and DIY website owners by monitoring websites to keep them secure and on point focused technical training, education and solutions. Geek in Your Pocket focuses on making technology easier so bloggers, solopreneurs & DIY website owners can focus on their important work and not stress about the tech to make it all work.
Live Workshop: Create a Month's Worth of Posts in 30 Minutes with AI
Plus, get a 14-day free trial to our Pro Plan and $30 off monthly subscription to the Pro Plan or Social Samurai Plan worth $457.00 from Ninja Social Suite.
Ninja Social Suite helps you grow your business on social media without spending all of your time there. With our evergreen post scheduling, campaigns, AI features (and more), you will never have to worry about your social media again.
2-Month Access to the Ivory Mix Content Membership worth $60.00 from Ivory Mix LLC
No time for content? No followers or profit? No idea where to start? Let the Ivory Mix Content Membership take care of that with ready-to-post templates, captions, and photos. The Ivory Mix Membership is a comprehensive resource of done-for-you templates to boost your creative business effortlessly! Inside, you will gain access to an extensive library of premium stock photos, Canva Templates that will transform your content and captivate your audience. With strategic social captions, you'll drive engagement and increase sales like never before. Plus, monthly workshops will keep you one step ahead of the competition.
How to Create Your Signature Method Masterclass worth $47.00 from Holly Marie Haynes, LLC
Holly helps female entrepreneurs how to scale with simple, easy strategies creating more capacity and income in less time.
ADA Compliance Alt Tag Report + Content Audit Package worth $200.00 from The Blog Fixer
ADA compliance is a hot button topic, and your archives are probably full of images with alt tags not helpful to the visually impaired. With The Blog Fixer's custom report, you can quickly identify your most vulnerable posts with missing or poorly written alt text. The Blog Fixer will also scan your site for 15 issues to keep you in good graces with Google and Amazon and deliver a detailed spreadsheet to help direct your content audit efforts where you'll see the quickest impact.
The Becoming Boss Mastermind 30 Day Group Coaching Program Trial worth $97.00 from Faith Mariah
Faith Mariah, a no-BS business coach and the host of the Blogging Breakthroughs podcast, is on a mission to teach women how to start earning a 6-figure income online ASAP. Through tough-love coaching and an incredibly supportive community, her Becoming Boss Mastermind has quickly become one of the online business community's fastest-growing & most affordable business coaching memberships for profitable blogs, coaches, and personal brands.
How Much Does The Genius Bloggers Toolkit Cost?
There are two options to choose from, when you are at the checkout page.
The GBTK by itself is $97. Or if you add on the cheatsheets, it's $147.
How To Get The Genius Bloggers Toolkit – Get On The Waitlist:
Pin this: