10 Steps To Host A Virtual Summit Like A Pro
10 Steps To Host A Virtual Summit Like A Pro: You've probably heard about virtual summits before and even attended a few in the past.
A virtual summit is an online conference. A host (a business owner looking to grow their online business) brings together experts for interviews which are broadcast for a certain period of time online for attendees to watch and learn from.
Let's walk through what a virtual summit needs to be successful, so you can get a good understanding of how it should work. And most importantly – you'll discover how to use virtual events to boost your authority and bank account at the same time!
But first, have you registered your free ticket to my summit for entrepreneurs and bloggers?
---
As an affiliate partner of various brands and sponsored content, HerPaperRoute may earn commission on qualifying purchases. Disclaimer | Advertise With Us
---
10 Steps To Host A Virtual Summit Like A Pro
With everything going on in the world right now, attending a live in-person conference isn't really ideal (or safe) for most business owners.
Not to mention, even before the pandemic, attending an in-person conference was a time-consuming and expensive process.
Unless you lucked out and were able to catch a local conference, the expenses necessary to attend a conference could quickly add up.
🫶 Want to Make More Money?🫶
Become a member of HerPaperRoute today and get a toolkit packed with resources to help you make that paper. All for FREE!
---
From the high cost of the conference ticket to travel fees to meals and more, attending a conference could easily set you back thousands of dollars.
As a business owner, if you were hosting a conference, that was an entirely different bucket of worms and expenses that you would have to deal with.
From the cost of renting an event space to catering to travel and transportation for speakers and more! Luckily, you have the opportunity as a business owner to launch a virtual summit!
A virtual summit could provide incredible benefits to an online business owner such as:
Increasing your email subscribers
Growing the membership in your online community
Increasing your revenue
Building relationships with Influencers
Establishing your authority in your niche
How to Host a Successful Virtual Summit
For online entrepreneurs, hosting a virtual summit is an amazing marketing tool that could really elevate your business to the next level.
To help you get the ball rolling, here are 10 steps to help you launch a virtual summit.
Step 1: Plan the logistics and content for your virtual summit.
Your virtual summit has logistics that should be determined from the very beginning!
When will your virtual summit be held?
What the event dates?
How long will you allow your interviews to be viewed for free?
Most of the virtual summits that I've attended have lasted 3-5 days at most.
The content presented on each particular day is usually available to view for free for 24 hours. After 24 hours, the content can only be viewed if you have purchased an All-Access Pass.
Additionally, you need a plan for your content. As a host, you are responsible for the overall creative direction of the entire online event!
What is the name of your summit?
What topic(s) will your summit cover?
What guest speakers would you like to feature?
What topics are you interested in having them speak about?
In terms of the number of speakers you need, there is no magic number. However, you can aim for 10-30 speakers if you need a number. The more speakers you have, the more logistics you have to work out, so keep that in mind.
Step 2: Choose Your Technology
A virtual summit will require software and tools for the live event portion and the recorded replays that will be made available after the live event ends.
Other than your computer and internet connection, you will need a good:
[amazon box="B086GHDRX4″] [amazon box="B00N1YPXW2″]
Here are a few suggested tools:
Recording Speaker Interviews
You can use Zoom to record the interviews with your speakers.
Hosting Your Recorded Summit Videos
Both the Teachable platform and the Thinkific platform have built-in features that make it very easy and affordable to host a virtual summit.
These platforms have built-in templates for sales pages, an affiliate system, and the ability to drip content over time to registered attendees. You can also easily accept payments and create a membership site with both of these platforms.
However, my preferred tech stack is Podia + Thrivecart 🙂
Step 3: Invite guest speakers to join your summit.
Speaker outreach is essential! You want to reach out to experts/influencers in your field who are a good fit for your virtual summit.
Ask them to be a guest speaker by positioning the opportunity as a collaboration. Let them know that the collaboration is an opportunity for them to gain exposure, increase authority, and grow their email list.
I typically appear in 4-5 summits a year as a speaker, which usually converts 500-3000 new subscribers to my email list each time.
Step 4: Create a sales funnel.
Your sales funnel is basically an automated email sequence that is triggered when someone opts in on your registration page.
The sales funnel you create for your virtual summit does not have to be super complicated.
You will need an opt-in/registration page, an upsell page for the All-Access Pass, a checkout page, and a confirmation page.
Here are a few of my favorite templates for landing pages. And then I used ConvertKit for all my email sales funnels.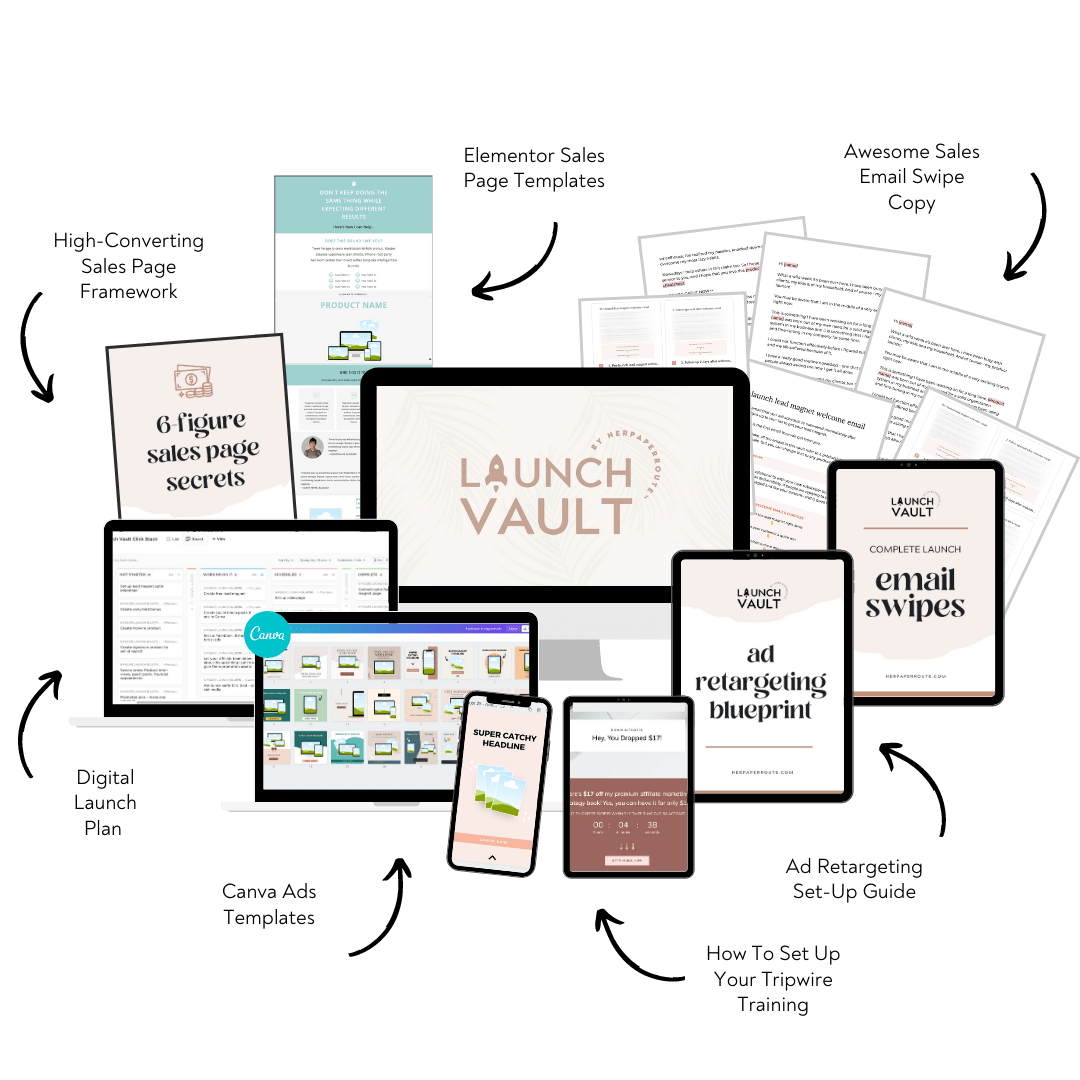 Here's the launch kit I created for really easy sales funnel planning.
Step 5: Record your guest speaker interviews.
Recording interviews with your guest speakers is clearly a crucial part of the virtual summit creation process.
You need to be prepared to ask direct questions (preferably questions you have sent to your speakers ahead of time so they can be prepared).
Make sure that your audio quality is excellent (again, a good microphone like this one and the pop filter will help tremendously).
Keep all of your interviews to 30 minutes or less.
Step 6: Prepare your virtual summit landing pages.
During the execution of your summit, you need an online space to broadcast the interviews live for a short period of time.
This is best done by using branded landing pages that you create in advance.
Step 7: Prepare the membership site for those who purchase the All-Access Pass.
One of the primary ways that you are able to generate revenue from your virtual summit is by offering an All-Access Pass.
Those who purchase this pass get lifetime access to the membership site where all of the guest interviews are stored after the free access period has ended.
All-Access Pass purchasers can also be given additional resources and content in the membership site as a benefit of having purchased the upgraded pass.
To host my All-Access Pass items, I just use the same tool where I host my summit replay videos – Podia!
Step 8: Set up your affiliate program.
By offering a financial incentive through an affiliate program for your summit speakers, you are encouraging them to effectively promote your online event.
Your affiliate system needs to be integrated with your sales funnel. Use this tool!!
You will assist your speakers in signing up as affiliates and provide them with the swipe copy and graphics they need to share the summit.
Read more: Learn Affiliate Marketing For Beginners: Ultimate Guide
Step 9: Promote your virtual summit.
For the first few weeks, you will be promoting your summit to get as many attendees to register as possible.
I encourage you to use every promotional outlet available to you. Consider:
Podcast interviews
Guest Blogging
Facebook Groups
Giveaways
Paid ads
Share your virtual summit links on all of your social media platforms and run paid ads.
You don't have to go crazy with an ad budget, but the more social shares you can get, the better the exposure, turnout, and conversion rates for your virtual event will be!
Read more: 12 Clever Ways To Promote Your Thing
Step 10: Host your virtual summit!
The final step is executing your virtual summit by broadcasting the interviews live at the designated times each day of the event. If you are hosting the videos on different pages, make sure you post them on time each day and be prepared for tons of email questions from attendees.
To avoid this, I actually prefer to live stream my summit, so everyone watches the sessions at the same time, on the same page. Here's how I set up my live stream.
Virtual Summit Quick Tips:
Keep your affiliate team up-to-date as your summit planning progresses. I use this tool to manage both my affiliate program as well as my sales cart.
Once you have all of her marketing materials ready for your affiliate team, send a detailed email with log-in credentials, a link to your affiliate webinar, marketing resources, and important dates.
In terms of promoting this virtual summit, you could host an FB live event, record informative YouTube videos, create social media graphics (like the one below made for Facebook), and host giveaways!
Another important component of putting together a virtual summit is creating an informative registration page that explains exactly what your summit is all about, who the speakers are, and the benefits of attending.
At the very top of your registration page, you should include a countdown timer (which is good for building a sense of urgency) and a call to action button that says "Save My Seat!" (you'll want to include your call to action button multiple times on the page).
Giveaways are actually another great promotional tool and lead generator to entice readers to register as summit attendees.
Give your speakers and/or affiliates the opportunity to offer a product or service as a giveaway prize. It's a win-win because you save on expenses while the speakers and affiliates get additional exposure!
The registration page goes on to explain the benefit of registering for the summit. You want to make sure that your registration page speaks to those burning issues that your target audience faces.
Persuasively explaining how your virtual summit will address those burning issues combined with your lineup of speakers, topics, and good signup incentives will improve your conversion rate.
After Your Summit Is Done, Follow-Up On These Important Tasks
Your virtual summit is over, but you will still have some follow-up work to be done.
Make sure your All-Access Pass purchasers have access to the membership area (like Teachable or Podia so all the resources are in one place.)
Make sure your affiliates have been paid and that there are no issues
Follow-up with your speakers to thank them for participating
Turn off your ads
Pay your affiliate team
It's smart to keep in touch with your guest speakers so that you can leverage those relationships for future collaborations.
10 Steps To Host A Virtual Summit Like A Pro – Conclusion
Hosting a virtual summit is a wonderful way to boost your authority, create new leads, build revenue, and more in a relatively quick time frame.
Clearly, there is a good bit of organization and planning involved, but the potential results are worth the effort! Good luck!
Recently I had the opportunity to be a guest on the Summit Host Hangout podcast, hosted by Krista of Summit In A Box. I revealed a complete summit sponsor monetization plan on air – you can listen to the full episode below:
Episode overview: Learn the secret behind creating feel-good brand sponsorships for your virtual summit and how Chelsea Clarke landed $15k with sponsors in her very first summit. Landing sponsors for your virtual summit doesn't have to be complicated or feel slimy. It can be an experience that feels great for you and your sponsors while presenting incredible resources to your attendees. Chelsea Clarke is here this week to share her experience and how, in her very first summit, she landed $15k in summit sponsorships without uncomfortable sales calls or slimy tactics. – Krista, Summit Host Hangout
Now, to see how to make your virtual summit profitable, go read how I made over $58,000 in one week hosting my first virtual summit last year: How To Host A Profitable Summit (and while you're there you will get a free Virtual Summit Sponsor Pitch Deck!)
I recommend Krista's Summit In A Box for full summit training. You can also take her free challenge for summit hosts!
Be sure to scoop up her Online Summit Promotion Bundle which includes everything you need to promote your summit.
Including a marketing calendar, promotion strategy training, 7 email scripts, 7 pieces of social media swipe copy, a Facebook ad strategy overview, Facebook ad swipe copy, and Facebook ad graphic templates.