Can You Really Make Money Doing Surveys?
Can you actually make money doing surveys? Surveys can be an easy way to earn quick extra cash.
However, it's not going to make you a millionaire, but it can help bring in a few extra bucks a month.
Money that can help pay bills or save up for that vacation you have been wanting to take.
Here's how you can start making money from survey sites, plus some tips on what to avoid.
---
As an affiliate partner of various brands and sponsored content, HerPaperRoute may earn commission on qualifying purchases. Disclaimer | Advertise With Us
---
How To Make Money Doing Surveys
Below are some tips and tricks on how to make money doing surveys, plus a list of reputable online survey sites you can join for free.
The more survey companies you are signed up for, the more surveys you can do, which equals more money.
Some of these companies may only send you a few surveys a month, so the more you are signed up for, the more you can make.
🫶 Want to Make More Money?🫶
Become a member of HerPaperRoute today and get a toolkit packed with resources to help you make that paper. All for FREE!
---
All of the companies listed below are legit, easy to use, and are a simple way to earn extra money.
These include Prize Rebel, Swagbucks, Opinion Outpost, and Inbox Dollars.
Is Making Money Doing Surveys Really Worth It?
Well, that depends where you are at in life.
Generally, survey sites don't pay much individually ($6-10 at most, usually) so you would need to do several surveys a day to make it lucrative.
But that is possible! And for most people, making extra cash, simply by answering some questions is an easy pass time.
If you have free time to kill, taking surveys for money is a fine way to make some extra cash.
But if you are an entrepreneur or blogger, spending your time filling out surveys doesn't really benefit you, does it? As the time it takes to do a survey could be better spent on your business and blog.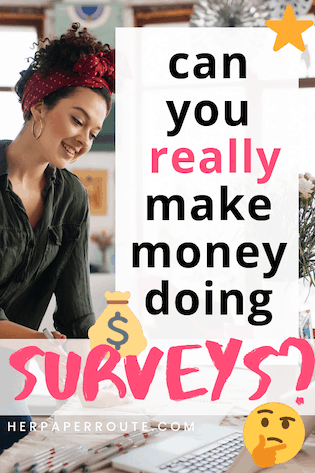 Filling out surveys takes time to do, and the payouts aren't that big. Since your time is money, you may want to spend that time doing something more lucrative.
That's why making money from survey sites is not really on my list of priorities.
But 5 years ago, before I had a business, it was a different story. I really didn't have anything better to do with my time, and making that extra $100 here and there was pretty cool!
After all, an extra $100 can make a big difference.
In the restaurant industry there's a saying that goes:
"If there's time to lean, there's time to clean" which means, if the restaurant isn't busy, don't stand around doing nothing, pick up a tray and go clean something.
This applies to your life as an entrepreneur too. If you have 'spare time' or 'time to kill' its best to find something to do that will benefit your business.
Go promote your content on social media, make some sales, improve your website.
Hot tip: Back in college whenever I had a job interview for a waitress or bartending position, I'd drop that little 'time to lean time to clean' line, and always got the job.

I was a smartass, but I was an employed smartass 🙂
I would say, if you don't own your own business, then there's no worry of taking time away from that. So why not make some money doing surveys?
The work is super easy and it can be done from home or while sitting in the car (on your smartphone of course) waiting for your kids to get out of school.
It can be a super easy side hustle to take surveys for money. You can get started quickly, and no special skills are needed.
[adsense]
A few tips about taking surveys for money
Don't lie, it won't help
It is critical that you be honest when answering the demographic questions when initially signing up for the surveys.
Essentially, the companies will use this information when gathering and analyzing their statistics data. You aren't doing your part of the deal if you aren't being truthful.
Besides, if you lie in the demographics section, you might actually end up hurting yourself rather than helping yourself.
Related: I saved $19,000 when I stopped buying these 8 things!
Avoiding Scammers and Shady sites
Of course, we have verified all of the aforementioned sites before recommending them to you.
However, I get emails all the time asking if certain sites are legit.
Unfortunately, there are the scammy, crappy people and sites out there that are just looking to take your money and your personal information.
Don't let this happen to you.
Here are some red flags that a site may just be out to scam you and steal your money or identity:
1. Does it sound too good to be true?
Well, then it probably is. It is highly unlikely that you will earn a full-time income just from taking surveys.
Anyone that makes an outrageous claim about making thousands of dollars from doing surveys, is likely just that, outrageous.
Surveys are meant to supplement and earn you some side income, anything that promises a "get rich quick" type scenario is a most always a scam. Steer clear!
2. Are they asking you for money?
Hello! We are trying to make money here, not spend it! If someone is asking you to pay to take a survey, they are most likely just trying to scam you. Pass!
3. Did you actually sign up?
I'm sure you have heard of phishing. If not, let me give you a quick overview.
People somehow get ahold of your email and send you some BS email asking for your personal information for this or that. Just delete it.
Don't ever give your personal information to anyone outside of the actual signup process, and don't ever click a link in an email unless you know who sent it.
Create a simple spreadsheet or jot down somewhere the survey sites you signed up for and only open emails from them.
You can create a simple spreadsheet to keep track of everything when it comes to survey sites.
What the site is, how many points you need to cash in, other rewards available, your current points totals, etc.
Before you get started, know this…
These are all FREE survey sites that are well known and reputable
They don't require a credit card. You may eventually need to link a PayPal or similar account in order to get your payouts.
Always make sure you check your email after signing up for the sites to confirm your membership, most survey sites have double opt-ins, and if you don't confirm your account, you can't get paid
Also, a lot of the different sites, particularly the ones listed below have a $5 sign on bonus. Take advantage of that!
Top Online Survey Sites That Pay
Listed below are the online survey sites that I mentioned before.
Sign up for free, and start earning some extra money today!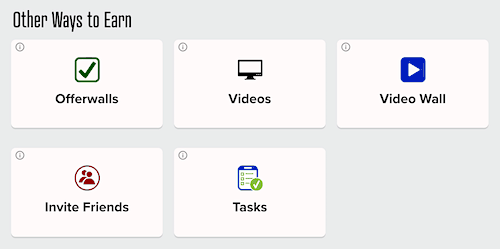 PrizeRebel
PrizeRebel offers a few different ways to earn, you can take surveys, watch videos, or complete tasks.
You can get rewarded with either cash, gift cards, or enter to win items like game systems. You can also enter to win contests and invite others to join and be awarded points.
One thing I really like about PrizeRebel is that their website is fairly modern looking. Most online survey sites still look like they were built in 1995!
PrizeRebel Invite: Get your free PrizeRebel account here
SwagBucks
SwagBucks is similar to PrizeRebel as you earn points for a variety of activities, like filling out surveys and watching videos. You can then redeem your SwagBucks points for gift cards or get cash back through PayPal.
Do you shop online? Of course, you do!
You will earn SwagBucks while shopping online and getting access to exclusive deals and coupons. Of course, there are always surveys to answer.
You can also watch videos, discover offers, search the web using Yahoo and play games. There is even an app for those that are always on the go.
You can potentially earn up to $250 per month on this platform.
There is a $5 signup bonus when you sign up through the link below and confirm your email.
SwagBucks Invite: Get your free SwagBucks account here, and get a $5 bonus just for joining!
OpinionOutpost
With OpinionOutpost you can take surveys and redeem points for cash via Paypal (100 points = $10), Amazon or iTunes gift cards, and prize drawings, to name a few.
It typically works out to $2 -$5 per survey.
For example, the first survey I got in my email took 10 minutes and I earned 5 points! Not too shabby.
OpinionOutpost Invite: Get your free OpinionOutpost account here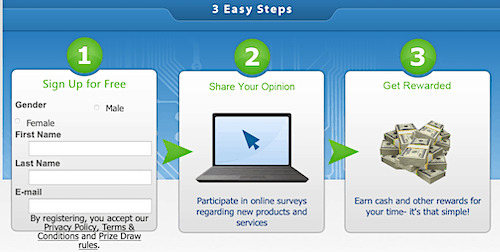 InboxDollars
InBoxDollars is another fun and easy-to-use online survey site.
You can earn rewards by watching TV, taking surveys, playing games, or shopping.
InboxDollars partners with trusted retail brands such as Target, Walmart, technology like Netflix, and others like H&R Block and Publisher's Clearing House.
You will be able to see how much you will earn in advance for each task like try a free trial of GameFly and get $4.
Just make sure you are keeping track of any free trials you may be participating in, remember you are trying to save money here, not spend it.
You can potentially earn up to $180 a month on this platform.
The minimum payout amount is $30, but is pretty easy to reach.
You get a $5 sign on bonus just for signing up with the link below, and confirming your email.
InboxDollars Invite: Get your free InboxDollars account here, and get a $5 bonus just for joining!
Available for iOS and Android.
Other Popular Online Survey Sites
SurveyRewardz – Create a free account, take surveys and earn rewards.
Cash Crate – Another platform to take surveys for money.
Other tips to make money doing surveys
You are going to get a lot of emails. I suggest that you either set up a separate email account just for the surveys, or you can setup your email account to automatically put emails from certain addresses into specific folders.
This works well because you don't have to worry about setting up another email and makes it easy to find.
Just pop into the specific folder a few times a week and see what surveys are available to take.
Also, make sure you already have a PayPal account setup and link this as your preferred payment method to your survey accounts.
I have notifications for all of this right on my phone. That is the best sound in the world when there is a deposit into your PayPal, there is a nice little "cha-ching," it never gets old!
Keep your survey info organized in a spreadsheet.
Simply create a spreadsheet where each survey platform has its own tab and within that you can track :
How many points or rewards you are earning
any free trials you may be participating in
when they end (so you can cancel before any turn into paying)
payout minimums
accounts or cards you have attached to anything.
Again, I know this may seem tedious, but you will thank me when you are not being surprised by a $40 monthly payment for a free trial that you forgot to cancel.
Lastly, doing online surveys is super easy and doesn't have to take a lot of time.
However, if you want to transition to working at home full time this is a great time to work on your time management.
Set aside 10, 30, or 60 minutes per day, whatever works best for you and stick with it.
If you truly want to start seeing a difference in your finances and want to work from home you need to be consistent and set a schedule!
How one mom stuck to a schedule:
One of the ways I started was when my daughter was in dance class for an hour, I would sit and do online surveys.

I had to sit there anyway, so why not be productive and do something that is going to make me some money!
Quiz: Do you have what it takes to be an entrepreneur?
Can You Really Make Money Doing Surveys? – Final Verdict
In conclusion, can you really make money doing surveys? My opinion is yes, you can make money doing surveys.
But, as I said before, it's not going to make you rich. And it's going to take your time. Time that could be better spent doing something more profitable.
More profitable activities like:
Your time is money, after all.
However, if you have time to kill, then, by all means, do some surveys and make some extra cash. An extra $100 a month can make a big difference.
Take Surveys For Money – Conclusion
There you have it, quick and easy ways to make money doing surveys.
There really is no limit to how many survey sites you can sign up for, and they all offer a little something different.
So go ahead and sign up for as many survey sites as you want.
What are some online survey platforms that you have tried? Have you cashed in on any rewards or other survey bonuses?