Invest Spare Change – How To Start Investing On A Budget
Did you know that you can start investing, even with just a few dollars here and there? You know how I have a passion for micro-investing by flipping websites.
But there's an even more micro way to get started investing. With your spare change!
It's true: you can invest spare change fairly easily these days. No need to hand over a big cheque to an intimidating broker, who speaks confusing finance lingo.
In this beginner's guide to investing, I'll show you some good micro-investing apps that allow you to start investing spare change without any hassle.
---
As an affiliate partner of various brands and sponsored content, HerPaperRoute may earn commission on qualifying purchases. Disclaimer | Advertise With Us
---
Invest Spare Change – How To Start Investing On A Budget
If you are not familiar with investing, starting can be kind of scary.
I'm sure you have also heard the old saying "make your money work for you." But what if you are too busy working for your money?
You might feel that because of your current less-than-stellar financial situation, you may as well skip the basic Finance 101 of actually investing your money.
🫶 Want to Make More Money?🫶
Become a member of HerPaperRoute today and get a toolkit packed with resources to help you make that paper. All for FREE!
---
And if that is the case, then you should first read this article: How to stop living paycheck to paycheck. It's a real eye-opener!
Free Budget Planner + Ebook
Get your free copy of my budget planner which includes a nifty ebook full of tips for how you can make more money, spend less, and invest smarter.
---
How To Start Investing Spare Change
When I first thought about investing, I pictured walking into a giant, marble-laden building with gold lion statues at the entrance.
Meeting with some stiff people in suits asking me for a check for thousands of dollars that I had no idea where they were going to put it.
When you start researching investing and hear terms like a diversified portfolio, bonds, asset allocation, it can make your head spin.
But investing doesn't have to be just for the rich, nor do you need to carry a dictionary of financial terms around. Anyone can be an investor-even with just a few bucks, when you invest spare change.
Let's explore how you can start investing spare change and get you in on the stock market before you know it.
Before you start investing, take this into account first…
When you are looking to start investing, there are a few things that you need to consider…
How much you can afford to invest (whether it's $5 or $500, you must start somewhere)
Your budget
Your financial goals
Your capacity for risk
So, in this post, I offer an overview of what you can do to start investing, rather than a personalized and tailored plan. If you are looking for a tailored investment plan, then you will need a financial advisor for that.
Before you start your investing journey, you need to make sure you have any leaky holes plugged up.
You should have an emergency fund established, of at least $1,000 if not the ideal minimum of 6 months of living expenses.
You should have your debt paid off.
If these two holes are not plugged, you can still technically invest, however, you might want to address the previous points first.
It can be very difficult to spread your money thin if you are trying to do all at once or losing money through increasing interest rates from debt.
You might already be investing without even thinking about it.
Remember that 401(k) paperwork you filled out when you first started you job–yes, that's investing!
See, it doesn't have to be scary.
Invest Based On Your Budget
Like I said before, you don't need to already be rich or inherit thousands of dollars to start investing.
There are ways to start investing today with just the change in your bank account.
Here, I will review a few different micro-investing platforms and spare change apps you can use, to start investing based on your budget.
Invest Spare Change – Acorns Review
Have you ever been to the grocery store and they asked if you wanted to round up your purchase and donate the change to a charitable cause?
Do you have any idea how many donations they can rack up that way?! A lot!
You can apply this same principle to investing.
And what easier way to invest your extra change than with a simple app and a few taps on your smartphone?
Acorns does just that. It takes the extra change from your purchases and invests them for you.
Start Investing Spare Change – Acorns Review
Acorns is a spare change app that rounds up your purchases, to make investing automatic.
Simply download the app here, enter in your info and you'll be able to pick your portfolio based on various criteria (such as your age, income level, and aggressiveness.)
A general rule of thumb is the younger you are the more aggressively you can invest as you have more time to recover from any loses.
After you pick all your parameters, Acorns figures out the rest. It even takes out the stresses of picking individual investments and does it all for you.
So how does the Acorns app actually work?
With the Acorns app, when you make purchases, your transactions are rounded up to the nearest dollar amount. When the amount hits $5, it gets put into your investments.
Is Acorns worth it?
The million dollar question. How much is this spare change app going to cost you?
With Acorns, there is a monthly $1 service fee. If you are investing over $5,000 then you will be charged 0.25% of your balance for the year.
Is Acorns worth it? I'd say yes, Acorns is worth it.
Other Micro Investing Apps
Start Investing With $5
Another good micro investing app is Stash. It only takes $5 to get the ball rolling.
How does Stash investing work? When you sign up, you will have access to more than 30 options to invest your money.
Plus, you know your money will be safe because Stash is a SEC-registered investment advisor.
If you sign up and are feeling overwhelmed by financial jargon, don't be. Stash has personalized assistance to help walk you through everything.
Another nice aspect of this spare change app is that you can even pick and choose where to invest based on what you can afford.
So how much does Stash actually cost?
Just as with Acorns, you will be charged a $1 per month fee. Although the first 3 months are free!
Same with Acorns, if you get up to $5,000, you'll be charged 0.25% fee per year.
Start Investing With $100
Want your money to work for you, and the environment?
Then check out the free Summit Checking Account and their investing platform Aspiration Redwood Fund.
Aspiration invests your funds in sustainable businesses, so go ahead and feel good about yourself and being a socially responsible person!
You only need $100 to open up an account with Summit.
Instead of gouging you with fees and taking your precious returns, Aspiration takes a different approach.
You decide how much you pay your portfolio manager.
Start Investing With $500
Of all the spare change apps, this one is a bit different, as it requires $500 to start investing.
$500 isn't exactly 'spare change' (at least not in my house) but if you want to start investing with $500, you can open an Ally Invest account.
This provides flexibility and has self-directed trading tools.
If you are a little more comfortable with the stock market, this is a great choice. Ally lets you buy stock from companies that you choose and invest as much or as little as you want.
Plus, there is no minimum balance to open an account. Although you do need to make a purchase of at least $100 when opening your account to start your investment train.
Start Investing Spare Change In Canada
If you are Canadian, you get to use the investing app WealthSimple.
This app provides investment options, money management, retirement planning, as well as the ability to round up and invest spare change.
Invest Spare Change – How To Start Investing On A Budget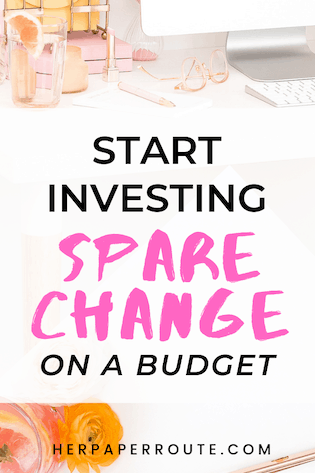 Now that you know how to start investing on a budget, it's time to do it!
It is always wise though to ask a professional when you have questions about your investment options. Investing is a very personal decision and does normally require a personalized plan.
But with the options listed above, anyone can start investing on any budget, so why wait?!
Are you going to start investing spare change?
Did you find this article helpful? Please share and pin it!
More Tips To Help You Start Investing On A Budget