How do you sell your online course like a pro? Selling your own online course is such a fantastic and smart way to monetize your blog. No matter what your niche is, there is someone out there who wants to learn what you have to teach.
Courses are a form of passive income, since creating a course is something you do the work for once, and then it sells over and over again on its own, forever. Cha-ching!
This site features ads and affiliate content Disclosure • Advertise with us
~ Pin This ~
3 Ways To Create & Sell Your Online Course For Maximum Impact
It can be a bit confusing deciding just how you want to present your course to the world, but fortunately, thanks to some really good tools, creating and selling your course is actually really easy!
For the longest time I've run the HerPaperRoute blog school on a platform called Teachable.
Teachable is a course creation and hosting platform that handles every aspect you need to successfully sell courses smoothly and securely.
But there are other options for course creation too!
I share a few more ways to create and sell your online course below.
Covering the pros and cons of each, and how to get the most out of each option, so you can choose which is the right option for you.
3 Ways To Sell Online Courses
1. Sell Your Course As An Email Course
Selling your online course as an email course is a more "grassroots" option.
The benefits of selling your course this way is that there it is usually the most cost-effective way to do it.
How an email course typically works:
You create the video and/or text lessons
You host the videos on Youtube as an unlisted link
Then set up an automation sequence with your email provider
Your students sign up to your mail list
They pay for the course via Paypal
And then receive a new lesson each day (or however often you decide).
Selling your course as an email course can be an affordable option.
It works best for courses that are smaller, and don't need some of the resources that an actual course platform provides.
It can be a great option if you are just testing the waters on being a course creator and aren't sure if you are ready to go pro yet.
But the cons of doing it this way is that you are really limited in what you can do.
It is less professional, and some of the more important aspects your course and students will need (and are custom to) either aren't possible, or will take more tech-know-how on your part to make work.
Your students likely will want to be able to log into a dashboard, review the lessons and access various resources, which an email course doesn't provide.
How To Create An Email Course:
Record & edit your video lessons, or write out text lessons
Host the videos as unlisted videos on Youtube
Create an automation sequence with your mail provider. I recommend ConvertKit for this as this app handles everything from email sequences, opt-in forms, subscriber management and newsletters.
You will have to set up PayPal buttons and place them in your welcome email, or on a page on your website so that people can pay to enroll in your course
Once your new student has paid, your automation sequence will start sending out the lessons (or the links to the lessons).
Price: About $29 per month for ConvertKit, plus PayPal transaction fees (2.9% per sale)
Pros To Selling Your Course Through Email: Affordable
Cons: It is a lot more work, you have to build everything separately instead of having one 'hub' of all the content, and you are limited in what you can do and what you can offer your students
2. Sell Your Course On Your Own Website
Hosting and selling your course on your own website is a great option which will give you more flexibility and control as a creator.
This is a professional way to sell your course which your students will appreciate. To set up your website, first follow my website starting guide, and then all you need to do is choose a course-centric theme.
The best way to sell your course on your own website is to use a professional WordPress theme that is designed for courses. These are called LMS themes (Learning Management themes).
I recommend the Academy Pro Theme from StudioPress or the Eduma Theme from ThimPess.
Academy Pro Theme
The Academy Pro Theme was created for online course creators, membership site owners, and educational content marketers.
These types of sites need to explain all of their hidden value, demonstrate authority, and tease their content — without being off-putting, losing trust, or giving all your exclusive ideas away.
Academy Pro Theme handles all of this for you. It is also easy to customize, easy to embed or host video lessons directly, search engine optimized, and run on the ever popular Genesis Framework, a system that simply makes websites better!
Test out a full demo of the Academy Pro Theme here.
Related: What is the Genesis Framework by StudioPress And Why Does Your Website Need It?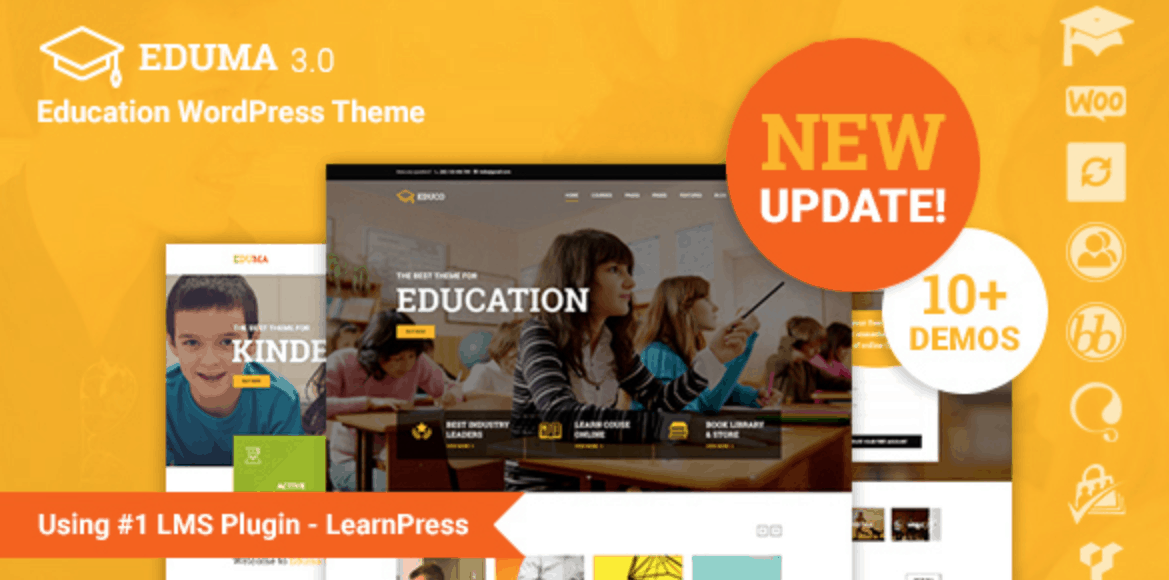 Eduma Theme
The Eduma Theme gives you everything you need to run a professional school right from your own website.
This theme includes a selection of premium plugins, including LearnPress, the #1 LMS plugin on the official WordPress Plugins directory.
Price:
$129.95 for the Academy Pro Theme, (includes the Genesis Framework)
or $69.00 for the Eduma Theme.
Pros To Selling Your Course On Your Own Website: Professional, easy to customize, and you have full control of your own website.
It is more cost effective than using a platform like Teachable.
Cons: If you aren't comfortable customizing your own website and themes, this option probably isn't the best for you.
Also, you will have to handle the payment gateway yourself. Which isn't really a con, but worth mentioning.
3. Sell Your Course With A Course Creation Platform
A course creation platform is an online tool that provides all of the tools and technology to create, launch and host your course.
No website maintenance or tech know-how required.
The main platforms are Thinkific, Coach and Teachable.
There are a few really good reasons to use Teachable:
Teachable handles all of the payment gateways
Teachable integrates with Convertkit, so as soon as anyone enrolls in any of my free or paid courses, they are automatically added to my mail list, and entered into my welcome sequence and sales funnel, without me having to do a thing
Teachable comes with a pretty amazing affiliate feature, where you can run an affiliate program for your courses and have your own affiliates promote your school, and they can log in to their own affiliate dashboard, track their commissions and more
The price of the platform includes hosting!
Price:
Using a course creation platform is more expensive than self-hosting on your own website.
To use a course creation platform like Teachable, you will need to pay a monthly membership fee.
There are 3 tiers of membership, depending on your needs.
The basic plan at $39 per month charges 5% per sale, whereas the professional plan at $99 per month has no fees.
So with the professional plan, although it costs a bit more, you keep every cent from every sale you make.
Considering just one course sale per month would cover the cost of the platform, it makes sense to be on the professional plan.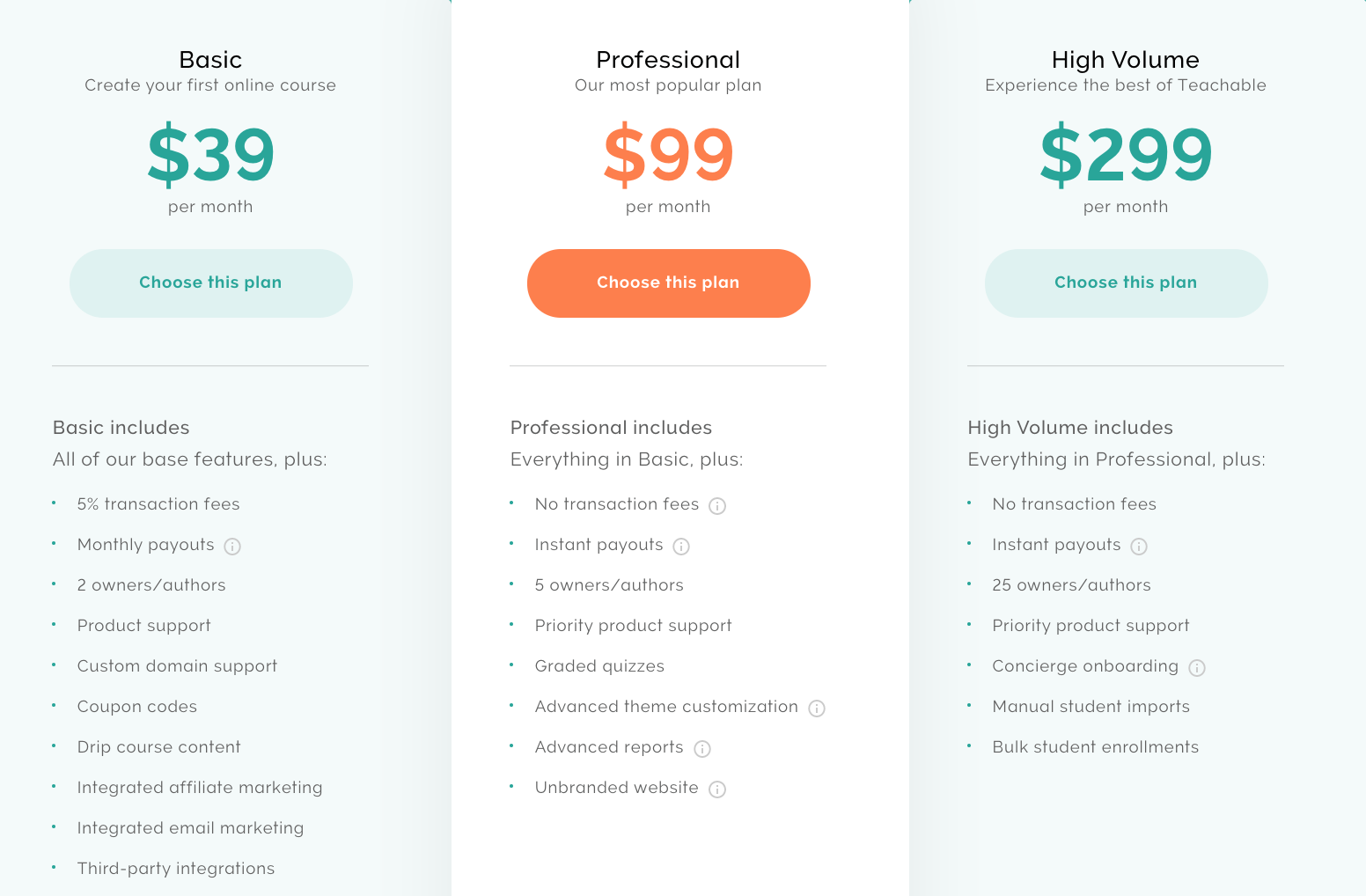 Included in all plans
Unlimited video
Unlimited courses
Unlimited students
Unlimited hosting
Integrated payment processing
Student management
Discussion forums
Basic quizzes
No fees on free courses
Pros Of Selling Your Course On A Course Creation Platform: It is very professional and simple to use – anyone can use it, no tech know-how required.
All of the tech, hosting, content creation apps and tools are included and managed in one place.
Easily integrates with Convertkit, plus Teachable handles your payment gateway, which is huge.
Ability to run your own affiliate program. Your students can log in to their own dashboard, and so can your affiliates.
Cons: This option is more expensive than self-hosting courses on your own website.
But, when you take into consideration that all you could sell your course for $100, you'd only have to sell one per month and you would be paying off the price and then some.
Ready To Learn The Business Of Blogging?
My full profitable blogging course BE YOUR OWN BLOG BOSS is in session! Learn everything you need to create, launch, market and monetize a successful blog.