Best Fashion Affiliate Programs For Fashion Bloggers
Joining fashion affiliate programs and promoting the brand's products is a fantastic way to monetize your fashion blog and add to your monthly income. Affiliate marketing can be extremely lucrative.
To learn how to start a blog and monetize it, enroll in this free course. It gives you a ton of tools and resources on blogging, as well as an intro to affiliate marketing.
As well, read this ultimate guide to affiliate marketing!
Best Fashion Affiliate Programs For Fashion Bloggers
New to blogging and/or affiliate marketing? Read our ultimate beginners guide to affiliate marketing.
---
As an affiliate partner of various brands and sponsored content, HerPaperRoute may earn commission on qualifying purchases. Disclaimer | Advertise With Us
---
Read on to discover what some of the best affiliate programs for fashion bloggers are.
Best High Paying Affiliate Programs For Fashion Bloggers: Fashion & Beauty Niches
Fashion Affiliate Marketing Tip:
When you are just starting out it can feel like an uphill battle to get those first 10,000 page views, first 1000 mail subscribers, and that first $1000.
But the thing is, once you reach those first milestones it becomes easier, and your traffic, subscribers, and income will increase each month.
🫶 Want to Make More Money?🫶
Become a member of HerPaperRoute today and get a toolkit packed with resources to help you make that paper. All for FREE!
---
Plus, when you consider that some of the fashion affiliate programs on this list sell their products for hundreds of dollars, and the average customer order can be in the thousands, your 5-15% commission can really add up!
So Hang In There!
Just keep at it! And if you need some help understanding how to maximize your earnings as an affiliate, come enroll in my class Be Your Own Blog Boss, you will learn the complete business of making money from blogging in one self-paced, easy to understand online course.
As well, get free access to the my resource library of blogging tips and tools, by joining the HerPaperRoute Profitable Blog Toolkit here:
How Do You Join Fashion Affiliate Programs?
To join any of these affiliate programs you must first:
1. Have a blog – Here's how to start a blog
2. Have a ShareaSale, and AWIN account.
3. Click the program links below to sign up to each program
4. For more, purchase the full affiliate program master list!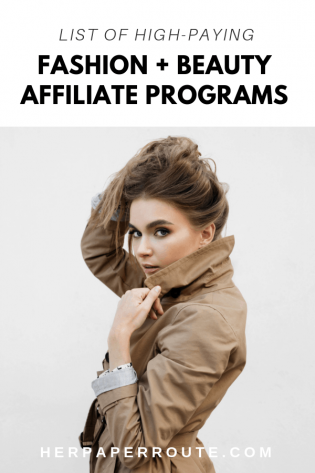 How To Get Paid For Fashion Blogging
Quick tips for getting approved to fashion affiliate programs
Your blog is live and has a few pages of content. No 'coming soon' or 'under construction' websites
Mention in your application your best stats (social media followers, page views ect)
Mention in your application how you intend to promote the brand (on your blog, your social media, ect)
Also, make sure you have your media kit ready for any sponsorship opportunities!
Best Fashion Affiliate Programs For Bloggers:
Style, Accessories, Jewelry & Beauty Niches Too!
This list is updated often so bookmark this page and check back often!
AWIN
Nasty Gal 8% plus influencer initiative (read about that here)
Etsy (US, UK, AU & Canada) 5 – 8% per sale
ASOS 5% plus multiple global markets
FabFitFun $9 per sale
Once you join AWIN, you will be able to participate in hundreds of affiliate programs. Such as:
The Bodyshop 8%
GlossyBox $22 per annual subscription sale
Urban Decay 5%
The Fashion Bible 7%
Latest In Beauty 10-12%
Lily Loaf 8%
Revolution Beauty 4%
As well as all of the programs in these categories:
Clothing
Clothing Accessories
Department Stores
Health & Beauty
Jewelry
Menswear
Shoes
Sports Equipment
Sportswear
Womenswear
*There is a $5 one time sign-up fee for AWIN, but once your account is approved, they credit the $5 to your account and you get it back on your first payout.
ShareASale
Beauty
Tula Life 20% per sale
Madison Reed Hair Color $20 per transaction, $10 affiliate bonus + free products
Lip Monthly 20% per sale
Julep 3-8% per sale
Mineral Hygienics 10% per sale
Total Health & Beauty 20% per sale
WinkyLux 7% per sale
GlamBoxes 13% per sale
[adsense]
Fashion
Osap Up to 30% per sale
Rosegal Up to 25% per sale
Warby Parker 20% per sale, $10 affiliate bonus
Cricut 12% per sale, plus $10 affiliate bonus
Bluprint affiliate program up to 75% per sale
Globein Artisan Box 8% per sale
Faithbox $10 per sale
Lingerie Mart 7% per sale
Karina Dresses 10% per sale
Gorilla Wear Fitness Apparel 10% per sale + 10% affiliate bonus
Reebok 7% per sale plus 35% off to try their products
Angelique 18% per sale
Pandahall 7% plus affiliate bonus
SilverRushStyle 15% per sale
More High Paying Affiliate Programs By Niche:
Choose A Category To See The Programs:
Want Access To Our Full Affiliate Program Database?
Unlock 3,000+ affiliate programs now and save $15!

Affiliate Program Database: 3,000 High-Paying Affiliate Programs You Can Join!
READY TO GET SERIOUS ABOUT MAKING MONEY FROM YOUR BLOG?
Be Your Own Blog Boss is the online course bundle I have created to teach the business of blogging and marketing. You will learn everything you need to know to be able to start, run, market and monetize your blog.
If you are struggling to make money blogging, you are going to love this self-paced course. Take a look at some of the course content here!