How To Create A Killer Blog Media Kit – And How To Work With Brands
Create a media kit, work with brands, and make money blogging. 
Hey, friend! Do you have a media kit for your blog, yet? When it comes to monetizing your blog and working with brands for paid sponsorships, it's important to have a media kit. 
One of the things I like best about hosting a members-only blogging community (called the HerPaperRoute Toolkit, you are welcome to join below, it's free!) is answering your questions individually, giving one on one coaching to new bloggers on how to improve and monetize your blog, and then seeing how your blog grows and prospers. I absolutely love it!
Get The Profitable Blog Toolkit By Joining Here: 
PROFITABLE BLOG TOOLKIT
Get Instant Access To My Members-only Resource Library Packed With FREE Tools To Grow Your Blog + Biz!

HerPaperRoute is a resource for bloggers to learn tips and tools to improve and monetize their blog and business. As such, this post may contain affiliate links as I recommend products/tools that I use in my business. For more information, see my disclosures.
Blog Media Kit
Something that I get asked about a lot is media kits and how to use them to get paid blogging jobs.
"What is a media kit?" 
"Why does my blog need a media kit?" 
"How do I make a media kit?" 
"How can I work with brands and get paid to blog??!" 
Making a media kit and pitching to brands is a lot less complicated than you may think. You don't need any fancy software or a design degree to create one, and there are literally thousands of brands out there dying to pay bloggers to blog about their products.
This post will explain how to create a media kit, why you need one, and how you can use it to pitch to brands for paid sponsorships.
The info is ripped from a lesson in a course that I teach called Be Your Own Blog Boss, which covers everything you need to know to run a profitable blog.
I decided to share the lesson here to help you in your blogging journey. If you find it useful and are interested in learning more about making money as a blogger, I welcome you to take the course! Here is a special discount for it >> Blog Boss Promo Price! 
What Is A Media Kit?
A media kit is a 1-2 page PDF that advertises your blog stats. Such as what your blog is about and how many social media followers you have. 
Why Does My Blog Need A Media Kit?
You need a media kit to send to companies when you propose partnerships with them for paid blog sponsorship. You need a media kit that shows why you are an influential blogger and why they should work with you.
A media kit is needed for working with brands as an influencer, but you do not need a media kit to work with brands as an affiliate, but it's still good to have one ready. 
Related: How To Create An 'About Me' Page That Converts To Subscribers & Sales
What Is The Difference Between An Influencer And An Affiliate?
An affiliate is a blogger who has joined the affiliate program of a brand, and blogs about a product, with links to the product's sale page. 
For example, The Nasty Gal affiliate program, ASOS affiliate program and Etsy affiliate program are all hosted on the AWIN affiliate network. So to join any of those programs, you would first join AWIN. 
Affiliate links contain an affiliate tracking code unique to the blogger. If someone buys the product the blogger earns a commission from the sale.
It does not cost the buyer anything, and it is relatively easy to become an affiliate for a brand. You don't need a ton of traffic or followers to do so.
Affiliate marketing can be very lucrative, depending on how well you write and 'sell' a product.  Check out this list of high paying affiliate programs you can join today! 
Once you have a good amount of traffic and followers you may be considered an influencer. An influencer is paid by a brand to post about their products, (called sponsorships) and make money simply by posting the content, no matter if the product sells or not.  
You will need to prove to a brand that you are an influencer to be considered for a paid sponsorship – a media kit will help you.

You can absolutely be both an affiliate and an influencer for a brand. 
Micro-Influencer Marketing
There is a high demand for Micro-Influencers, which are bloggers who have small, targeted niche audiences.
Micro-Influencers earn a living from their bijou online following, getting paid to blog and post on Instagram via sponsored brand partnerships, while gaining a ton of free products along the way.
To learn influencer marketing, and learn how to position your blog and yourself as the authority as a Micro-Influencer in your niche, check out The Micro-Influencer's Handbook.

The Micro-Influencer's Handbook: Gain insight into the business of blogging and influencer marketing, learn the tools you need to work with brands, create high-converting content, advertising, and successfully monetize your online persona.
How Do I Make A Media Kit
It is actually very simple to make a media kit, and you can do it online for free. Canva has a ton of free media kit templates, all you need to do is drop your info in. 
What Do I Include In My Media Kit?
A photo of you

Your blog logo

A screen shot of your blog's home page

What your blog is about / what you write about

Links to your top/best posts

A short bio about you

Your social followers on all social media platforms

Your traffic – Check your Google analytics to see how much traffic you currently have coming in per month and list the number of page views, sessions and/or users

The number of subscribers you have on your mail list

Who your audience / demographic is – I use a free online tool called Quantcast for this

List your rates and advertising policies

List where sponsored ads will appear 
The design of your media kit should match your brand / site design. Use the same colors and fonts. 
Media Kit Examples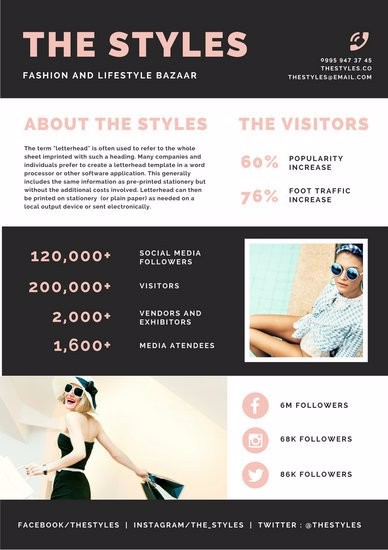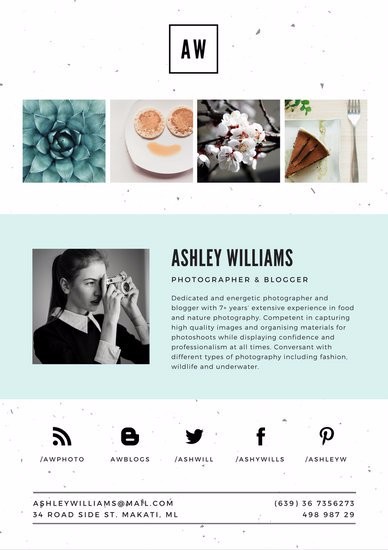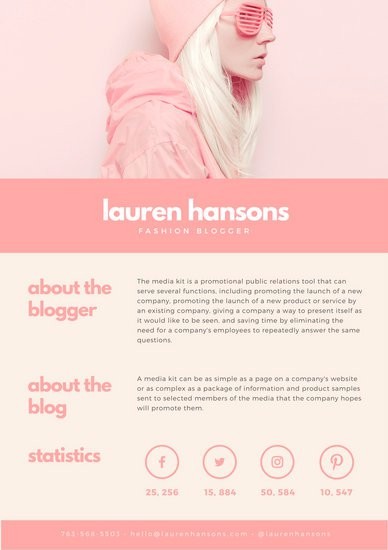 What Are My Posts Worth? 
Once you have your media kit ready, you can determine what your posts are worth (what to charge) and then start approaching brands. You can contact a brand that you want to work with directly, simply by sending them an email, and you can also join an influencer agency.
Influencer agencies are free online social networks that connect bloggers with companies.  I like Izea & Linqia.
Both networks are for influencers to work with brands to make money from sponsored blog and Instagram posts. You will get paid by leading brands and agencies to produce and share sponsored content with your social media followers. Both networks are free to join, but they are invite only. Here's your invite to Izea  & Here's Your invite to Linqia!
How much of an influencer you are depends on how many social media followers you have, and how much traffic your blog gets. The more followers and traffic you get, the more you can charge for sponsored posts. 
The typical rule for charging for posts is $10 for every 1000 followers you have. So if you have 5000 Instagram followers, you could charge a brand $50 to post a 'gram about their product. 
Brands are looking for influencers with engaged followers, meaning followers who actively comment on your posts. 
How To Pitch To Brands
When contacting a company with a proposal, keep this in mind:
Keep it short and to the point

Mention your best stats / most followed accounts

Clearly explain why you are a great brand ambassador FOR THEM, and what THEY will get / how they will benefit from working with you

Mention why you love their products/brand and exactly how you intend to promote their products/ brand 

Include a link to your media kit (not an attachment)
Don't get discouraged if you get rejected a few times (or a lot of times!), continue to apply to brands until you find the right fit. And always continue to work at growing your blog and social accounts.
Ready To Turn Your Blog Into A Biz?
BlogBoss is the online course I have created to teach the business of blogging. You will learn everything you need to know to be able to start, run, market and monetize your blog.
If you are struggling to make money blogging, you are going to love this self-paced course. I cover everything!  Take a look at some of the course content here.
Don't let the amount of information I am providing intimidate you. I teach everything in step by step easy to follow lectures, in ways that are simple and straightforward to understand. No technical jargon to confuse you! Just a whole lot of value on how to take your blog and make it profitable!
For More Profitable Blogging Tips…
PROFITABLE BLOG TOOLKIT
Get Instant Access To My Members-only Resource Library Packed With FREE Tools To Grow Your Blog + Biz!