6 Crucial Email Marketing Basics For Bloggers
Email Marketing Basics For The Blossoming Blogger. Having a thriving email list of engaged fans is the fastest way to make money blogging.
Honestly, when you have an email list of fans of you and your blog, you can send out an email and make sales at any time.
But in order to be able to have this luxury, the two most important things you can do as a blogger is to self-host from day one, and to build an email list from day one.
In this post, I'll share email marketing basics for bloggers that will save you months, if not years of trial and error time.
---
As an affiliate partner of various brands and sponsored content, HerPaperRoute may earn commission on qualifying purchases. Disclaimer | Advertise With Us
---
Email Marketing Basics For Bloggers
I hear it again and again from bloggers around the community.
They say they wish they hadn't waited to do these two crucial things from the start instead of waiting and then playing a painful and time-consuming game of 'catch up' later.
Before we dig into these essential email marketing tips, we first need to make sure your blog is self-hosted.
🫶 Want to Make More Money?🫶
Become a member of HerPaperRoute today and get a toolkit packed with resources to help you make that paper. All for FREE!
---
That means that you pay a web hosting company to host your site (preferably utilizing WordPress.org as your CMS), so you fully own your website and all of its content.
Self-Hosting Isn't Hard Or Expensive To Do.
In fact, starting a self-hosted blog or switching your current blog to self-hosted is extremely easy and affordable.
To self-host all you need to do is purchase WordPress.org hosting. I recommend this host for this.
Take advantage of my partner bonus and get your hosting for just $2.95 per month! This even includes a free domain!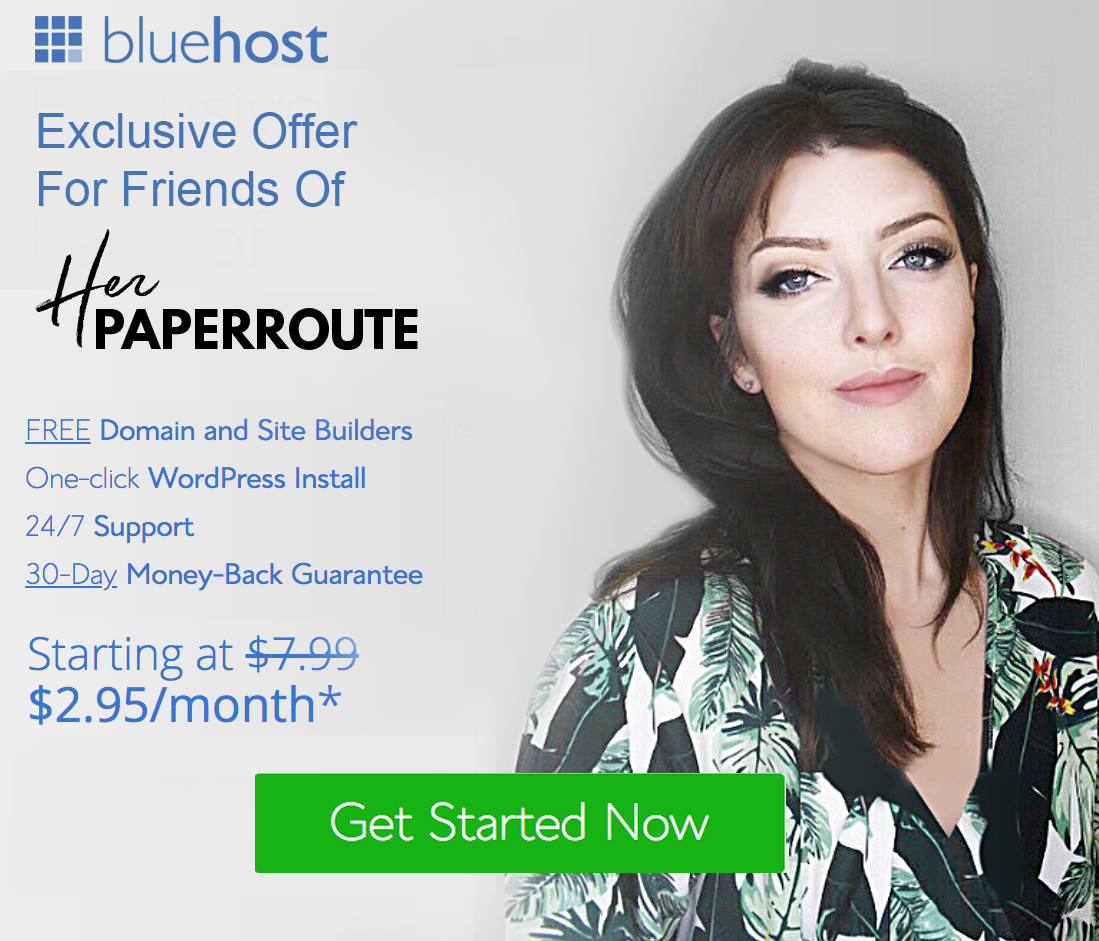 This small investment makes a huge difference, as once you self-host, you will own your website and all of it's content.
This means you are free to run ads, earn affiliate commissions and other revenue, which you can not with a 'free' website.
Check out this guide to setting up your self-hosted blog, and you will be up and running in a matter of minutes!
As Far As Building An Email List…
Building a list, and email marketing, in general, plays an important role in determining just how successful your blog will be.
Vow to make it a top priority to focus on growing and nurturing your list from day one, and you will be all the better off in the long run.
Having an email list of subscribers who read your emails is a sure-fire way to make money online.
It's never too early to start building your list. So if you haven't started one yet, let today be the day!
Email Marketing Basics For Bloggers
1. Why Is List Building So Important?
There are many reasons why it is important to build your email list, but the top 3 are:
Your email list is the only real tangible thing you own when it comes to your audience. You don't own your social media followers, you don't have their email addresses, you have no access to them, as they could go offline and you'd lose them forever. But when you have an email list of subscribers you really do have access into their homes, via their inbox.
Communication through email is so much more personal. You can say a whole lot more in an email than you can in a tweet! With email marketing, you can build a relationship with your readers and nurture it over time.
Email marketing has a high-conversion rate. When someone opens your email they are already interested in what you have to say. With an email you are giving your reader a personal invitation to read your posts, and to try your products. Your readers are often likely to purchase what you are selling in these personal email conversations.
2. What Is The Best Email Service Provider?
I regret not using a premium email service from the start, as when I started blogging. I wasted a ton of time using less professional email marketing tools that only caused me a ton of stress.
Yes, it is a financial investment which can seem high, when you are just starting out.
But of all the investments that you will need to make in your business, be sure not to skimp on your email service provider.
There are a few main email service providers that I would recommend. Depending on your needs and budget, here are the benefits and differences:
ConvertKit – ConvertKit is a popular, professional email service provider to use. It's is a professional mailing system that easily integrates into your website, where your readers can sign up to your newsletters.
You can easily create landing pages, create and send campaigns (newsletters) manage opt-in forms, automation, and more.
ConvertKit now offers a free plan with limited features, free for your first 100 subscribers. Paid pricing starts at $29 for 1000 subscribers.
Cons: The price increases the more subscribers you have, which can get pricey quickly
FloDesk – If you have more than 1000 email subscribers, a better deal than ConvertKit is to go with Flodesk, as you get to have unlimited subscribers and all features for the flat rate of $38 per month.
BUT If you use my link right here, you'll get an extra 50% off deal, giving you unlimited subscribers for just $19 per month!
---
3. Is Email Marketing Just Selling Via Newsletters?
Email marketing is more about building relationships and not just about selling through newsletters.
Email marketing is about building relationships with your readers, telling stories, engaging with your community and above all it's about helping people get the information they need, that you and your product can give them.
The sales that you make from your email marketing campaigns is a goal – yes absolutely – but make helping people be the driving force that gets you there.
If you truly want your blog to help people (and I hope you do), you need to focus on nurturing your email list and building a long-term relationship with those subscribers.
If you do that you will be successful and you will make those sales.
4. Important GDPR Laws
GDPR (General Data Protection Regulation) became law in 2018. It affects everyone worldwide who has a website and/or email list where European Union citizens may view and subscribe.
Be aware that the fines for not being GDPR compliant are in the millions.
Therefore, before you begin email list building, be sure to read how to make a blog GDPR compliant.
5. How Do You Get People To Join Your Email List?
Easy! You need to offer an opt-in freebie to visitors of your blog!
What Is An Opt-In Freebie?
An opt-in is something free that you offer your readers in exchange for their email address / subscribing to your mail list.
You can't just throw a form in your sidebar with "Sign up for my newsletter!" beside it. No one hands over their details for that! You have to give them something of value in exchange.
You can use Convertkit or FloDesk to create a form to collect subscribers and set up what's called 'automation' to have a pre-made email automatically sent out to every new subscriber, containing a link to the promised opt-in freebie.
An opt-in freebie, also known as a 'lead magnet' could be a downloadable checklist or cheat sheet, an ebook, a discount for your services, a free product, ect.
See my list of easy lead magnet ideas, which are all things I have personally done that helped grow my list to over 30,000 subscribers.
HerPaperRoute Profitable Blog Toolkit
Here at HerPaperRoute, I offer a 'Profitable Blog Toolkit' as an opt-in to my mail list. This is a members-only resource library of exclusive content related to helping people monetize their blogs.
The freebies in this toolkit provide useful, helpful information about blogging and blogging for profit.
When I added this opt-in to my website, my mailing list grew from 0 to 1000 in the first month – a number that continues to double each month!
You can access the HerPaperRoute Profitable Blog Toolkit for FREE by joining here!
This was one of the ways I've grown my list so quickly, and I highly recommend that you create a niche-specific opt-in freebie for your readers right away.
It will not only help build your audience but it will build your blog income up in a big way!
What the freebie is is up to you, but whatever it is it has to be in line with your niche and it has to specifically be something that will attract your target niche audience/customer.
Your Opt-In Freebie MUST target your Niche Audience
You want your opt-in to be something that is appealing to your target niche audience and your target niche audience ONLY!
Your opt-in is a tool to "catch" the right people for your mail list, people who will ultimately be interested in purchasing the services and products you offer.
If you don't target your ideal niche audience you will end up having a bunch of people on your list whose interests are not specifically in what it is that you sell.
You can't sell to them, and worse they end up costing you money by taking up valuable space on your mail list, as you pay for your mail service by subscriber count!
5. How Often Should You Email Your List?
Your subscribers want to hear from you, but they don't want to hear from you too much!
Sending out a weekly email to your subscribers is considered appropriate, and welcome.
However, there are a few top bloggers who recommend emailing more during a launch. Some even say that if you are launching a project (a course for example) to email your list every single day for a week – which I disagree with!
The strategy of emailing your subscribers every single day may work for a top blogger with millions of fans, but for most people, sending out that many emails to your subscribers will only get you a ton of unsubscribers and spam complaints!
Emailing your list every day may be ok if you are an established / high ranking authority in your niche, with subscribers who are more likely to stick around regardless – but for the average person it is just terrible advice.
Setting up an automatic welcome sequence with delays in between emails is a great way to keep your subscribers up to date and engaged without annoying the heck out them.
6. More Information On Email Marketing
To learn all about the business of blogging, including professional email marketing strategies, enroll in my Blog-To-Biz course Be Your Own Blog Boss.
You will learn how to set up sales funnels and welcome sequences, as well as how to earn money blogging with affiliate marketing,
This self-paced course covers everything you need to create, launch, market and monetize a professional, profitable blog.
Or, if you are looking for a course on email marketing ONLY, enroll in my in-depth email marketing course!
6 Crucial Email Marketing Basics For Bloggers – Conclusion
Was this Email Marketing For Bloggers resource helpful? Please share it and pin it!