Make Money On Pinterest With Affiliate Marketing In 2023
Do you want to know how to make money with Pinterest with affiliate marketing? Is it possible to make money on Pinterest with affiliate marketing?
Yes, it sure is. It's super easy, too. Imagine if you could get daily commissions by pinning on Pinterest even without a blog. How about if you could make another $50-$100 a day?
While it helps to have a blog where you can educate with tutorial posts, you can still make affiliate commissions by linking to products straight from your pins.
Pinterest is an absolute gold mine for bloggers. Not only can you use the platform to drive traffic to your blog posts, freebies, and products — you can also spread your affiliate links far and wide and bring in passive income!
---
As an affiliate partner of various brands and sponsored content, HerPaperRoute may earn commission on qualifying purchases. Disclaimer | Advertise With Us
---
Even better than that is the fact that your Pinterest affiliate marketing strategy can be relatively automated with a tool like Tailwind. Essentially, you do the work once and reap the benefits over and over for years to come. Sounds pretty good, right?
Ready to learn how to make affiliate marketing on Pinterest work for you? Carry on reading…
How To Make Money On Pinterest With Affiliate Marketing In 2023 – The Ultimate Guide
Can you really make money with Pinterest? Yes? No? Sometimes? If you are special…?!
🫶 Want to Make More Money?🫶
Become a member of HerPaperRoute today and get a toolkit packed with resources to help you make that paper. All for FREE!
---
The answer is yes you can make money with Pinterest, and anyone can do it.
First, you should read this guide: Learn Affiliate Marketing For Beginners, to get a good foundation.
Then, know that Pinterest is an image-based social media site with over 435 million unique users every month.
But most importantly, Pinterest is also a search engine, just like Google and Youtube.
Why Start Making Money On Pinterest With Affiliate Marketing?
What is interesting about Pinterest from an affiliate marketer's point of view is that people actually go there to shop.
Some statistics show:
Over 58% say they use Pinterest to make purchasing decisions

6 out of 10 millennials say they use Pinterest to discover new products

90% of weekly pinners have used Pinterest to buy a product

Over 50% of Pinterest users earn 50k or more a year
So as you can see, Pinterest is ripe with an audience wanting to buy, that has disposable income.
Which is perfect for recommending products and affiliate marketing on Pinterest!
How Much Money Have I Made On Pinterest With Affiliate Marketing?
Personally, I have earned a few million dollars from affiliate marketing, since I quit the workforce to pursue blogging a couple of years back.
And that income is greatly thanks to all the free traffic I've received from Pinterest.
I am not sure of the exact dollar amount of my income that was directly converted from Pinterest traffic, as that is difficult to track.
As many of my affiliate pins lead to lead magnet pages, that then warm up the buyer via an email sales funnel where they convert later (and then that leads into my high-ticket offers, which then circles back to affiliate offers in the funnel!)
Some of these buyers that originally found me via an affiliate pin on Pinterest end up buying a website from my website flipping marketplace or selling their website there, which leads to a commission.
So, a direct pin click to immediate sale is tricky for me to track!
However, I estimate that Pinterest traffic contributes to around 60-75% of my annual sales income. Which is pretty significant.
Why aren't you taking Pinterest seriously yet? 😀
Should You Put The Affiliate Link As The URL On The Pin?
When you are uploading your pin, there is an area to put your link. This is called the 'destination link' aka where you want people to be taken to when they click your pin.
You absolutely can put your affiliate link there. If you don't have a website, you can simply send Pinterest traffic directly to your affiliate offers.
However, I like to use this link opportunity to send people to my website first, where they can read my review of the product first, rather than send them right to the affiliate brand's website.
This way, I'm getting more traffic to my site, while educating the buyer and giving them more value.
Doing this can help to grow your email list, as you can convert those people to your list, by offering them a juicy lead magnet while they read your affiliate review.
But worth it to try both, and see which results in more sales for you.
What's More Important, Pinterest Monthly Views Or Pin Clicks?
Pin clicks are more important than Pinterest monthly views. But actually, it is outbound clicks that is the metric you should care about.
The monthly views metric simply shows you how many people saw your pins in their feed over the past 30 days (aka impressions).
The pin clicks metric shows you how many people clicked your pin, to view it more closely, But from there, they may or may not have actually clicked the link on it, to actually visit your website.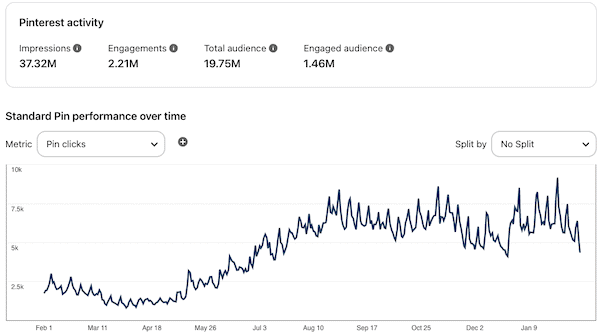 Whereas the outbound clicks metric shows you how many people actually clicked on your pin and viewed your website. This is your actual website traffic from Pinterest, and what matters.
As this is the metric that will be related to actual traffic and sales in your business.
How To See How Many People Clicked Your Pins and Visited Your Website From Pinterest
When looking at your Pinterest analytics, beside the word 'Metric' select 'Outbound Clicks' from the dropdown. This will show you how many people are visiting your website after clicking on your pins.
In the image above, you will see a traffic graph of outbound-click stats that my home decor site received in the past year.
The interesting thing to me is that my pins that received outbound clicks were old pins. I created them nearly two years before they started getting momentum!
Whereas my new pins currently get almost no clicks at all. This means that it takes time for a pin to get "picked up" and start ranking on Pinterest.
So don't get discouraged if your new pins aren't sending any traffic yet. Play the long game, and just keep pinning!
When you scroll down further on your Pinterest analytics page, you will see a list of the pins that were clicked on, which will give you more insight into what types of visuals and topics people are resonating with most.
Should You Have A Different Pinterest Account For Each One Of your Websites?
Yes, you should definitely have a dedicated Pinterest account for each one of your websites.
Not only will this keep your niches separate and organized, but it's also a necessity when you want to sell one of your websites to a new owner.
Where Do I Find Affiliate Links for Pinterest?
It's important not to just promote anything and everything on Pinterest to make a quick buck.
Look at what you already pin, who your audience is and what you think they would like to buy. What would help someone in your niche to do something faster, easier, or with less stress for example?
If you solve someone's problems with a great product, you can make money and likely have them follow you for life.
To find great products to promote, join and search free affiliate networks. Some quality affiliate networks to look at are;
As well, take a look at my massive affiliate program database.
Other ways to find affiliate links for Pinterest are by looking at products you already use. Maybe that course you took, book your read or brand of cosmetics has an affiliate program?
You can research websites to check if they have an 'affiliate page' or 'partner' tab. Or type into Google your product + affiliate program. For example; dog bed + affiliate program.
What Are Popular Pinterest Niches?
Pinterest statistics show that seven out of ten users are female with the age distribution being predominately between 30-49. The 18-29-year-old female demographic closely follows behind.
This means you should choose affiliate products to promote that will be of value to these readers. Here are some ideas for popular affiliate niches and products you can promote on Pinterest.
Fashion. Links to clothes like shirts, shoes, hats, sunglasses, trousers and dresses to very well on Pinterest
Parenting. Pinterest is a hugely popular platform for mums who look for toddler products, toy inspiration, games/crafts for young ones, kids snacks, clothes, and much more
Nutrition, cooking, and fitness. Many people will browse Pinterest looking for meal inspiration. Affiliate pins could include cookbooks, cooking courses, utensils, appliances or a fitness program
Money making, money-saving. Everyone wants more money! Create boards for each and you can promote helpful products like money-saving coupons, best credit card deals, a book about passive income and courses to make money with an online business
Blogging and online business. Send users to your favorite blogging course, EBook, blog hosting company or bundle of blog boosting templates
Arts and crafts. Artsy tools, supplies and related courses are received well on Pinterest

As Pinterest is image-heavy, beautiful pins of your latest travels will go down well. Here you can promote anything travel related like booking sites, tour operators or links to your favorite suitcases/backpacks
Exact Steps to Start Affiliate Marketing on Pinterest Without a Blog
Let's now take a look at how to create your first affiliate pin on Pinterest. Here's an overview of what you need;
A Pinterest account

A free Canva account to create a beautiful pin. Canva Pro gives you more capabilities and features.

The affiliate link of the product you want to promote
I won't go over creating Pinterest pins here. You can check out this guide on how to make irresistible pins in Canva. It's super easy and beginner-friendly.
Aim to make at least x3 variations of each pin. This allows you to monitor the results and see which works best.
Here's what to do next, once you have your affiliate link and affiliate pins.
Step #1: Inside your Pinterest account click on the plus sign to add a new pin.
Step #2: Click the camera icon to upload your affiliate pin. In the website link section, this is where you put your affiliate link.
Step #3: Write a keyword-rich description. Use the Pinterest search bar to find popular terms people are searching for. You'll want to include these in your description. Another idea is to use this free Pinterest keyword search tool.
Step #4: Make sure you disclose the pin is an affiliate pin. When you add extra keywords at the end of your description, add in something like #affiliatelink, #promotion or #sponsored.
Step #5: Save your pin to the most relevant board first so Pinterest knows what it's about.
So if you're promoting a summer dress, save it to your summer dresses board before you save it to a general travel board.
Step #6: Create specific boards for affiliate products. Ideas are Best Tools For Travel Bloggers or Tools and Resources For Cooks/Mums/Artists etc.
This gives a place for your followers to go to straight away when they know they want to buy something.
9 tips to make money with affiliate marketing on Pinterest
Ok, now that you know the foundations or how to make money with affiliate marketing on Pinterest, let's get down to business.
1. Only link to products you've used & loved
This one will be obvious to a lot of you, but I think it's worth mentioning. Please don't let the prospect of making money get in the way of the trust your readers have for you and recommend products you haven't tried or don't truly love.
Here's the affiliate marketing golden rule: Only promote products or services that you've used and would recommend to your mom or best friend. Deal?
Now that we've gotten that out of the way…
2. Nail your pin descriptions
Your pin descriptions are one of the best ways to "sell" the product or service you're recommending with an affiliate pin.
You'll definitely want to use SEO keywords related to the item you're promoting, so your pins will rank higher in Pinterest search.
For more details on Pinterest SEO, check out my post on finding the perfect Pinterest keywords.
Second, you should write an honest and compelling mini-review of the product right in the pin description. In 2-3 sentences, explain:
What the product is
Why you love it so much
What value it's provided for you (e.g., cut back on time, saved you money, etc.)
Above all, make your pin description personal and engaging. Now that affiliate links are commonplace on Pinterest, simply listing the product name and price isn't gonna cut it!
Make people fall in love with the product by explaining — in a personal and down-to-earth way — how it's benefited you and your life.
3. If it doesn't fit in on one of your boards…
Don't put it there!
Here's what I mean by that: If an affiliate pin doesn't naturally fall into the categories of one of your boards, don't put it there just because you can. You still need to keep up your Pinterest standards, after all.
Throwing in random pins here and there is only going to lessen your credibility. Sure, you might make an extra buck or two, but is it worth it if you lose your most faithful and loyal followers in the process?
With that said, if there's a product you really, really love, but it doesn't fit onto any of your boards, that's where Tip #4 comes in…
4. Create a board to feature your favorite tools and resources
Yep, you have my permission to create a board specifically for your favorite tools, resources, products, and courses.
This is where you can share those affiliate links and products that don't fit in anywhere else.
But remember: Everything you share must benefit and/or be of interest to your ideal reader.
5. Maintain your brand's aesthetic
If your Pinterest graphics is orange, but the affiliate product you want to promote is perched on a dark green background (which would totally clash with your branding and disrupt your Pinterest aesthetic), what do you do?
This, friends, is when you need to step it up a notch and create your own pin image for the product you love oh so much.
No cutting corners and screen-shotting something right from the company's website unless it fits in well with your branding.
Go the extra mile, open up Canva or your fave Adobe program and create your own pin featuring the product, using your brand fonts and colors. People will appreciate your extra effort!
6. Be sure to actually add in the affiliate link!
This probably sounds silly, but trust me — there's been a time or two when I've gone to click on a pin leading to someone's site or affiliate offer, and there was no link to be found!
Double-check that for every affiliate pin you upload, you've gone back and manually added your affiliate link (or link to the review on your website). Otherwise – no money for you, babe!
7. Contact your favorite brands about becoming an affiliate
In addition to using my free affiliate program database, you can also contact your favorite brands directly (an email to their PR rep or support team should do it).
Tell the brand who you are, what you do, and why you love their brand and products so much, and then ask if you can work out some sort of affiliate arrangement.
Be sure to let them know that you're planning on using your affiliate links on Pinterest because some companies might not be comfortable with that.
Psssst. New to affiliate marketing but so ready to start making passive income? Check out my ultimate affiliate marketing for beginners guide here!
8. make sure to Include an "Affiliate Link" disclosure
We can't forget about those FTC rules! Although they're pesky at times, the rules were put in place for a reason.
To comply with FTC guidelines, if you are linking directly to an affiliate offer, be sure to mention in the pin description or on the pin image itself that you've used an affiliate link for that particular pin.
Learn more about your legal responsibilities as a content creator here.
9. Use a tool like tailwind to constantly "loop" affiliate pins
"Looping" will give your affiliate pins tons of chances to be seen (and clicked on), with essentially zero effort on your part.
Tailwind offers this automation. To set up looping, you'll choose which pins you want to loop, and which boards you want them to be looped to. Simple!
If you're brand new to Tailwind, you can start a free trial here.
Rules to Follow For Best Results Affiliate Marketing on Pinterest
Try not to go overboard seeing dollar signs and posting too many affiliate pins at once.
Aim to pin a mix of helpful, engaging content and sprinkle your affiliate pins throughout.
Using a tool like Tailwind helps you schedule your affiliate pins amongst others and guides you to stay on the good side of Pinterest. You can grab a 30-day free trial here.
Make Money Affiliate Marketing on Pinterest with an Email Sequence
While you still might not be ready to start a blog. What I do recommend is to get yourself an email autoresponder so you can follow up with your audience.
Not everyone will be ready to buy right away, even after following your account or looking at one of your affiliate pins.
A way you can keep that potential customer interested is by offering them a freebie/lead magnet in exchange for their email.
Then you can follow up with a series of emails offering helpful tips and talking about how your product can help.
I Use ConvertKit which is super affordable, easy to use and you can get a free trial here.
Here are the simple steps to creating an affiliate email opt-in, you can promote on Pinterest.
Step #1: Design a free giveaway/lead magnet like an EBook, a cheatsheet, printables bundle, a mini video series, free software or an email series. Make it valuable for your audience, easily digestible and something that will solve a problem.
Need some lead magnet ideas?
Step #2: Create 3-5 pins promoting your lead magnet. Play around with colors, designs, and text overlay to see which works best. Use SmartLoop in your Tailwind account, to send your freebies out continuously at intervals over the next few months/year.
Step #3: Once a person has opted in, send them a series of 3-7 emails that answer questions, and tells a story. Always give value. On the last email of the sequence, offer your affiliate product to them again which should be closely related to the freebie.
Using ConvertKit means you can write email sequences that get triggered off immediately when someone opts in.
This method often gets a higher conversion rate than just sending someone to a product through an affiliate link on Pinterest. It gives you time to build up trust with a person and show you are a knowledgeable professional who has the answers.
How To Make Money With Pinterest According To A 7 Figure Blogger
I had the opportunity to be interviewed by Jeneth of Happy Empires, and we really went in deep about Pinterest, blogging and online entrepreneurship!
Not only did we get into ways to utilize Pinterest and other free platforms to make money, but we also reveal some affiliate marketing secrets that are pretty clever!
As well as some things every blogger needs to avoid doing this year if they really want to crack the code this year. I've used these make money on Pinterest hacks to grow my blog into a 6 figure business, and am excited to share them with you today.
Video: How To Make Money With Affiliate Marketing On Pinterest
Check out the video above where we discuss:
Is it possible to make money from day one with a new blog? (spoiler alert: yes, I explain how to make it happen step by step in this video!)

A hack for making affiliate sales you may not have thought of

The biggest thing that causes new bloggers to LOSE money

What to do if your husband thinks you're crazy to spend so much time building your blog

Why you should survey your audience and how to do it effectively

How to keep tabs on what your competition is up to

Tips for speaking to your audience, engaging with your readers and keeping them happy

Make money with Pinterest hacks, using Pinterest as a business owner
Plus, I share the #1 tip you need to be aware of if you are running a promoted pin (or risk washing your money down the drain!)
Before you watch the video below, make sure you get yourself a FREE copy of my Magic Pinterest Planner. I've included a Pinterest habit tracker, keyword planner and content ideas map inside. Get it by signing up here:
In Jeneth's video, I shared some advice about how to not lose money blogging, as well as how to overcome a lack mindset so you can make the right decisions and the right investments in your business.
I also explained how to do an annual blog/business audit to see what's working in your business.
Mentioned resources:
1. My 12 Month virtual blog coaching program: The Blog Flipping Society.
2. My Podcast: Listen to it here.
3. My Pinterest Marketing Course
4. My recommended tools for bloggers:
Conclusion -Making Money With Affiliate Marketing On Pinterest
As you can see there are multiple ways to make money with affiliate marketing on Pinterest. Remember to give the Pinterest algorithm enough time to kick in after you've posted your pins.
Here are some final tips to help you make money from your affiliate pins;
Your first 5 pins of the day get most reach. Check your analytics to see when your followers are most active and send your best pins at these times. Use Tailwind scheduler to send out your first pins at the most active times
Be consistent in your pinning schedule. Whether you pin 5 or 15 on Monday, do the same every day
Make sure your pin is engaging and relevant to your followers, as it will get shown to them first. If it gets good interaction then its more likely to show higher in search terms
Create fresh pin images for your affiliate links frequently. Pinterest loves fresh content and even if you use the same link, a new image is considered 'fresh' content
To learn more about making money on Pinterest, enroll in the Pinterest Marketing course now.
What do you think about affiliate links on Pinterest? Are you planning on using this as an opportunity to make some extra cash? Let me know down below!
Make Money With Pinterest – The Course
Curious to learn more? Take a peek at the Pinterest Marketing Course to learn Pinterest SEO, traffic tips, and much, much more.
Don't have a website yet? If you haven't yet started your blog, and are ready to start today, enroll in my new blogger kickstart course right now for FREE!
Pin this: