Podia Review, Teachable Alternatives
I think it's high time I share my Podia review with you!
Podia is an affordable online learning tool, and so much more.
I want to share some course creation tips that have helped me bring in 5 figures or more, every month from selling online courses.
With Podia, I've been able to streamline my funnel systems to sell my courses, ebooks and coaching programs like hotcakes.
---
As an affiliate partner of various brands and sponsored content, HerPaperRoute may earn commission on qualifying purchases. Disclaimer | Advertise With Us
---
Read on for my in-depth Podia review, below!
Podia Review
When it comes to where you host your course, you have many options. Those that I recommend are Podia, Kajabi, Teachable and Thrivecart.
I used Podia to host the HerPaperRoute Academy until 2019, when I switched to Thrivecart.
🫶 Want to Make More Money?🫶
Become a member of HerPaperRoute today and get a toolkit packed with resources to help you make that paper. All for FREE!
---
Before the switch, I had signed up for a free trial (you can get a free trial at Podia here.) After testing it for only a few hours I made my decision and it was a no-brainer. Podia is awesome.
With the assistance of Podia's team, I migrated all 30,000+ students, 9 courses and 3 ebooks in less than 2 days!
It was seamless, easy and quick. I don't know why I had waited so long to switch.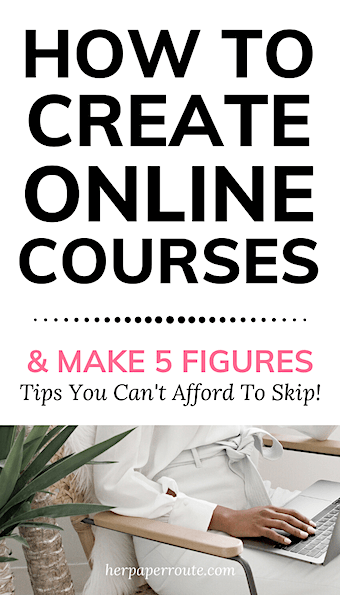 If you are looking for a place to create and sell your online courses, read on for my unbiased Podia review.
Then you can decide if it's right for you.
What Is Podia?
Podia is known as a course hosting platform, which it is, but it actually does so much more as well.
If you are trying to monetize your blog or website, or even just want to sell some digital product offerings, there are many ecommerce platforms that you can choose from to sell and promote your digital products and services.
This can make the job of knowing which is the best out there for your requirements.
One of these sites that focuses purely on the selling of memberships, online courses and digital downloads, as well as email marketing, is Podia.
Serving over 50,000 creatives since 2014, Podia is an ecommerce platform that uses a simple and concise design interface, which makes designing a website that much easier to do.
At Podia, they are committed to providing tools that are user-friendly to assist creators in selling their online courses, digital downloads and membership subscriptions along with email marketing.
Because it is designed with those core functions in mind, the site building options are consolidated for those options.
The site offers other features such as:
the capability to sell digital courses and digital products
the capability to sell webinars and live streams
sell live coaching sessions
live chat or messaging functions
a site editor
the creation of your own affiliate program
the ability to create embeds and integration options for many different applications
This article is a review of all of these features that Podia offers, what resources they have to help you become the best version of an ecommerce business that you possibly can, pricing, the value Podia offers and what alternatives to Podia are available.
While you are planning your course, make sure yu have your free copy of the Course Roadmap to guide you: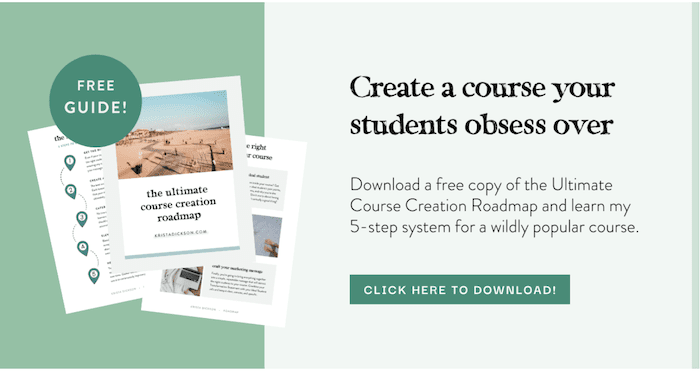 Why Should You Choose Podia?
As we dig into this Podia review and all its features, it's important to first know what exactly Podia is and who it's for.
Podia is a platform where you can sell your content in a digital storefront.
It's an online course creation tool for creatosr, bloggers, coaches, entrepreneurs, and anyone who wants to offer their digital product to the world.
It is very easy to use. But how true is this? You are about to find out.
If your goal is to sell online courses, digital downloads, or memberships; Podia allows you to have one storefront where you are able to host all of your online materials easily.
If you sell services, you could also use Podia as a checkout processor for that too.
When compared to their competitors, this is the main feature that makes Podia stands out.
If you had experience with other similar platforms before, you would know that some of them often have certain limits.
Most similar platforms will offer to host your courses. However, in order for you to have downloadable digital products, you will need to host them through a third-party app like Dropbox.
As your business grows, this can be very confusing and give you a sense of disorganization.
However, with Podia, everything digital that you own and wanting to host, you can keep them in one place.
The best part about this feature is it doesn't limit you to certain types of digital products. You can host e-books, PDFs, guides, videos, music, and so much more. This is what makes Podia different and interesting to take a look at.
Another thing I love is that on the Shaker plan, you get to host your own affiliate program. So you can have an army of people promoting your courses internet-wide!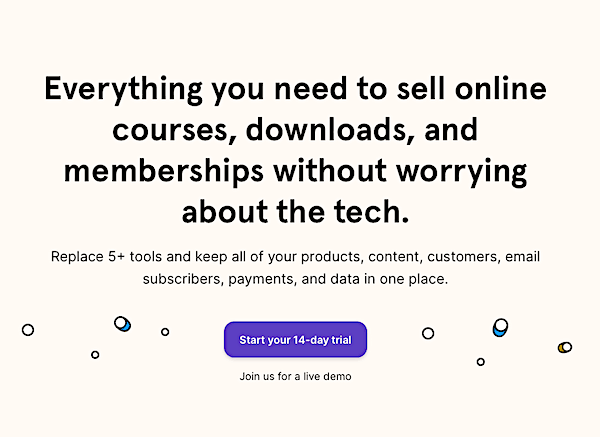 Features and Benefits of Using Podia
As mentioned, Podia as an ecommerce site builder, has core functions or features that are centered around selling courses, memberships and digital products online.
They are a small team who really cares about online creators' success and focuses on providing the best services possible for their customers to reach this success.
With all its auxiliary features, it is an all-in-one platform that is a perfect fit for most creators.
They offer a lot of resources to help get you started and really understand how to use the site to your advantage.
Podia has a robust support service that operates 24/7 so that no matter where you are in the world you can access help for any service that they provide.
If you are a creator or blogger that wants to sell your skills and services, then Podia may be for you.
The next section will go into detail about all the features that they have to offer to make your ecommerce business shine so that you can decide if their platform is right for you.
Podia Review Feature #1: Online Courses
When it comes to providing a space for your online courses, Podia allows you to enjoy the modern theme where you can upload any type of file that you want.
Do you have a PDFs? Yes, you can download that. Do you need to upload a video or MP3 files? You can do that, too.
The best part about Podia is the unlimited number of online courses that you can create.
You will also not be limited to a certain number of sales that you can make.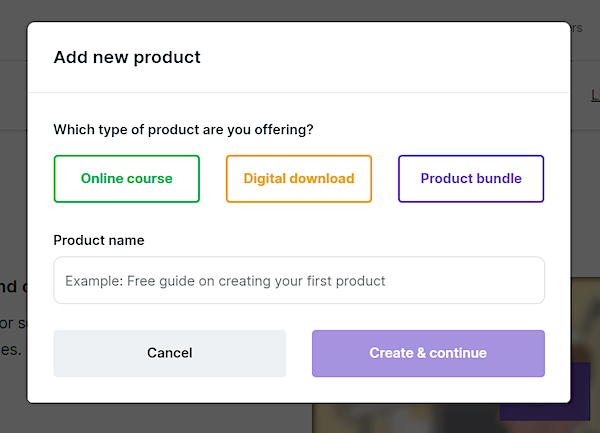 If your goal is to easily accept payments directly, Podia includes a sales page built-in to allow you to easily do so.
Plus, did we mention a pre-launch page? Yes, you can actually show your online courses prior to their official launching date.
This is a cool feature because you can create anticipation among your students and possible new students.
Building an online course with Podia could not be easier. Podia supports every file type, they host all the content, and there are no limits on the number of uploads you can make to sell to your clients or limits on the number of attendees you can host.
The content types that can go on the site are pretty much limitless in the types of formats that are accepted.
There are several course types that you can choose from. There is the Standalone Course, which is pretty self-explanatory.
You then have the Drip Courses where the content of the course is presented on a section-by-section basis set to a schedule you decide upon.
Alternatively, you can bundle various standalone and drip courses together to offer it as an advanced training option.
Podia also allows the capability to create cohort-based courses, which means that you can set a start date for the course, ensuring that anyone that is enrolled in the course will start on the same date.
This is a great option as it creates opportunities for interaction between attendees and creates a community.
There is the option to take course payments beforehand as part of a validation process to see if your course material garnishes enough interest.
Podia's online course creator allows you to pre-launch your courses to test ideas and collect emails to see that everything works before launching the course.
The themes are basic to start which are of course fully customizable to fit your branding and Podia offers flexible layouts which gives you control over how your course should look.
The courses are compatible across devices, and you can use their "live preview" function to assess how things look in real-time as you make your edits to the course content.
The online course features offer a built-in sales page to collect money from attendees and for giving out coupons, which can be fully customized to suit your needs.
Additionally, you can presell and pre-launch your course landing page or even to collect payment while you create your course to generate an email list for potential attendees.
With their simple checkout process, a drop-off from clients is unlikely, and you have the option to offer payment plans on courses to attract more clients.
Furthermore, you benefit from instant payouts as there is no holding period put in place by Podia. There are also no transaction fees.
The courses themselves can be customized to include media from vast sources, quizzes, embeds, on-page live chat options, certificates and video hosting.
Attendees' progress can be tracked throughout the running of the course and at the end, you can customize the certificates given to the attendees post-completion of the course.
Podia Review Feature #2: Digital Downloads
Digital downloads are a great way to generate leads and are a useful tool in client acquisition, improving traffic and earning a stream of revenue.
Podia offers a range of digital products and services that you can offer your clients.
There is the capacity to sell e-books in a PDF or EPUB format and the e-books do not have any heavy transaction fees unlike most ebook platforms.
Other products you can sell are templates, music, podcasts or graphics. These can be sold on a standalone basis or as part of a bundle.
With Podia, you can also use the functionality to create some of your digital downloads completely free as part of a lead generation strategy for your site.
In terms of related service offerings, these are the same as those discussed in the online course section relating to selling, coupons, embeds etc., that make the whole process of creating and managing digital downloads and their sales streamlined.
Podia Review Feature #3: Memberships/Community
On the Shaker plan you have the ability to turn your account into a full-on membership site.
This allows you to give your customers access to members-only content and bonus resources while locking down pages and areas that they must pay to see.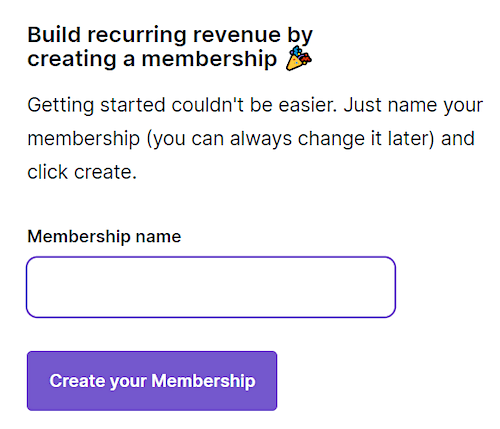 You can easily set this up in minutes, and start earning recurring revenue with membership plans and prices you determine.
One of the greatest offerings of Podia is the ability to run an online community through membership plans.
The number of plans that connect to products, sales, customers and hosting of content is unlimited which allows you to build and launch a community that suits you.
Podia offers community building to include all of their features to allow you to connect with your audience and visitors to your website in new ways.
Additionally, the sign-up and login process is super simple and your customers will be able to access content from the community pages at the same time.
What is unique about this feature is that your community members are able to create posts in the community and engage with you and the rest of the community through comments and likes-just like on a social platform.
You as the creator are able to moderate and control the community as well as access your customer's information, which is important for relationship building.
Podia Review Feature #4: Webinars And Live-Streams
Webinars and live-streamed sessions can be hosted on Podia via YouTube or Zoom and your customers will be able to register, pay and access the unlimited number of video content through the Podia platform.
The video content offered can be offered for free as well if your intent is to grow your audience
Podia Review Feature #5: Coaching Sessions
As a content creator and, no doubt, an expert in your niche, one of the easiest ways to monetize your blog is to offer coaching sessions to engaged clientele.
Using Podia and an integrable scheduling platform such as Calendly, your customers will be able to book and pay for a session with you.
Additionally, all payments, scheduling and sales pages are all in one place. You can also schedule in as many sessions as you want through Podia.
Here it is really easy to connect coaching sessions to your courses, selling them as a package deal.
Podia Review Feature #6: Email Marketing
With Podia, you are capable of leading your students through the online courses while creating an email schedule before the launch of your courses.
The email marketing part is set to be easy-to-use for creative entrepreneurs like you where you can effortlessly do a follow up with your clients or students who have already made their purchase or downloaded their digital products.
To create a more appealing overall experience for your students, you can maintain weekly contact with members by sending out automated emails which include images, videos or audio.
Your automated emails will also include your color and branding so that your students know exactly who is sending them the emails.
Oh, you can also choose to send the emails manually. It doesn't have to be all automated.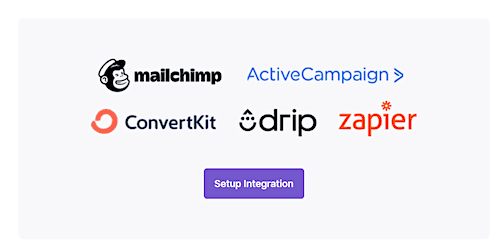 Easy Email Integrations
With the click of a button, you can connect your account to ConvertKit, or other email service providers.
This means that you can auto-add and auto-tag customers on your list, as they sign up fr your courses.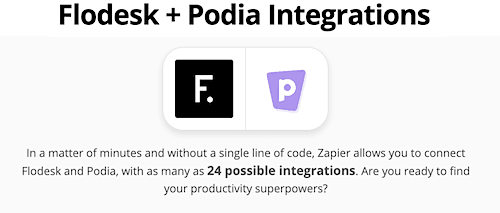 And yes, you can even connect the fan-favorite Flodesk, by connecting your Zapier account!
The email marketing feature from Podia is integrated into the other features on the sites thus if you are wanting to retrieve emails from potential and current customers or attendees of your courses, you can do so.
The email marketing feature allows you to send broadcast emails, build funnels and access to email analytics to assess the exact ROI of every email sent out.
The goal of Podia is to get you to replace your email marketing platform with theirs to completely consolidate your workflow.
Other features within this feature is being able to build email signup forms, broadcast emails, creation of automated drip campaigns to engage subscribers throughout the funnel journey and receive a complete revenue breakdown of emails sent.
This feature is worth checking out as it on its own out-competes most email marketing platforms out there.
Podia Review Feature #7: Live Chat
The messaging or live chat feature presented by Podia is integrated into any of the above features and allows you to engage with users and visitors to your site like none other.
It allows people to get into contact with you even when you aren't around, which means you can passively obtain questions and feedback from customers without any probing from your end.
All the data is kept in Podia, meaning all records of conversations and sales data are kept secure in one place.
Podia Review Feature #8: Site Editor
Podia offers you the opportunity to create multiple types of pages for your site depending on your business model, and there are no limits to how many pages you are able to create for your site.
Podia Review Feature #9: Affiliate Program
Perhaps one of the unique selling points of Podia is the capability to create and run your very own affiliate program-which means you pay other bloggers a small commission whenever a customer buys a product or clicks through to your site through a unique link on their blog.
This is a great way to get your brand out there and increase sales.
Podia Review Feature #10: Embeds
At first thought, no one really pays attention to the importance of embedding a buy button.
However, as your business grows, you will soon realize just how important this function is.
You can easily turn any page on your site into a sale page with this function. You can embed a simple buy now button, or a full card buy button.
As a result, at least one in every two visitors will end up purchasing something without leaving the page.
The platform allows you to create customized buttons, product cards or hyperlinks to sell your products which can be embedded into any site and visitors will be able to buy your products from any device without ever having to leave the current page they are on.
Podia Review Feature #11: Bundle Your Products
This is probably one of the most important and interesting features for creative entrepreneurs like you.
Selling online courses on Podia also allows you to bundle things up and sell them as a single unit.
Selling bundles have been proven to drive more sales and you wouldn't want to miss this feature.
But the best part about using Podia is how you can easily allow your students to create and customize their own bundles.
This way, you are not losing any sales. If anything, it helps you create more sales on your site!
You can see the bundle that I offer, called the Be Your Own Blog Boss Bundle which is a collection of 8 of my top-selling courses and ebooks fo one super cheap price!
The way Podia bundles like this work: when a customer buys it, all the products in the bundle appear in their account.
And you can set how much of a discount they get. Or you can choose to have it at full price, and still take advantage of giving your customers one with one seamless checkout.
Podia Review Feature #12: Coupons
Oh boy, every course creator needs coupons! I truly believe that a big reason for how my courses have hit 5 figures is from utilizing coupons.
Being able to offer a limited-time deal, a Black Friday sale, or secret discounts with a coupon is key!
Especially if you want to get your course into one of the Ultimate Bundles! To be accepted as an Ultimate Bundles contributor it's a requirement that you be able to provide a coupon code.
Podia Review Feature #13: Integrations
Lastly, but certainly not least, is the immense integration capacity of Podia. It offers integrations with the likes of MailChimp, ConvertKit, ActiveCampaign, GetResponse and Drip.
Pricing And Value For Money
Podia offers 3 different pricing plans, which are detailed below. However, if you are just wanting to test the waters, they do offer a free 14-day trial.
Let's take a closer look at each feature and benefit in each "Mover" "Shaker" and "Earthquaker" packages and compare them with similar platforms in the market.
Mover Plan
The Mover Plan offers unlimited everything, no transaction fees, free migrations, and 24/7 support for one user.
To add additional teammates to the plan, you will have to pay a monthly fee over the plan fee of $20 per person per month*.
With the Mover Plan, you are able to access all of the features with exception to selling of coaching sessions, you cannot charge for your community or membership plans and you cannot provide certificates to those attendees of your courses.
Additionally, you cannot access the affiliate marketing program or have embedded checkouts throughout your site.
There are also caps on the community topics and community member numbers.
At the time of writing* this plan is available for $39/month.
Shaker Plan
The Shaker Plan includes everything the Mover Plan does with the added extra of being able to access all the services that are not included in the Mover Plan.
It also comes with a few additional features such as the ability to remove Podia branding from any of the products and comes with the ability to incorporate Zapier triggers and actions.
Your reach in terms of community members and email recipients is 10k more than that of the mover plan. At the time of writing, this plan will set you back $89/month
Earthquaker Plan
The most expensive plan, coming in at $199/month (at the time of writing) includes all services and extras. It is the most comprehensive plan out of the three.
Additionally, to the features available on the Shaker Plan, you are able to have 5 users on the plan with no extra cost, you can have 100,000 community members and unlimited community topics and up to 50,000 monthly email recipients.
Other extras available in the Earthquaker Plan include dedicated agent support, personalized on-boarding and a monthly group creator call.
Is Podia Good Value For Money?
Although the third plan is comprehensive and gives you the full complement of services, if you are a small business or blogger, it is not really a realistic option for you to buy.
If you are intent on offering coaching sessions to clients or are wanting to offer a paid community or membership plan as well as affiliate marketing for your business, then the Shaker Plan is probably the best value for money.
However, depending on your needs, you could probably go far with the Mover Plan, especially if the core of your business does not include coaching sessions and if you don't really want to earn a revenue stream from your community page.
Additionally, they offer a wealth of free resources and support that will help you to get going, which a lot of ecommerce platforms do not offer.
If you only have a budget or need for the Mover Plan, then these resources really kit you out to start building your site with them.
HOWEVER, something worth knowing is that Thrivecart is the much more cost-effective option. Where Podia has you paying $89/mo ($1068/year) Thrivecart is just a one-time payment of $695 and then you get it for life.
This is why I switched to Thrivecart and prefer it. I save SO MUCH MONEY by using Thrivecart for my courses and digital products.
How Do You Collect Payments With Podia?
Simply click one button to connect your PayPal and Stripe accounts, and you are set, and ready to start accepting and processing payments.
By the way, Podia does not charge any transaction fees. Woo!
What Else Do You Need to Know About Podia?
Now that you're reading this part, that means you are secretly interested in trying Podia. Great!
But are you still skeptical? No worries.
As a user, it is important for you to consider many things before you jump into Podia's monthly package.
So, what else should you look into before deciding on which package to commit to?
Podia Customer Service
It is important to look at customer support prior to purchasing anything. Based on people's experience, Podia's customer support is considered amazing.
Unlike certain platforms where you will need to wait more than 24 hours to get support back, Podia is quick in replying to issues and concerns.
When you are using Podia, you are also signing up to getting customer service from real people who will be treating you like the real person that you are.
Instead of using customer service tickets as most platforms do, you can spot a chat window at the bottom of your screen.
(And guess what? Every Podia customer gets their own chat window just like that, to use on your own school, too!)
Podia Refund Policy
Podia's refund policy as of February 2020 states:
To change or resign your Subscription Services at any time, go to https://app.podia.com/account/billing. If you terminate a subscription-based Service, you may use your subscription until the end of your then-current term; your subscription will not be renewed after your then-current term expires.
I love a straight-forward no bull refund policy.
Podia Is Built for the Creators
When Podia was created, the main goal was to serve creators. In fact, they were named 'Coach' in the beginning. As a tool to coach and serve other creators.
This is why their features and benefits are mainly focused on creators. Podia is intuitive and simple for those who want to start establishing their business presence online.
So, it does not matter whether you are selling digital products, creating your first online course, or promoting memberships; everything is straightforwardly easy on Podia.
As their user, you are considered their main focus. So, everything they do revolves around serving you better.
Affordable Pricing
One of the reasons why many creators are migrating from their older platforms to Podia is due to the fair pricing they offer.
It does not matter how many sales you make per month, you will always be paying the same flat rate of the monthly package.
As your business grows, this is important. You do not want to stay on a platform that charges you more as you make more sales per month.
Podia's number one goal is to create a platform that will allow users to grow and succeed. There is no reason for you to pay extra when you start making more money.
This was a big reason why I switched to Podia and remain a happy customer. You just can't argue with the affordable pricing.
Cons Of Podia
The one thing I do not like about Podia is that you can't edit the HTML of your course pages or sales pages. And the only way to add your own scripts is to the footer.
I hope that in a future update, they allow this so creators can get more customization abilities.
Unless you are into custom coding web pages like me, then this probably isn't a con that will matter to you, however!
How Much Does Podia Cost?
There are two tiers. The Basic "Mover" packages start at $39 per month and the "Shaker" package starts at $79 per month.
What are the differences between these two packages?
With Basic "Mover" Package, you will get:
Your own storefront
Online courses
Digital downloads
Messaging
Zero Transaction Fees
Email marketing
Everything is Unlimited
Support for 7-days-a-week
Hassle-Free Migrations
With the "Shaker" Package, you will get:
Everything in the "Basic" package PLUS:
Memberships
A blog
Affiliate Marketing
Embedded Checkout
Third-party code snippets like Sumo, Facebook Pixel, Olark, and more.
You can give all of these features a whirl for free when you unlock your free trial of Podia right here.
Alternatives
If you are looking for Teachable alternatives, in my experience using both, Podia is the clear winner.
Teachable, Thrivecart, Kajabi, Thinkific and Udemy are all alternative platforms you could use instead of Podia, depending on what your exact needs are.
One More Tip For Hitting 5k In Course Sales…
In addition to utilizing coupons, there is another big thing that contributed to my own courses selling for 5 figures annually.
What is it? Well, I used free courses as a lead magnet to grow my email list and later drive sales to my paid courses from my newsletters.
It's a known fact that making sales on cold traffic is pretty difficult.
So, if you can give away some sort of free course, as an opt-in incentive to get people warmed up on your list – do it!
This will help you make those sales over time.
You can check out my free blogging courses here. They are really good 🙂
Podia Review – Conclusion
Was my Podia review helpful? I touched on all the biggest most impressive and useful features but there is actually a whole lot more that Podia can do!
Podia is the place for you if your goal is to have an all-in-one platform.
You will not only able to create online courses, sell digital downloads, and promote your memberships; you will be able to enjoy the unlimited features and benefits that Podia offers.
Most important of all, good customer support is what you need to look for as a creator.
Being a creative entrepreneur, you will need this service the most.
When one of your students is having a technical problem, you would want to talk to a supportive person who is able to help solve your issues.
To learn more about Podia, click here and start creating your online courses in your digital storefront today. For free!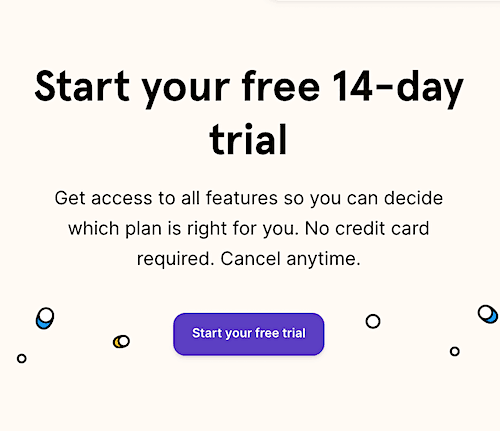 With its user-friendly and creator-centered platform offerings, Podia has a great user experience and is perfect if you want to build a membership plan or online course website.
With the hosting included and a wealth of additional features, you can customize your website to your liking and conduct email marketing all in one place.
As a market leader in ecommerce platforms, it is a wonderful starting point for small businesses, as it can help you increase your reach with the digital products you have to offer.
However, there are limitations to Podia and there are other options out there, and so, it is recommended you do your homework thoroughly before settling on one platform to make sure it is the right fit for your business now and for your business in the future.
The biggest one is the fact that Podia charges you every month and year. I prefer lifetime deals where I pay once and use a tool for life, so that is just one of the reasons why I prefer Thrivecart.
Before you go, make sure yu have your free copy of the Course Roadmap: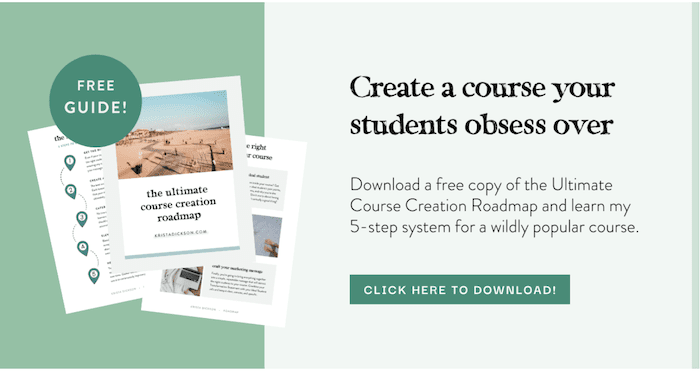 Pin this: