Swagbucks Review – How To Earn Gift Cards, Codes And Cash
Swagbucks review – Can you really earn gift cards and cash by watching videos and completing surveys on Swagbucks?
In short, yes. Can you make a lot? In short, not exactly.
You have probably heard of Swagbucks as 'one of those' sites where you can take surveys for cash. Maybe you heard someone claiming to make $1000s per month. Well, that was probably not true.
Swagbucks is a place to take surveys, (although it is unlikely that you will be making $1,000's per month) but it is also so much more!
---
As an affiliate partner of various brands and sponsored content, HerPaperRoute may earn commission on qualifying purchases. Disclaimer | Advertise With Us
---
Keep reading for the most comprehensive Swagbucks review you will find anywhere.
What Is Swagbucks?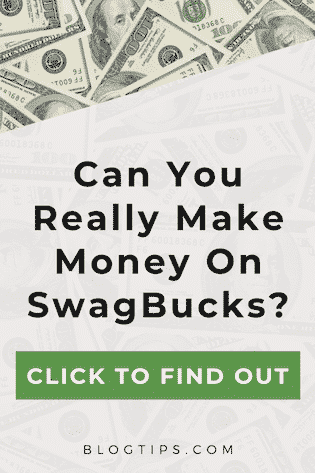 Swagbucks is great if you are looking for ways to earn gift cards for completing simple tasks, such as taking surveys, watching videos, shopping online, and playing games.
You hard me right, Swagbucks is a fantastic way to earn online rewards and make some easy money online.
🫶 Want to Make More Money?🫶
Become a member of HerPaperRoute today and get a toolkit packed with resources to help you make that paper. All for FREE!
---
You can earn many different kinds of rewards for completing the aforementioned tasks.
It is also a great way to get your feet wet when it comes to earning income online. What to know more about that?
Check out the HerPaperRoute post on How to use online survey sites like a pro.
But is Swagbucks really worth it? Is it legit?
Well, just like with any online venture, that depends on how much time and effort you want to put into it.
But don't fret, continue reading and you will be a Swagbucks pro in no time.
To get started, sign up for your free Swagbucks account now, and you'll get a $10 welcome bonus:
Is Swagbucks Legit?
Yes, Swagbucks is totally a legit way to make money online. It's also free to sign up and has an "A" rating with the Better Business Bureau.
They have been around since 2005, which is like an eternity in internet years, and have awarded over $250 million in prizes and gift cards.
You can earn gift cards for big-box retailers like Amazon, Walmart, and Target or redeem for Paypal cash.
It does take work and a time investment to get started, but not a ton of work.
I'm giving you a fair warning, there are many things to do on Swagbucks, and you could probably spend all day on there.
It's also really fun to see your "swagbucks" add up!
How Does Swagbucks Work?
Signing up is easy peasy! Just head over to Swagbucks.com and sign up via email or your Facebook to create your account.
If you sign up through my link you can even get an extra $10. Just make sure that you confirm your email right away to be eligible.
Keep in mind that 100 SB = $1 and you can get your first gift card with as little as 300 SB which is equivalent to a $3 gift card.
After you create your account, you can earn a few, quick Swagbucks when you complete your profile and install the "SwagButton" in your Chrome browser.
I promise it's not as complicated as it sounds.
Even if you're not tech-savvy, the website is super user-friendly and you shouldn't have any issues getting everything set up.
How to Earn Swagbucks Codes And Rewards
Let's keep this Swagbucks review rollin' along.
Once you have everything set up, it's time to start making money!
By completing different tasks you will earn different amounts of Swagbucks, or "SB".
Each SB you earn is worth about one cent. They have even added a handy little daily to-do list to help you get the most of your daily Swagbucks earnings.
Here are a few ways to start racking up your Swagbucks: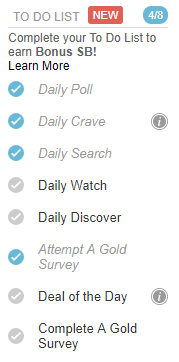 Daily To-Do's
After you have your account created, make sure you confirm your email address. You can then dive right in and start doing your daily "to-do's."
If you are doing your daily to-do's every day you can qualify for a bonus and your goal will increase.
If you hit your daily goal every day for a week, you will hit a winning streak and if you keep that going, you can earn up to 300 SB.
They even throw in monthly bonuses.
Your daily goals can be found right at the top of your dashboard.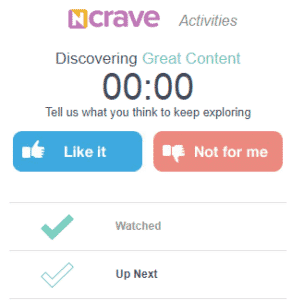 Daily Poll
Answering the daily poll is simple, only takes a few seconds and will earn you 1 SB per day that you answer.
Daily Crave
Check off your daily crave and add one more SB to your account by watching bite-sized portions of curated content from Encrave's comprehensive selection of videos or articles.
All you have to do is vote on the content.
Daily Search
Click on the daily search on your to-do list and Swagbucks will serve up a custom search with a greatly discounted offer. A great way to discover something new!
Daily Watch
Click on the daily watch on your to-do list and watch a playlist of videos quick to earn 1-3 SB. Keep reading for a hack on how to earn more while doing less!
Daily Discover: Sponsored Offers
Looking to try something new? Swagbucks is always teaming up with retailers and other companies to offer you sweet deals! Sign up for a deal and earn some major SB!
There is a ton of offers to choose from and there is something for everyone.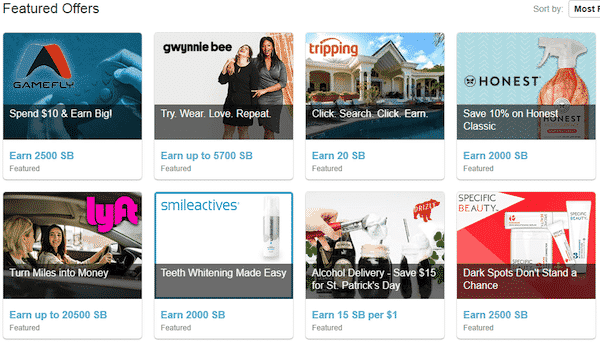 Online Shopping

Swagbucks is very similar to other online cashback sites, like Ebates, when it comes to online shopping.
Swagbucks rewards you for shopping through their links, just like with a traditional affiliate program. Stores like Macy's, Best Buy, or Kohls pays Swagbucks a commission to get people to shop through their links.
Unlike other affiliate programs, Swagbucks shares that commission right back with you.
So let's use Amazon as an example. Currently, Amazon is offering 3% cashback through Swagbucks.
So for every dollar, you spend you earn 3 SB.
Just like with Ebates, the cashback rate can fluctuate, so make sure you are checking both sites before placing your next order.
Just think about how many things you buy off of Amazon (or other online stores) throughout the year. Especially during the holidays, that cashback can really add up!
And it doesn't just stop with Amazon, although that is what I mostly use! But you don't have to shop right through Swagbucks in order to take advantage of the SB. Make sure that you install the SwagButton in your browser and you will be notified of when you can earn some SB for shopping through that site.
As well, don't forget to add the Swagbucks Shop page to your bookmarks and use it every time you plan on buying something online.
Once you have the SwagButton installed in your browser, you never have to worry about missing a money-saving opportunity.
Searching
This is by far probably one of the easiest ways to earn SB.
Make Swagbucks your default search engine and you can earn between 25 and 50 SB per day, with the occasional bonus thrown in, just for doing what you already do! The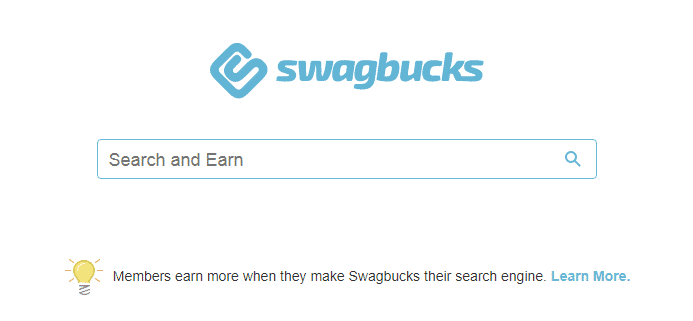 This is my favorite way to effortlessly earn SB, a set-it-and-forget-it strategy.
Once you have SB set up as your default search engine you can earn money for doing what you are already doing.
So instead of typing in the website, you would like to go to directly in your search bar, type it into the Swagbucks search.
Use it for everything, sites you would normally visit, Facebook included. It takes a few extra seconds to get there, but it is worth it.
Surveys
One of the most profitable ways to earn SB is through paid surveys. With simple ones, you can score a quick 5 SB or spend a little more time and earn as much as 300 SB per survey.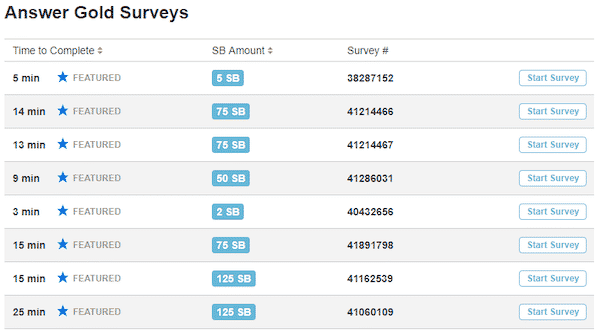 Unfortunately, you can't take any survey, you have to qualify for them, but Swagbucks does their best to match you with the best surveys so you don't' waste your time.
However, most of the surveys that I have taken are pretty easy, lots of demographic type questions.
If you don't qualify to complete a survey, you are still compensated 1 SB for your time. Just make sure that you are being honest with your answers as they are actually used for research purposes.
You can also sign up to receive email surveys, which is another way to make sure that you are earning the most from taking surveys.
Also, make sure that you are filling out "Your Survey Profile" which is just another way to make sure that you are getting the most out of your survey taking time.

Swagbucks Watch
Yup, you heard that right, you can earn SB for watching videos!
You won't earn a ton (up to 150 per day) but there are all kinds of videos to watch, entertainment, home, travel, just about anything your little heart desires.
There's a trick you can use to maximize your time watching videos, turn them on the in the background when you are working on your computer.
I'm all about the multitasking when possible.
You can also download the Swagbucks Watch (TV) app on your phone and turn that on in the background while you are working too.
Just make sure you are connected to a WiFi otherwise you will eat up all of your data! There is also a setting to turn off using your data while watching videos.
Maximize your time and earn – while you are doing other things!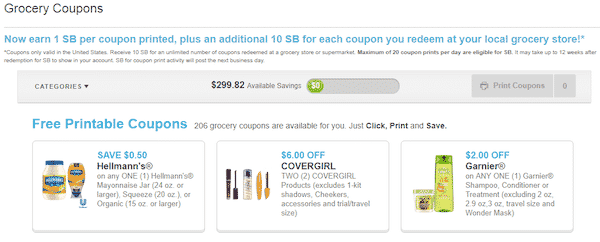 Coupons
There are two different ways to earn SB with coupons, by printing them and by redeeming them.
1 SB for every coupon printed (with a max of 20 per day) and 10 SB for each coupon redeemed – unlimited! That 10 SB is equal to 10¢ cashback.
Cha-Ching!
How to Earn Even More Swagbucks Rewards
People get serious about earning with Swagbucks. There are entire blogs and forums dedicated to earning and redeeming SB rewards.
I am just giving you a taste of what you can do with this awesome platform. There seriously is so much more!
But I don't want to overwhelm you with all that is possible with Swagbucks. Here are a few tips and tricks to help you get the most out of your SB experience and get you earning more!
The SwagButton
Another stupid simple way to earn SB without even trying. Install the SwagButton on your browser, it works for Chrome, FireFox, and Internet Explorer.
Keeping it installed will earn you 1 SB per day (whoo, hoo!), but it also helps you to earn extra SB in other ways.
Whenever you visit a site where you can earn SB, a little box pops up in the corner so you won't miss it.
You can also watch videos in the corner of your screen (remember the multi-tasking?!) and redeem Swag Codes right in the browser.
What are Swag Codes you ask…read on…
Swag Codes
Swag Codes are a way for you to earn instant SB, not a ton, but every little bit counts right? The codes do expire after a certain period of time so make sure you use them right away.
The codes are generally hidden around the site and social media. You can redeem them by entering them into the "Swag Code" drop-down at the top of the homepage.
Bonus reason for using the SwagButton (or the app) – each time there is a code you will get a notification.
So you never have to worry about missing out on one!
Swagbucks Games
If you play games, make sure for whatever game you are playing, you are logging in through Swagbucks.
Then, whenever you make an in-game purchase your SB will be credited immediately.
It generally seems to be 12-18 SB earned per $1, which isn't bad, and there are tons of games to choose from.
Everything from poker to bingo and solitaire.
You can also earn SB for playing free games like Swag Jump, Swag Memory, and Swagasaurus Run in an effort to meet your daily goals.
Just make sure you have your ad blockers turned off and Adobe Flash installed.
Install & Earn
Love trying out new apps? Check out the Swagbucks Install Mobile Apps and Earn to earn SB for installing mobile apps and completing certain tasks.
How to Cash Out on Swagbucks
Here is where it gets good! Cashing out is probably the best feeling. All those hard-earned SB, now cash in your pocket.
You can cash out SB for big retailers like Amazon, Walmart, Target, Starbucks, eBay, or my personal favorite, PayPal.
PayPal is great because you can use it anywhere and I generally just put it right back into my business.
Generally, 100 SB is equivalent to $1, however, sometimes gift cards go "on sale" and you can get more bang for your buck.
For example, you could get a $25 gift card for 2200 SB, which is an additional $3 in your pocket.
Plus, you can get a 12% discount on your first $25 gift card redemption each month. *Excludes PayPal.*
So plan accordingly.
And if you are in the giving mood, you can also donate your SB earned to a charity There are MANY to chose from.
You don't have to wait to cash in on your SB until you have an uber amount of them, cash them in as often as you can!
There is no additional benefit to waiting to cash them in. You can redeem up to two rewards per day.
Unfortunately, rewards are not immediate. When you redeem your SB or rewards, it can take up to 10 days before you get an email notification that your card is ready.
The good thing is though, you don't have to wait for a physical gift card, it is all digital! Just click the link within the notification email and you will get access to your hard-earned funds!
Just make sure that you are adding the funds to the retailer right away rather than letting them sit there.
If you are redeeming for PayPal rewards, just make sure that you are using the same email for both Swagbucks and PayPal AND that you verify your PayPal account.
The transfer to PayPal can take 10-14 days.
If you like to enter contests and sweepstakes, SB also offers a way to "gamble" with your SB. You can enter sweepstakes for higher value gift cards, like a sweet $100 for Amazon, and to enter you only need a couple of SB.
However, these contests can be pretty difficult to win, so I never waste my hard-earned SB on chance.
How to Make the Most Out of Your Rewards
It can take a lot to earn a good chunk of SB, so have a plan and make sure you are earning and using them strategically.
It might not seem like a lot with a $3 gift card here and a $10 gift card there, but if you are being strategic and working towards something it makes it much more exciting.
Have a Purpose
If you have taken a peek at the Swagbucks Rewards Store you already know that there is a crazy amount of options for gift cards, everything from the beloved Amazon, to hardware stores to gas stations.
You are bound to find something you can use! So why not work towards a specific goal?
If you do most of your Christmas Shopping on Amazon, like I do, then you might want to work towards cashing in your SB for Amazon gift cards throughout the year. Then when you make your purchases shop through Swagbucks or Ebates (whichever one is offering the highest cashback!)
Invest
If you have read my posts on micro-investing and investing with your spare change, you already know that you don't need a ton of money to start your investment portfolio.
If you sign up with Acorns, you can link directly to your PayPal account and have your SB rewards transferred directly into your investment account.
When you sign up for Acorns using this link, you will get a FREE $5 when you start investing.
Swagbucks: The Good, The Bad, and The Ugly
Overall, Swagbucks is a pretty stellar program!
If you paid attention to anything above, you can see that it is pretty easy to earn some extra money (gift cards) form doing things that you would already do online.
There are so many things that you can do online to earn SB to cash in for real cash: doing surveys, watching videos, playing games searching the web, and of course…shopping.
Now I am NOT suggesting that you sit in front of your computer all day answering surveys, but hey, whatever floats your boat!
But you can earn a decent amount of SB by just making a few simple changes, watching videos in the background when you are working, using the search option, printing and redeeming coupons, completing a few surveys here and there.
Your SB will add up in no time!
Additional Swagbucks Hacks
Don't forget about multitasking! If you have some time on your hands and two monitors, watch videos on one and answer surveys on another.
Use the app, you can get an extra 50SB per day just by watching videos on your phone. Let the videos play on your phone while you are busy doing other things around the house.
Follow Swagbucks on social media. This way you can hear about any special offers and opportunities to earn some extra SB!
Read the Swagbucks blog. They often run challenges or release SwagCodes to help you earn extra SB by completing simple tasks.
Don't' forget to check your Swagbucks inbox. SB sends you offers and notifications to earn SB for things like taking quizzes and trying trial offers.
How to Turn Swagbucks Into Your Side Hustle
Like I said before, using Swagbucks isn't going to make you a millionaire, but if you are strategic about it, you can earn some decent income.
If you have been wanting to start a side hustle but don't want to spend anything to get started, using Swagbucks is a great way to get your feet wet.
Just by implementing some of the strategies mentioned above you could easily earn $100 in gift cards a month. I know, that's pretty much nothing.
But if you just need to take your mind off off your regular work / blogging duties for a few minutes a day, to waste some time having fun playing around on Swagbucks, $100 isn't bad.
So let's break down how much you can earn with Swagbucks
Total Swagbucks Earned in One Month: 5,180
That means you would have enough SB to redeem $50 gift card after one month.
Plus, if you redeem your gift cards when they are on sale, you could double your redemption amount to $100.
Swagbucks isn't going to make you rich, but a few dollars here and there is always nice.
Combined with other income strategies, it can be the perfect compliment to earn a little extra dough. Check out Swagbucks to see if it is right for you.
Love this guide? Please share it and pin it!