5 Reasons Why No One Is Signing Up for Your Freebie
Is your free lead magnet not working? Don't worry – we know of a few reasons why no one is signing up for your freebie, and how to fix it.
There are often some easy tweaks you can make, which will increase conversions.
We're going to dig into five key areas where your freebie might be falling flat today.
Then I'll show you how to turn your freebie into an enticing, need-it-gotta-have-it list-building machine.
---
As an affiliate partner of various brands and sponsored content, HerPaperRoute may earn commission on qualifying purchases. Disclaimer | Advertise With Us
---
5 Reasons Why No One Is Signing Up for Your Freebie Lead Magnet
The unthinkable has happened.
You spent two weeks creating the most beautiful, impactful, value-packed freebie on the planet.
You designed the landing page, set up the delivery email, and even wrote an entire welcome series to go along with it.
🫶 Want to Make More Money?🫶
Become a member of HerPaperRoute today and get a toolkit packed with resources to help you make that paper. All for FREE!
---
You launched your freebie out into the world, excited to welcome a stream of new subscribers into your community.
But then, the hours start trickling by… and those hours turned into days… and then into weeks… and still, no one was biting.
Where's the flood of subscribers those email list gurus promised you?
Where are the messages from people who are so blown away by all the free value you shared that they just had to reach out and thank you?
Deep breath.
Don't freak out just yet! Chances are that with a few quick tweaks, we can have those signups rollin' in for you in no time.
Let's fix it now.
mistake #1. The topic isn't aligned with your audience
Your freebie could be the most valuable thing in the world, but if it isn't something your particular audience wants, needs, and most importantly, will cough up their email addresses for, it's gonna flop.
Remember: A good freebie solves a specific problem for a specific group of people.
It doesn't solve a bunch of different problems for a bunch of different people.
As an example, here's The Blog Startup Kit, it's a targeted freebie for people who want to turn their blogging side-hustle into a full-time career: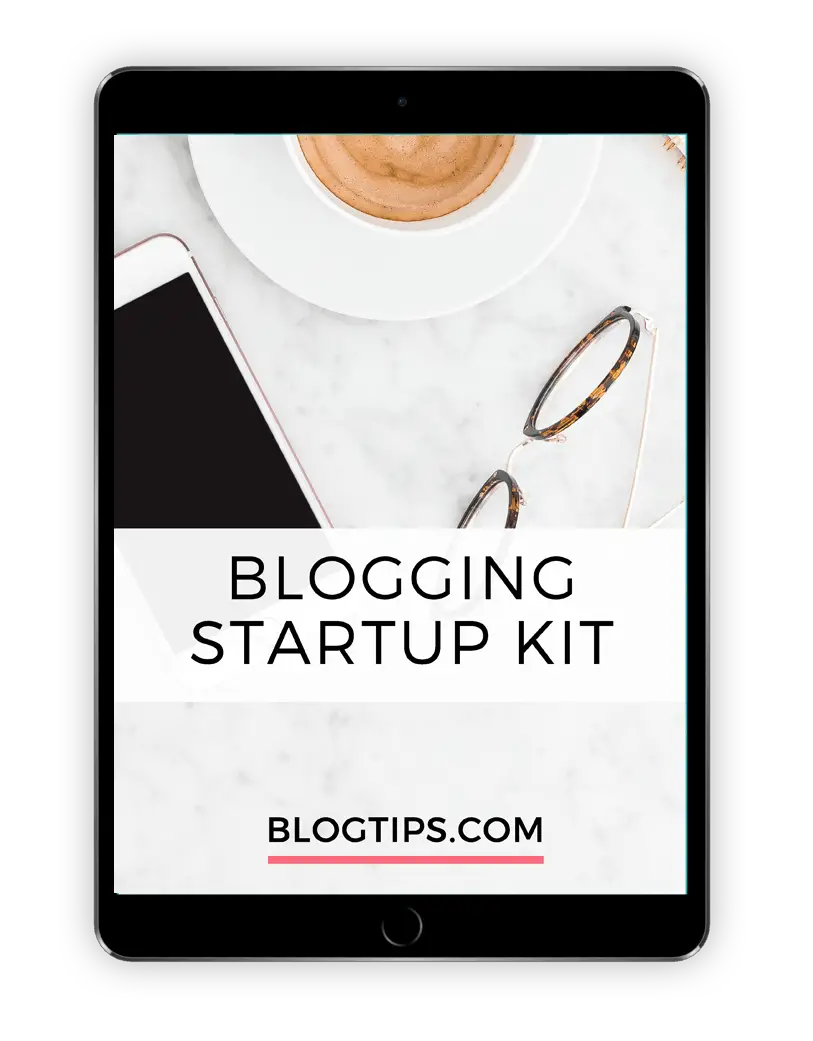 Blogging StartUp Kit
Inside, you'll learn how to create engaging content, grow your audience, and monetize your blog for maximum impact. Plus, you'll gain valuable insights into how to leverage social media and other channels to promote your blog and reach a wider audience.
To hone in on the right topic, choose one big problem or pain point your audience has and then create a freebie to help them overcome it.
If you're not sure what your followers are struggling with, the best thing to do is go straight to the source.
Reach out to a few of your readers or customers for a 1:1 chat.
Send out a survey to your community. Run a poll on social media or post questions on IG Stories to get people's feedback.
If you're stuck between two topic ideas for a freebie, you don't have to take a shot in the dark. You can just ask!
People will be happy to tell you what they want, and at the same time, you're getting people excited about the freebie before you've even created it.
Read: How to create a lead magnet people actually want
mistake #2. The freebie title is confusing or boring
The title of your freebie is usually the first thing people see or hear.
And it's what helps them make a split-second decision on whether to invest more of their time and attention into learning about the freebie or not.
Needless to say, your freebie title needs to be crafted carefully.
As a starting point, the title of your freebie should meet the following four criteria:
it Should Be Clear
The title should convey what people will get, learn, or achieve with your freebie if they download it, plus what format the freebie is in.
For instance, is it a workbook? A checklist? A video tutorial? Don't make people guess. Make it clear in the title.
It Should Be Enticing
The title should let people know that the freebie will help solve a pressing problem they have or it'll help them achieve one of their goals.
It Should Be Catchy (but still clear!)
Try saying your freebie's title out loud to see how it rolls off the tongue.
I personally like using alliteration in my titles when possible to make them catchier and easier to remember.
If you find yourself stumbling on the words, choose another title. Your future self will thank you, trust me.
It Should Be As short as possible
Don't overdo it with a 15-word title. Keep it short and sweet, and then add a more descriptive subtitle if you need to.
When crafting your freebie title, brainstorm 5-10 different options before choosing a winner.
You can also share 2-3 options on social media and have your followers vote for their favorite.
Again, this is a great way to drum up excitement before the freebie launches.
Need a bit of inspiration for your title? Use the Headline Generator.
mistake #3. Your landing page copy needs work
If there's one thing I've learned after creating dozens of landing pages these last few years, it's that simple works best.
Trust me, your landing page does not need to be an elaborate, lengthy, in-depth affair.
In my experience, 2-3 sentences of copy works really well.
Humans have goldfish brains and micro attention spans, and they probably aren't going to hang around long enough to read 4-5 paragraphs on your landing page.
Cut straight to the point with your landing page copy and tell people:
1. The title of your freebie
2. What people will learn or achieve with the freebie
3. Instructions for how to sign up and download it
That's it! I promise, it's not rocket science.
Below are two simple landing page examples for freebies.
The first is for access to my 'Start A Blog' class: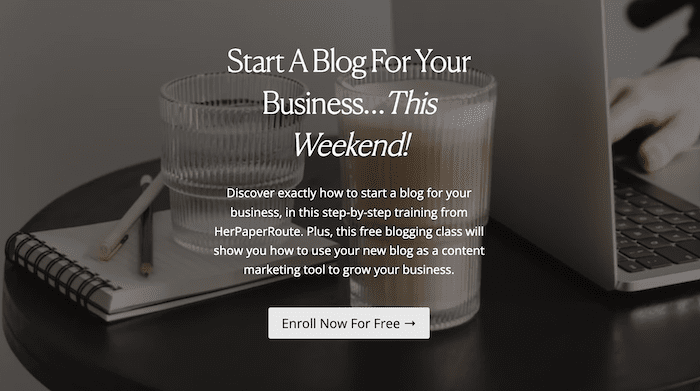 And this one is from Ashlyn Carter.
See how the copy is clear, to the point, but still compelling?
That's what we want.
Reason #4. Your freebie doesn't look great
As much as I hate to admit it — especially since I'm so not a design whiz — a lot of the time people will judge a book by its cover.
If your freebie looks amateur, people will automatically assume that the content inside is going to be amateur.
I'm not saying that's necessarily the truth, but a lot of these assumptions happen subconsciously without us even being aware.
If you're not an artist or graphic designer, don't worry.
I have just the thing that will help you design professional-looking freebies in no time.
Bluchic offers gorgeous lead magnet templates that you can buy a la carte.
You'll find a template for every type of lead magnet freebie you need. Including:
Checklists

Trackers

Calendars

Planners

Cheat sheets

Charts

Worksheets
And more! There truly is something for every kind of freebie you'll ever create.
And the best part is that you don't even need fancy design software to use these design templates. Just a free Canva account, which you can set up here.
My friends at Styled Stock Society also give amazing lead magnet templates to their members that you can customize with ease in Canva.
They add new designs to their library every month! Become a member here.
Elevating the design of your freebie will help you and your brand appear more polished and professional, while also making your freebie extra-enticing to your potential subscribers.
So go and make it pretty!
Reason #5. You aren't promoting your freebie enough
You can't just create your freebie, post about it once on your Facebook page, and then expect the masses to come running.
You need to spend at least as much time promoting your freebie as you did creating it, if not more.
If you've been slacking on your freebie promo, here are a few different ways to start spreading the word about your freebie.
Promote it on your website
Your goal is to ensure that everyone who lands on your website at least has the opportunity to download your freebie.
Whether it's in an announcement bar at the top of your website, a pop-up box, or stamped front and center on your homepage.
Talk about it on social media
There are countless ways to share your freebie on social media.
Pinterest, Twitter, Instagram, Facebook…. in your bios, in your posts, on live video.
Make it your goal to talk about your freebie at least 2-3 times every week on social.
Collaborate with your peers
Why not do a freebie swap with a peer?
This is when they share your freebie with their audience and you do the same for them, and it's a great (and totally free) way to get a fresh set of eyes on your freebie.
5 Reasons No One Is Signing Up for Your Freebie Lead Magnet – Conclusion
Fix these 5 freebie mistakes and watch your signups skyrocket!
To learn more about creating and earning with digital products, enroll in my Sales Funnel Solved class, and download my list of 45 lead magnet ideas – for free!
Let me know down below:
What's been your best-performing

freebie to date?

How about your

worst-performing

freebie?

What strategies from this post are you going to put into action right away?