Blogging Expenses: If you are thinking about blogging on a full-time basis, you are probably exploring the different avenues for generating revenue. I earn a fulltime income from my blogs, having multiple revenue streams at work on every one of my websites. I share all of my strategies here at HerPaperRoute to help you discover all the ways you can make money blogging.
But it's important to be aware of the expenses of blogging as a business too!
This site features ads and affiliate content Disclosure • Advertise with us
Blogging Expenses You Need To Be Aware Of When Running Your Blog As A Business
If you are thinking of starting a money-making blog of your own, be sure to sign up for my free blogger training.
It shows you exactly how to create a 6 figure blog from scratch.
I was able to develop my blog into a 6 figure business in less than 2 years. But it doesn't always happen that fast for everyone. There is no 'get rich quick' scheme when it comes to blogging (sorry!) blogging is hard work!
But if you have the dedication to work hard, and the patience to see it through, there is no cap on how much you can earn as a blogger.
My blog income reports:
It's all fun to learn about how much money bloggers make, but it's also important to know just how much bloggers have to invest too.
Like any business, there are a number of expenses of blogging that need to be known about.Let's explore those expenses now!
Blogging Expenses
The expenses of blogging are something that a lot of new bloggers overlook, and without being knowledgeable about these costs, you could be in for a surprise later, or unprepared to pay for the things you need when you need them.
You should know what expenses to expect so that you can budget for them and spend confidently. As all of these expenses are necessary investments in your blog that will, in turn, make you more money.
Not investing in your business in the things that it needs to grow will only mean that you may be stuck in one place, and not see the results that you should be seeing.
Last year, for example, I spent over $23,000 on my blog, on blogging related expenses!
But you don't have to spend nearly that much money to have a successful blog – at all!
Read on to discover some of the basic yet sometimes unexpected expenses you need to prepare for when you are starting a blog.
Basic Website Costs
Domain & Hosting: This is a very affordable price of about $3 per month, and necessary in order to self-host and monetize your website.
Check out this list of the top 8 web hosting service providers compared, as well, read HostingRadar's web hosting reviews, and then follow this step by step guide to setting up your domain and hosting.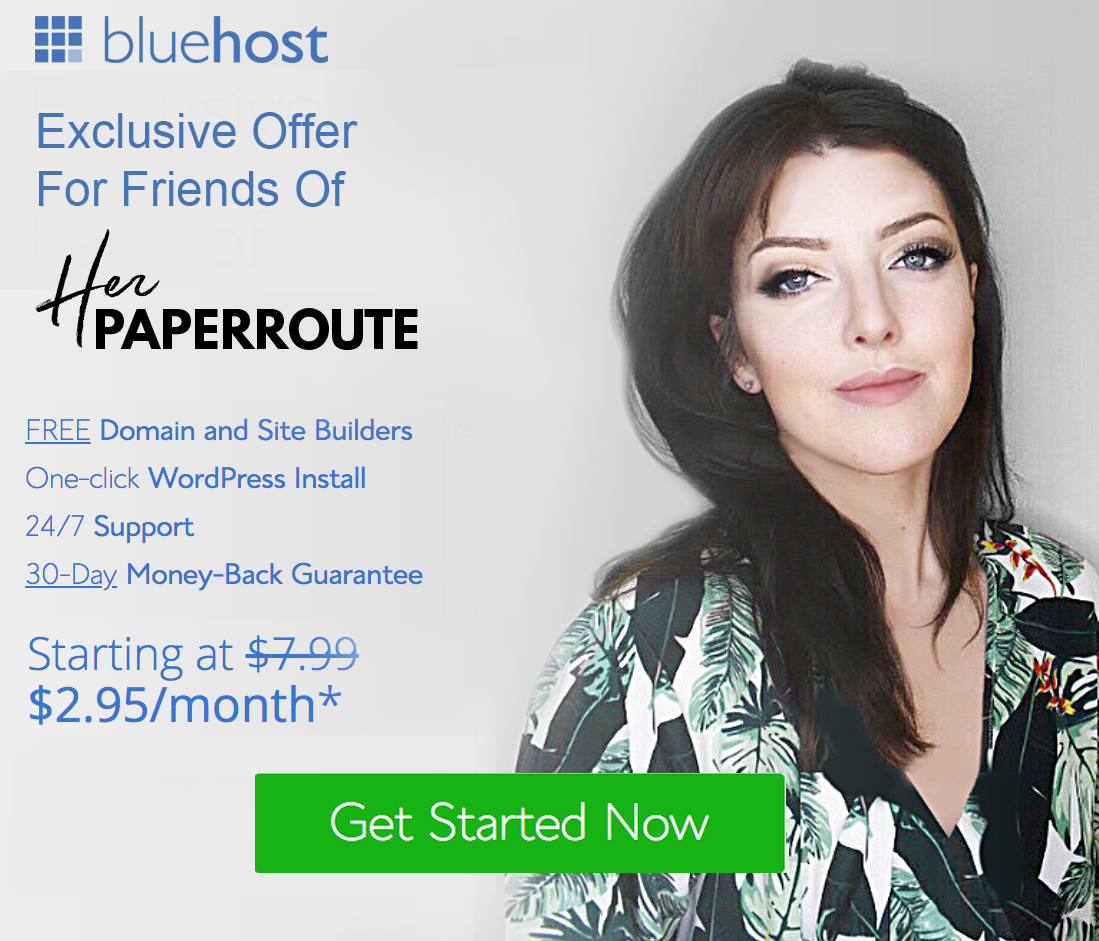 Design & Theme
If you really want to set your blogging business out from the crowd, you need a website that looks amazing, is easy to use, boasts seamless navigation, and is quick to load.
You may assume that a free blogging template is all you need, but when you're trying to make money, you need more than this.
You are building a brand, and this means being better than the other blogs on the web and ranking highly. You won't do this with a standard, generic website, which is slow and uninspiring.
Your theme should be beautiful, secure, reliable, bug-free, and packed with a ton of features that will allow you to customize however you like.
Reasons To Use A Premium Theme
You get more customization options with a premium theme
Premium themes come with support from the developer (So you can contact them for help at any time)
Premium themes come with lifetime updates, whereas free themes typically don't.
Premium themes are more professional and look more professional.
You are guaranteed that a premium theme is bug-free, and up to date with your version of WordPress, which you can't be guaranteed with a free theme
I run all of my websites on the Genesis Framework, and use StudioPress child themes.
Additionally, I can also recommend the quality WordPress themes from Bluchic and Pretty Darn Cute.
Costs Of A Premium Theme
The cost of a great theme will range in price, but typically, you can get one for under $80, and that is a one-time fee.
BluChic Themes
Jacqueline is a power-dressed WordPress theme made specifically for consultants and coaches. But this theme works for any blog!
Built with a list-building mindset, Jacqueline uses her most prominent piece of web real estate to help you convert leads the first time so they keep coming back for more.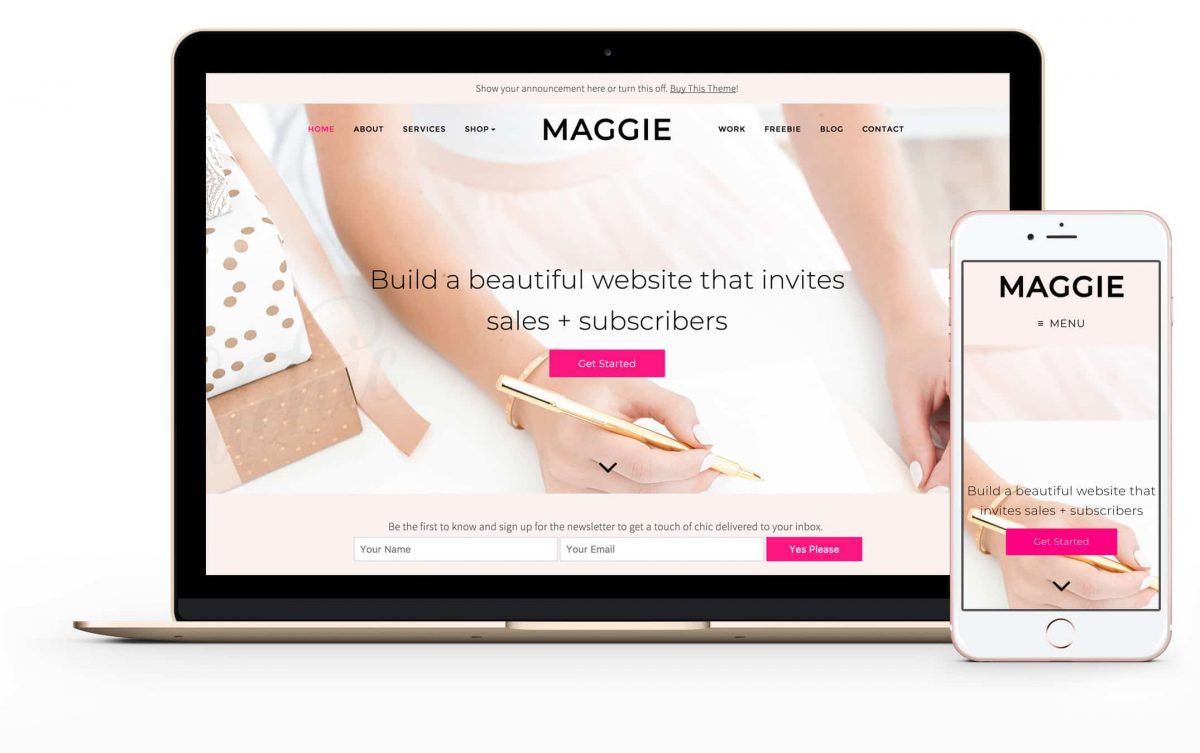 Maggie is a WooCommerce ready WordPress theme that allows you to get an online shop up and running in no time.

StudioPress Themes
StudioPress is where you can get the ever popular Genesis Framework, and other extremely attractive and high-quality WordPress themes.
All Studio Press themes include the Genesis Framework, or you can buy the Framework separately.
Pretty Darn Cute Themes
Pretty Darn Cute – Premade, high quality and pretty WordPress themes! Excellent setup tutorials, support, and community to help you every step of the way. Check out their Fun WordPress Theme and Swank WordPress Theme.
All PDC themes run on the Genesis Framework.
Social Media Scheduling
Social media and blogging goes hand-in-hand today. If you are going to take your blog to the next level, you are going to need to build a strong following on social media.
However, it is unlikely that you are going to be able to sit infront of Twitter and Instagram every hour of every day.
Therefore, social media scheduling is a must to ensure that your business does not get left behind. This will cost you a small monthly fee if you are to use a good service with all of the features you need.
I spend about $10 per month for SmarterQueue to manage all of my Facebook and Twitter posts.
I have over 30 posts firing out every day on auto-pilot with this app, which helps bring in thousands of dollars a month in new sales and affiliate commissions, plus thousands of new readers and subscribers to my blog every day.
This is because SmarterQueue allows you to have "evergreen recycling" where you set up posts for Facebook, Twitter & Instagram that can be scheduled and then it re-posts every few days or weeks on it's own.
If you want to grow your network and business following its essential that you be posting content to social media consistently, and this app makes this possible. Check out my guide on how to use SmarterQueue and get a free trial here.
For Pinterest and Instagram scheduling, I use Tailwind ($10 per month).
Related: You Can Now Schedule And Auto-Post To Instagram!
Email Marketing
Growing your email list is essential to your business's success especially as a blogger. Investing in a good email service provider is crucial.
I use Convertkit which is a professional mailing system that easily integrates into your website, where your readers can sign up to your newsletters.
You can create landing pages, create and send campaigns (newsletters) manage opt-in forms, automation (welcome sequences), and more.
Convertkit makes gaining subscribers and running opt-in functions easy, while giving you extremely powerful list management.
It has helped me grow my email list to over 20,000 subscribers, which in turn has paid for itself a thousand times over.
I highly recommend this tool!
Learn more about Convertkit and get a free trial here after your free trial, plans start at $29 per month.
For More Top Blogging Tools
Check out this list of all the best tools, tech and apps I use to tun my money-making blogs!
Hopefully, you now have a better understanding of the expenses you are going to be subject to when blogging.
If you account for these costs, you will be able to manage your finances better so that you can maximize your profits and get the most out of your new business venture.
Keep Reading
The HerPaperRoute Profitable Blog Toolkit
Sign up to get instant access to over $3600 in resources for entrepreneurs and bloggers – for free!