Ultimate Hippo Video Review – Complete Video Marketing Tool
If you are looking for the best video marketing tool, this ultimate Hippo Video review is for you. As entrepreneurs, course creators and business owners we utilize personalized text every day, but how about personalized videos? Hippo Video is a platform that helps you use personalized video marketing for emails, demos, training, sales pages, and more.
It is an all-in-one solution that combines the screen recording, editing and teleprompter features of BigVu, Loom, BombBomb and Vidyard into one robust platform. Hippo Video is also proven to get 8x more engagement! Who wouldn't want that?
Read on to learn all about what Hippo Video has to offer, discover the pros and cons, and special elements that make this product stand out above competitors.
Get ready to humanize the experience of email marketing, content marketing and selling, and give your customers trustworthy face-to-face contact, while increasing your sales at the same time!
---
As an affiliate partner of various brands and sponsored content, HerPaperRoute may earn commission on qualifying purchases. Disclaimer | Advertise With Us
---
Hippo Video Review: Pros, Cons & Best Uses
So let's start with an overview of what Hippo Video has to offer.
Some of my favorite features that I find to be most useful are the teleprompter, in-app video editor, and the greenscreen.
Check out my demo video below, where I walk through some of the features Hippo Video has to offer. And yes – I made the demo video completely within Hippo Video!
🫶 Want to Make More Money?🫶
Become a member of HerPaperRoute today and get a toolkit packed with resources to help you make that paper. All for FREE!
---
Now let's dig into more details of what else Hippo Video can do for your business.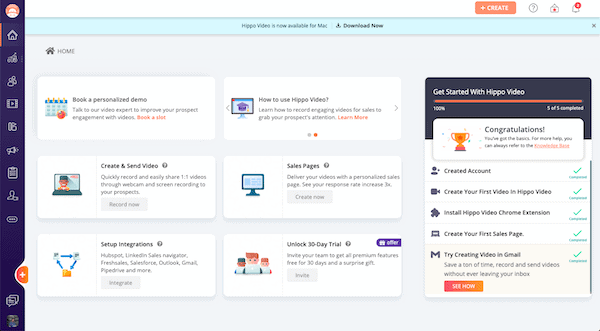 Screen recording feature
With Hippo Video's easy-to-use screen recording feature and Chrome extension, you can quickly record videos that showcase your computer screen. Connect your webcam so you can record yourself.
With the click of a button, you can record your face and screen at the same time, making Hippo Video one of the best Loom alternatives. And of course, Hippo Video connects to your mic so you can record audio all at the same time.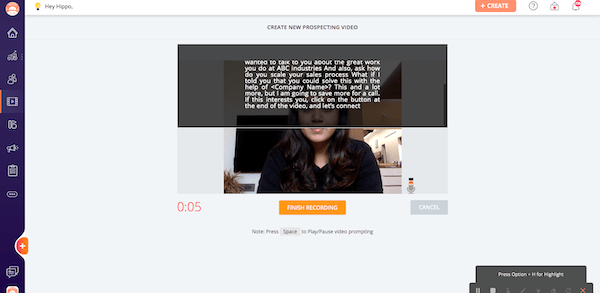 Teleprompter feature
Have you been looking for the best BigVu alternatives? Look no further. Hippo Video comes with a built-in teleprompter feature that allows you to insert your notes or your entire script, and it will play on your screen as you record live!
So you never again have to worry about forgetting your lines or blanking on what you had planned to say. You can just read it as you go, and it will scroll along for you.
This is a great addition for coaches, course creators, teachers, and human resources as it allows you to be thorough in your lessons and training without having to look away from the computer to check your notes.
The teleprompter feature is also helpful for anyone who records evergreen workshops or webinars, but also for Instagram and Facebook lives.
In-app video editor
The in-app video editor is such a great addition to Hippo Video because it is a one-stop shop for filming, editing, and sending your video!
There's no need to film your video on one app, edit it in another program and then upload to your computer for distribution. Everything is done inside your very own production studio inside the Hippo Video dashboard.
Greenscreen feature
Next, the greenscreen feature is great to use if you're not in an office or a production studio. Reduce the background noise, by replacing it with something else, to make sure that you are the focal point of your video.
Video email
Adding a video to your emails can be a great strategy to implement when trying to create a more humanized experience for customers of your virtual business. Hippo Video is compatible with both Google and Outlook, so you can add videos to any email!
Hippo Video also provides you with the tools to track and analyze the success of your video emails. Their site shows you information on video views, watch percentage, actions taken and any other analytics you may have interest in.
The best part, in my opinion, is you can personalize the videos at scale!
Send out an email video to a multitude of potential customers while still having the ability to add their name, company, email ID and anything else you desire.
Video personalization
Hippo Video is a platform that allows you to send hyper-personalized videos at scale.
Use this feature and watch your leads, sales, brand visibility, and recognition skyrocket!
So, how can you personalize your videos?
Hippo Video allows you to add text personalization, text reveals, rotating, moving & zooming text, image, website and audio personalization, as well as graph personalization.
This is Hippo Video's strategy to transition from the awareness stage to the decision stage.
Personalized sales pages
With a fully virtual business, it can be really difficult to personalize and humanize the customer experience.
Adding videos to a sales page delivers a personalized experience to your potential customers.
Use a video at any stage of the sales funnel and watch sales close quicker. You can add customer testimonials, product demonstrations and reviews.
You can also create a single sales page to be shared with the whole team as a hub for user details such as name, email, and phone number for a customized sales page.
Related: Sales Page Tips To Increase Conversions Using Psychology That Makes People Excited To Buy
Who Should Use Hippo Video? What Industries Can Benefit From This Video Marketing Tool?
So you might be asking yourself how you could use this for your niche website or specific industry.
Well, whatever industry you find yourself in, I have good news for you!
No matter what your niche is, you can find a use and see positive changes from implementing videos into your business communication.
Let's say you run a travel blog and want customers to see your personal experience at that location, use Hippo Video to show them!
What if you're a real estate agent? You can now record properties and showcase them on your website or in your emails to speed up your booking process.
Hippo Video is ideal for course creators, marketers, vloggers, speakers who offer workshops and webinars, and entrepreneurs who want to sell through promo videos and video ad campaigns.
The possibilities are endless!
How Hippo Video measures up in various categories of performance
Next, let's discuss some important quantitative measurements and aspects to know about Hippo Video, to understand how it performs in different areas. This should help you decide if this video marketing tool is right for your business.
It offers robust video capabilities for sales and marketing
Video selling allows you to adapt to a new way of technology and create a new means of connecting with your audience. You can build trust, provide and nurture relationships with a more human way of connecting.
Everyone on your sales team gets some benefit from this product. Business and sales development representatives can use videos to grasp the attention of new business prospects.
While account executives can use this to explain proposals and complex pitches and it can easily be used as a way to train new employees.
You can even use this tool to record videos for your sales pages, tripwire pages, and upsell offer pages!
You can use it to offer engaging videos for customer support in your business
Having video at the center of customer satisfaction allows you and your company to respond and resolve quicker with how-to videos, communicate with ease and fast track your customer feedback.
You can also reduce waiting time on responses for FAQs through explanation videos, and keep all of your videos in a central hub. This lets your customers help themselves through automated ticket resolution with video tutorials.
Say hello to happy customers!
Hippo Video provides a professional solution for video marketing
Video marketing provides you with a means to turn your viewers into customers.
You can easily customize the Hippo Video look to fit your brand by adding things like your logo, domain name, customizing themes and adding thumbnails.
Secure video hosting allows you to get quality videos that allow your brand to be seen and your voice to be heard.
Use the video to generate leads from views to purchases with easy-to-add call-to-actions, custom CRM and lead generation forms, and you can add polls or links to related videos at the end.
Hippo Video also allows you to track your video's analytics to see how successful your video has been in order to make future decisions.
With this, you have the ability to see how your customers view your video, demographics, watch time, and more!
You also have the ability to ask your customers to submit recorded testimonials to highlight your customers' brand loyalty!
This is a great way to add a personal touch to your future campaigns, and it's so easy the customer doesn't even have to sign up on Hippo Video.
Video for Teachers, Trainers & Coaches to offer virtual learning
A great way to engage a virtual classroom is to provide dynamic videos for an interactive learning experience.
You have the ability to set up an online learning environment through a Google Chrome installation of Hippo Video.
This will allow for students and teachers to record, edit and share their videos with the rest of the class!
This product has a digital whiteboard and classroom, the ability to record through a webcam in addition to screen recording an entire web browser. Having recorded videos at your disposal also allows students to learn from home at their own pace.
Students now have the ability to submit video or audio assignments to send via email to their teachers. This can help students have a better understanding of the subject and get used to speaking without a script.
The last aspect that I can really appreciate from Hippo Video for this product is the teacher's ability to provide feedback via video.
In a virtual classroom it can be so easy to disconnect from your students and vice versa, so having a more humanized experience will hopefully bring a student back to the classroom.
Video for Communication
Not only can you use Hippo Video to communicate with clients and those outside of your business, but it can also help you streamline internal communications.
Use videos for internal collaboration and watch productivity skyrocket on your team, or use it for sales collaboration to get feedback from your team before sending it out to the client!
Human Resources can create a more personalized onboarding for new hires, and it allows for you to make messaging consistent across multiple teams.
There is also a way to make your videos password protected so only cleared users have access to it.
Training a new virtual assistant or team member? Create SOPs and on-demand training videos on how your business runs and everything they are expected to do in their role.
These team training videos can be watched and rewatched at any time, and by all new hires. Now that's time-saving! Think of just how much training time you can cut down on, when you have a simplified video library your hires can learn from to quickly get up to speed in your company!
Video Recorder API for Developers
Before we get into this element, I want to give some background on what API, or application programming interface, does.
In layman terms, API allows for software and computers to communicate with one another. You can think of an API like the engine of a car, and every time you use Facebook, send a direct message on a social site or check an app you're using API.
So, how is this beneficial to you for your website?
Hippo Video allows for a seamless integration of API with an easily embeddable code to connect your video to any website, blog post or another platform you would like. Hippo Video provides you with the code to add to your video so it's easy as 1 2 3!
This code also makes it so your brand, and only your brand, is displayed throughout the entirety of your video.
Comparable Products To Consider
Some similar companies with comparable products are Vidyard, BombBomb, Loom and BigVu.
BombBomb – offers a video email feature
Vidyard – offers screen recording
Loom – offers screen recording
BigVu – offers a teleprompter feature
Hippo Video – offers all these features and more
The notable difference at first glance is how the pricing is set up. If you were to buy Hippo Video directly from their website (an not get the lifetime Appsumo Deal that is on now) then you would have to choose an a-la-carte plan selecting the features you want, choosing to add-on the sales package, marketing package, support package and/or team communication package.
Vidyard is notably more expensive when you get into the business plans starting at $300/mo while the other services start around $150/mo with some variance.
That being said, Vidyard does also have a free option which is very limited, while the other platforms simply offer free trials.
Hippo Video is an all-in-one solution that offers all of the features that the competitors offer, in one app!
Hippo Video Customer Support
Navigating the website is very easy and there are tons of how-to videos to follow, which I greatly appreciated.
When using Hippo Video to create this product review, I only had one issue… getting the video to record!
When it came to actually record my video, the website froze. This happened again when I tried a second try.
I messaged customer support and impressively, they responded within one minute and helped me solve the problem right away. It was a simple fix of uninstalling the application and then re-downloading it.
We give this product 5/5 stars not only because the product itself is great, but also because the customer service is so helpful and quick to provide the solution for the initial drawback I had.
Commonly Asked Questions About Hippo Video
What does Hippo Video do?
Hippo Video is a screen capture tool that allows you to create videos via screen recordings or imported videos. You can use this tool for marketing, screen recording, explainer videos, workshops/webinars, training videos, videos in emails, product demos and more.
Can you use Hippo Video to record your screen as well as yourself at the same time?
Yes, you can use Hippo Video to record your screen, while at the same time having your webcam record your face, so that your face appears in a circle (or rectangle) on the screen.
You can create over-the-shoulder tutorials, product demos, explainer videos, you name it!
What are the best screen recording apps and alternatives?
Hippo Video is an all-in-one solution that is an alternative to Loom, BigVu, BombBomb and Vidyard. We think Hippo Video is the best screen recording software around!
What is the best teleprompter app?
BigVu is a well-known teleprompter app, and we feel that Hippo Video is the best BigVu alternative.
How much does Hippo Video Cost?
Normally, Hippo Video pricing starts at $19.00 per user, per month. There is a also free version with limits.
How do you record videos in Hippo Video?
Upon downloading the Chrome extension, simply set the preferences to Screen Record, Webcam, Audio, or any combination of the three, and press Record.
How do you edit on Hippo Video?
Log in to Hippo Video with your existing credentials. Click on 'Library' from the left navbar and then select the video you want to edit. Above the video preview, by hovering over the 'Edit Video' button you will notice two options: Quick Edit and Pro Edit. Click the 'Pro Edit' to reveal all of the editing capabilities.
Does Hippo Video have a watermark?
No. With Hippo Video you can remove the watermark from any recording, and brand your videos to your own branding.
Is Hippo Video any good?
The ease of use is so much easier to grasp, plus it's 10 times easier to create, edit, store, share and track your videos. In addition, you can screen capture, webcam capture, or audio capture thus it allowed me to eliminate the need to use tiny screen capture + Zoom to create, edit, and produce videos, to name a few!
Is Hippo Screen Recorder free?
There is a free trial period with Hippo Video that you can screen record for free, but with limited storage and features. After the trial period is up you will have to subscribe to a plan.
Will my content be deleted after the free trial period?
No. Your content will stay in Hippo Video and cannot be deleted unless you delete it yourself.
Is there a time limit for Hippo Video?
You can record unlimited videos for a duration of 5 min/video in a free plan and 2 hours/video in premium plans.
HIPPO VIDEO FEATURES:
Unlimited full HD recordings
Mobile app
GIF thumbnail
Reports
Integrations: LinkedIn, HubSpot, Zapier, Salesforce, Outlook, and Gmail
Video SEO
Default sales pages
Add text in video
Teleprompter
Branding customization
Track using Google Analytics
Custom in video CRM form
In video custom poll
Track using Facebook Pixel
CTAs and meeting link
Pro edit and green screen
Organize into folders
Customizable sales pages
Documents in sales pages
Promote playlist
Hippo Video Review – Conclusion
Your customers' inboxes are constantly bombarded with emails from other businesses, Hippo Video can help your emails stand out from the masses.
Your business is only as good as your customer relationship, so let's provide them with a more personalized and humanized experience with your business.
And before you go, we have a free gift to give you that will help you with your marketing! Get your marketing toolkit for free here!
Thanks for reading! What do you think? Let me know in the comments below. And please pin/share this article if you found it helpful. Thank you for your support.
Hippo Video App Review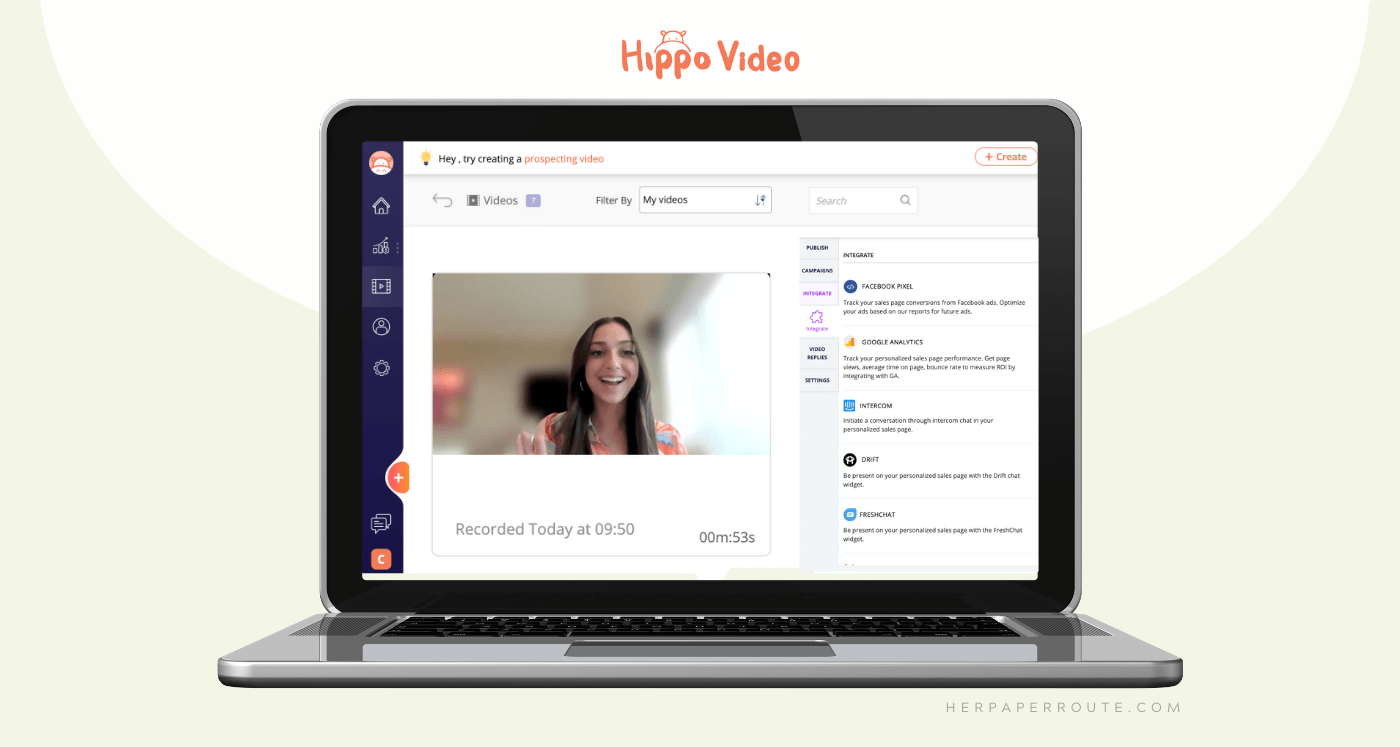 Best video marketing tool: ultimate Hippo Video review. All-in-one solution, teleprompter app, screen recording app, alternatives to BigVu, Loom, Vidyard
Price: $59
Price Currency: USD
Operating System: Mac, PC
Application Category: Marketing tool
Pin this: