If we could define the word challenge, we could probably say that it is the act of participating in a game, where the participant would have to act on something.
Challenges gain popularity lately as they are a great way to engage your audience, connect with it and make it more responsive to your communications.
This site features ads and affiliate content Disclosure • Advertise with us
How To Use Challenges To Create An Engaged Audience
While you can run a challenge in a few ways, InLinkz is a visual tool for your blog that will help you not only organize and execute your challenge but provide you with the glue to convert more people to prospect followers and buyers.
Let's see an example of a contest and how it would work with InLinkz to increase your audience and affiliate product sales.
Mary writes a cooking blog with recipes and her main income comes from affiliate links spread out in her blog posts.
The usual traffic is people looking for recipes and a few other food bloggers.
Now, Mary decides to run a challenge with InLinkz. Instead of just writing down a recipe with photos and such, she calls for her readers to follow her recipe and post a photo of the result on her challenge, via InLinkz.
So, now, Mary's blog, instead of just a recipe post, has a whole bunch of photos of the same recipe, done by her viewers, organized and available for anyone to enjoy.
We could stop here and just say that by including InLinkz in her post, she added a lot of quality User Generated Content and the post is now a hub rather than a single page.
It gets better though!
Entrants feel entitled to their content (well, it's still their own!) and, as such they promote it, promoting Mary's blog post that contains the linkup.
Since InLinkz makes it a piece of cake to share it via social media, Mary's entrants get excited that they have their own recipe in her blog and start telling their friends and followers: "I just added my link to Mary's cooking challenge".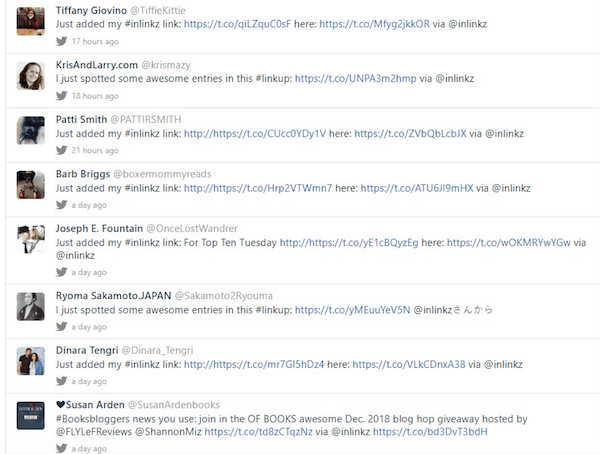 This alone makes Mary's post accessible to all THEIR followers exposing it to a previously unreachable audience.
Put Your Offers Infront Of Your Customers, More Than Once
The very nature of the linkup allows for many visits.
The User Generated Content of the linkup is constantly evolving and people would still visit for a second time, to check the entries that have been added since the last time they have been here.
Since it is a contest, they usually want to see who they are playing with: Who got the best recipe execution, who had good photography etc.
And a reader coming to your same blog post for a second time, is precious and lays her eyes twice upon your offers.
Be A Hub
The blog post containing the linkup is a hub for both incoming and outgoing traffic.
Outgoing Traffic – Traffic Credits
Outgoing traffic is produced as people click on the links and view the entries.
Your entrants receive this traffic which is accredited to you by google analytics variables.
For example, any link that your readers click, has variables like utm_source utm_medium etc.
These which are the standard google analytics variables to find where your traffic is coming from.
So, your entrants, with a quick look at their analytics, will know that they get the traffic from you!
Incoming Traffic – Viral Sharing
If entries are worthwhile, people share them on social media through the linkup.
The shares always include the source which is the location of the linkup.
This way your blog post gets tweeted and shared on Facebook and Pinterest by readers and entrants.
This is the "viral sharing" benefit of InLinkz.
It enables other people to share your linkup and blog post, to their own followers.

So you amplify your outreach by sharing your post to your entrants' followers to which you would not have direct access otherwise.
For example, let's say you have 100 followers and each of them has around 50 followers of their own.
If half of your followers share the linkup, there is a possible outreach to 2500 new readers to visit your blog. And this can grow fast!
Build A Responsive Mailing List
Every entrant to your linkup is a user that has interest in your offer and as such, took some effort to join your linkup.
This alone, makes her email a valuable addition to your mailing list.
These email addresses are opt-in and confirmed by their owners.
So you know that the emails that are being entered, are legitimate and they are being read by their owners.
Adding these emails to your mailing list through InLinkz guarantees more eyes on your newsletters.
Pro Bloggers Can Use Linkups To Spread Their Content
Many professional bloggers already have a list of linkups which they visit regularly, to add their most recent blog posts.
This is a very efficient form of self-promotion as readers will eventually stumble upon their blog posts in one widget or another and, if the content is worthwhile, they will get new readers.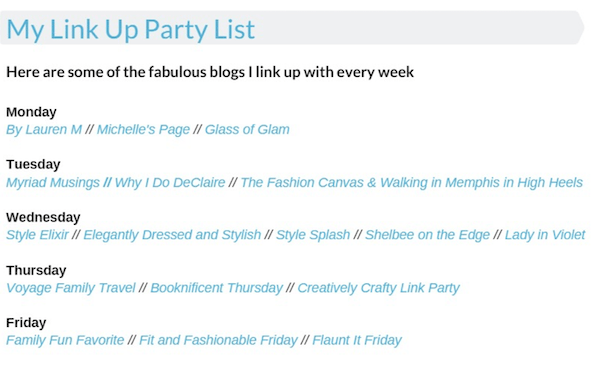 Linkup Explorer
Your blog posts with linkups are searchable in InLinkz's linkup search.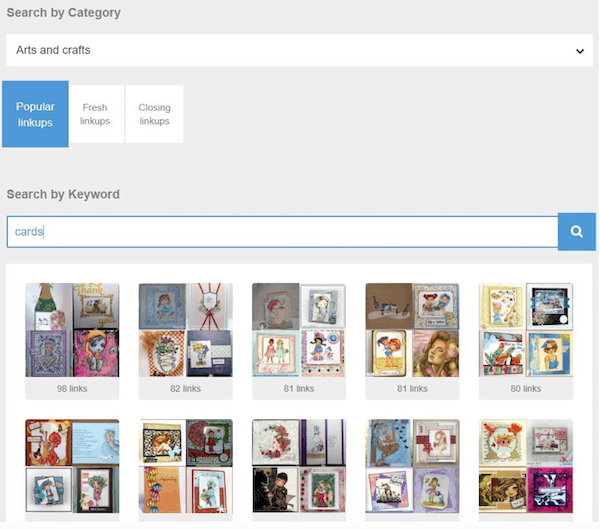 This is a massive directory with all the current and old linkups which serves not only to discover new linkups to participate but as a source of inspiration.