Ultimate Tailwind Tribes Pinterest Guide (Communities)
Update: Tailwind has announced that they have changed the name of Tailwind Tribes to Tailwind Communities.
Stating: "We don't want to keep adding to the trivialization of the word "tribe," nor propagate its hurtful connotations to Native communities."
The following article was published before the name change, and includes the use of the current name 'Tailwind Tribes.'
How To Use Tailwind Tribes To Grow Blog Traffic Like Crazy
Since I started developing a Pinterest strategy and overall social media game-plan (you can get a copy of my guide here), my traffic has increased phenomenally.
---
As an affiliate partner of various brands and sponsored content, HerPaperRoute may earn commission on qualifying purchases. Disclaimer | Advertise With Us
---
The traffic Pinterest sends to my blog is huge, and growing by the day. Here's the secret ingredient that makes blog traffic pop!
The secret to cracking the Pinterest algorithm is to pin your blog posts strategically to boards with strong keywords, using strong keywords in the description of the pin.
If any of that sounds complicated to you, read this post to learn about Pinterest SEO first!
🫶 Want to Make More Money?🫶
Become a member of HerPaperRoute today and get a toolkit packed with resources to help you make that paper. All for FREE!
---
If you have been a reader of this blog for a while then you already know how I am a huge supporter of Tailwind.
I make use of Tailwind's auto pinning features, Tribes, and SmartLoop as well Tailwind for Instagram. Each has contributed traffic growth for me.
But, are you using Tailwind Tribes to grow your blog yet?
The previously invite-only app feature is the secret ingredient of bloggers and influencers to majorly boost blog and Pinterest traffic, engagement and social reach.
What Are Tailwind Tribes?
Tailwind Tribes are a feature in Tailwind, where a group of people share each other's Pinterest pins. This group-effort boosts each other's Pinterest reach like crazy! Tailwind Tribes are free!
Basically, Tailwind Tribes are formed by groups of trusted peers, sharing one another's pins to Pinterest.
From Tailwind's Press Release:
As Tribemates add great content to their Tribe, a feed is created for easy review and sharing. By collaborating in this way, everyone in the Tribe has a continuous stream of hand-curated content from people they trust, saving them time and improving their content quality. And, when someone shares their content from the Tribe, they also get exposure to a highly-relevant audience.
There are thousands of Tailwind Tribes spanning a wide variety of niches. Chances are, if you're blogging about a topic there's a Tribe for it.
You are welcome to join my Tailwind Tribe, it is open to all niches, and when you join you will get a $15 credit for a free month of Tailwind too.
The HerPaperRoute Tribe currently has a reach of over 3.8 million, and is growing strong! ⠀
Note: I'm sharing my personal results here, but Tailwind also publishes a Typical Results of Tailwind so you can see what the average growth rate looks like for members.
Find A Tribe Feature
Recently Tailwind launched the 'Find a Tribe' feature which lets you search for Tailwind Tribes to join by keyword or by category.
Before you join, you'll be able to preview a Tribe's content to see if it's a good fit.
You'll also see how many Tribemates it contains and how active the Tribe is.
Find a Tribe is a potential game-changer, especially for new marketers or bloggers who need help kickstarting their networking efforts.
Joining open public Tribes is easy and now, for the first time, anyone can find and request to join private Tribes as well.
And, of course, you can also create your own brand-new Tribe for others to join.
Related: Avoid The Instagram Shadowban With This Trick
How I Use Tailwind
When you first log into Tailwind, there are a ton of tabs, sections, and text but don't worry, don't let the number of options here discourage you!
Focus on the set of tabs on the left of your screen for now. You will be using the 'Publish/scheduled' and 'Drafts' tabs mainly.
Easy Quick-start Guide:
Install the Tailwind Chrome extension
With the Chrome extension installed, go to Pinterest and choose a pin to share. When hovered over a pin you will see a little blue logo, and when you click a pin to expand it you will see a bigger blue logo 'schedule' button. Click either and it will open up a window
Here you can choose which boards to share it to and choose the date/time to share it. You can also share it to your tribes here as well
Go to your Tailwind dashboard to the 'Publish' tab to monitor your scheduled pins
Those steps have shown you how to manually set a pin to pin to multiple group boards, or your tribes. You can go one step deeper, and create a schedule that will auto-pin your pins for you to your SmartLoop as well.
Related: Complete list of banned Instagram hashtags
For a step by step guide to using Tailwind Tribes, and how I use Tailwind Tribes to reach over 1 million monthly Pinterest page views, read this: How To Explode Your Traffic With Tailwind Tribes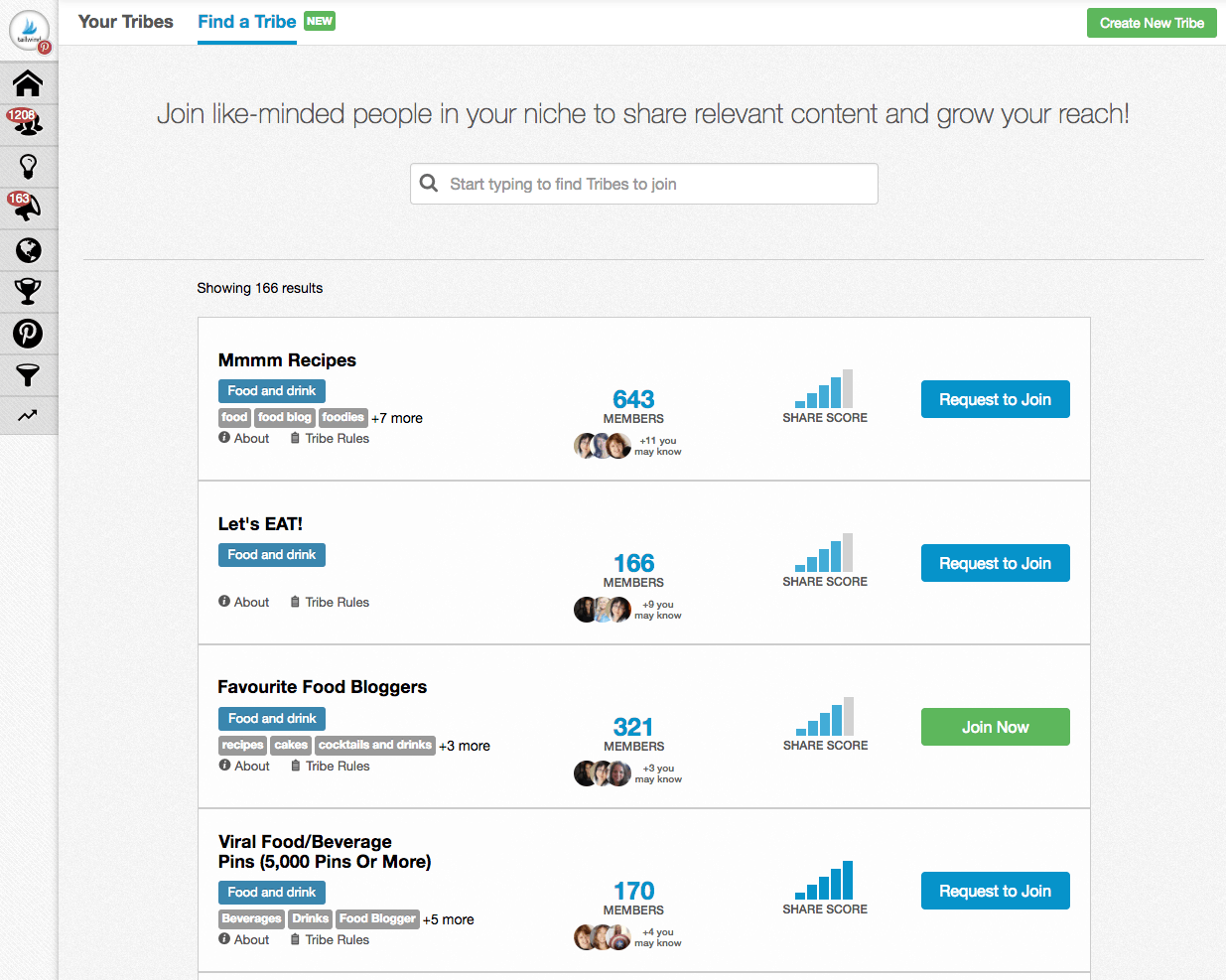 How I Use Tailwind Tribes
When you are logged into Tailwind and in the 'Tribes' area, you will see a collection of pins that other members have submitted. You can share their pins by choosing a board to re-pin it to, and schedule a time to have it go out, just the same way as you did in step #4 above.
To submit your own pins to the tribe:
Have the Tailwind Chrome extension installed
With the Chrome extension installed, go to Pinterest and choose a pin to share. When hovered over a pin you will see a little blue logo, and when you click a pin to expand it you will see a bigger blue logo 'schedule' button. Click either and it will open up a window
Here you can click 'Add to Tribes' and then choose which tribes to share it to, and the date/time to share it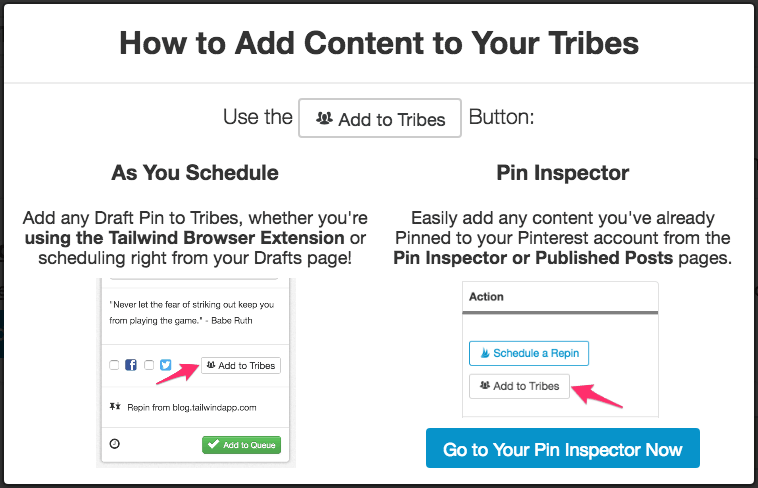 Try Tailwind For Free
Try Tailwind for Free for 30 days. If you love it as much as I do, you can choose to sign up after the trial ends (but there is no obligation.)
Tailwind for Pinterest costs $9.99 per month if paid annually, $15 per month otherwise. Tailwind for Pinterest is considered a separate product from Tailwind for Instagram, and incurs a separate charge.
The free trial of Tailwind is available for existing members of Tailwind for Pinterest as well as non-Tailwind members.
The free plan of Tailwind Tribes allows access to 5 Tribes and the submission of 30 pieces of content a month.
Members who want more than the free plan offers can add Tailwind Tribes PowerUps starting at just $5 per month. Find your Tribe today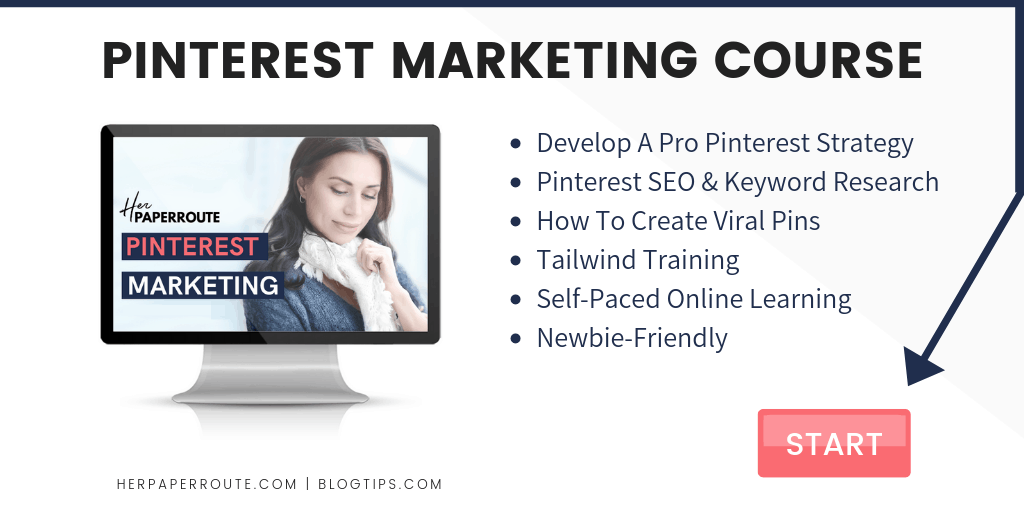 Want More? I Teach A Fabulous Course On Pinterest Marketing!
Learn Pinterest Marketing
Learn how to develop a strong marketing campaign for your business and blog with the strategic use of Pinterest as a marketing tool.
How To Develop A Professional Pinterest Strategy
Pinterest SEO & How To Do Pin Keyword Research
How To Create Viral Pins
How To Rank In Pinterest's Topic Feeds
Tailwind Training
…and much more! Enroll in my Pinterest Marketing Course now.
Want a free sample of what's in store first? Become a HerPaperRoute member and I will send you a free copy of my Viral Pin formula ebook to help you create viral Pinterest pins!
Keep Reading
Is Your Blog Even Capable Of Being Monetized?
Not all blogs are…and there are a few things you NEED to know in order to run a profitable blog – things that will save you a ton of money, time and hassle!
Learn how to start a self-hosted blog correctly so that you can monetize it in my easy to follow, self-paced 'Start A Blog' course. It's FREE!